British rock four piece DON BROCO released their third album Technology this month. The new album finds the band filtering their post-hardcore rock through the percolation filter of a 1980s pop-machine, and then finger-testing the results before adding a swirl-or-two of clotty cream: these twists come in the form of metal, funk and electronics. This album ends-up lip-puckering strong and properly sweet 'n' saucy.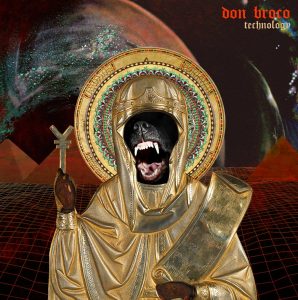 The album boasts a series of singles that have already seen the Bedford Dons become the most adjustable scenester try-hards & pop-survivalists of the 21st century.
Like any longed for cup of coffee in the 80s Technology has been slow to arrive and lukish warm when it finally got here: although it went on sale February 2, 2018, the single 'Everybody' [track 8 on the album] was released July 2016! Five further singles were drip-fed to fans: 'Pretty' 'Technology' 'Stay Ignorant' 'T-Shirt Song' and more recently 'Come Out to LA' — all came out over many long months, with their accompanying slop-tray videos.
"Technology is a reaction to our last record, Automatic [2015] ," says frontman Rob Damiani. "We wrote that album as a test of our traditional songwriting abilities, but Technology was all about keeping ourselves on our toes."
To bring home the sound they needed, the band went to top producers Dan Lancaster (Blink-182, Good Charlotte) and Grammy award-winner Jason Perry. "People think we're just good time guys," says drummer Matt Donnelly. "But that's always been only one side of our personality."
Title track 'Technology' is a cracking electro-assault with tubular guitars and heavy on the sludge. This walks like a robotic tyrannosaur with cabin fever and itchy feet. It gesticulates at you until you give in, then you put your arms up and swing them madly, like a trooper: that's right left right, left right.
'Blues' is another dino stomp in rhythmic terms, but here the voice is full of soul and has a heart of stars. Urgent and energetic, this will get you high.
'Tightrope' buzzes and stings like a spit-ball hornet. And those, like us, who still mourn the loss of the fabulous Billy Mackenzie [The Associates] can find consolation in the slightly drunk but very effusive vocal style on this track.
'Come Out To LA' has those familiar lairy punk-pop elements we've come to expect from the bucking Brocos and that suggestion of great fortune coming our way… and edifying energy that will knock your socks off. It's all you'd expect, and maybe more, from the strongly melodic rhythm-makers.
The end result is a post-punk cabaret extravaganza with lots of Heaven 17 style electronic bravado and powerful, though not overwhelming, rock histrionics…
Pop? Oh yeah, that cannot be denied. But is it DIY hardcore punk? Er, no . It's indisputably not.