The last day of Download is usually the best, and the worst. Best – for obvious reasons. Like a great meal, the best is saved until last. We have a star-studded finale to what was a great weekend and will go down as one of the biggest Downloads ever. The worst? Simply for the reason that the festival is drawing to a close and we will have to go back to normal, non-festival life. It's hard to think anyone can top last night's performance. GNR are seen as the true headliner of the festival to some, but Ozzy is a real pioneer and this is his farewell tour (again) so optimistically this will also be an awesome show. Plus we have sets from Marilyn Manson, Shinedown, Black Veil Brides, In This Moment, Cradle Of Filth and more. This is the highlights for Sunday at Download Festival. Full coverage will be in the next issue of RAMzine, plus you can watch interviews and catch up with all the latest rock/metal news, here, on RAMzine.co.uk
Sunday is traditionally a day of rest, but there's no rest for the wicked. All the sleepy heads from the weekend emerge for the last day of fun at Download and up first is Grandstand … ? At least the theme tune playing on the main stage. I know there's wrestling at Download, but surely Andy Copping hasn't resorted to sports results to draw people into the arena? Alas, it's also the theme tune for today's first band – Inglorious. A band who have metaphorically been 'chipping away at it' for some years now and this has resulted in a main stage opening slot. Good for them (that isn't sarcasm by the way). And what a show the blues-rockers put on. Are these part of the new wave? I don't really want to ask anyone because I find that term silly. Anyway, we get an eight-track strong set from Inglorious. 8-track, how retro. There is a modest crowd gathering. Some fans and those who have heard them on Planet Rock, some due to sheer curiosity. What a lovely way to start the day.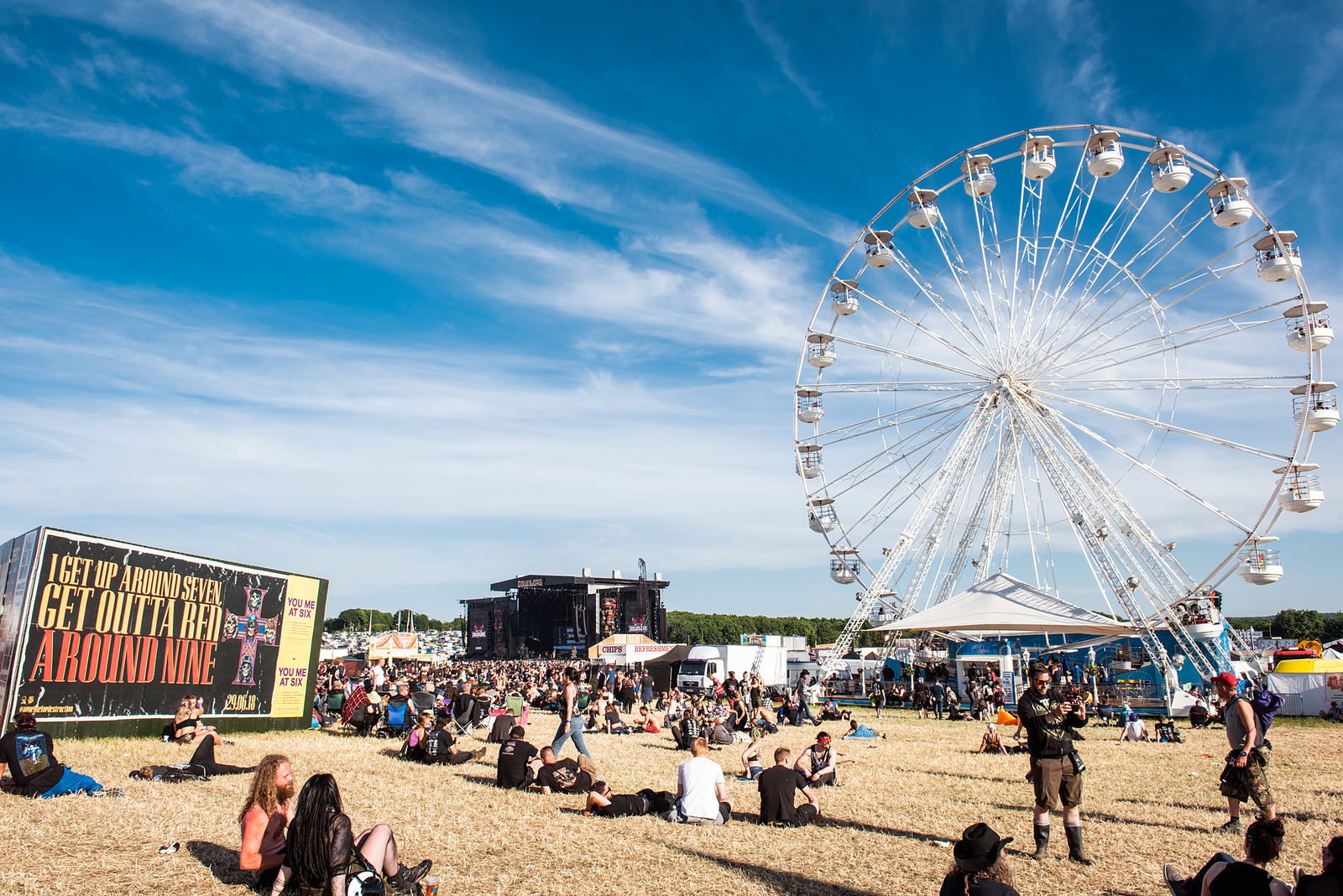 The sun is out bright and bold as ever. A lot of sun cream is applied to the face, so much people probably think I'm a goth who is experimenting with colour. Speaking of white-faced goths, Cradle of Filth are up next. Another band with a theme tune, 'Ave Satani' in this case.  If you have been to any festival in the last two decades you will have spotted someone wearing a 'Jesus Is A ****' t-shirt. I don't know if the one wearing it believes this true, or they love COF. Judging from this performance – it might be the latter. Starting off with a controversial classic  'Gilded ****'  we know this is the Cradle we came to see.  Although there's only time for six tracks, they are all crowd favourites. Perhaps they should have been later in the day but the line-up is wayyy too stacked. "I went to festivals similar to this, but they were illegal Downloads" Father's day is next week Dani Filth, cool it with the Dad-jokes.  This is 'extreme metal' in it's rawest form. COF have fluctuated in style over the years so it's nice to hear 'Nymphetamine Fix', a duet between front-man Dani Filth with keyboardist Lindsay Schoolcraft, in this set. Ending with a classic like 'Her Ghost In The Fog' is the cherry on top of this goth-y metal ice cream bowl.
If yesterday was a day celebrating Monsters Of Rock and the 'classic' style of bands that have played Donington – Sunday is a great example of today's bands, the bands that represent this festival since it has become Download in the past 15 years. Along with precious bands mentioned, Punk-metallers Hatebreed are ideal candidates for this. They mix a lot of styles that would never be billed on Monsters Of Rock, which isn't a bad thing. Music moves on, as well as learning from the past. In other words: Get with the times grandad! Strangely enough, this might be the only metal festival I've seen grandparents, with two other generations of fans. Great on them. Back to Hatebreed, credit to them for starting a serious pit.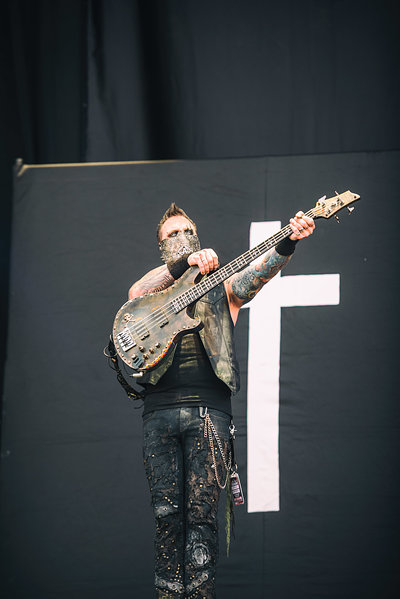 This is also the day for the epic, if not eccentric, performances. Inglorious, Cradle Of Filth, and Hatebreed are always great on stage but there's not that theatre other bands offer. Case and point are the next band in the line-up: In This Moment. From start to finish there is always something on stage. You know when someone goes to a gig of someone you aren't a fan of and justifies it by saying "You wouldn't even like it if you weren't a fan", I would say that about ITM at Download, except I don't think anyone here 'isn't a fan'. Maria Brink is at a stage now she can hand pick tracks from her back catalogue and mix it with new material, and whatever happens, it will turn out like a metal opera. Focusing on their latest offering 'Ritual', a lot of Brink's performance is based on the artwork for the album. A lot of great dance work and choreography, sort of ruined by someone poking a red iPhone out of the curtain… The sad news is, we didn't get Rob Halford for 'Black Wedding' but Joe Cotela. You know him, don't you? From Ded. No not DEAD! Ded. Anyway, this is possibly the centrepiece of the set, which ends with Maria Brink donning a huge dunce hat with the word 'Whore!' down it, telling us not to listen to others and following our dreams. It launching huge balloon eggs during 'Whore' to end a fantastic gig is your dream Maria – it's come true! A short set, but at least it's straight to the point.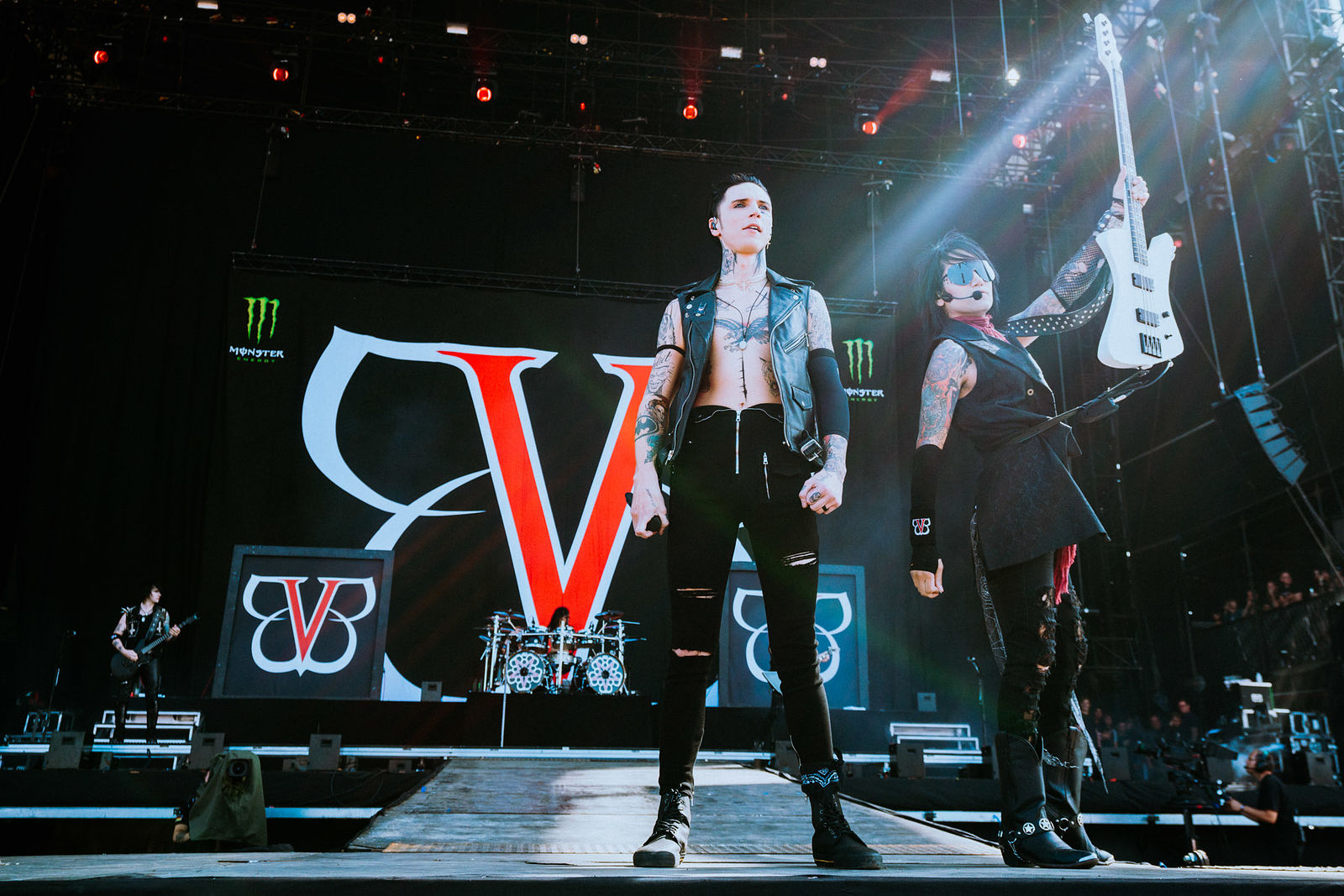 From one eccentric LA band covered in make-up to another – Black Veil Brides. Although this a slightly different flavour to the other bands mentioned, and BVB don't wear as much makeup as usual nowadays. However, they still celebrate their legacy and continue to produce material of quality. Although a lot of their fans have 'grown up' a bit since BVB first hit the scene (sometimes being branded an 'emo' band) the fanbase is still loyal. Being honest, at this stage in their career BVB should be higher on the bill than the following band, but we'll get to that later. BVB have grown up with their fans but finishing with 'In The End' shows Andy Biersack and co. don't forget their warpaint and big-haired past.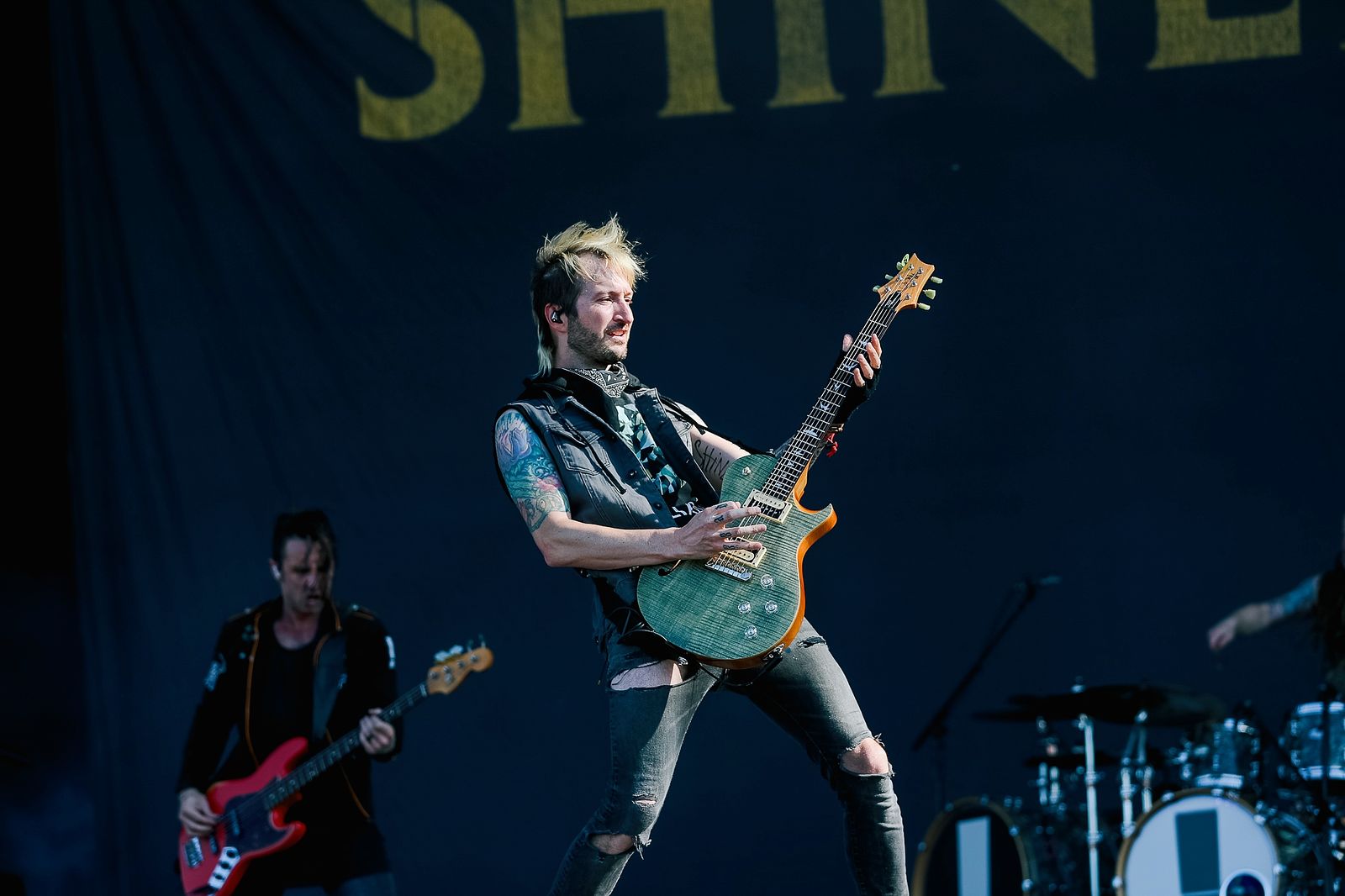 As the weekend slowly draws to a close, a Download regular is third from top billing. Yup, it's Shinedown…again! Not to say Shinedown don't belong on the line-up but more they were only here in 2016. It's two years, but that's like yesterday in festival terms.  That said, the Jacksonville rockers absolutely hammer it out. Often called 'Nickelback for people too cool for Nickelback' It's difficult to see why Shinedown haven't surpassed their Canadian comparisons. Shinedown have better tracks than a lot of 'mainstream' rock acts, and have a decent work rate, without over saturating their exposure. Maybe that small gap between festivals makes a lot of sense now. It also feels like on British shores that Brent Smith and the boys have built their audience through their noteworthy performances at previous Download festivals. And it shows, everyone is singing along and loving this. The highlight comes during the emotive track 'Second Chance' which sees grown men and women swaying together for the chorus. Expect to see Shinedown back here soon, probably at the same slot on the line-up.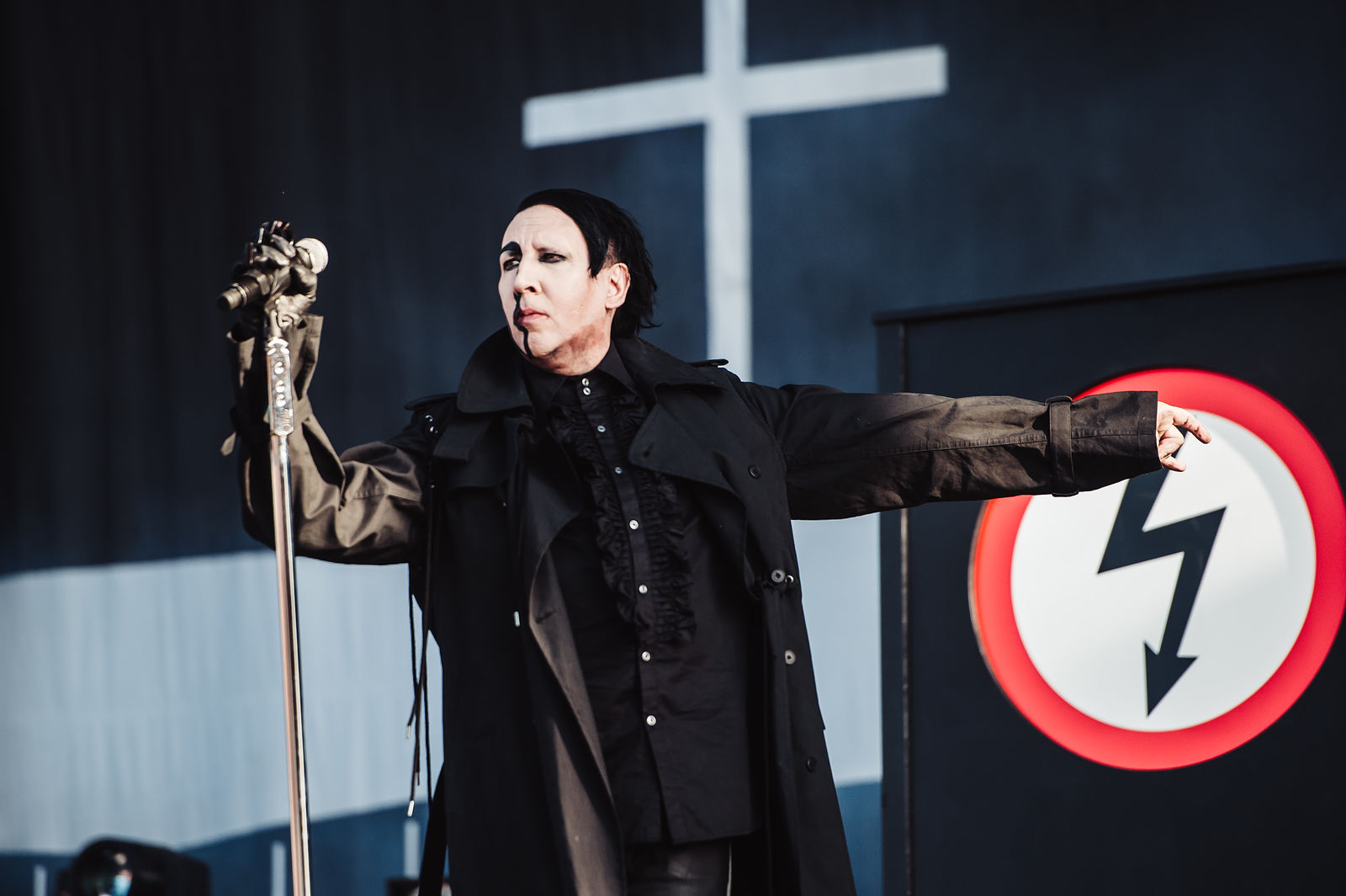 Sunday's, and in some ways, the whole of Download 2018's special guest today is none other than the self-proclaimed 'God Of F**k' Marilyn Manson. For some, Manson is greater than God and can do no wrong. For others, he is a great performer and they want in on this spectacle. For me it's been almost 20 years since I've wanted to see the man in action. Notice I said 'man' there and not 'band'. It's a given that MM is now a one-man show most of the time, similarly to GNR's 2008 line-up. Unfortunately, this seems to be how the show carries on. Nevertheless 'The Goth-father' starts off with underrated classics 'Irresponsible Hate Anthem' which pretty much acts as an alarm to those at the Zippo stage and NXT tent that they are missing what could be a classic set. ('Could' being the operative word). Followed by the equally storming 'Angel With Scabbed Wings' it might look like we have the old Manson back. Welcome back, old friend! Fair enough, he throws in a few more recent tracks but so far, so good. The only thing that is missing from this performance is the pizazz I have been looking forward to for decades. Manson, as a musician, is at the stage where he can play around with his smorgasbord of material. OK the tracks are chosen really well in this set, the only issue is he doesn't seem to be having fun. Plus his vocals seem slightly half-hearted. Keeping in mind he had a leg fracture last year, I'm not expecting Michael Jackson – but I was expecting a bit more than the occasional jacket change, which seems to take about ten minutes at a time. Teasing 'I Don't Like The Drugs…' before going in to 'The Dope Show' Manson can't help but remind us why we can't get enough of his antics.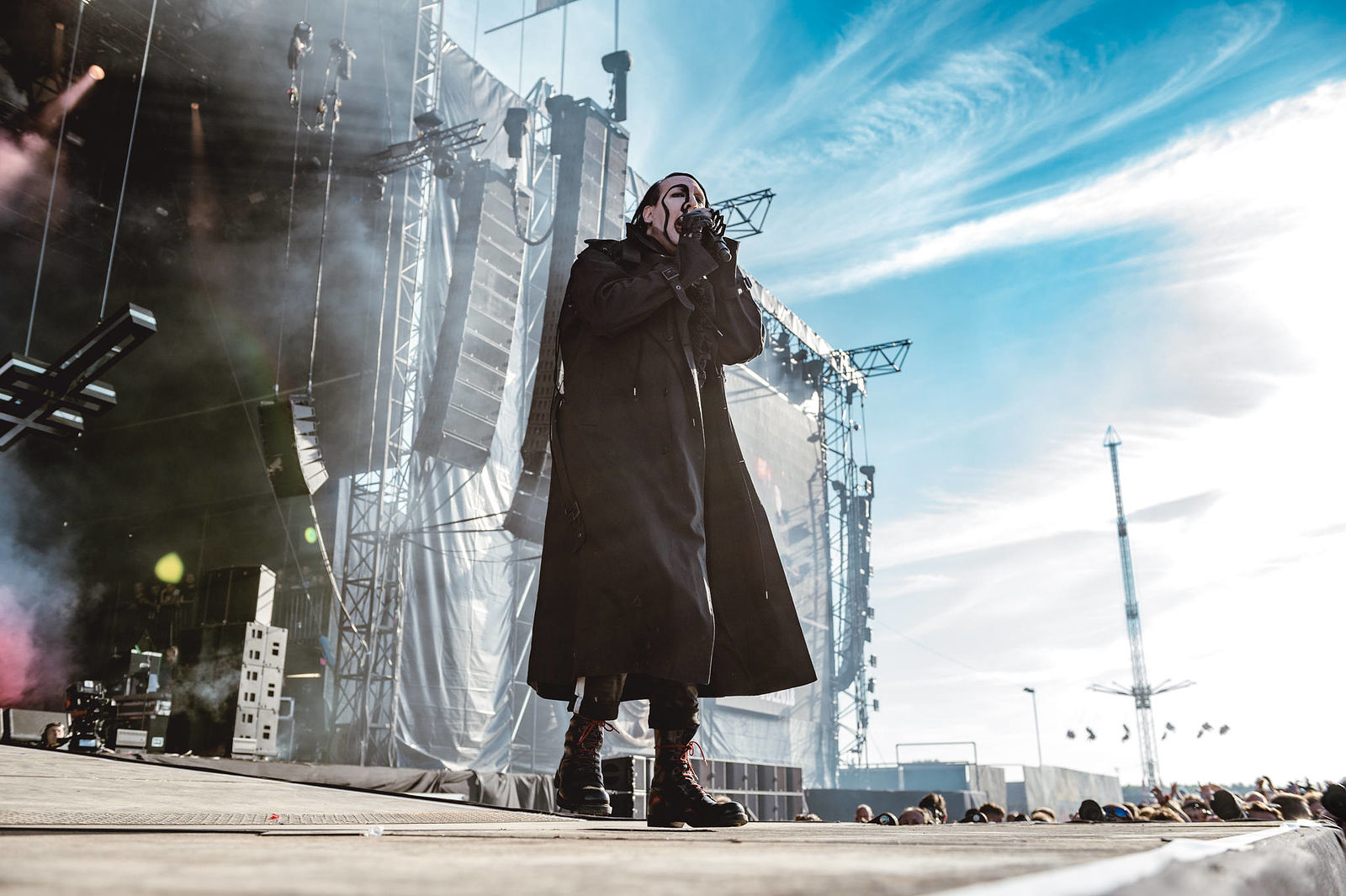 Yet, I feel we are seeing Marilyn Manson – the man, not Marilyn Manson – the band. None of his original collaborators are present, and I couldn't really name you one of his touring band. For the penultimate band of the festival, this is a little flat. Being generous, there's room for improvement. We get our 'Sweet Dreams' cover and 'Say10' and Manson walks off. I wouldn't be surprised if that was IT. Yet the 'Antichrist Superstar' re-emerges in *shock horror* a leather waistcoat. He kind of looks like Nicolas Cage has gone goth. Manson faffs about with his bandmates, leading to the familiar beat to 'The Beautiful People' the audience explode. Dani Filth even joins Mazza on stage for a few lines (of the song you naughty people). Just glad he didn't crack another dad-joke. I've been applying so much sun cream today…oh wait, I've told that one.  Bizarrely, the set finishes with a cover of 'Cry Little Sister' from The Lost Boys. Great song, but this is a bit of an odd choice, considering his vast array of famous cover versions. Oh well. Despite the the luc-warm performance, he gave the people what they wanted.
Now to the climax of Download 2018. Andy Copping couldn't have picked a better headliner. Midlands native and metal personified – Ozzy Osbourne is calling it a day and has decided to say goodbye to Donington Park in person. Despite having his original farewell tour in 1992, I personally feel this might really be it. Osbourne turns 70 this year and he has literally done it all: had a successful solo career, had his own TV show, been made into an action figure, starred in movies, and even had a go at leading his own festival in the shape of Ozzfest. But this is Download 2018, and we are taking a trip down memory lane to give the Blizzard Of Ozz an epic retirement party.
As per tradition, Ozzy comes out to 'O Fortuna', it would be weird if he didn't nowadays. Although Ozzy has clocked up ten solo albums and nine with Black Sabbath – every track is sure to be a hit. And wouldn't you know it, Ozzy starts with 'Bark At The Moon'. Already an epic set. Unlike Manson, the band with Osbourne is extremely notable. It's like a supergroup. Zakk Wylde's guitar work makes this opener – following in the footsteps of the late Randy Rhodes who pretty much made Ozzy's solo career. Keyboardist Adam Wakeman is just as important is this set. Especially for the following track 'Mr Crowley' and other synth lead tracks like 'No More Tears'.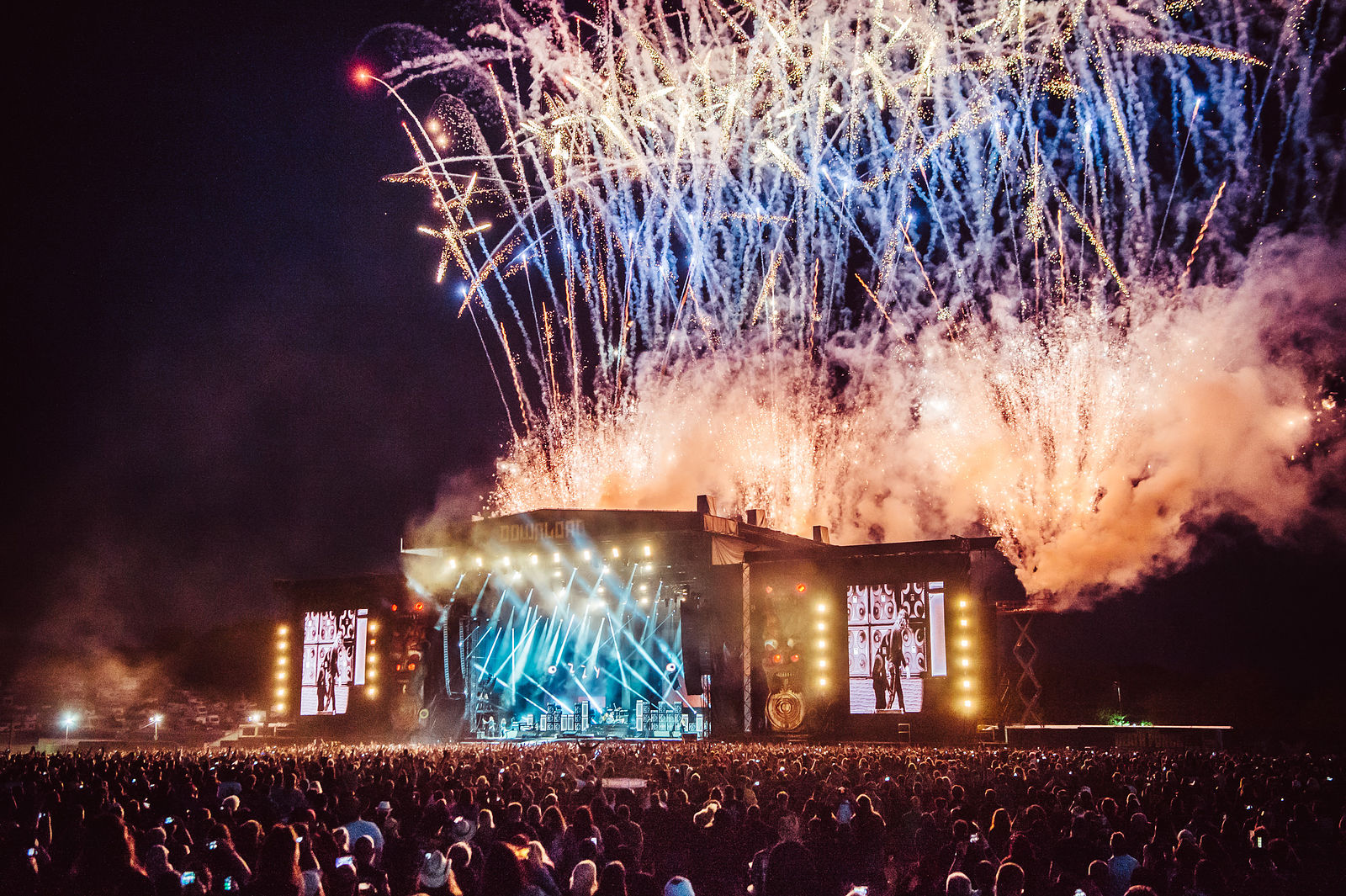 Changing gears for a second, we are treated to Sabbath classic 'Fairies Wear Boots'  as well as an 'album version' of 'War Pigs' complete with face-melting Wylde solo. This is followed by a medley of teasers for tracks Ozzy doesn't have time for…quite frankly. He has too many hits! The hits just keep coming by ending the main section of the set with 'Shot In The Dark'  and of course: 'Crazy Train'. Ozzy could easily finish here and no one would complain.  But guess what – he's not done yet. The emotional ballad 'Mama, I'm Coming Home' echoes across Donington Park. This seems quite poignant as finally Mr Osbourne can finally go home and enjoy his golden years. That's not even the closing track. What song comes to mind when someone says "Black Sabbath" to you. That's right, the anthemic 'Paranoid'. This set couldn't be more on point. Although Ozzy is a bit long in the tooth, he stayed ever the professional and put on a great show. More than can be said about some people, looking at you Manson. The perfect end, to the perfect weekend.
In all Download 2018 is possibly one of the best in recent memory. The line-up was fantastic, in fact – a bit TOO good. Clashes all over the places, yet variety is the spice of life. We've only covered the highlights of the main stage here and there were many more great bands on the many stages at Download, as well as the many other attractions at Donington. All of this will be covered in the next issue of RAMzine. I hope you have enjoyed reading my highlights as I have enjoyed reliving this amazing weekend. Until next time, thank you and ROCK ON!