Over for another year. This week is like the 'boxing day' of Download: everything's done, everyone's recovering, and another year to go. Fifteen years since Download was launched, is it still exciting as it was back in 2003? Will it go down in history like it's spiritual predecessor Monsters Of Rock? Or will it be like that Christmas you got a pair of socks in your stocking?
RAMzine were there to check out all the action at each stage at the Castle Donington Festival. Interviews will go out over the next couple of weeks and the full review will go out in the next issue of RAMzine.
2018 is 'one of those years' where there is two huge headliners and the other makes you think "really?" Safe to say that having the comeback of one of the biggest bands of all time, plus the farewell festival gig of the man who more or less invented metal – isn't too shabby even if a band like Avenged Sevenfold are the first night headliners. Not to say they aren't fit for the job.  But I digress. Here are the live highlights for Friday at Download 2018.
Boston Manor kick this year off in their own punk-y way. Although this is a towering task for the Blackpool rockers, they do it really well. Five years as a band and opening the biggest rock festival in the UK is not to be sniffed at. that being said, their set is somewhat forgettable, albeit fairly short. You can see why they are on first, but not to say they will progress in future festivals.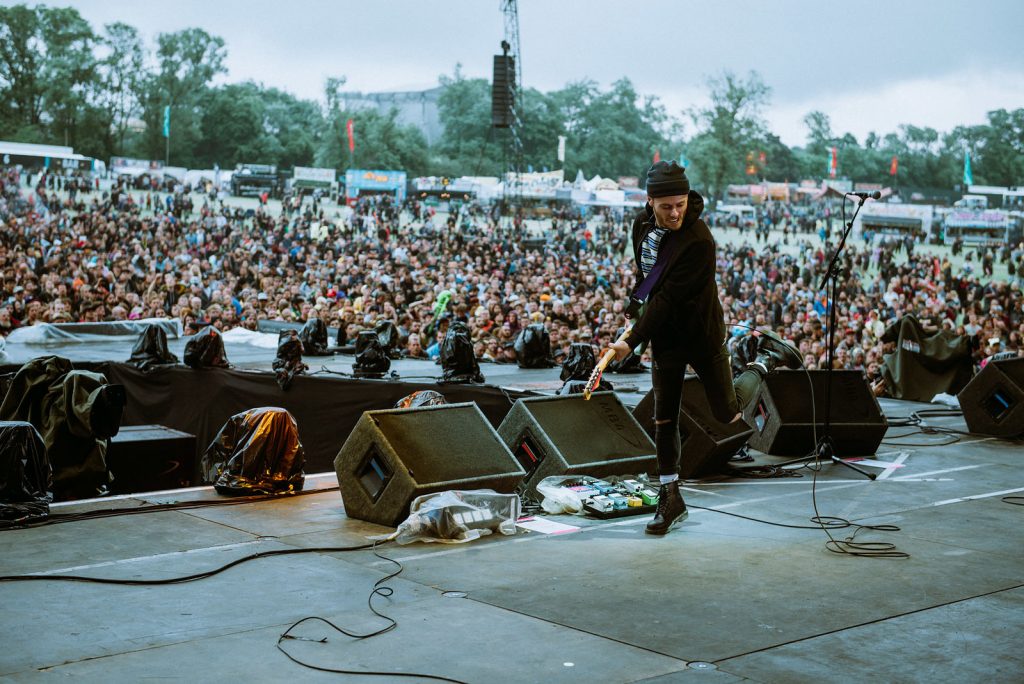 Even before they come on, Avatar look like they are going to be epic. There's Elvis-esque lights on stage, a pulpit, flags and we are greeted with a faux propaganda video. This presentation urges us to 'Welcome the king' complete with cheesy, yet creepy singing about said 'king' and comic sans text. Avatar deliver as 'the king' descends from the top of the stage, on a throne, playing guitar. Standard. If this wasn't bizarre enough – vocalist Johannes Eckerström is standing at the pulpit as if he is giving some political speech. Complete with circus make-up. [Insert Donald Trump joke here]. All to tie in with their latest album Avatar Country. However, opening track 'A 'Statue Of The King' is the only track from the record. Avatar's set is sadly only five tracks long, perhaps a band like this needs a different time slot, even if it's a smaller stage.  Nevertheless a highlight of Friday's line-up.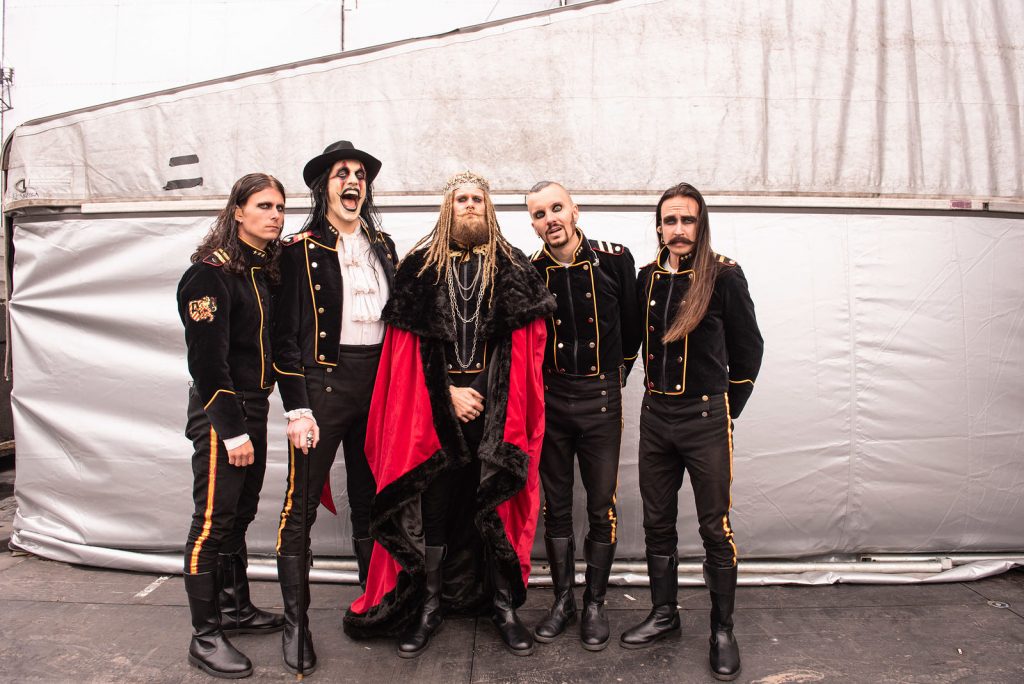 Speaking at surprisingly short sets, power metal icons DragonForce are up next. Although Download veterans, I doubt DragonForce will EVER  have enough time to show what they can really do. Most of their tracks are at least five minutes long, so a mid day twenty minute set really won't cut it. Nevertheless, Herman Li and the 'Nintendo metal' boys but on a stellar show, despite a few technical hitches. As expected the crowd come alive when the opening synths of 'Through The Fire and The Flames' starts. A shame this talented band is only known for a song that is considered hard to play on Guitar Hero. given a bigger slot, that could change things for them.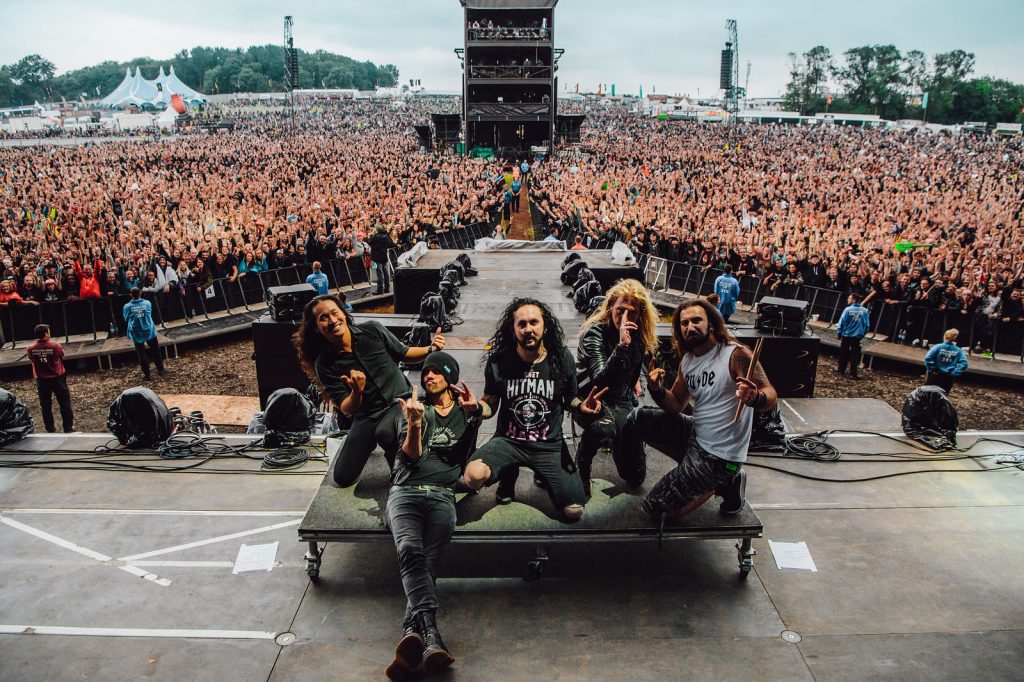 Swedish hard rockers Volbeat draw a huge crowd, keeping in mind that UK festivals like Download and Bloodstock now appeal to European fans. Volbeat aren't as well known here as they are in mainland Europe but that doesn't diminish the quality of their sound. To explain Volbeat to anyone who hasn't heard is usually the phrase 'If Elvis was in a modern metal band'. Which is the best thing you can say really. Awesome musicians but I could have sworn they played 'Lola Montez' twice (after some research they didn't, oops!) One of the best moments of the set was when Barney from Napalm Death lent his vocals to 'Evelyn'.It's quite a contrast between the gutteral vocal and hard rock of Volbeat…even if it's been done before. Still a nice treat for the Donington crowd.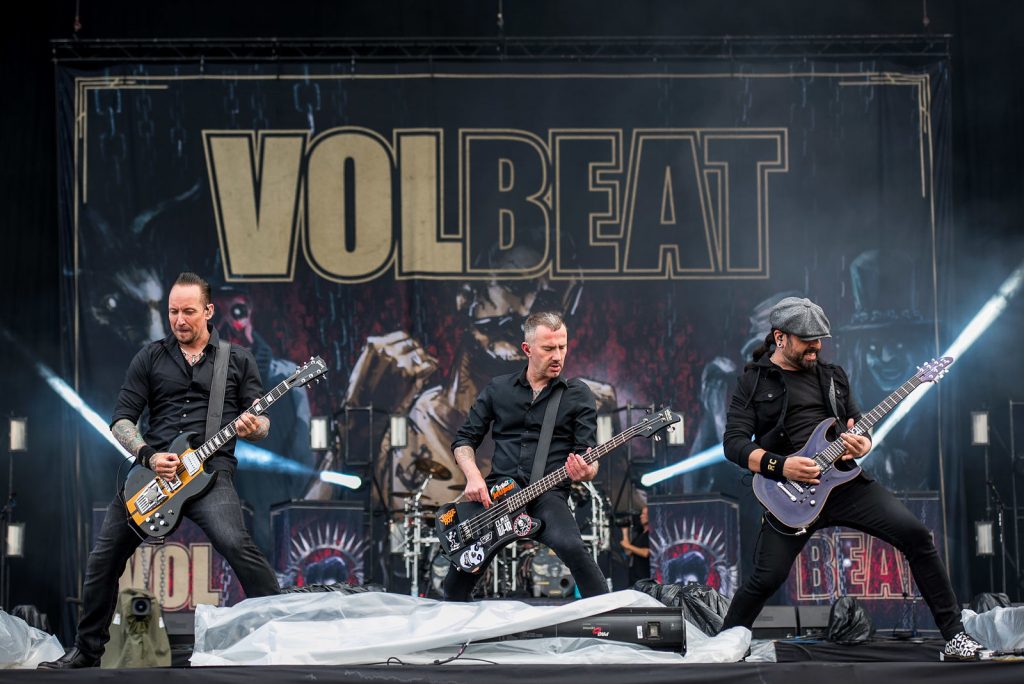 Bullet For My Valentine serve as today's 'support band' looking at it, this has been like a showcase of 'modern rock'. Each act on the main stage represents part of the world rock from the past decade or so. BFMV are an interesting act to pin down. They emerged at the same time as bands like Trivium, Atreyu, and BMTH – metal got 'good' again. Over a decade on – the Bridgend boyos have a setlist choc full of classics and new tracks.  Similar to the likes of BMTH, their sound has evolved as evident in newer numbers like 'Over It'. Even so they don't forget where they are and belt out '4 Words (To Choke Upon)', 'Scream Aim Fire' and the song now known as the "Crying In Space" song (Tears Don't Fall, for those who didn't get that). A great gig for the first 'sunset'moment (or the 'Sun-set', Mmm…coinage) of Download 2018. These lads are pros through and through. Future headliners? Well, if Avenged Sevenfold can do it – why not? Speaking of which…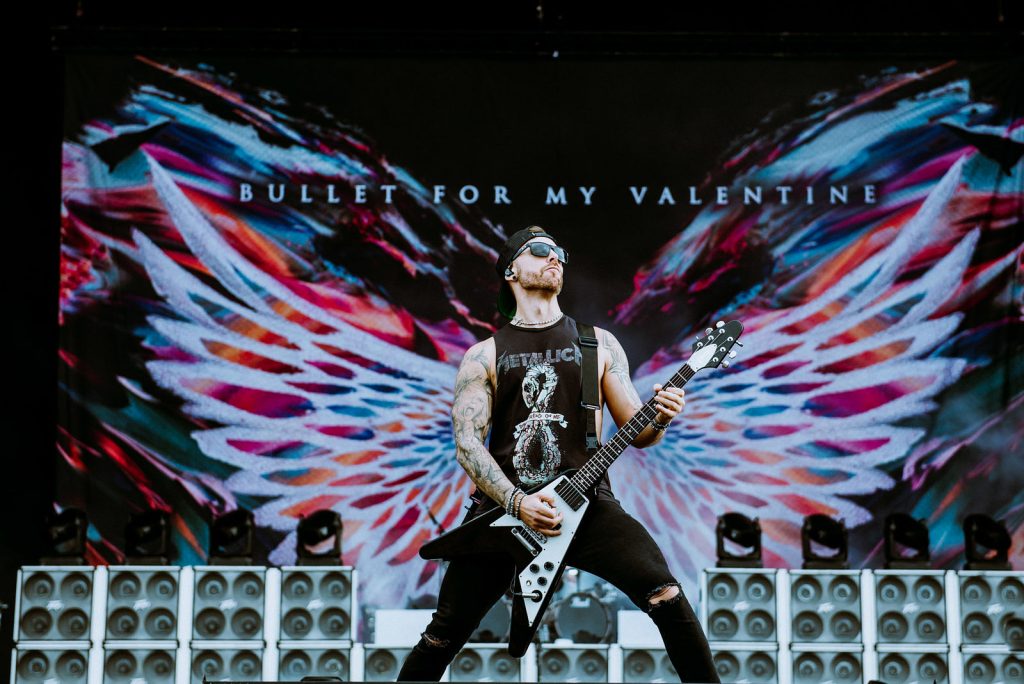 The first main stage headliners this year are a slightly controversial one. Despite already headlining the festival only four years ago, and headlining various other rock festivals this year, Avenged Sevenfold have been told they don't deserve this spot. Why not? Too new? Almost 20 years as a band, can't be. Not enough sales? They have a plethora of successful album so that's not it. Oh I see, they aren't the same level as Ozzy or GNR. So what? Being there as a spectator I can vouch this was a headline-worthy set. Even though they attempt a questionable cover of Pink Floyd's 'Wish You Were Here' (and they aren't the only headliner to take this song on… bizarrely),  A7X treat us to to their most popular tracks like 'Hail To The King' and 'Afterlife' early on, which is brilliant. However I feel this is also metaphorically blowing their load seeing as they don't have an extended legacy of material, unlike other bands on the bill. Finishing the main section of the set with 'Bat Country' they could leave it there but the Huntington Beach boys emerge for another hand full of tracks, which makes you think -why? Great choices for hardcore fans but still no 'Beast And The Harlot'. 
In all this has been a great way to open what looks to be a great weekend, some big names but the best is yet to come. This is just highlights of the main stage. The best gift in today's 'stocking' (yes I returned to the analogy) is Avatar for me, but others may disagree.
Check out the full review in the next issue of RAMzine for further coverage as well as reviews of the main stage acts as well as Zippo Encore, Dogtooth, Avalanche, and even NXT stages.
Check out RAMzine.co.uk for highlights from Saturday and Sunday. This includes our take on Guns N Roses, Ozzy Osbourne, Marilyn Manson, Thunder, Cradle Of Filth, and of course Lawnmower Deth!