On the 14th May 2018, Jack Bruce would have been 75. As it was family, friends and fans gathered in London that evening to celebrate the man and his music.
One of the world's greatest bass players, his influences extended from folk to world music and all points in between, though he will always remembered foremost as part of the original rock super-group Cream – A band who reformed with all three founding members nearly forty years after they first began to explain to a fickle music industry why they choose that name.
12 months after his passing from liver failure on 25th October 2014, a tribute to his memory took place in the form of a concert held at The Roundhouse in London. It was filmed for posterity and the Curzon Mayfair was to host its widescreen debut in high definition with surround sound audio… But the event proved to be more than just a tribute.
With all profits from the screening being donated to East Anglia's Children's Hospices (EACH) there were volunteers on hand with buckets where you could donate further coppers and notes should you so desire while milling about the Curzon Mayfair's bar checking out famous faces or Jack Bruce merchandise. That or go watch some movie trailers. Strangely I didn't need to flip a coin to make my decision.
A lifelong fan of Jack Bruce, I had failed to see him live in concert, so was honoured to receive an invite to this tribute. Intended as a mark of respect, if only to myself, I wore a black suit in memory of his passing; the event itself proved much more spirited.
Around 6.30pm radio DJ and television presenter Edith Bowman noted for her work on MTV, Radio 1 and Virgin Radio among others took to the stage. She gave a short introduction relating how her father had first introduced her to Jack Bruce's music, that she was proud of his Scottish heritage and how members of the Bruce family had involved Ivor Novello award recipient Nitin Sawhney to act as music director for the film we were about to watch.
And with that Sunshine Of Your Love – Tribute Concert began, but not as we expected it with a series of handpicked musicians on stage but Jack's own voice calling out across time and space and the harrowing wail and chug of his harmonica as vintage film footage greets us with a raucous live version of 'Traintime'- A song he had first played with the Graham Bond Organisation and would immortalise on the world's first ever platinum double album, Cream's Wheels of Fire.
Further brief interjections featuring Jack would follow during the two hour film, but primarily what followed was a generally inspired selection of hand-picked songs encompassing his career, featuring a combination of musicians he had worked with, those inspired by him and a house band whose line-up changed but in general featured Tony Remy on guitar, Paddy Milner on keyboards, a couple of young ladies going by the forenames of Julie & Chloe on backing vocals, and drummer Frank Tontoh who was sitting next to me. But it was more than just guest vocalist and guitarists, work had obviously gone into each song work on its own merits not as a star vehicle.
That stated, Level 42 bass player Mark King was among those whose contributions stood out. Famous for his slap and pull right hand funk technique he was playing in Bruce's manner and would later in the evening reveal an album by Cream was the first he ever brought, and the concert had given him a brilliant excuse to buy a Gibson EB3 bass, like the master used to. He opens the concert sharing vocals with a young guy (and fellow Brummie like me) called Stealth and it's a great uplifting version of 'Hit & Run' from the I've Always Wanted To Do This album – A track that bounces in a melodic hard rock manner with a brief unexpected jazz fusion moment that always catches the listener off guard.
It further exemplifies Bruce's talents as a musical arranger for the way on the original Bruce counterpointed his own lead vocals with a secondary line and the singers on film affect this well. However, the real star of this opening track and for me the show as a whole is the man who played on that original track, Clem Clempson, guitarist with legends like Humble Pie and Colosseum and several of Bruce's own solo bands – Striking poses he plays keenly throughout the number and wields a stirring solo that raises the bar for those other six string gunmen who'll be appearing during the show, and continued to be outstanding every time he took to the stage.
As it is Uli Jon Roth takes up the guitar challenge for a rendition of Cream hit single 'I Feel Free'. It again features strong dual/harmony vocals and while you wouldn't think its British psychedelic flavour would offer much room for manoeuvre for a guitarist save its brief solo, the former Scorpions guitarist dazzles and shines within the parameters given. He returns late in the show with King again for another shorter Cream number, 'Badge', and again scatters neo-classical rock beauty within the song's well-shaped blueprint.
With a change of pace the next few numbers will see Jethro Tull's Ian Anderson play flute and former Whitesnake guitarist Bernie Marsden featured on lead, but it's the appearance of two of Jack's relatives, his nephew Nico on double bass, youngest son Corin on congas with daughter Kyla on vocals and keyboards for the haunting 'Weird Of Hermiston' that sets the evening in motion for what will be some fine interpretations of this material by younger musicians.
Most notably later in the film will be a simply stunning take on 'Rope Ladder To The Moon' by Ayanna Witter-‐Johnson on both vocals and cello, and a lady happened to be sitting behind me at the screening. Backing vocalists Julie & Chloe will move stage front to duet on ''Ships In The Night', that co-featured Sally Oldfield on the original, while Corin Bruce will sit behind the full drum kit  for 'White Room' with both Clempson and Marsden playing guitar, the latter also singing his heart out, with fellow former Whitesnake and Black Sabbath bass player Neil Murray also putting in the first of several appearances.
Along the way little heard tracks or performers you wouldn't normally expect make appearances including former Stranglers front man Hugh Cornwell and Roxy Music guitarist Phil Manzanera (trading guitar licks with Marsden on 'I'm So Glad' at one point!), while Living Colour guitarist Vernon Reid plays on No Surrender' (which he didn't on the A Question of Time album) and 'Politician' sung by Liam Bailey – And it's here where if there's a criticism to be made of the musical choices it's that tracks known for being of a more epic length live are not performed so here (and understandably so) and raging rockers and flights of jazz fusion frenzy like 'Bird Alone' and 'Life On Earth' are sadly missed opportunities, not least because Clempson and Reid played on studio versions.
Decisions possibly made by musical director Nitin Sawheny to emphasise Jack Bruce's early connection and enduring exploration of world music; the intentions being to promote his work to a more contemporary audience. As noted, where the key performers are young themselves they do bring a new quality to the sounds, a more modern R 'n' B groove but without the bling factor as with Bruce's eldest daughter's Natascha (known for her hip hop material as Aruba Red) singing 'Folk Song' and later 'We're Going Wrong' and Julie Iwheta who sings 'How's Tricks' (with the laidback funk of the original album title track intact but given added soul ripe for being cherry picked for some British rom-com). 'Never Tell Your Mother She's Out Of Tune' may have old stick-in-the-muds complaining about the changes made but they work well – A sharp hard-edged jazz number wherein instruments attack you from all sides with odd time changes as written by Bruce here it's a big time blues swing number delivered with clarity, warmth and some passion by Joss Stone. It's also interesting to note how many female voices adapt well to songs composed by a rough Glaswegian and an old beatnik, in the form of Bruce's frequent writing partner, Pete Brown.
Mind you, for me, Bruce's Out Of The Storm album remains a personal emotional touchdown and while I regret they only played one number, you can't go wrong with 'Keep It Down' in fact it's a bostin' performance. Driven by a stonking heavy bass guitar played to an old school funk beat before soloing away at the end, and a screaming rock guitar throughout, here Clempson takes up Chris Spedding's original session lines and exudes emotional texture galore while King proves why he's the perfect stand-in for Jack on this number, aided and abetted by some strong cinematic close-ups showing him bend and pull-off notes with such masterful grace.
Proving to be the joker in the pack, Ian Anderson defies his long-established public reputation – Considered a hard task master who has run Jethro Tull his way or the by-way since the sixties, and a man who rarely suffers fools from the press, here we reappraise him as an intelligent man who strives for the best in all his endeavours. 'Tickets To Waterfalls' is one of several obvious choices in songs he could sing, but more it's the way he plays flute in accompaniment as well as solo to other songs, and moves around the other musicians acting as team player, cheer leader and benevolent mentor all rolled into one on stage, then later in real life when being interviewed pulls away from the stand-offish stereotype and proves a genial raconteur, and a long time admirer of Bruce's work.
The much covered 'Theme For An Imaginary Western' is the film's last song to feature footage of Bruce. Sitting there playing piano the melancholic musing evoke metaphors of the musical adventure he journeyed on through his life and instinctively inform us the movie is nearing its end, and inevitably must feature Cream numbers as encores. And so it is that 'We're Going Wrong' is performed; the slow psychedelic blues ballad's social commentary remaining  as relevant now as when first written and given credible soul by singer Aruba Red, but it's that drum pattern that your ears pick out and your ears race to catch up looking for the legend that is Ginger Baker. He doesn't look well; he doesn't look happy and as we will find out later there are perceived grievances at work but his contempt towards them fits the music's theme completely and raises the already worthy musical performances here tonight up several bars.
But, as the title of the celebrate documentary goes "Beware Of Mr Baker"… The evening's performers all return to the stage for 'Sunshine Of Your Life' itself. To the right of me Frank Tontoh and Tony Remy are beginning to laugh, but it's the kind of laughter you make when you don't want anyone to know you're probably scared as shit. Moments later on screen we see why: Ginger Baker hurls a drum stick across the stage at Tontoh playing across stage on the other drum kit; in a flash you see the reactions of some of the other musicians as it dawns on them what has happened, Anderson's eyes dart everywhere as he roams the stage ensuring the performance continues, that everyone is safe and probably the only guy there who's got the hutzpah to put Ginger in place should the need arise. But, as we soon see, Mr Baker has left the stage, if not the building.  The song itself features solos and lines sung by all the key performers, but it's the horn section that stand out – There have been several covers featuring brass arrangements from Aretha Franklin to Jack himself, but these guys  swing and swagger boldly weaving in and out of what's arguably heavy metal's parental riff with distinction.
And then applause both on film and in the seated Curzon Mayfair and above it all Jack's voice is heard, thanking us for coming to the show and telling us "You're wonderful". It's still dark so no one can tell if a tear has slipped down my cheek. Even more thankfully it's dark because during the aptly titled 'We're Going Wrong' the button on my trousers decided to pop off! Between that moment and Baker's antics I'm betting Jack Bruce is up on some fluffy cloud wetting himself laughing. I hope so, as do I that this does not remain a limited performance of the film. Even as the credits run there are brief snippets of interview from the likes of The Rolling Stones' Charlie Watts to The Beatles' Ringo Starr and guitarists like Robin Trower who couldn't make the show praising the man.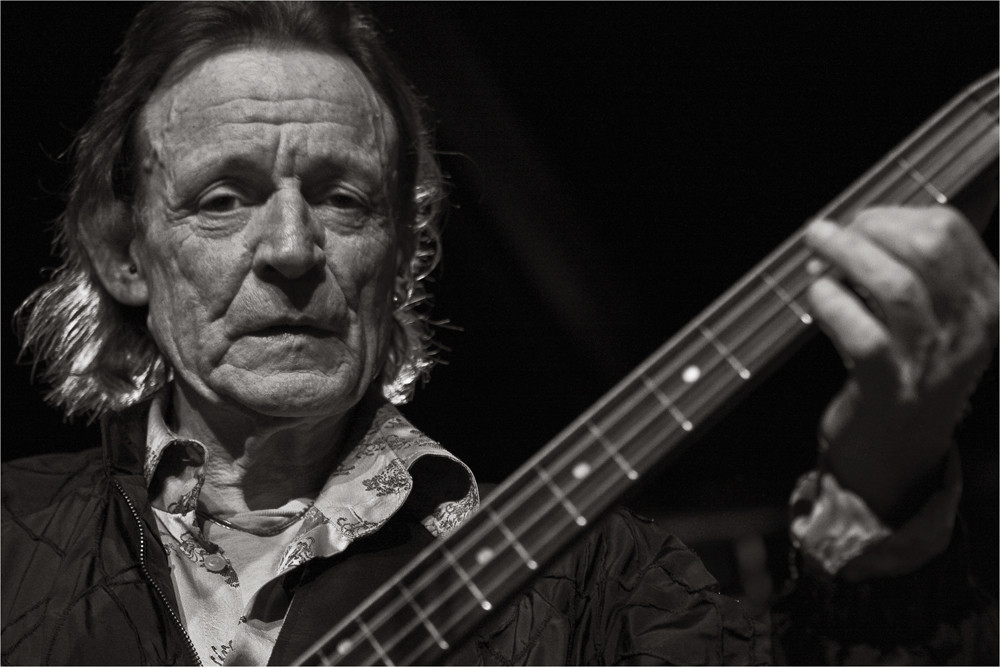 Those songs featured during Sunshine of Your Love – A Tribute Concert were: 'Traintime', Hit &Run, 'I Feel Free', 'Milonga', 'Don't Look Now', 'Weird Of Hermiston', 'White Room', 'Hear Me Calling Your Name', 'Keep It Down', 'Politician', 'No Surrender', 'Rope Ladder To The Moon', 'Candlelight', 'Ships In The Night', 'Folk Song', 'Badge', 'How's Tricks', 'I'm So Glad', 'Never Tell Your Mother She's Out Of Tune', 'Theme For An Imaginary Western', 'We're Going Wrong' and 'Sunshine Of Your Love'.
Film over, Edith Bowman returns on stage with Jack's daughters, Nitin Sawhney, Mark King, Phil Manzanera, Ian Anderson and Liam Bailey. It's a surprisingly orderly interview, but much good humour espoused too, King and Manzanera seeming to be particularly conspiratorial not least in either cajoling or forcing Frank Tontoh to get up on stage alongside, and the interview extends to the  man sitting beside me joining in.
It transpires one Sawhney's intention from the start was to feature performers who suited a song, and rehearsals were intended. Baker never attended those, and discussions about different arrangements were never going to go down well. There's the intimation that others who'd previously played with Bruce were asked to adhere to the arrangements given, but Nico Bruce and Bruce's Big Brass Band members aside that would infer Clempson, and frankly if anyone knows how to play guitar to a Jack Bruce song he's your man and proved it by excelling in his performances, but then again he's also a skilled session musician too. But, no, generally good vibes were espoused, mention of the EACH charity given, and the hope that Jack Bruce's music will continue to reach out to future generations. Let's hope more of our current generation get to enjoy Sunshine Of Your Love – Tribute Concert soon.
With that, other performers seated in the audience got up to join those on stage for photographs to be taken and for those of us graciously invited there was the VIP reception to be held later. The only thing being, as I'd noted earlier, my trouser button had popped. Hands in pockets to stop the damned things falling down I gingerly made my way towards the bar. But, as I stood there beside Neil Murray and raised my head to look up at the tall chap I could feel them slipping and decided the better part of valour was to make my retreat, that the guy who held the door open for me to escape was Mark King seemed to indicate the spirit of Jack Bruce had instructed fellow bass players to have some fun at my expense but I escaped safely into the night, making my way to Euston and a fortunately mooning-free journey home.