Each year Metal Hammers' Golden Gods Awards represents the celebration of the past twelve months of rock and metal from around the world. The O2 Indigo in London is rammed with fans waiting for their idols to come and perform and take to the stage for their well-deserved awards.
The full list of winners at the 2018 Metal Hammer Golden Gods were as follows:
Best New Band sponsored by Röad Crew – Lovebites
Best Underground Band sponsored by Relapse Records – Wolves In The Throne Room
Best British Band sponsored by Nuclear Blast – Judas Priest
Best Live Band sponsored by Monster Energy – Lacuna Coil
Best International Band – Arch Enemy
Best Independent Label – Sumerian Records
Best Event sponsored by Spinefarm Records – Download Festival
Breakthrough sponsored by Sumerian Records – Code Orange
Riff Lord sponsored by Chapman Guitars – Wes Borland
Global Metal sponsored by Century Media – Kaoteon
Inspiration sponsored by uDiscover – Meshuggah
Best Album sponsored by Roadrunner Records – Myrkur 'Mareridt'
Spirit Of Hammer sponsored by Sliptrick Records – Jessica Pimentel
Icon sponsored by Zippo Encore – Maynard James Keenan
Golden God sponsored by LouderSound.com – Ozzy Osbourne.
Hatebreed frontman, Jamey Jasta, is the host of this eventful night and everyone in the room is buzzing to see the one and only King of Metal, Ozzy Osbourne, who has been honored as 2018's Golden God. Parkway Drive are the headliners tonight with a blistering full-production set, they certainly know how to put on a show! In the meantime we got to chat with some of the winning bands and the other participants of the Golden Gods straight from the Red Carpet.
[divider]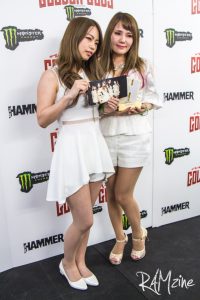 Lovebites wins Best New Band sponsored by Road Crew. This is a all-female power metal band who represents Japan's latest portent and is progressively getting worldwide success and fortune.
How does it feel to be awarded as Best New Band?
Lovebites: "It's awesome, we are very glad to be here tonight."
Why do you think people voted for you?
Lovebites – "We play 100% heavy metal music, that's why we won. Thank you so much to everyone that voted for us."
[divider]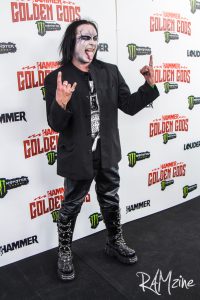 Dani Filth, frontman of Cradle Of Filth and one of the award presenters of the night.
How did you feel about yesterday's performance at Download? There was quite a big crowd for being such an early slot.
Dani Filth – "When I saw I was on at 12pm I thought they meant midnight, I didn't have my glasses on or anything."
Is there anyone, in particular, you are excited to see tonight?
Dani Filth – "I've just presented an award to Wolves In The Throne Room, they are amazing. Also Myrkur, I think she's playing later on. What she's doing is that she's bringing this whole new vibe creating something completely different."
[divider]
Wolves In The Throne Room wins Best Underground Band sponsored by Relapse Records. The American black metallers released their sixth full-length studio album Thrice Woven in September to critical acclaim.
How does it feel to win Best Underground Band Award?
Wolves In The Throne Room: "It feels really great, I'm all tingly everywhere. It's surreal!"
What's the spirit of metal for you?
Wolves In The Throne Room: "Dark, tribal and disturbing."
What is your main goal for this year?
Wolves In The Throne Room: "Just keep on touring, have a good time, work on the next record, make new connection with the people on the road and play music."
Any details about the next record?
Wolves In The Throne Room: "It's early stages right now, we are just writing riffs."
Who are the people that inspired you the most?
Wolves In The Throne Room: "It was cool having Dani Filth introducing us. Also Maynard Keenan, I love Katatonia Brave Murder Day is my favourite record ever. There's a lot of good bands."
How do you see the future of metal music?
Wolves In The Throne Room: "It's not for me to say what the future of metal is. It's just a bunch of people doing whatever they want to do and people like different things so.. they can stick to what they've been doing or try something new I don't know, it's not for me to say."
Tonight's Golden God is Ozzy Osbourne, who would you have voted for?
Wolves In The Throne Room: "Ozzy who? Of course I would have voted for him, or for Sharon Osbourne."
What would you say to your fans?
Wolves In The Throne Room – "We are about to go on tour in five days, we'll tour most Europe and we are looking forward to see them at the shows."
[divider]
Amazonica has DJ'd to everyone from Tom Cruise to Mick Jagger to Skepta at the Cannes film festival, the Oscars and every award ceremony. She is now playing arenas opening up for the one and only Reverend Marilyn Manson.
Tonight we are celebrating the spirit of metal. What's the spirit of metal for you?
Amazonica: "Arghh how can you lot ask these questions? (Laughs). It's a feeling man! Everyone knows that."
So you are opening for Marilyn Manson tomorrow, how do you feel about it?
Amazonica: "I gotta make sure I wake up for my 5am wake up call (laughs). I'm excited, I have already done a tour with him. It's great to get to play loud metal music."
Are you a genuine fan of Manson or are you just supporting?
Amazonica: "Of course!!"
How was it to share a stage with such an icon like Manson?
Amazonica: "It's been a great experience, his fans are amazing and really up for it. He's a legend!"
How do you feel about tonight?
Amazonica: "You know what it's been so awesome to run into Dani Filth because I sang a track for Cradle Of Filth a few years ago and I haven't seen him since we did the video so I was really happy."
[divider]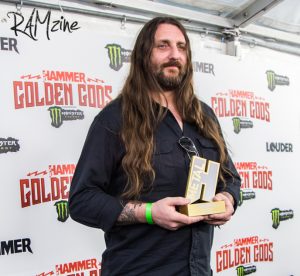 Ben Ward from Orange Goblin getting the Best British Band Award on behalf of Judas Priest, winners of this category.
How do you feel to get this award on behalf of such a massive band like Judas Priest?
Ben Ward: "It's a massive honor and like you say it's a massive band so to be asked to get this award on their behalf is indeed a big responsibility and good luck to them trying to get it off me!"
Some people said we wouldn't be standing here at the Metal Hammer Awards if it wasn't for you, how do you feel about it?
Ben Ward: "It's great, I mean look at that recognition we had last year, I don't really wanna dwell on that, I think staff and everyone involved in the organisation do an amazing job every year. And it's a great celebration of new bands, old bands, different genres. I think heavy metal is in good hands, there's so much good stuff coming from the underground."
What would you say to the people that voted for Judas Priest this year?
Ben Ward: "I can understand why they voted for Judas Priest. Forty years into their career and still releasing amazing albums. They are the epitome of heavy metal with all the studs and leather, they are the ultimate heavy metal band so it's great to see that they got this kind of recognition."
What's going on with Orange Goblin?
Ben Ward: "We have a brand new album out on Friday and we are playing Stone Free on Saturday. The week after that we go to Hellfest. We have also announced a few U.K. tour dates with Fireball Ministry, Corrosion Of Conformity and Black Moth so we are really excited about that."
[divider]
Myrkur, black metal project of Danish musician and singer-songwriter Amalie Bruun wins Best Album.
Can you tell us what this award means to you?
Myrkur: "This record is called Mareridt and I wrote it as an escape from life and night terrors, there was nothing that could help me at the time so writing a record in a way set me free. That's why it feels great to get this recognition."
What does metal means to you?
Myrkur: "It's a free place where you can be wild, unpredictable and hysterical and do everything you are not supposed to do."
When you write a record do you just go by inspiration or do you give priority to the audience's expectation?
Myrkur: "On this album I literally wrote down about the nightmares I was having at night and tried to turn them into songs but obviously I did appreciate the feedback of people telling me how much my music helped them to go through what I went through."
[divider]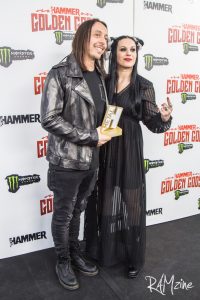 Italy's multi-award-winning gothic metallers Lacuna Coil win Best Live Band sponsored by Monster Energy.
How would you describe tonight?
Lacuna Coil "Well, we won Best Live Band so we are very excited and grateful. This year we shot our DVD at KOKO in London so this award closes the cycle."
What's the meaning of metal for you?
Lacuna Coil "It's a lifestyle, you can immediately recognise someone who listens to metal from the look, the attitude and it's great that music connects people together."
Who are the people that influenced you the most?
Lacuna Coil -"Type O Negative are one of the bands that got us into the genre and of course Ozzy, we have to thank him because he got us into Ozzy's Fest twice in 2004 and 2006 and that made us grow as a band especially in the North American market."
At this stage of your career, is playing in the UK very special to you?
Cristina Scabbia: "It is. We played one of our very first shows in London about twenty years ago even before our first record came out and the support we got was amazing. Our fans are so loyal and most of them became friends with us so it's like coming back home here. We feel very well accepted and supported."
Cristina, how does it feel for you to be a woman in the music business?
Cristina Scabbia: "It feels great, I just look at myself like a member of the band, I don't like to focus about the fact that I am a woman. I know it was something really weird in the beginning because metal used to be more like a men dominated scene but now it's more opened and things have changed but I always look at myself as one of the guys."
What's the key of your success?
Cristina Scabbia: "It's important to stay exactly who you are regardless whether it's about metal or not, to be honest and share with the fans is fundamental."
[divider]
Andy Copping CEO of Live Nation wins Best Festival for Download.
How do you feel after Download?
Andy Copping: "I feel very tired and I feel very honored about this and we were lucky with the weather this year. I think we put a really good bill together, as we did last year, not just me but with the help of my team Steph, Kam, Shaun. We just gotta keep striving. It's about fans and if we don't have fans we don't have anything. And the fact that the fans still keep coming and still keep voting for us is amazing.
With all the environmental issues, this year more than ever you most probably had to take care of that too while organising such a big festival?
Andy Copping: "We gotta do that. The thing is without getting too spiritual this is our planet, let's not forget that. We, as festival organisers, gotta do something, we gotta take care of the people out there, we gotta try and educate them a little bit, we all gotta do this thing together. It's great to walk around a festival and not seeing all the clutters and all the bottles on the floor because it's all about recycling, like re-using cups. We are doing our bit and it is really really important."
Is there any band who hasn't headlined yet and you wish they will any time some?
Andy Copping: "I get asked this question a lot and at the end of the day if you look at the way headliners are today we are losing people like Aerosmith or Ozzy but you know what for Download great bands like Bon Jovi, Van Halen, Queens Of The Stone Age, Blink 182, Green Day haven't head lined yet. There's also a number of others that are gonna come through, I can see Parkway Drive, Voltbeat, Alter Bridge, Paramore, Fall Out Boy, Bring Me The Horizons as headliners of the future."
[divider]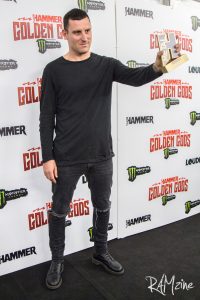 Winston McCall singer of Parkway Drive, headlining act of tonight's awards.
You are known for being very humble but you guys absolutely smashed Download, how do you feel about that?
Winston: "We smashed it! (Laughs). It was really awesome, the crowd was incredible and been given that slot you actually walk on stage and see people so far behind that can't even see the screen and they are still there. So yeah it was cool!"
And you are headlining tonight's show, Metal Hammer is an institution, and after that you are taking off to Australia.
Winston: "It's really cool I'm sure we played in this venue like seven years ago so it's all going."
We just spoke to Andy Copping and he has said he sees you guys headlining Download in the future, how does that sound?
Winston: "It's a big crazy thing to hear when we just watched Guns 'N Roses, Ozzy Osbourne and Avenged playing and we saw those crowds, it's mental! At this point in time this is the biggest thing that we want to do, you put us on any stage and we are gonna put on a show. We want to give something that is worth your time and something that matches the effort that we put into our music. So if we ever get that shot we are gonna do it right."
What's the plan for the rest of the year?
Winston: "This is just the start, we are off to America, Australia and the UK. So we are coming back. We are so excited!"
Can you define what the spirit of metal means to you?
Winston: "Individuality. Just being yourself and embracing the darkness the same way you embrace the light."
Of course tonight we are celebrating Ozzy as the Golden God, can you tell us what does he mean to you?
Winston: "Dude pretty much invented heavy metal. I'm not someone who gets star struck but when he walked past me I was. And I'm sure we wouldn't be here if it wasn't for him."
[divider]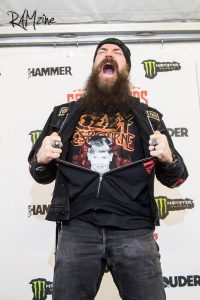 Zakk Wylde, Ozzy Osbourne's guitarist and founder of the legendary heavy metal band Black Label Society.
So Zakk you are pretty much a legend.
Zakk: "That's what I tell my wife and kids (laughs)."
You just had the honor of headlining Download Festival with Ozzy Osbourne and it was one of the best performance of the weekend, can you describe us how that was for you?
Zakk: "Hope you enjoyed that payroll I gave you for that comment. I was very pleased with our choreography and with our dance moves, we spent a lot of time on it in fact I have blisters on my feet."
Twenty minutes guitar solo mostly in the crowd with the guitar behind your head.
Zakk: "I enjoyed that, I mean I'm a people person I like to go out there and hanging out so it's all good."
We are here to celebrate the spirit of metal, can you tell us what does that mean to you?
Zakk: "Berserking and drinking as much as you possibly can and waking up with your pants around your ankles and the fella telling you 'We had an awesome time last night'. I don't drink anymore, I sniff glue and eat paint chips. The results are astoundingly the same, I wake up with my pants around my ankles and they often hand me a list of people I have to apologise to."
Can you tell us what makes Ozzy such a timeless and special artist for the metal scene?
Zakk: "I just think that it's great that people are taking notice and honoring all his achievements aside of music like his Wimbledon Championship wins, his time with Manchester United and then obviously the Gold Medal for men gymnastics, a lot of people don't talk about that it's always about the music."
He looked pretty healthy and in good shape last night.
Zakk: "He's not drinking anymore either, he eats paint chips. As I said we don't really remember much of the show last night."
After Ozzy are you going back to Black Label? Is there any new album in the pipeline?
Zakk "I've always done Black Label in between. But after his solo career ends Ozzy is gonna be the new lead singer in Zakk's Sabbath as he's already kinda familiar with the material. It's all for the love of the music. And the glue and the paint chips."
What do you see as the future of metal?
Zakk: "Hopefully it's better than what I'm doing, I'm still living in my parents basement or on my girlfriend's couch. The music is always evolving and changing which is awesome. You can't predict where it's gonna go and that's what's the great thing about music."
[divider]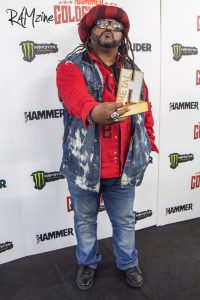 Benji Webber from Ragga Metal legends Skindred.
What do you think about tonight's celebration of metal?
Benji: "Well I think music needs to be celebrated. I don't think the winners are always the best but they got the most votes. It's all about people enjoying music and this is a chance for the rock community to come out an express themselves."
What is that you most admire about this genre of music?
Benji: "Rock music has always been something very dear to me. You can't say you like rock music today and you don't like it tomorrow. It stays with you and it's past on from generation to generation. Heavy metal, punk rock, whatever you wanna call it, it's something that you give to your children."
What's next for Skindred?
Benji: "We are gonna play Reading and Leeds Festival which we are very excited about. I was quite upset we didn't get to play Download this year but you gotta make sacrifices sometimes. Although I swear down we always bring the rain at Download. And also our new album is out there and it's doing really well and if you haven't picked it up yet expect the unexpected because there's nothing better than expecting nothing and getting everything."
[divider]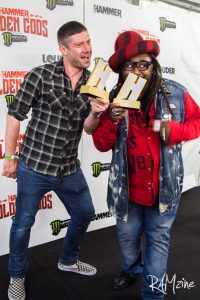 Wes Borland, Limp Bizkit guitarist wins Riff Lord sponsored by Chapman Guitars.
How do you feel about tonight?
Wes: "I'm so excited about tonight. I'm a metal guitarist first but I've done all these other ways in my career and it's really interesting to be recognised by the metal community and it's great that they accept me and gave me this award. There's so many people that inspired me like Metallica, Megadeth. There's so many things I didn't say tonight that I wish I could have 'cus I had a very limited time. I'm such a fan of riffs in general because it's the only thing in music that sound like a drum beat as I wanted to be a drummer originally. My parents were like 'No you can't have a drum kit' so the first time that I heard riffs in music I thought they had such character and were so recognisable, to me they seem like actual objects that you can think about in a tridimensional way. I feel very honoured to have received this recognition tonight."
You have recently headlined Download Festival in Australia with Limp Bizkit, that must have been an honour too?
Wes: "Of course. We haven't put out a record since 2011 and there's been one in the works for a long time and it's really amazing we can go and do that based on our catalogue and the fact that we can still put out a show and get bruises every night. I'm so lucky that I can still do this for a living, it's amazing."
Is there anything coming out in the near future?
Wes: "There's a bunch of songs, Fred's been working on vocals, I've been continuing to put out records on my own on the side and he seems very confident he's ready to wrap it up. So maybe next year?"
Can you talk about the mechanics of riffing and how you get on the level you are operating on?
Wes: "I started as a painter and a sculptor and for me the riff was the only thing that seemed tangible like something that I can understand. I've never been a fast guitar player so I was really inspired and excited by the riff, it was something I could hold on to, something that made sense to me. Whenever I write a riff I see it as an object in my hand and for me incorporating the tremolo bar on the low notes that's what got me really excited and that was the niche that I found that separated me from the other people. That sort of rhythmic playing became synonymous of what made me excited. My palms at the beginning of every tour are always really sour."
[divider]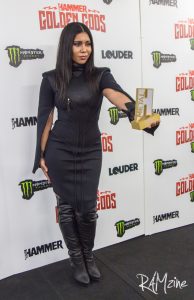 Jessica Pimentel lead singer of Alekhine's Gun and backing vocalist in the band Brujeria, also known for her role in the show Orange Is The Black wins Spirit Of Hammer sponsored by Sliptrick Records receives her Spirit Of Hammer Award.
How do you feel about tonight?
Jessica: "This is really overwhelming, I've been reading Metal Hammer for pretty much all my life and getting an award for just being alive is very weird. This is really surreal! And also my man got an award and he played tonight so that's awesome!"
When did you find out you were going to receive the award?
Jessica: "Last minute, we tried to figure everything out. I'm supposed to be on vacation at home but when they told me about the award I was like 'Wow, the one you gave to Darth Vader?! Yeah sure. I can handle that I guess' (Laughs)."
What's the spirit of metal for you?
Jessica: "Let's not talk about anyone that plays metal or does metal or plays an instrument. The spirit of metal is just doing whatever your heart tell you to do not caring about what other people are gonna think. You are not afraid to follow you gut instinct or not fitting into the crowd. You just do what you need to do."
How do you balance so much success in so many different areas of your career?
Jessica: "It's so hard but where there's a will there's a way. I've been playing music since I was three years old, music is my first language but then something happened and another door opened and I tried acting. But then I realised I could still write music for other people and I could sing. The spirit of metal makes you break down the walls, forget about the rules and find your own way."
Thanks to you taking part in such a successful show like Orange Is The New Black you kinda became an intro to metal for some people.
Jessica: "There have been many times that I have seen people coming to our shows because they are expecting to see Maria from Orange Is The New Black and then they are surprised to see something completely different from that character on stage. At the same time they start to get passionate about metal and that's really cool."
How do you feel to be a woman in such a men dominated scene?
Jessica: "It's still a men dominated scene but it's gradually changing. A lot of these guys seem to know everything but some of them don't even know how to tune their guitar and we all have to learn in the same way. A lot of us are maybe intimidated but once you see more of these women kicking down these gender roles there's gonna be more and more of us trying to get into the business. As long as it comes from the heart that's all that matters."
Lastly, what are your biggest influences?
Jessica: "Sebastian Bach, King Diamond, Metallica, At The Gates, Slayer, The Haunted."