What better way to spend a sunny Tuesday evening in the capital city of Norway, i.e. Oslo, than with two of the best and most legendary metal outfits of all time? I am of course referring to US thrash metal stalwarts Megadeth and the British gods of metal that are Judas Priest, two bands who in large part have shaped the modern landscape of hard, aggressive music in all its various shapes and sizes. Simply put, few can rival Megadeth and Judas Priest in terms of musical quality and neither of the two let us down last night when they laid siege to Oslo Spektrum and demolished the entire fucking thing.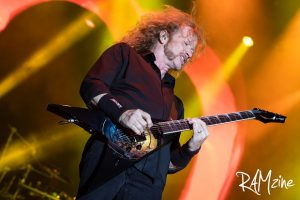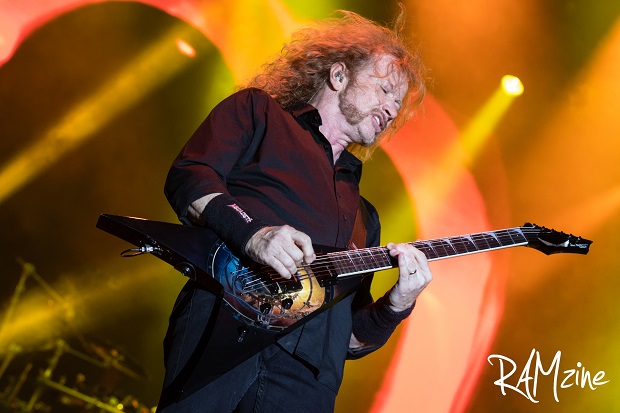 Despite a number of problems with respect to the sound and the fact that things sounded rougher than hell during the first three songs, Megadeth were firing on all cylinders and their set list was impeccable. It was a highly enjoyable 55-minute set consisting of some of their staples as well as a couple of surprises and two songs lifted from their latest opus.  The performance was technically dazzling and utterly passionate. Every tone and nuance of the songs came across as emotionally charged, almost as if the members of Megadeth were about to explode or burst with energy, aggression, and excitement. You could tell that they were having a great time on stage and were eager to play to in front of a rapturous Norwegian audience. Following the glorious yet ominous intro consisting of 'Prince of Darkness', the band launched into 'Hangar 18' and there was simply no turning back as they pummeled through razor-sharp renditions of 'The Threat is Real', 'Take No Prisoners', 'Tornado of Souls', 'Dystopia', 'Symphony of Destruction', and 'Peace Sells'.
'The Mechanix' and 'Holy Wars…The Punishment Due' served as the encores and were as intense as they were delightfully crushing and memorable. When Mustaine said "See if you recognize this one" and launched into those immortal opening chords to the former tune, yours truly nearly got a hard-on. It was awesome and it still sounded as vicious as it did back in the day. That was without doubt one of the very highlights of the evening. Like I said, the sound was pretty rough and the vocals came and went, but main man Dave Mustaine sounded great. Very loud drums and muddied vocals did not deter from the fact that it was a splendid performance with a superb set list to it and that the band sounded like an inhumanly tight and well-oiled machine. The Ellefson/Loureiro/Mustaine/Verbeuren line-up may just be one of the very best Megadeth constellations of all time. Yeah, you read that right!
Judas Priest were brilliant and the entire 100-minute long set was pure bliss. As with Megadeth, loads of classics were performed, but they also made room for a few surprising cuts as well as three songs from the latest (and fantastic) Firepower (2018) album. A fine blend of new, old, and some rarely heard material, if you will. The amazing thing about watching Priest in action was to witness just how hungry and ferocious they all were. The massive and bombastic sound emanating from the speakers was overpowering and Rob "Metal God" Halford sang like a man possessed. The stage set was stunning to behold and there was a drive and vitality to the entire thing that was out of this world. Andy Sneap did a great job replacing Glenn Tipton and it goes without saying that Hill, Travis, Faulkner, and the aforementioned Halford all delivered the goods. The crowd was truly appreciate and loved every wonderful second of the show, but then how could anyone not be blown away by the band's renditions of such riveting tunes as 'Firepower', 'Grinder', 'Sinner', 'The Ripper', 'Lightning Strikes', 'Bloodstone', 'Turbolover', 'Freewheel Burning', 'You Got Another Thing Coming', 'Painkiller', and 'Hellbent for Leather', just to list some examples? One particular highlight was the atmospheric 'Night Comes Down', which has not been aired live for something like three decades. 'Tyrant' was another splendid surprise. The four encores, namely 'Rising from Ruins', 'Metal Gods', 'Breaking the Law', and 'Living After Midnight' were akin to a musical orgasm. Nothing either seemed or sounded out of place – it was all quite structured and disciplined, but full of life and potency. Judas Priest's wild and spirited performance at the Oslo Spektrum was a magnificent display of heavy metal power and might. Judas Priest are in a league of their own; always have been, always will be.