Oxford's Hell's Gazelles are a bombastic 'n' hard-working troupe of balls-to-the-walls rockers consisting of vocalist Cole Bryant with Nath Digman on guitar, Rik Ridemark on bass and Luke Evans on drums. Sometimes they can be cerebral, sometimes quite ferocious… but they are always tremendously exciting.
They've banged their riff-tickling little hearts out at live events such as Bloodstock, Breaking Bands and HRH and so they've accumulated an exultant convocation of faithful fans eager to get a slice of the stew.
We had a listen to their upcoming EP Take Your Medicine —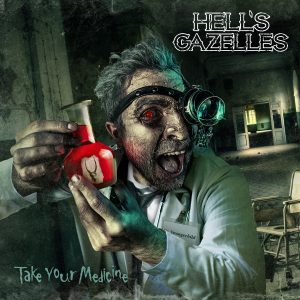 'Give Me Something' represents frustration with our place in the world and our interactions with others. This has clapperclaw rhythms and enough macho snarl to feed a mechanized army. It's powerful, energetic and convincing — with tough lyrics, delivered in huge waves, that don't tend to piss about. If you like Deep Purple "In Rock" especially track's one & two… you are gonna lurve this.
'Stone Cold' is about making the decision to eliminate someone from your life. This has reverberant, riff-saw power and a bout of punch-throat vocals that really-do bring to mind Ian Gillan. The bass is as supple and inky as a black cobra at a licorice festival and the lyrics will give the listener the strength and cast-iron will to overcome the worst this mean world has to offer.
'Out of Time' deals with faith in oneself and in a higher power. With an iron-clad riff this comes-on like a wave-cutting destroyer, all guns blazing, a set of emblematic & flamboyant pennants of guitar hoisted atop. With the type of audacious vocals that will tie bikini-string panties into knots this is one helluva ride.
Title track 'Take Your Medicine' tries to guess the honesty of other people. This is a melodious and abundantly filled number with gorgeous guitar-work. It has an addictive chorus and acidic guitar breaks.
The final Black Sabbathy track 'She Devil' has hidden biblical references and is as dark and sacred as a convent in the winter mists. It's an intelligent combination of heavy metal and shadowy blues.
These songs don't bludgeon the listener with over-blown hammer-power — neither do they daunt with murk. Everything is very precise and controlled… although never less than totally invigorating. So, in that sense, the Hell's Gazelles don't purvey sludge or doom.
There is positivity in the folds of sound and the grand message is clear: keep firm and try to be level-headed and there's a good chance you'll muddle through.
So this EP is intense, rich and rewarding. A dose of high-quality, strapping heavy metal.
Take a hit… you will feel much better!
Take Your Medicine is on general release on 27th of July 2018.