After the infamous 'Monsters Of Rock' festival ceased in 1996, there was a huge void in the UK rock festival scene. That was until 2003 when Stuart Galbraith, Tom Pyke and Andy Copping came up with an idea to use the same location for a new rock and metal festival, this festival was to be known as 'Download'. The name itself was chosen for two reasons. Firstly, Downloading was a dirty word in the music industry back in 2003 due to file sharing, and Rock is seen as a rebellious genre after all. Download was to be the 'Monsters of Rock' for the 21st century and the internet would provide the connectivity with its audience.
The 2003 festival tickets also had a code on them; these allowed festival goers to 'Download' tracks from bands which had played. Although the idea has been dropped during the following years, the festival organisers have continued to nurture the online community via the Download festival forums. These were initially a sounding board for fans and critics but have evolved to become an integral part of the festival organisation with regular contributions from current festival organiser John Probyn and continued promoter, Andy Copping.
Initially Download was to be run as a two-day event, expanding to three days in 2005. In 2008, the site found itself being moved about after developments with Formula One which meant the infield was no longer suitable. They saw a move to the 'Sunday markets' site to the West of the Circuit. Although the new site was adequate, numbers were limited and the location of the campsite meant that getting from tents to the arena was "Quite a Hike". Reflecting briefly on the 2016 walk, I shudder to think how much further this could have been!
2009 saw the festival move to the South of the circuit, a far more suitable location. It also saw the introduction of on-site radio broadcasting on Rock Radio on 87.7FM.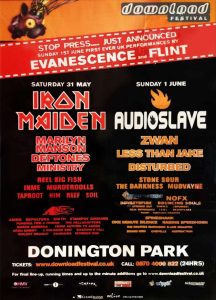 Download 2003 started with a bang being held from Saturday 31st May to Sunday 1st June. The original main stage headliners were Iron Maiden and Limp Bizkit. Unfortunately, Limp Bizkit had to pull out but were quickly replaced by Audioslave. Even Metallica attempted to step in as headliners but as they were already playing that years Reading and Leeds, were unable to. They did however, play an unannounced 'Secret Slot' in the afternoon on the second stage (Scuzz Stage). All, as history goes…without a sound check after playing an exclusive club night in London the night before!
In 2004 Download was held on 5-6th June and saw the edition of a third stage. Seventy-two bands played over the two days. 2004 was remembered by staff for its last minute 'hitches' that I'm sure they can now look back on and laugh about. First, SOil got lost on their way to Donnington and missed their main stage slot on the Saturday. They later ended up joining 'Drowning Pool' on stage and performed 'Bodies' and their own song 'Halo'. Next, Static-X missed their slot due to a bus breakdown. With Saturday out the way, surely Sunday would be drama free? Turns out it wasn't!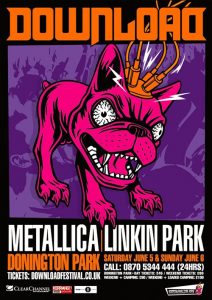 Slayer arrived on time and were rearing to go. Their equipment however, did not! This lead to a change from the middle of the afternoon to a later slot and longer set on the second stage. Slayer were replaced on the main stage by Damage Plan, who were scheduled to play the second stage. Their set list ended with a rendition of Damage plan founders Vinnie Paul and Dimebag Darrell's most recognisable song from Pantera 'Walk'.
The biggest news from 2004 was when Metallica's Lars Ulrich was rushed to hospital. An hour and a half late, James Hetfield took to the stage to explain. The show then began with drummer Dave Lombardo (Slayer) playing on 'Battery' and 'the Four Horsemen'. Joey Jordison (Slipknot) took over for the rest of the set apart from on 'Fade to Black' which was played by Metallica's drum tech, Flemming Larsen. A fine example of how our industry sticks together in times of need!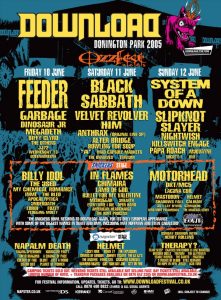 Download 2005 saw the Saturday dubbed 'Ozzfest' as well as an 'Indie day' on the first day of the festival. 2006 saw Headliners Tool, Metallica and Guns N Roses. During the Sunday headline set, Guns N Roses had bottles thrown at them. This caused problems after GNR lead vocalist Axl Rose slipped on the wet surface and a bottle hit Bassist Tommy Stinson. In an understandable rage, Stinson threw his Bass, unfortunately it happened to hit a Cameraman and he walked off stage. He did however return after the song, apologised and warned that if the behaviour continued, he would leave for good. Eventually it all died down and Axl was quoted for saying "I'm actually having quite a good time now! I couldn't have said that an hour ago!"
On the final night, fires were started by some festival goers and Police were called. Around 4am Gold Campsite saw the fire brigade arrive to put out a large fire. A number of people had taken the railings that had separated campsites and used them to barricade the road to prevent the Fire Brigade reaching the main fire. At this point, Police assembled in riot gear and and stormed the campsite. 12 people were arrested and and festival director John Probyn posted a message on the official website stating that "About 150 people spoiled the end of what had been a great weekend for over 75,000 of us!"
The festival was growing, and in only 2009 (6 years after its debut) saw crowds of over 120,000 people in just three days.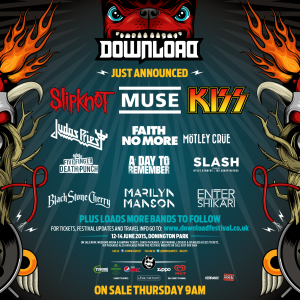 Download 2015 saw my very first time at the infamous Donnington festival. We saw Slipknot, Muse and KISS headline the event and wow, I heard it rained at Download but no one had prepared me for the upcoming face off with Mother Nature herself!
The festival saw Mötley Crüe's last ever UK festival performance on the Sunday followed by the headliners KISS. There's nothing quite like watching Gene Simmons's tongue on a huge screen or watching Paul Stanley brave a zip wire to a mid crowd platform whilst in spandex.
2015 also saw Jágermeister pull out as official sponsors and the stage was renamed the 'Dogs Bed Stage'.
Being big on technological advances from the start, Download 2015 saw RFID wristbands used as payment methods instead of cash and facial recognition surveillance technology installed by the Leicestershire Police. Festival goers were not warned about this in advance and visual scans of festival attendees were compared against a European Criminal Database. Muse front man Matt Bellamy made his opinions clear during his performance of 'Uprising' when he shouted "Fuck Leicestershire Police for scanning your faces!"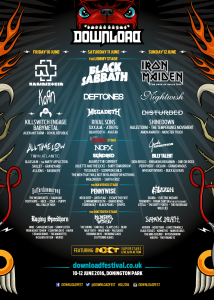 2016 – Cash payments were back! Rammstein, Black Sabbath and Iron Maiden were to headline and everyone kept one eye on the sky in anticipation for the infamous Ed Force One.
The 14th annual festival also saw some incredibly sad news after Motörhead had to cancel. A very moving tribute paid to the infamous front man Lemmy Kilmister after he suddenly passed away on 28th December 2015. In his honour, the main stage was renamed 'The Lemmy Stage'. Instead of having a band replace Motorhead on the bill, the slot was to be filled with a tribute video.
If I thought the previous year's rain was something to complain about, 2016 saw tents floating! I will always remember being stood in front of the main stage watching Iron Maiden and glancing down at me feet to see not mud, but a watery brown soup like consistency engulfing my Wellies!
So with the 15th annual Download festival around the corner, what can we expect to see this year?
After discovering that the equivalent of 106 Olympic sized swimming pools of rain fell onto the festival goers last year, Download have gone for bigger drainage options! This year sees a new drainage system that totals over 3,000 meters and quadruples the amount of previous years. An additional 1,115 meters of new ditches have also been added to take water away from the site.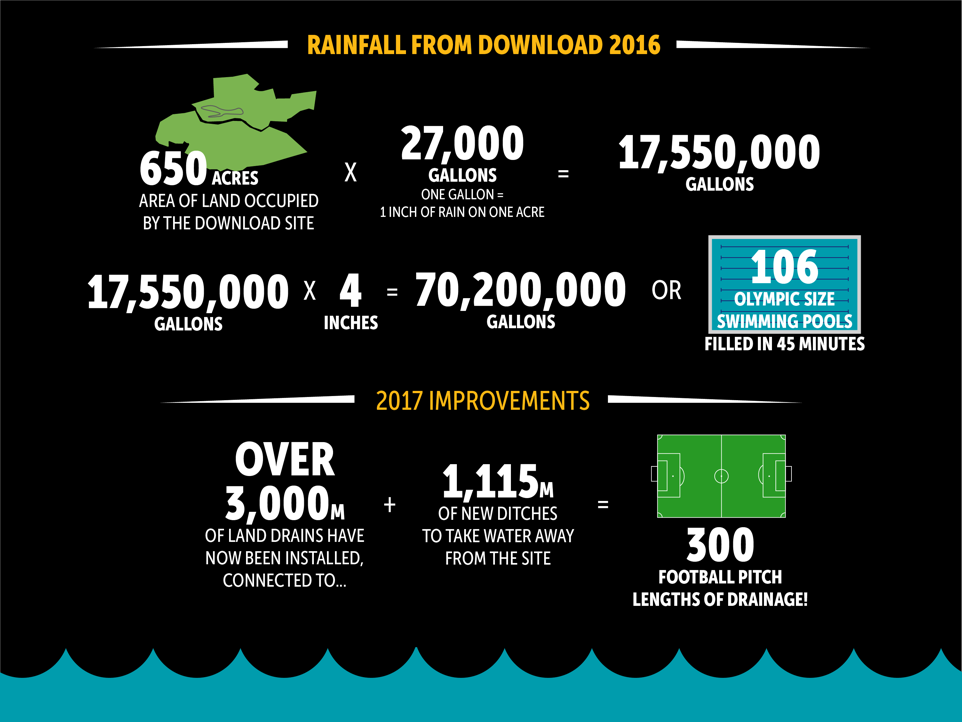 Festival Manager John Probyn says "We've made major changes that will benefit the Download audience not just this year, but for years to come. Whilst rain in any situation will naturally create wetter ground conditions, we've taken measures to ensure our festival goers see a tangible improvement by increasing the vital drain structures on site to four times what they were in 2016."
I can't help but feel that this may be throwing down the Gauntlet to the Rain Gods a bit! After the past two years, a Kayak on the Sunday is still a mode of transport I am considering.
After having my car broken into last year in the main car park, I am also delighted to hear there will be 400 newly appointed members of the 'Dog Squad' across the car parks, campsites and villages.
We will also see the Avalanche Stage being relocated behind the NXT Wrestling to allow easier access between stages and to make it a shorter distance from the Main stage and the Zippo Encore stage.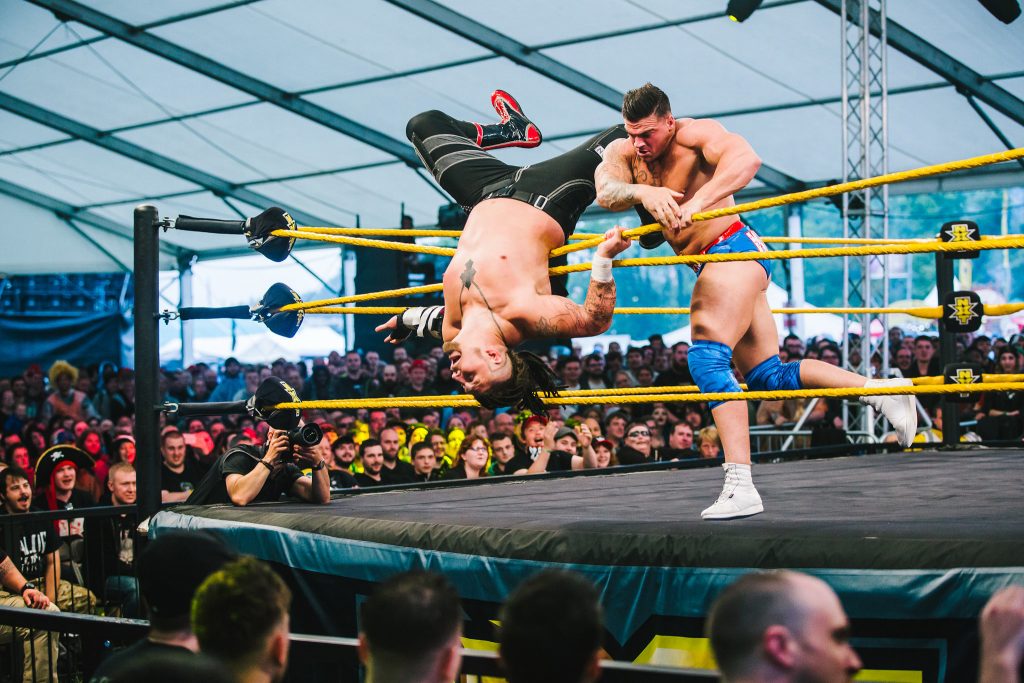 All of these improvements show that festival organisers really do listen to what patrons have to say on the forums and work to support and implement change where possible.
So other than these site improvements, let's talk about who we have playing!
2017 will see us wave farewell to iconic sleaze rockers Aerosmith! This will be their last UK festival performance as the band intends to finish their Aero-Verderci Baby! tour and it will be curtains on their 47 year career. With all festivals, you can't beat a good rumour. So let's start our own! DMC will be playing the IOW festival on the Saturday, do you think we could see the infamous hip hoppers joining Aerosmith on stage to cover 'Walk this Way' as a last hurrah? We certainly hope so! We will also be seeing System of A Down and Biffy Clyro headlining this year's festival.

I for one cannot wait to see the phenomenal bands and experience the unmistakable Download 'family' atmosphere. The patrons may look scary, but they are undoubtedly some of the nicest people you could ever wish to meet. It's a wonderful festival with a wonderful atmosphere. The security are always helpful and lovely and let's face it, the hog roast with apple sauce has saved many of us on the Sunday after all the rain, ironic dehydration and lack of vitamins. Unless you count your cider as one of your five a day, I guess it does contain Apples!