Swedish hard rockers H.E.A.T are especially known for their catchy tunes and passionate performances. These guys certainly know how to work an audience and after years of hard work they are finally getting the recognition they deserve. Touring non-stop and supporting great acts such as Toto, Alice Cooper and Whitesnake have exponentially increased their fan base and soon they'll be back in the studio to work on a new album. We caught up with the whole band a few hours before their show in London as they were opening for Skid Row and Backyard Babies. Frontman Erik Grönwall and keyboardist Jona Tee are the main speakers in this interview which will see them talking about funny anecdotes and future plans.
RAMzine: Welcome to London guys, what do you like about the UK?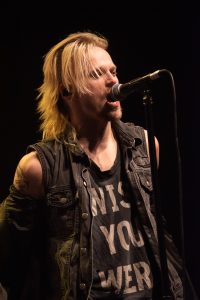 Erik: What's not to like? Cheap beer, good audience.
Jona: I love the crowd here, the UK has been good to us throughout the years. One of the best.
RAMzine: Any funny stories from this tour so far?
Jona: My keyboard stand broke down on the first show.
RAMzine: What? On stage?
Jona: Yeah, it was really weird. Eventually I just ran off stage hoping that someone would fix it and they did. The show went on but I didn't really panic.
RAMzine: What's one thing you guys do or say before getting on stage?
Erik: Where's my beer? (laughs).
Jona: We tell each other's to have a good one.
Erik: We are good friends and we are enjoying our time out there as long as it lasts. Our job is to make sure that everyone who's here tonight is gonna have a good time.
RAMzine: A lot of the press have praised your performance in London when you were supporting The Quireboys, you guys absolutely smashed it. How do you feel about it?
Erik: Very good. That's why you do support tours. You wanna find a new audience and people that haven't heard about you before so that's the ultimate complement. That's why we do this, you know. And hopefully more people will show up when we headline.
RAMzine: What do you remember about that performance and why do you think it was so great?
Erik: I thought it was great to play with The Quireboys and to a full audience. The house was really on fire, everyone was enjoying themselves. I hope tonight will be the same. Even on the balcony it was crowded, good attendance and a very fun gig.
RAMzine: What do you think made you stand out?
Jona: We just kept on doing what we always do. Have a really high and energetic rock 'n roll show. I think that was it. The energetic approach to a show, I guess people liked that aspect apart from the songs and everything else.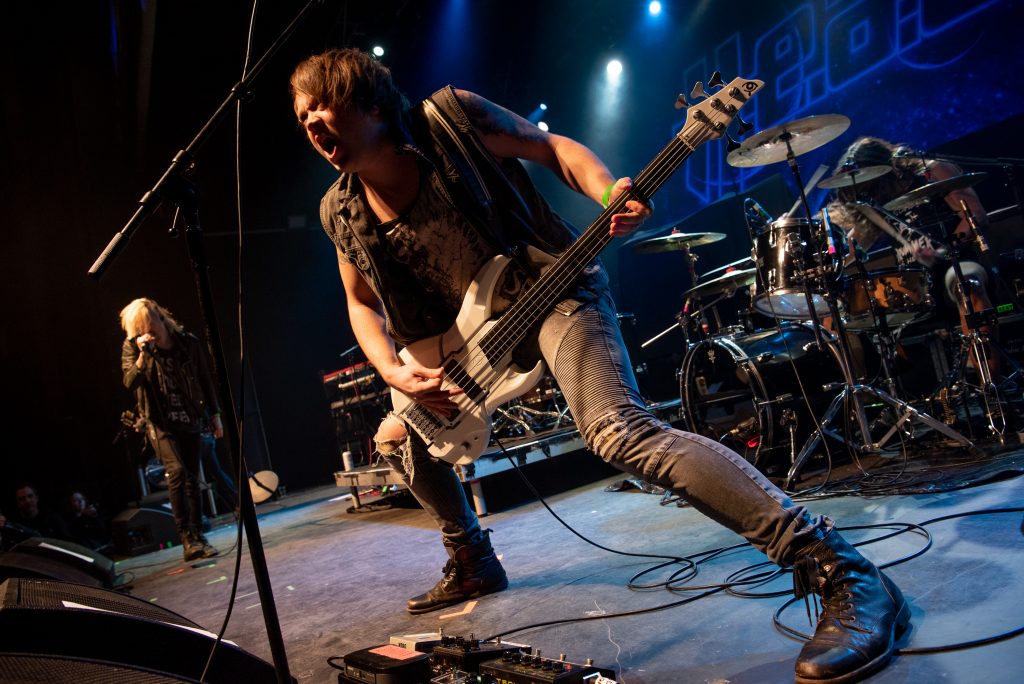 RAMzine: Did you guys read the reviews? Some people said that you even stole the show…
Erik: Wow! I mean we really like The Quireboys and we don't tend to do comparisons as we focus on ourselves. We do our thing, we focus on the live shows giving as much energy as we can.
RAMzine: Good answer. So who is in charge of the set list?
Erik: That's a tough one, there's always a lot of fights going on (laughs). We keep re-doing it. I'd say we also listen a lot to what the audience and the fans want to hear. We go on social media and we look at the streaming statistics, see what people like the most. We probably over analyse our set list.
RAMzine: Your last album Into The Great Unknown was released in 2017, are you working on a new one?
Erik: Yes, we are. We are recording it ourselves in the studio we have in Stockholm and we are going to release the first songs this spring. It's still a bit early in the process but we all agreed on combining the sound of our previous albums together and make it more hard rock. And our touring will be definitely affecting this album.
RAMzine: You can tell there's a lot of Whitesnake influence in your music, what other bands have inspired you?
Erik: A lot of bands. Queen, Van Halen, AC/DC, Led Zeppelin… for me at least. I guess I'm more of a 60's, 70's rock guy.
RAMzine: And what's one band that made you think 'Okay I'm gonna be a musician'?
Erik: For me it was Elvis Presley, that's who got me started.
Jona: For me it was Iron Maiden and Guns 'N Roses.
RAMzine: Who's the band that you'd like to play with in the future?
Jona: Whitesnake. We've already played with them in Sweden but we'd love to go on a tour. Def Leppard would be great too.
RAMzine: Is there a song you are always excited to play live?
Erik: Actually 'A Shot At Redemption', our last song, it's just pure rock 'n roll.
RAMzine: What's next for the band and what would you say to your fans?
Erik: We are gonna focus a lot on the new album now, we have a few shows and festivals this summer. We'll be out touring hopefully on fall 2019 and then start a new album cycle and keep touring from then. Can't say too much about festivals 'cus that can get us in trouble. And to our fans, we really appreciate your support and the fact that you are coming to the shows. That's why we can keep going.