Skid Row are celebrating the thirty year anniversary of their self-titled album by releasing its Deluxe version. The American hard rockers who haven't slowed down since the 80's have just come to the end of a spectacular UK tour in which they have been supported by super talents such as Vega, Heat and Backyard Babies. There's a new album in store for this group who has achieved a lot throughout their career. We caught up with bassist and founder Rachel Bolan who's been there since the very start and who's spilling the beans about all the news regarding the band.
RAMzine: How's this tour been so far and how do you feel about tonight's performance?
Rachel: It's been fun and it's been really short, I wish we had more shows, this is the fourth out of four with all the bands. It's the first time we played with Backyard Babies, Vega and Heat. We are having such a good time that I wish it wasn't over yet but I'm sure some time in the future we will all play together again. Tonight it's gonna be great, London is always a fun show.
RAMzine: Anything special planned for tonight?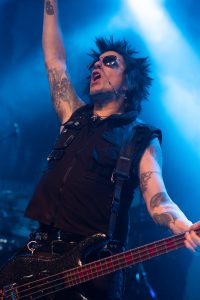 Rachel: We haven't put the set list together yet but we are definitely going to play some classics and a few tracks that people expect to hear.
RAMzine: Talking about set lists, how difficult is it to choose the right one for an upcoming tour?
Rachel – That's a good question. We have a lot of songs and we always have a core of songs we know we have to work around so we just keep adding around that. We also keep changing it around every night. It's hard to choose the final set list but in a good way because we have so many songs we want to play and we can't do them all otherwise we'd be on stage for three hours. We are gonna figure out tonight's set after this interview actually.
RAMzine: And I guess the whole band is involved in the decision, right?
Rachel: Absolutely.
RAMzine: You will be playing with some fantastic bands, how did you guys join forces?
Rachel: Actually Rob is a big fan of Backyard Babies, they were brought up by our agent who wanted to combine the bands together. I think Backyard Babies and Heat are continuing touring Europe after tonight's show. The bands were presented to us, I knew Backyard Babies' music and when we heard Heat we thought it was a perfect match, every band complements the other so that's kinda cool.
RAMzine: Do you feel people still make that kind of comparison between frontman Sebastian Bach and ZP?
Rachel: There's always gonna be purists that just don't like changes, that's gonna go on forever. It doesn't matter to us, we like playing and we love to do what we do, we are having fun at it and we've been successful at it. People can make all the comparisons they want, that doesn't matter to us.
RAMzine: Fair enough. Your deluxe version of the album 'Skid Row' just came out, what can you tell us about it?
Rachel: Well, it has an extra studio track called 'Forever' that was on our 'Best Of'. We actually recorded it for our first album but we can only pick so many songs, so now we are glad it's actually coming out. It also has a live show on from back in the day. It's pretty exciting to have something that stood around for thirty years. Is that album older than you are?
RAMzine: Yes, it is.
Rachel: Alright there we go, that's what I  figured (laughs). It's a pretty special thing to see that something we created is still relevant thirty years later. There's a lot of bands that say that but there's even more bands that can't say that. We are one of the lucky ones and we feel very fortunate and blessed that people still want to listen to us.
RAMzine: Of course. And you have been there since the very beginning so it must be very meaningful to you.
Rachel: It is, and when they brought up the fact that this album is thirty years old I realised we've been in Skid Row longer than we haven't been in Skid Row in our lifetime because we were only twenty years old when the band had started and we are in our fifty's now. I never held down a job for this long (laughs).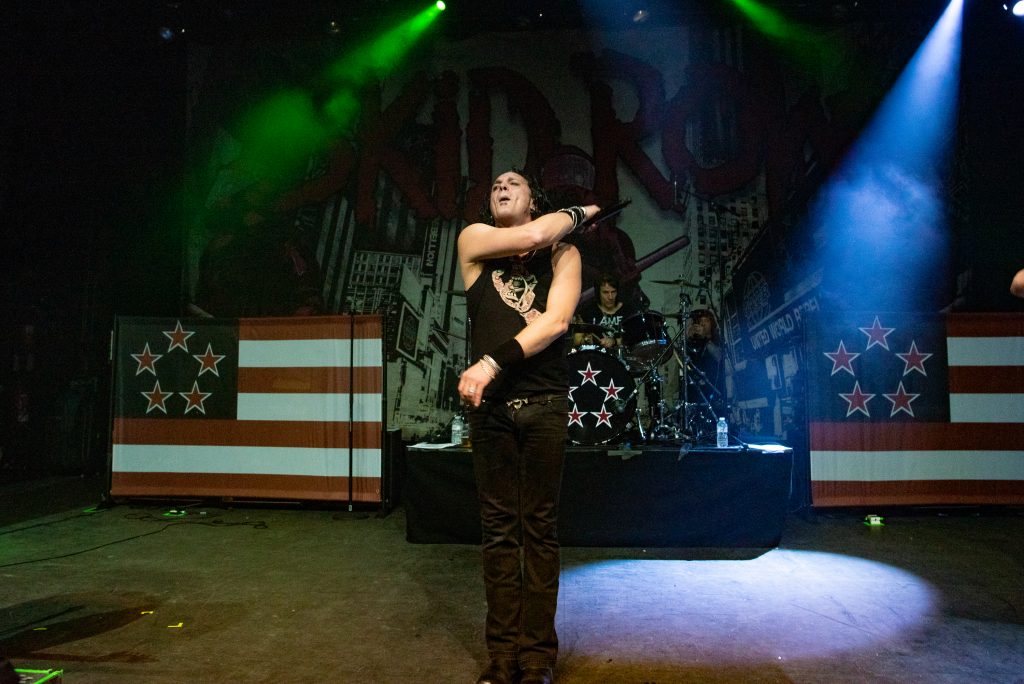 RAMzine: Are you planning to release a new album?
Rachel: We have one more show tomorrow but when this is done we all go home for four or five days and then we are gonna meet up in Nashville and we're gonna start working on the new album which will be the third chapter of the 'United World Rebellion' trilogy. Our producer will be once again Michael Wagener who also produced 'Slave To The Grind'. So we are excited to work with him again and we are excited about the songs we have written and also this will be ZP's first album with us. It's gonna be great.
RAMzine: What kind of direction are you gonna take for this record?
Rachel: You are gonna know it's a Skid Row record. It could be a continuation of the first record or a continuation of 'Slave To The Grind' at times. But you can tell it's a Skid Row record.
RAMzine: Cool! What do you miss about the 80's music scene?
Rachel: The mini skirts, the high heels.. no I'm just kidding (laughs). It was a lot of fun thirty years ago and it was a little more dangerous than how rock 'n roll is nowadays.
RAMzine: There was no Internet.
Rachel: Exactly. I think it was a lot more pure. I'm glad we came out when we did. I miss it at times and reflecting back I think it's a really cool thing to see what we did and the friends we've made over the years. We are friends with a lot of people still on this day, you know.
RAMzine: Do you think it was easier to make music back in the 80's?
Rachel: It's about the same 'cus when Snake and I get in a room we create a song in the exact same way we did when we first got together in 1985. I'd say it's a lot harder for a band to be really successful on an album, it's so different nowadays. You can put out a new album but that doesn't mean that everyone is gonna listen to the whole album, people choose whatever they want to listen to, they rarely go to the record store to buy a whole album.
RAMzine: What's been the biggest accomplishment  for the band throughout the years?
Rachel: There's been a lot. Our longevity is our biggest accomplishment, we are still able to go out and play and go on tour and have fun doing it. There's a lot of highlights, for example we played Saturday Night Live back in '91 or '92, then six years ago we did Woodstock and we played in front of over a half a million people. There's always something that suddenly comes along and push us higher. We have a long career ahead of us.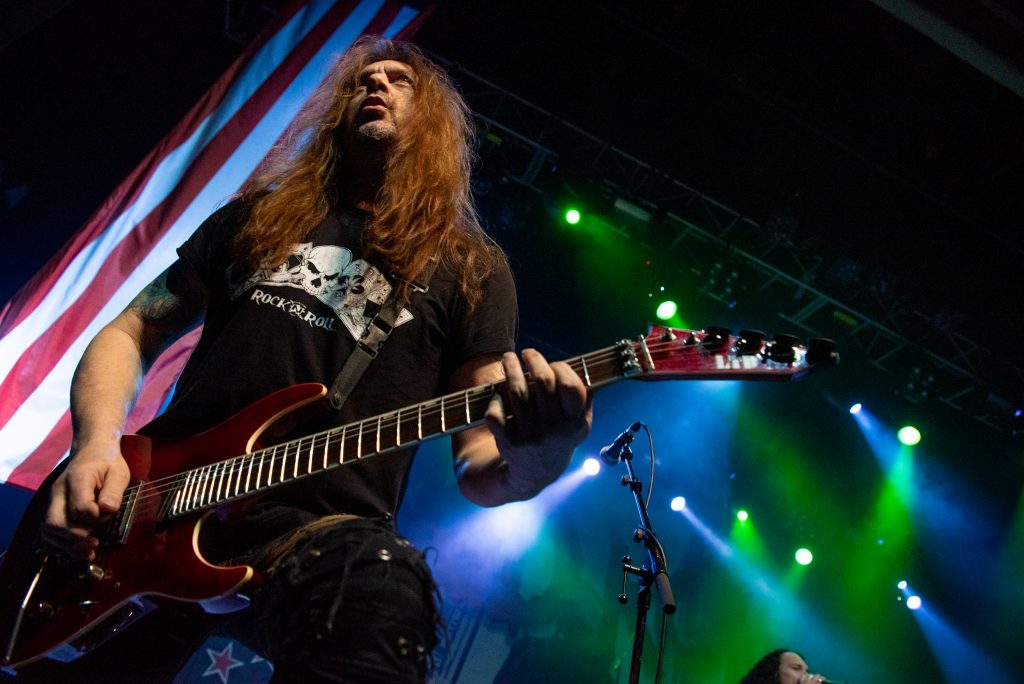 RAMzine: And it's good that you don't live in the past like some bands do.
Rachel: That's right. I mean we definitely appreciate our past but we are always looking forward.
RAMzine: What plans do you have for the rest of the year?
Rachel: After this we go straight to the studio and that will take two or three months and then just more touring. We are doing a bunch of festivals in Europe and a bunch of shows back home in the States. Then we are going to India and South America I think.
RAMzine: Are you coming back here any time soon?
Rachel: Maybe in November.
RAMzine: Do you have a date in mind for the new album release?
Rachel: Not really, we have to see how the schedule goes with the recording and how far we get.
RAMzine: Cool, we are looking forward to that!