Kiss co-founder and rock n' roll hero Gene Simmons has recently been travelling around the globe to promote his book 'On Power' in which he teaches how to be successful in life and business, mentioning anecdotes from his own life and career. He's also introducing his 2,000 dollars collection called 'The Vault' which is comprised of 150 unedited and never before heard songs. Tonight he is showing his precious box set to a selected number of the London press and the Angel Recording Studios is the perfect location for this intimate premiere.
This outstanding piece of history is definitely an eye-catcher, not only for its dimensions but also for the elaborate details and tonight it gets placed right in the middle of the room by an empty chair that will be soon occupied by one of the most influential men in rock 'n roll.
Gene finally arrives dressed in leather and studded cowboy boots and his charm, wit and intelligence fill the room immediately. From the very first moment that he starts to talk I had no doubts that we were not only dealing with a big rockstar but also with a businessman who knows how to sell himself for all the right reasons. The unedited songs are contained in 10 CDs which are also packaged in his official book. He hands the latter to his small audience to have a little browse and it really looks like a personal diary or notebook, full of old pictures and handwriting. Then Gene proceeds to play some of his favourite tracks from the box set, a wide collection that covers over 50 years of music since 1966. We are lucky enough to listen to some of the main collaborations included in 'The Vault'. From Bob Dylan to the Van Halen brothers to Joe Perry and even Kiss co-fellow member Ace Frehley makes an appearance. The tracks are so spontaneous, raw yet full of talent, the same talent that many of nowadays bands lack even when using much more advanced technology for their recordings.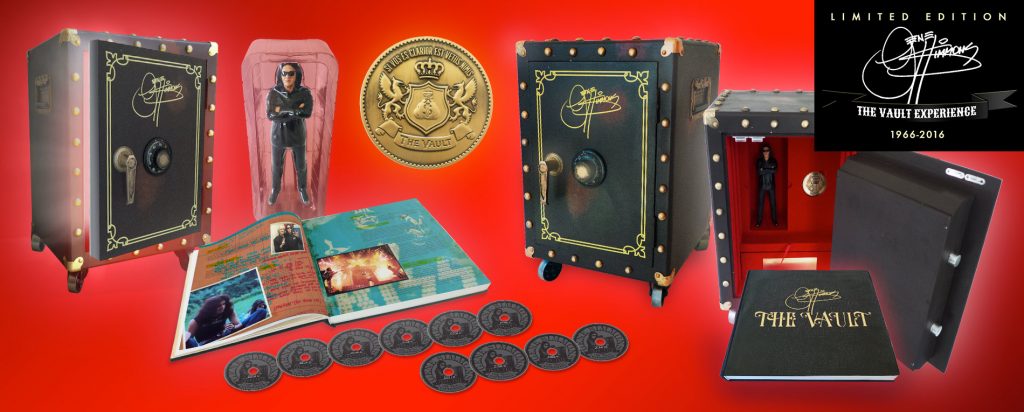 Along with this mesmerizing selection also included is a Gene Simmons action figure, a drawer with a few valuable collectors' items previously owned by the legend himself and a gold coin that says 'In Gene We Trust' on one side and 'If it's too loud you are too old' on the other. By the end of the night Kiss legend grabs the guitar and again we are in for a special treat. The final Q&A only made him even more likeable to his public, his answers are so elaborate yet interesting that there's no room for many questions. But who cares when you get to meet one of your childhood heroes. People can say what they want about his attitude or personal choices but I personally found him one of the most approachable and fascinating people I have ever met in the music business.
Find out more about 'The Vault' here: www.genesimmonsvault.com