As I stroll up New Street, avoiding transfixed shoppers perusing stalls at Birmingham's German Christmas Market here in the rain, I'm reminded of the many venues now gone where bands played along this stretch, that and the hotels where their notorious antics took place. Musical acts worked their way up the circuit from Bogarts to the town hall and onto the Odeon.  We've got the town hall back and the rather splendid Symphony Hall once the city fathers realised they were losing custom to venues across the Black Country.  Just before tonight's entertainment concludes, Joanne Shaw Taylor will tell a similar tale, of how she came from the Black Country to play Birmingham pubs like The Adam & Eve, moving onto supporting bands at the town hall and now here she was upmarket at the Symphony Hall.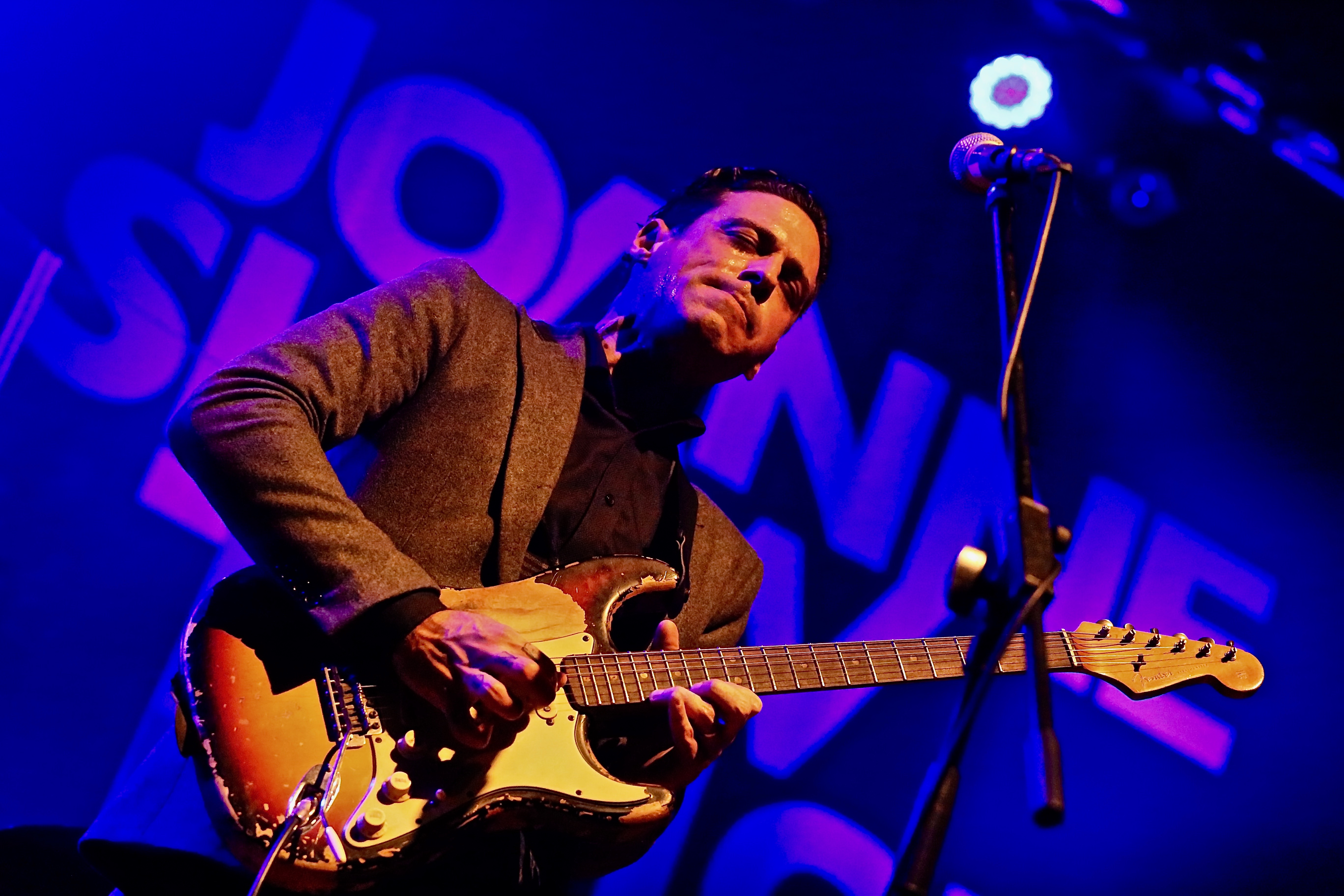 But that's for later. I settle down in my front row centre circle seat gazing down as Dan Patlansky and his band saunter on stage and the South African guitarist lays into his guitar and elegantly proceeds to tear off licks with cascading runs across the breadth of his fretboard. For those as yet unaware of this rising star the instrumental acts as an impressive introduction. Next up the four piece on stage surge into the stop-start riff rock of 'Sonnova Faith' Patlansky's throaty masculine vocals now drawing attention as he stands stage right playing and singing into the microphone.
The blues funk of 'Stop The Messin' takes on an ever hard-edged attack as Patlansky plays angular notes, some extraordinary phrases and then wails away as he steps back from the mic to throw some shapes. If there's a problem with this performance it's that with Patlansky also singing and drummer and keyboard player seated at their instruments it's left to the bass player jigging about centre stage to add visual entertainment, and the larger the venue the more reason to do so. Music wise however, there are no complaints, if anything this guest slot has Patlansky focussing on the strength of his songs extemporising on guitar as appropriate. As with the next number where we get Hendrix style feedback, Chicago blues and a small country boogie detour before returning to wah-wah intonations, even as the organ player drives the whole affair harder and the rhythm section rock on the bottom end.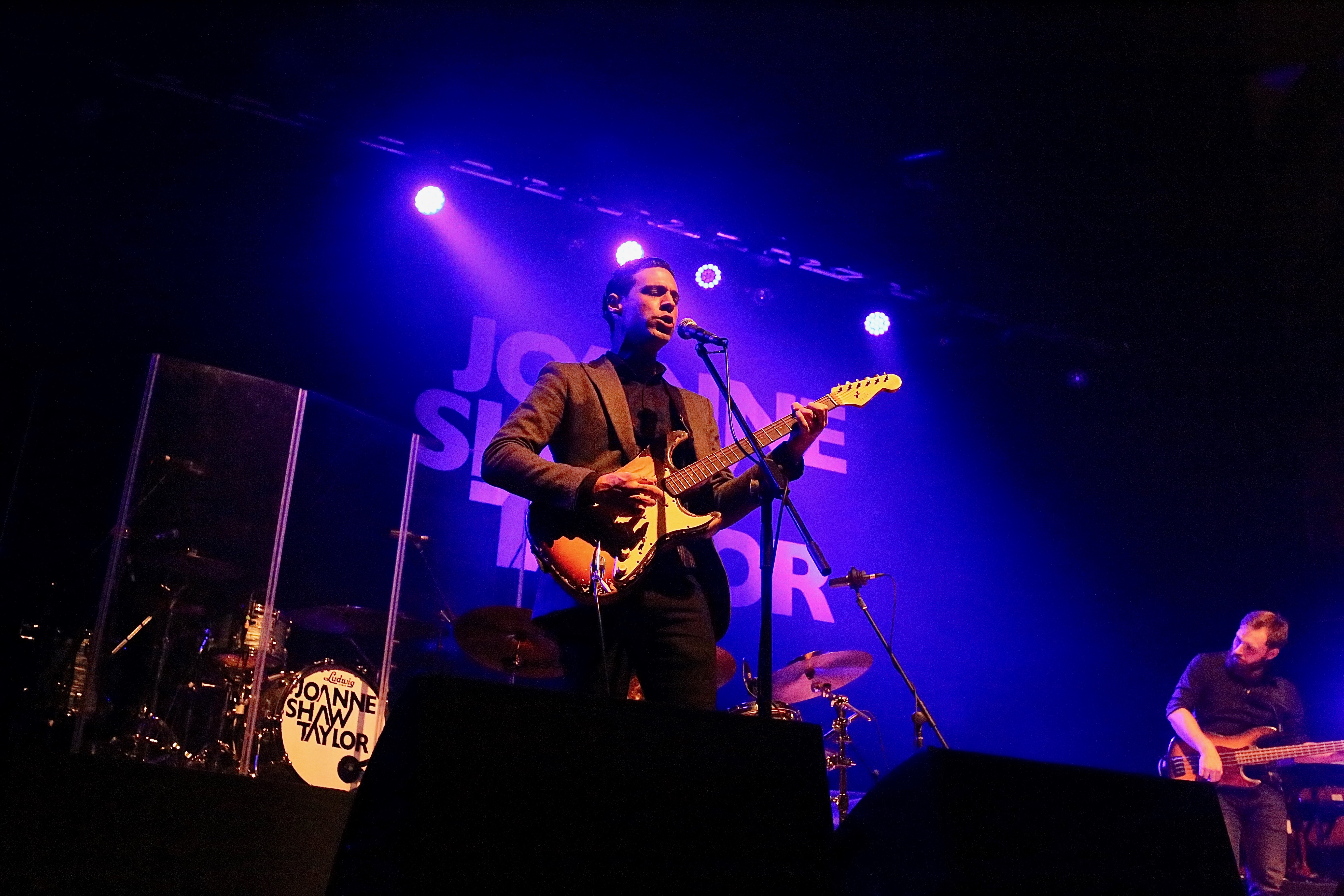 More singles come in the form of his latest 'Dog Day' from the forthcoming Perfection Kills album riding in on a riff that's kissing cousins with Rick Derringer's classic 'Rock 'n 'Roll Hoochie Coo' only to have a bit of guitar shredding mislead us and we glide into some soul funk with a deep blues bottom. It's followed by filigree glissandos leading to skewered sustained soloing over a dirty hard rock funk edge of the kind Zeppelin pummelled us with on Physical Grafitti. That the single version's only 3 minutes long means it's just an aperitif to what you get served live.
Someone whispers the slow wailing blues intro is for 'Still Wanna Be Your Man'. Whatever, it's a song that gives the rest of his German touring band to take a solo, but it's when they explode into fusion territory that it really gets interesting; the drummer's been belting away all night and now he comes on like Billy Cobham propelling Patlansky to let rip sonically like Tommy Bolin on the classic jazz rock album Spectrum.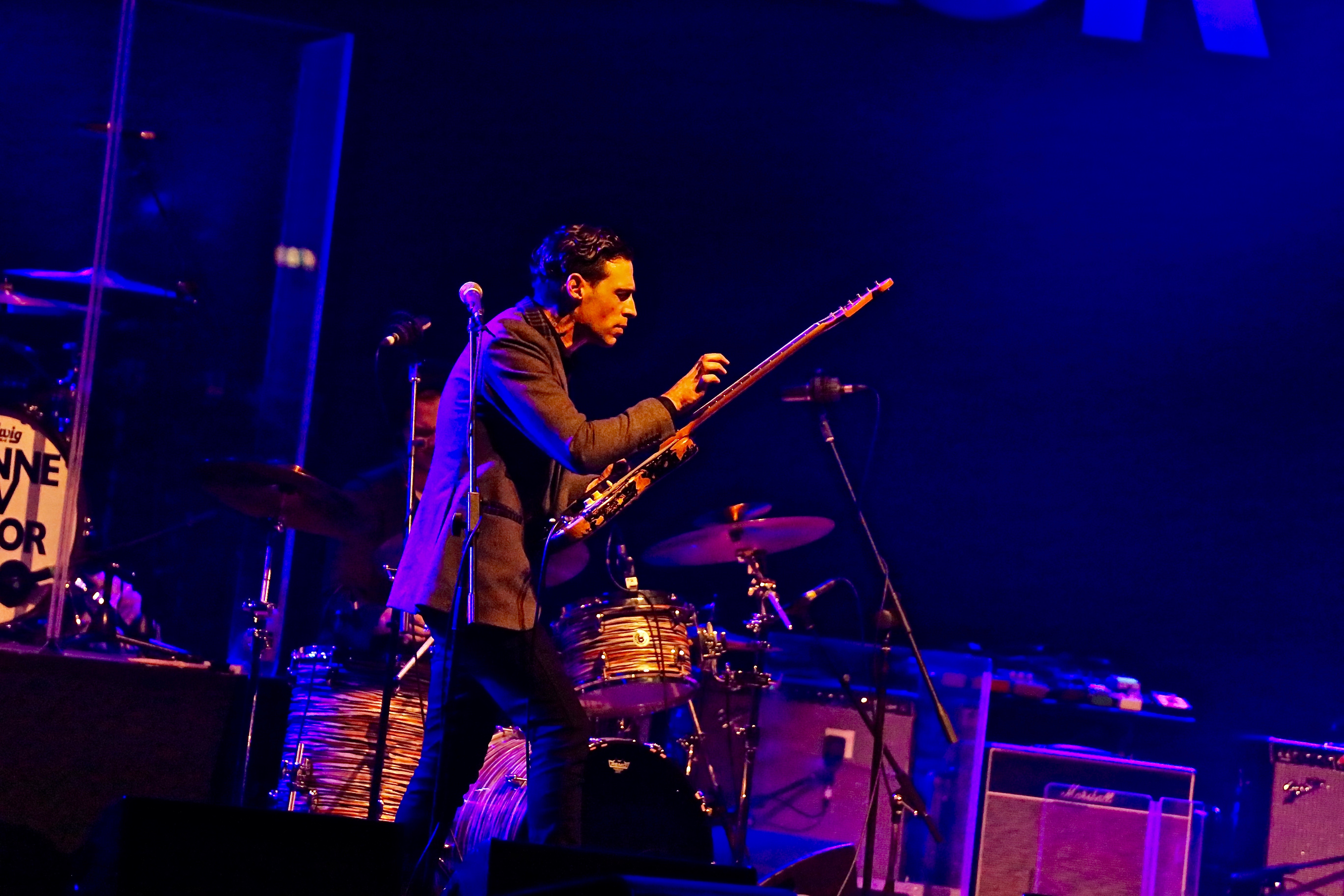 As his set nears completion, the guitarist bookends it with another instrumental, 'My Chana' playing the six string back to front, then holding it facing him and running his fingers up and down and producing effects of sartorial elegance with rugged manly appeal. It does the trick and the audience is left suitably satisfied. The upward mobility of Mr Dan Patlansky within today's blues rock ranks continues apace.
Toilet and bar queues ensue as stage hands prepare for the main event and there's something about the varnished wooden framed organ seated on a raised platform stage left that niggles at the back of my mind. But I'm diverted as spotlights begin to roam the heavens meeting with the edifice hanging from the Symphony's ceiling and giving the impression of something from Close Encounters of the Third Kind, but then the band begin to walk on, and a small roar goes up as we notice the pony-tailed chap leaping up towards the keyboards is Bob Fridzima formerly of King King. The spotlights descend circling the audience whose applause has risen as Joanne Shaw Taylor stands centre stage.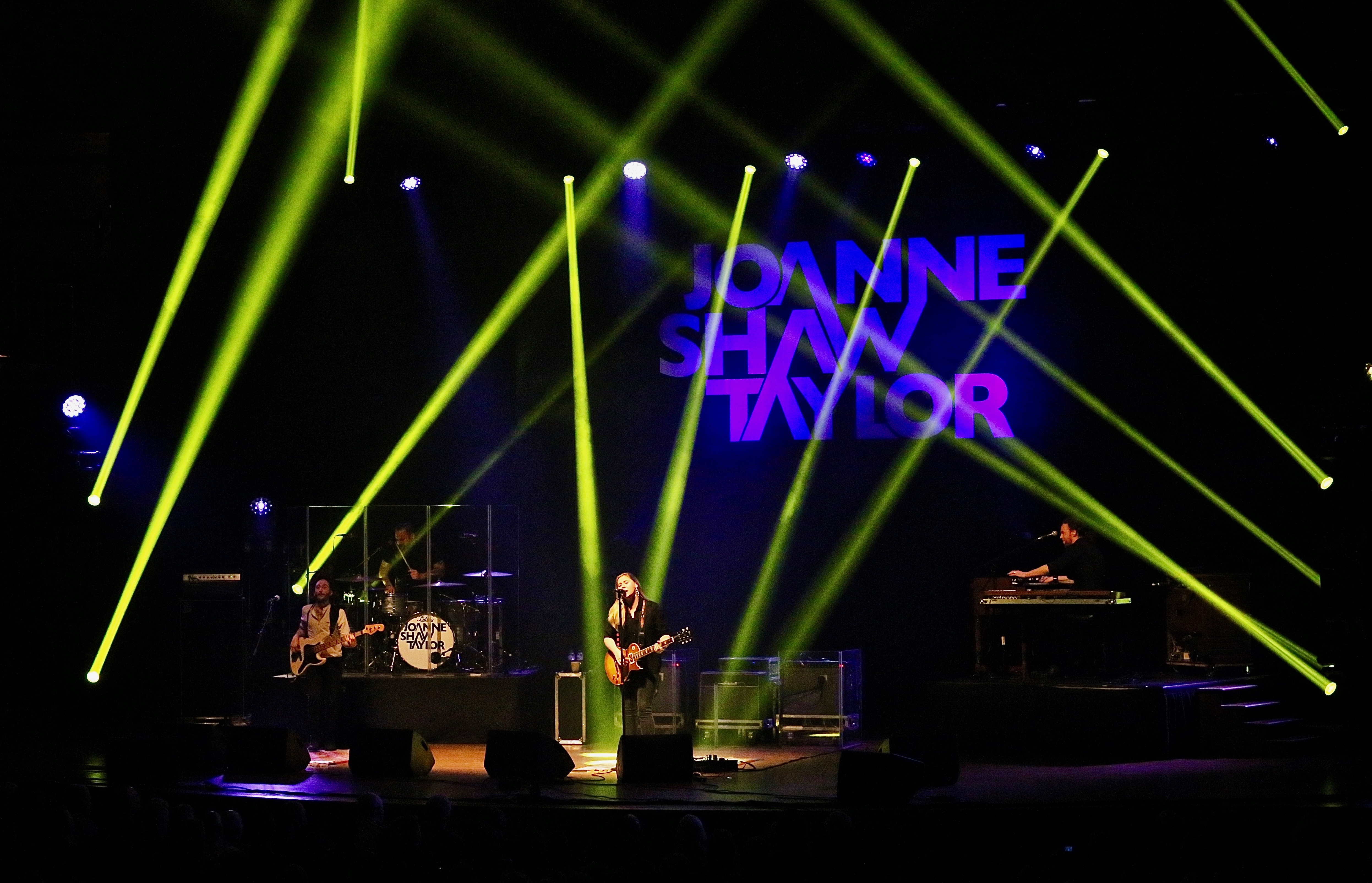 They open with 'Dyin To Know', its deceptive metronomic country picking soon developing into some hard riffing. As with Patlansky, as both singer and guitarist she's forced to stand beside the microphone's stand but her legs are stomping and dancing to the rhythm and as soon as it's time to solo she moves out in an anti-clockwise circle, dancing about, striking poses checking out her band and throwing back her hair to get it off her face. And as I pointed out earlier, grander gestures are required the larger the stage you play on. It's also amusing to note that when she's got a Les Paul in her hands and throws back her hair she's doing a good impersonation of the young Scott Gorham; that her large logo filling the back screen uses a font similar to Thin Lizzy's and the patrolling spotlights remind one of how that band would hit the stage doing the same to 'Jailbreak' does make you wonder if the influence is subliminal.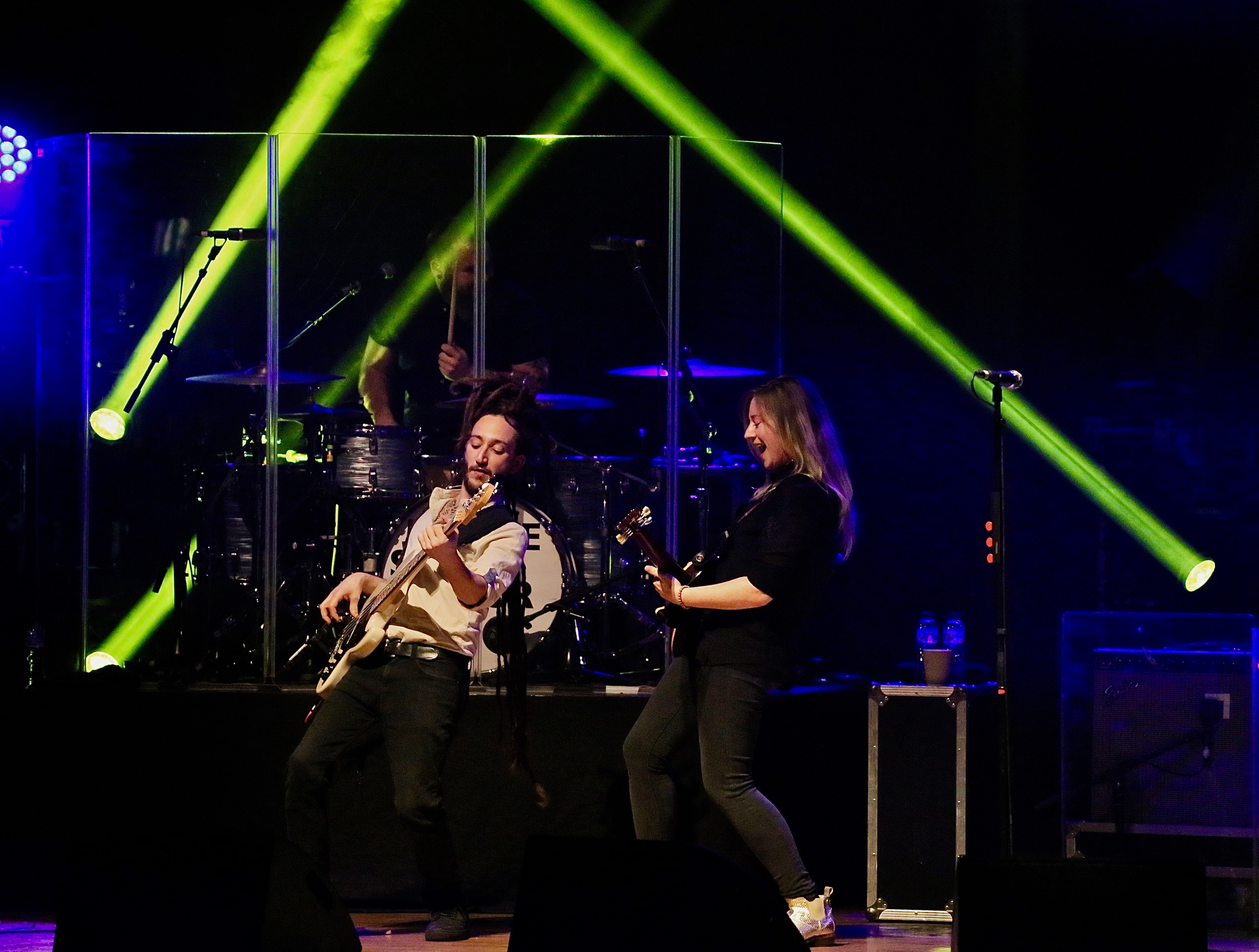 She's also got a wonderfully long dreadlocked bass player in the form of Luigi Casanova who bouncing locks add visual appeal, and even drummer Oliver Perry draws attention due to his raised kit being surrounded by plastic shields for sound reasons. Fridzima has drawn applause simply by walking on stage, now his piano draws us in as they deliver rugged Stones-like swagger with 'Nothing To Lose' the lady teasing out licks aplenty.
There's her first change of guitar with 'No Reason To Stay' its melancholy coming across like a cross between Bonnie Raitt and Bad Company with an infectious jangle to her guitar, pulling out sensuous tones come its solo, carousing the stage as its sounds get sweeter before producing pinched notes down the high end of the fretboard. Strapping on a Les Paul for 'Jump that Train' there's some heavy funked chording over a stirring organ before she digs in with increasing gusto wringing the guitar's neck so that is screams out in exasperated passion, the result of which is greeted with mass applause.
'Diamonds In The Dirt' starts jazz chorded moving towards upbeat funk from the band as Taylor plays a crushing incessant rhythm while singing emotively, the piece orchestrated in its climax over an extended solo. Her voice holds our attention again with 'Tried, Tested & True' the song feeling well lived in as she breathes heavy adding to the atmosphere of this slow blues. Next comes a raunchy and rocking cover of Midlands' band The Hoax with 'Bones' that she reminds us she recorded on her first solo album.
The next 20 minutes or so pass by as Joanne Shaw Taylor and her band stretch out with the blues as their foundation, from hard riffs to gospel sounds, she and Fridzima trading solos, her and Casanova rocking side by side, and her delivering amiable in between patter over a series of tunes including the rocking strut of 'Wanna Be My Lover' that has the far too sedate audience bobbing their collective heads.
Last album title track and Bowie homage 'Wild Is The Wind' is delivered with a suitably weary croon before the set draws towards conclusion with 'Tied & Bound' her guitar screaming out, running wild and free the event finishing with a mighty crescendo. Patience isn't always a virtue but the audience get a single encore as the lady's guitar delivers the electric country boogie opening to 'Going Home'. Joanne Shaw Taylor came home to the heart of the Midlands to play the last date on her UK tour. It would be hard not to describe the event as anything but a success.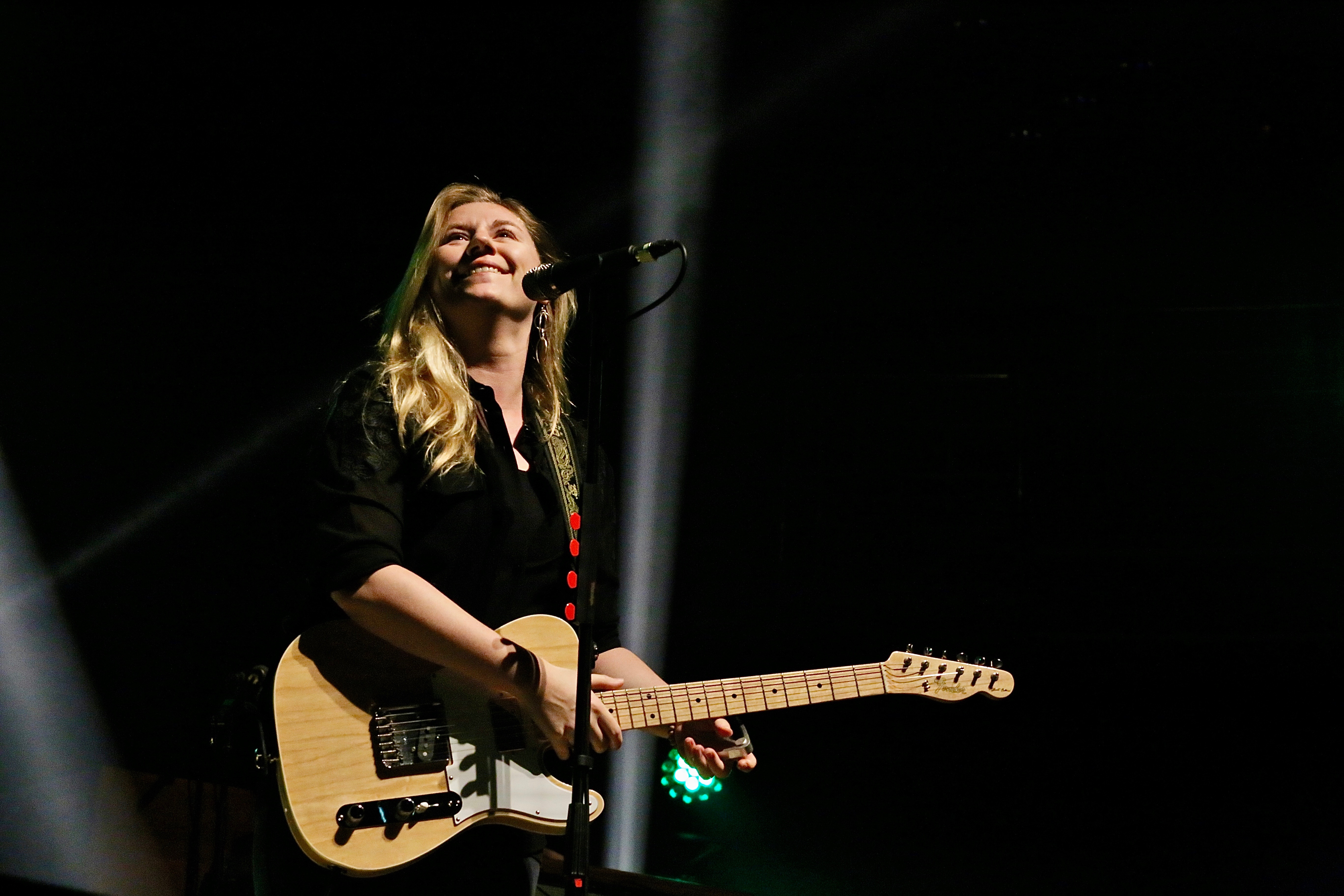 Photos by Martin Tierney.