Hosted at Hafan Y Mor holiday park in North Wales, Hard Rock Hell is on the more glamorous side of the rock and metal festival events calendar, with either a holiday home caravan or apartment as accommodation for the weekend. Given the weather, not only in Wales but for the time of year in general, the solid abode was welcome; of course this does put it on the slightly pricier side of weekend festivals, but it sure is worth it. One of the bonuses is that the accommodation has a fully fitted kitchen and there is a Spar convenience store onsite, so your food budget can be as meagre as you like. Of course, you will have to fight hard to resist the temptation to give into the lures of the onsite Papa John's, Burger King and chip shop.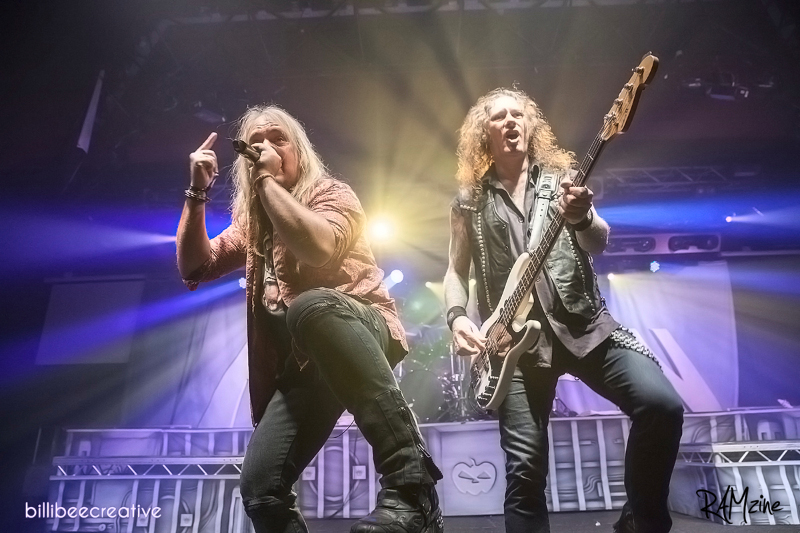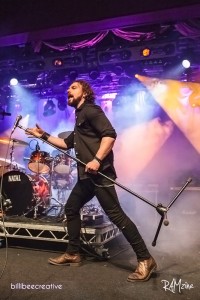 Thursday of HRH eased people in with only one active stage and five acts; we saw brilliant performances from Screaming Eagles, Trucker Diablo, Attica Rage and Massive Wagons, but the highlight of the day was headliners Black Label Society, who delivered a show that will stay with me for a long time. Zakk Wylde is one of the few musicians that have cut a unique flavour with their musical style; that is, his personal playing style and sound are about as recognisable as his voice. Playing tracks such as "Stillborn", "The Blessed Hellride" & "Bleed For Me", the BLS performance at HRH 9 was fantastic; the room actually seemed smaller in the face of the enormity of Zakk's character and presence.
By Friday, Hard Rock Hell was in full swing with 2 stages hosting 20 bands throughout the day, not least of all Helloween and UFO who both took the venue by storm. One of the highlights of the day was Swedish outfit Skånska Mord, who, given their relatively unknown status, managed to eventually pull a fairly decent crowd from Crobot over on the main stage. Dead City Ruins took the crowd by surprise with their high energy performance and were cited as highlights for a couple of people I spoke to. Having heard them before the event, I was looking forward to hearing Stone Kings, but was disappointed by a rather static and bland performance by this relatively young band who, over the course of the weekend, were put to shame by musicians more than double their age.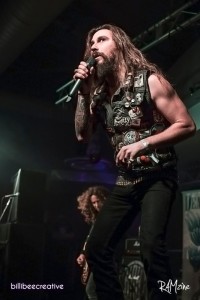 By Saturday, talk of the tragic events in France had become commonplace and there was an underlying melancholy resulting form just how close to our hearts this had hit; just like us, hundreds of people were gathered, united by music, to see Eagles Of Death Metal, only to become innocent victims of an act of terrorism. There were people performing at Hard Rock Hell with close relationships to Eagles Of Death Metal, notably No Hot Ashes who took a moment to acknowledge the event and explain just how much it had affected them, saying that "there are no words to describe" how they were feeling. As the day pressed on, we heard of bands cancelling tours but, at Hard Rock Hell, bands pressed on, urging the crowd not to be defeated and to rock harder. Of course, there was a great degree of ambivalence – an understandable conflict of not wanting to ignore, yet not wanting to give this act of terrorism the power it was looking for, that is, to be too sad or fearful to carry on.
Despite the feeling underlying the day, the bands got on with the show and the crowd duly supported, with particularly notable performances from King Of The North, Sky Valley Mistress and, of course, Saxon. All weekend, I had seen countless denim and leather jackets with Saxon badges sewn on, so it was not really a surprise to find the arena the busiest I'd seen it all weekend for the Saxon show. It was a superb end to a fantastic weekend.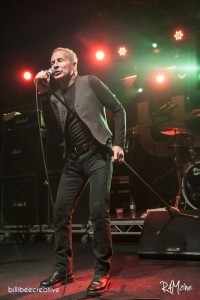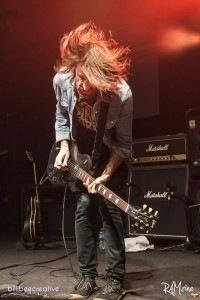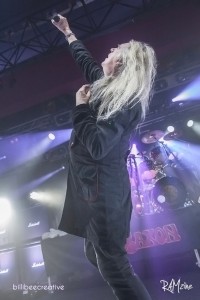 Hard Rock Hell is a hard rocker's heaven; it is great to have such a large event with such a consistent theme to all performances. The organisation and atmosphere was fantastic – it's an incredibly friendly and enjoyable place to be. The event is made all the better by the relatively intimate set-up, so you can really experience these great bands up close and personal – if you're lucky, you might even find yourself (as we did) eating your fish and chips in The Mash And Barrel only a table across from the likes of Saxon frontman Biff Byford. It is definitely not an event to miss, but tickets sell out very quickly – HRH nine sold out in December 2014. So, if you're into your hard rock, put 10-13 November 2016 in your calendar and get to www.hardrockhell.com/tickets to grab your tickets now, and I'll see you there next year.
Our full review of Hard Rock Hell 9 will be in issue 6 of RAMzine featuring a range of photos of bands and fans – out December 1st. Pre-order your copy here.