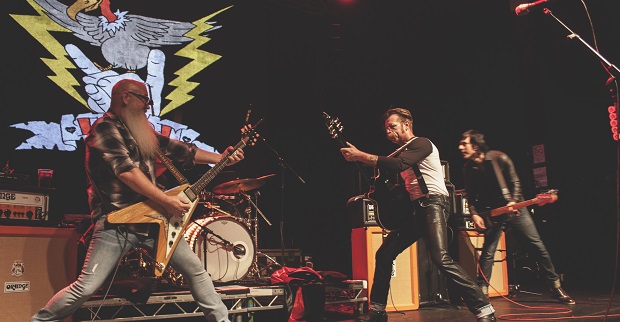 This review is dedicated to the victims of the Paris concert shooting. Our thoughts are with the victims and their loved ones at this time. The gig reviewed took place 4 days before the incident. We held the review back out of good taste. I hope you enjoy the review and continue to love live music. As EODM named their debut album – Peace, Love, Death Metal.
There's two things Eagles Of Death Metal are most well-known for: Being Josh Homme's 'other' band, and putting on a flippin' good live show. Mr Homme doesn't seem to be here tonight – so we'll let the music speak for itself!
Eagles Of Death Metal are a tough band to pigeonhole, so to pair a support act is just as tricky. Luckily Madagascan punk duo White Miles fit the bill perfectly. Super-charge double acts seem to be all the rage with bands like Royal Blood and Slaves taking the airwaves by storm. You could definitely include White Miles in this category. With her 'I don't give a pig's ear what you think' presence, vocalist and guitarist Medina Rekic was born to do this. Drummer Hansjorg Loferer is just as important being the driving force behind the their raw energy and pure punk rock attitude. A great way to grab people's attention  for tonight's offereings.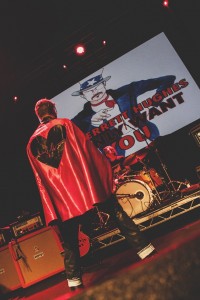 Jesse 'The Devil' Hughes, J.Everett Hughes, 'Boots Electric', 'Fabulous Weapon', call him what you will -the EoDM front-man will never be called 'predicable'. dressed in a silky red and black cape to Pilot's 'It's Magic' isn't something you see any old rock 'n roll star do. Getting straight down to business, Hughes announces "I only want YOU Newcastle" leading in to their crowd-pleaser 'I Only Want You'. The crowd are already errupting in awe of the band, despite missing their most recognisable member. Of course we don't expect 'Baby Duck' to travel to each city and take a back seat when he has other business (and family) to attend to.
This isn't a 'Boots Electric On Tour' show either – every member of the band is valued by both the band and audience. To real EODM Darlin' Dave and Matt McJunkins are just as important as Hughes and Homme. EODM gigs are not for the casual listener. The setlist is centred around album tracks, with singles serving as book-ends. Although Hughes tells the audience: 'Meanwhile in Silverlake' the crowd get a little excited thinking he said 'Silverlink' (a retail park local to Newcastle). This track is a highlight of the new album, 'Zipper Down', that they are touring in promotion of.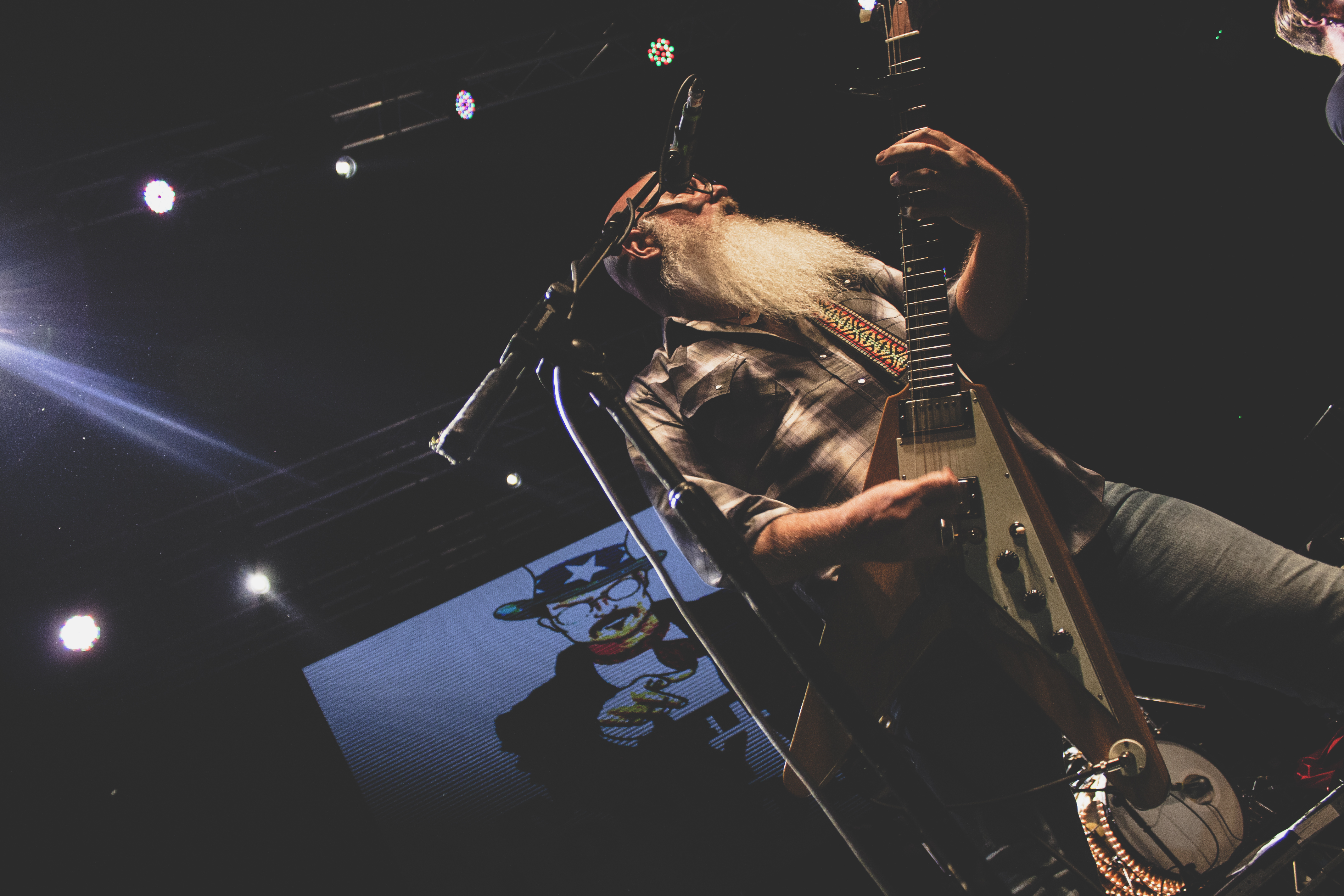 What's most impressive of this performance is the indecrete cover versions Steely Dan's 'Stuck In The Middle' disguised as 'Stuck In The Metal', as well as Duran Duran ballad 'Save A Prayer' which could easily be mistaken for an EODM original. Jesse 'The Devil' Hughes loves playing this kind of music to an adoring crowd so much I don't think he cares if it's one of his originals or not. Or if it's a 'cool' song either. Speaking of which, 'Wannabe In LA', one of the Californian band's most smooth tracks – bringing the main part of this amazing show to an end.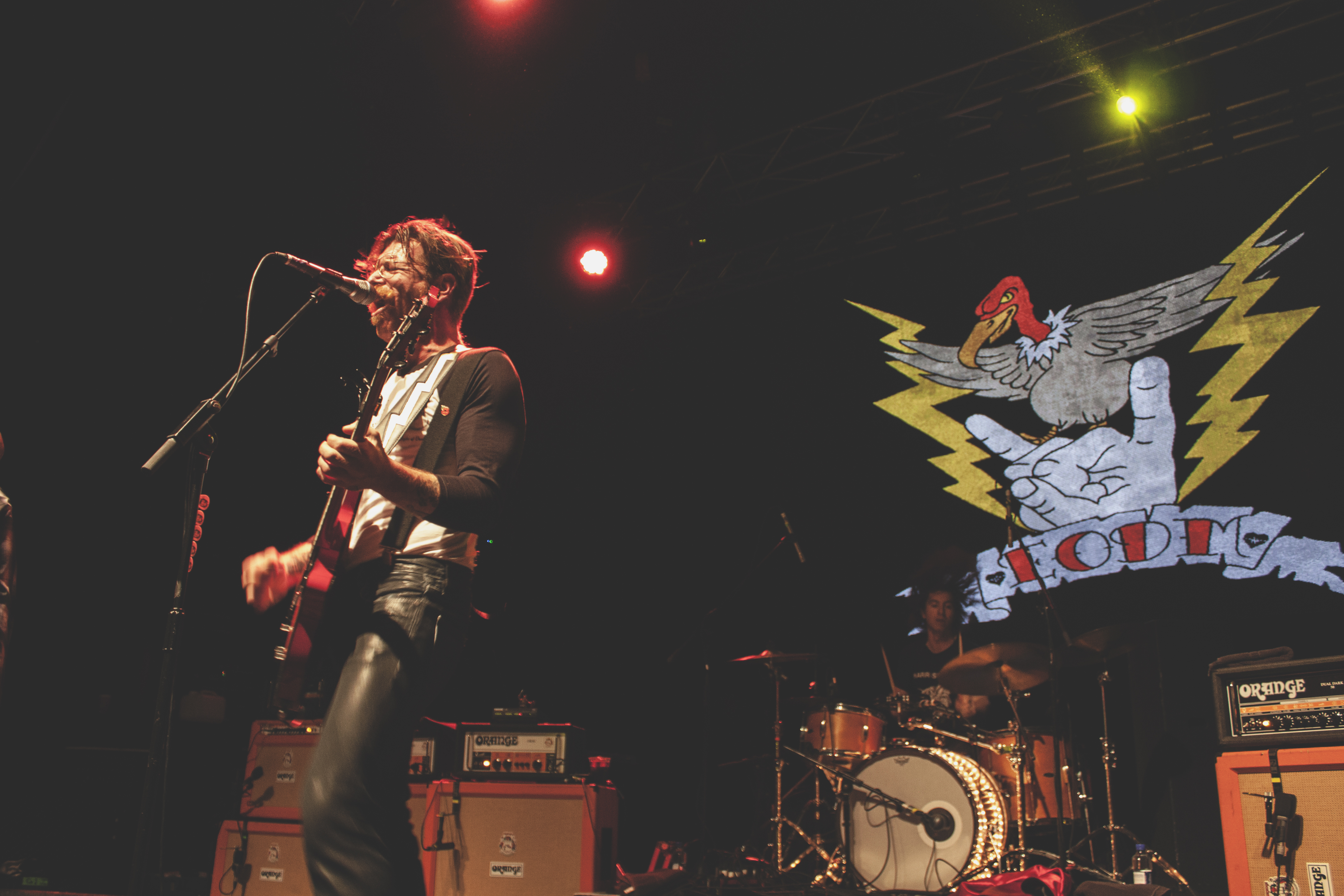 You can probably guess which two tracks were included in in the encore: breakthrough tracks 'I Want You So Hard' and 'Speaking In Tongues' which remind us why we fell in love with this band in the first place. Also why we love seeing bands like EODM live. It's alright if Josh Homme isn't on tour with the band – Julian Dorio is a great rock drummer. The crowd didn't love tonight any less.  This is a band everyone here will be coming back to see over and over again.
All photos by Brian J Nicholson. Check out his photography on his official website:
http://www.brianjamesphotos.co.uk/
#PrayForParis