The Godfather of Shock Rock, Alice Cooper, is bringing his supergroup in the capital tonight after having put together some of the best musicians under one name –  Hollywood Vampires. The band's name, which comes from a celebrity drinking club formed by Cooper in the 70s, has seen guest appearances by Dave Grohl, Paul McCartney, Joe Walsh and Cristopher Lee over the years and tonight they are treating us with originals and covers played by one powerful lineup which includes worldwide recognised talents like Aerosmith lead guitarist Joe Perry and multi-awarded actor and guitarist Johnny Depp.
Main support comes from English rockers The Darkness and by 8pm Wembley Arena is already bursting with excited fans. The guys get introduced by a very special host, Foo Fighters drummer Taylor Hawkins, who made us wish for a feature of the band throughout the show, but unfortunately that never happened.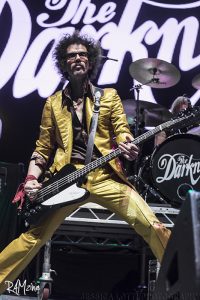 The Darkness open with 'Solid Gold' from their new album, superbly charismatic frontman Hawkins screams "Hands in the air who's having fun tonight, we are the motherfucking Darkness". The fun has just begun thanks to the high energy they bring on stage while performing hits like 'Growing On Me' and 'Love Is Only A Feeling'. Singer Justin and bass player Frankie are the most entertaining to watch and probably their quirky sense of fashion make them stand up from the group even more. Respectively dressed in white and yellow suits, these guys really know how to please their public while delivering the essence of chaos and rock 'n roll. 'One Way Ticket', 'Barbarian' and 'Buccaneers of Hispaniola' are up next.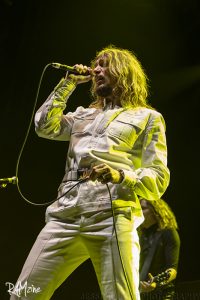 "As you may or may not know we are The Darkness" jokes Justin just before getting quite fired up because he had to ask people to stand up from their seats and join the fun. So much banter during such a short performance or perhaps we should blame their expertise in ruling the stage which made the time flying by so quickly. "Now we are gonna play some classics," says Hawkins before we hear the riffs from 'Sweet Child Of Mine', another of his jokes. 'Get Your Hands Off My Woman' and 'I Believe In A Thing Called Love' couldn't close this set any better, the high energy levels are impressing, at one point Justin is standing upside down by the drums and he still doesn't sound out of breath, in fact, he hits every single note perfectly. He only stops to make the audience sing with him as if it was a karaoke night between friends. He then excuses his craziness blaming members of Hollywood Vampires for asking him to warm up the arena, and without any doubt, he succeeded in his mission. It's always highly entertaining to watch The Darkness doing their thing without the aid of tapes or backing musicians, it's all genuine rock 'n roll mixed with a pure dose of amusement.
After a changeover, it's finally the headliners turn to rock Wembley Arena. They get introduced by the narrating voice of Christopher Lee "Listen to them the children of the night what music they make" and as the lights dim out one by one they come out on stage and start playing 'I Want My Now' followed by 'Raise The Dead'. Although tonight this is an all seated venue, every single person on the ground level is standing up, dancing and jumping. Throughout the whole gig, their originals seemed to be as popular as their covers.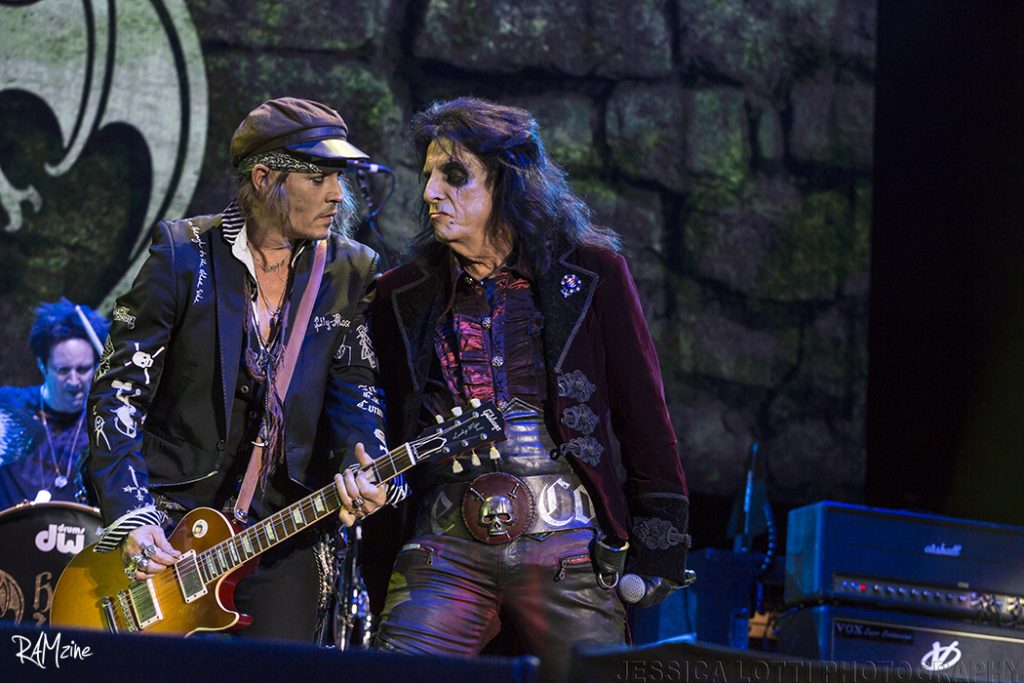 'I Got A Line On You' sounded as tight as on CD, also being one of my favourites I had probably high expectations on this particular one and luckily I wasn't left unhappy. The pirate-esque anthem 'My Dead Drunk Friends' sees a RIP picture of Lemmy appearing on the big screen behind the band and the lyrics are also displayed in a karaoke style. This supergroup is well known for honouring the music of their fellow rock stars who died from excess and they manage to do so in quite a fun yet respectful way. Many have said that they are the result of rich people's hobbies but looking at the bigger picture you can see qualified musicians delivering high class rock 'n roll while putting up an amazing show.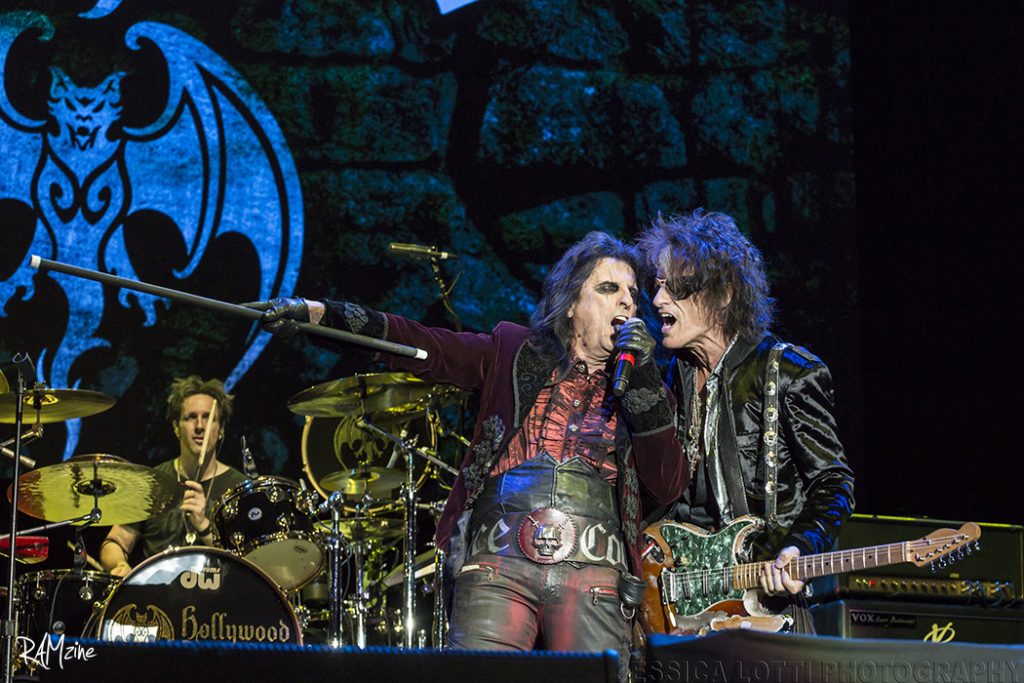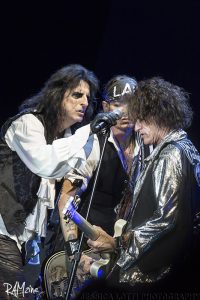 It's great to be able to escape reality for a night and indulge in a fun and engaging live performance. The big boss, Alice Cooper is the engine that keeps the machine running smoothly and despite his big personality, whip and hat he succeeds in not overshadowing the talent and skills of the rest of the band. In fact, Aerosmith hero Joe Perry delivers an amazingly executed cover of 'Sweet Emotion' while Cooper stands in the back and plays the harmonica. Depp is on vocal duty during a touching version of 'Heroes' which represents one of the highlights of the night, not only because of his sex symbol image but the man can sing and he does it straight from the heart. 'People Who Died' sees Johnny acting like a frontman again while images of Lemmy, Bowie, Cornell and long lost friend Hunter are displayed on the background screen.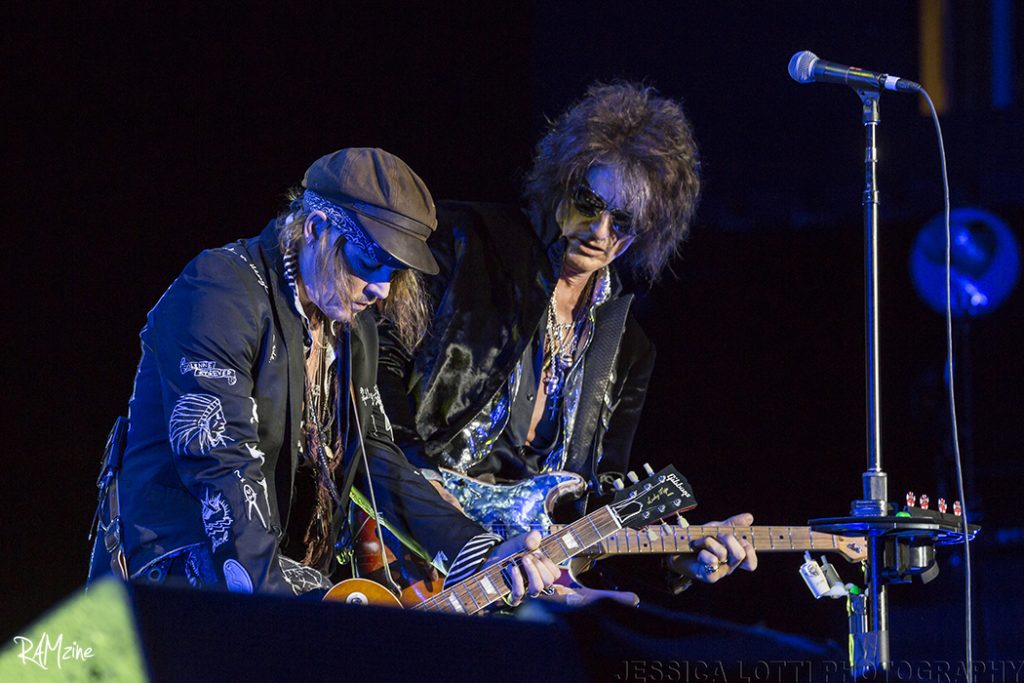 A cover of 'Eighteen' gets introduced by Cooper as "This next one is for a vampire that never died" and automatically the audience jumps on every single note while singing all the lyrics.  There's plenty of golden moments tonight as 'Break On Through', 'The Jack', 'Ace Of Spades' and 'Baba O'Riley' represent a perfect homage to the original bands and the public gets fully involved in the groove. The gig finishes with a brilliant encore which includes a medley of 'School's Out' and 'Another Brick in The Wall' perfectly mixed together.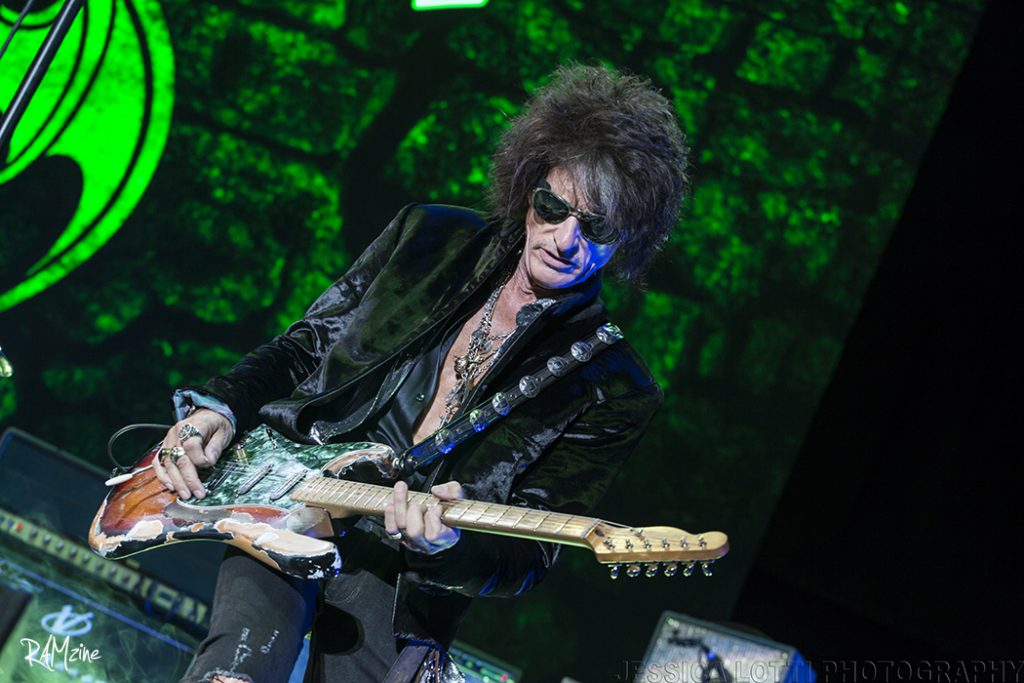 The band delivers one final ad-hoc performance as red and white balloons with the Hollywood Vampires logo on them come out from every side of the venue. This group of legends perfectly knows how to deliver rock music and their stage presence and expertise is absolutely superb and close to none. We can only hope they'll last as long as vampires do – forever.