The superb NWOBHM entity that is Thunderstick was resurrected in 2016 and released the absolutely thrilling, Something Wicked This Way Comes, the following year to great reviews and praise from the fans. With a hugely interesting new line-up in place, a 4-track EP containing brand new material on the horizon, and a number of festival appearances scheduled for later on this year, 2019 may in fact turn out to be the most pivotal and exciting year in the Thunderstick chronicle yet. RAMzine caught up with vocalist Raven and legendary drummer Barry 'Thunderstick' Purkis to hear a bit more about their plans for the future.
Jens reporting for RAMzine: Greetings Raven and Barry, thanks for taking the time to answer these questions of mine – much appreciated! Barry, how did Thunderstick originally come about and how did it all start? Could you briefly outline its history and, more importantly, tell us a bit about the new members of the band and the strength of the 2019 line-up? I am really psyched about this new line-up of yours.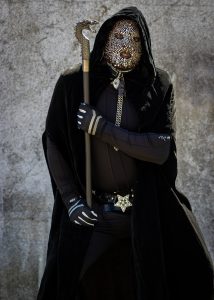 Barry: Hello Jens, it is great to hear from you. The band Thunderstick came about after I had moved on from my time with Samson, I wanted to go down a more theatrical route than they did. I have always loved theatre rock such as Alice, The Tubes, Arthur Brown and many many more. I put the first band together back in the early eighties and recorded a four track EP, followed up by an album that was released, then one that never saw the light of day and remained for many years as well as recorded demos. I went to the USA to see if I could achieve something over there, but unfortunately the 'Major deal' always alluded us. I returned to the UK and formed yet another line-up until I decided that enough was enough and folded it all in 1987. So, fast forward many years later to 2019, I now have a gigging band that I think is possibly the best line-up I have had since those days and as I'm sure you are aware, there have been many different musicians in and out of my band as I have always believed in working with as many as I can so when the appropriate time arrives, I mix it all up. Raven is my new vocalist and is the 'real deal'; she has everything that is right for fronting a band such as mine. She has style, an incredible voice and is passionate about theatre rock. Lee is one of my guitarists and I can't understand why he hadn't been snapped up by a name band before I found him, so I consider myself fortunate to have him. Same applies to Mike, a consummate performer who has done so much session work, and I am so happy that he chose my band to play in. Then there is Rex who did the last album with me (Something wicked This way Comes) two years ago. He is my wingman and we have a tight bond between the two of us both in an understanding of what Thunderstick is all about and musically. This band I thoroughly enjoy playing alongside – they are all 'family'.
RAMzine: Was there a certain motivation or desire behind the re-launch of the band back in 2016? In other words, was there a specific purpose or an agenda of sorts, or did you simply feel that you needed this particular musical outlet in order to express yourself fully?
Barry: It came about as a direct result of hearing about the death of my one time partner and singer back in the eighties, Jodee Valentine. I had re-mastered all of the early material and released a retrospective album entitled Echoes from the Analogue Asylum in 2011. As the name explains, they were all tracks that had only been recorded in analogue most of which Jodee was singing on. When it came out I had someone contact me on social media asking if I had heard about her passing. The two of us had not spoken since 1987. She went back to the US and I stayed in the UK, so for me it came like a bolt out of the blue. However, it was upon hearing that she had suffered from early onset alzheimer's disease and had been in a care home for 5 years that really felled me. The person that contacted me was a volunteer visitor to these homes but first and foremost a musician himself, and he had taken in a copy of Analogue to play her and she hadn't recognized her own voice, which I found heartbreaking. We had a lot of material that I had written at the time and had played live but had never made it past the demo stage as regards release. That was the driving force behind Something Wicked – my final goodbye to Jodee.
RAMzine: I love and cherish the Something Wicked This Way Comes record and I am truly excited about your upcoming EP release. Will it be in the vein of the aforementioned album or will it be slightly different, musically and stylistically speaking?
Barry: I want it to be a little of both. Certainly it will be the first recordings made available by this line-up, but I want it to be a continuation of the mood I set for Something Wicked. Very much relevant in today's musical styles but also staying true to all that the British Rock genre has to offer in the NWOBHM classic rock style. The Sound, the Composition and the Swagger.
RAMzine: Will the EP contain brand new material or perhaps some re-worked version of old and/or previously unreleased tracks?
Barry: Once more a little of both. I have some previously unreleased material that I have reworked for inclusion as well as some entirely new songs that the whole band have put together, and with every one of us contributing, this is taking us down a varied musical path which I find genuinely exciting.
Raven: As Barry has pointed out, we have a perfect mixture of both new and re-worked tracks. Whether it be re-arranged unreleased material from another era or fresh new ideas, they are all big and powerful sounding rock songs that suit my voice both in vocal style and my delivery of them. The way this Thunderstick incarnation sounds performing these songs should excite our audiences old and new.
RAMzine: How do you guys go about writing and composing songs for Thunderstick? Do you compose and write stuff separately and then bring all of that to rehearsals where you arrange it properly with the others, or is everything written and arranged collectively?
Barry: With all the material that I have penned in the past taking us up until the present, I would present as a finished arrangement both in music and lyrics for whomever would be playing them. They would then put their personal stamp of individuality on the performance. However, now that we are all contributing to that writing process, ideas can be presented in many different forms. Riffs, segues, proposed verses or chorus's all go into the mix ready to be amalgamated. Certain ideas we are readily acceptable of and 'springboard' from them whereas other times we are brutal in axing them. There are no hard and fast rules to creativity. It all depends on how strong an idea everyone feels it to be. lol.
Raven: The older material has been composed separately by Barry and we've gradually integrated our unique edge onto it as we've rehearsed, guiding it through a creative process to the sound you currently hear today; Thunderstick '19. The newer songs can consist of a little sonic spark that any one of us can have, it is then presented at rehearsal with an excited "What about this?" set before the jury (laughs) for judgement. Or something can happen in an instant such as a "Yes, that… right there… that lyric… that riff… sounds perfect". We're exploring as we go along, letting the drama unfold before us.
RAMzine: I am curious as to what bands you were into when you were teenagers and what bands and artists inspired you to become musicians yourself. Could you tell us a bit about your musical upbringing? Did you grow up in a musical household?
Barry: As the answers to this one will all be in my forthcoming book, I will leave it to Raven to answer on her own… over to you Raven.
Raven: I was very much into the rock/power ballads as I grew up, Bon Jovi, Meat Loaf (I remember singing 'Bat out of Hell' in my living room with my little sister many a time!), but I was also into musicals such as Phantom, Miss Saigon, and I loved the theatrics (enter Thunderstick!). My influences have always been the big powerful voices of Barbra Streisand (one of my Mum's favourites), Celine Dion, which transposed later in life into singers like Beth Hart and Amy Lee. Whether you love them or hate them, there is no denying the pure power they possess in their vocal range and ability, and that's what I wanted. That's where my passion comes from, delivering that drama to a performance. Never having had any musical background, other than my father repeating the same lines from certain songs! It took me a long time before I actually put myself out there, despite having sung on my school bus, school corridors, workplaces, anywhere I possibly could, and being told to "just shut up, already!". It was in me to want to sing.
RAMzine: What are your plans in terms of touring the forthcoming EP? What about a UK tour? Is there any chance of Thunderstick touring the rest of Europe at some point?
Barry: It is all about that terrible word 'costings'. I'm sure all of your readers are knowledgeable about how much it costs to take a band out on the road whether they be musicians themselves or whether they see it reflected in concert ticket prices. Bands such as ourselves don't have huge financial tour support behind us and the theatricality of our shows add even more costs to an already groaning budget,but it is still the only way to engage with our followers, so we do everything that we can to get it out there.
Raven: it is certainly something we would like to consider. We're playing in France later this year and having many people who follow us from all over Europe, we'd like to get out and meet as many supporters as possible. UK dates are coming together, although there will probably be more next year than this, as we're busy recording in the studio at the moment….but watch this space.
RAMzine: Raven, are there any specific Thunderstick tunes that you are particularly fond of playing in rehearsals and is dying to perform live in front of an audience?
Raven: My favourites are 'Go Sleep With The Enemy, I Dare You!' and 'Buried Alive' – both tracks I can relate to emotionally and they transport me to certain times in my life, but musically I do love 'Thunder, Thunder'. I love the guitar work at the end… I am a sucker for a good guitar solo. Lol.
RAMzine: Barry, looking back on the early days with Samson, Iron Maiden, and the whole NWOBHM movement in general, what are some of your most cherished memories?
Barry: So many memories that I could spend forever telling you about them… yet again lots of anecdotes that I have written of in my book. One observation that I can offer up as an answer is how gratifying it is to see so many of the ol' school of the NWOBHM movement still out there flying the flag for originality within rock music and long may it continue. I cannot believe that NWOBHM is 40 years old!
RAMzine: Thanks once again for taking the time to answer this interview for RAMzine.
Barry: Thank you so much for your continued support of the band, If you come to see us whilst we are out and about, please say hello, it'll be great to meet you.
Raven: To all those that have followed us in the past continue to do so in the present and those that may join us in the future I would like to say a BIG Thank You. You make it all worthwhile and it is our privilege to justify your unfailing belief in us. Without your belief the dream dies… come and look us up on The Thunderstick Stormtroopers site on Facebook: https://www.facebook.com/groups/170327317016855/
Love RAVEN x
RAMzine: Any final words to our readers?
Barry: You are Awesome…
Raven: Keep rocking! Xx