You might have caught Bristol goth rockers Ashestoangels at a festival, or supporting bands like Fearless Vampire Killers and currently with 48 Hours. In a few weeks they will be playing Whitby Goth Weekend alongside their heroes The Damned, William Control and The Birthday Massacre. This July they are playing XFest in London with The Dirty Youth and 48 Hours.
We caught up with guitarist Adam Falkor and front man Crilly , on their Newcastle date, to talk about the tour, albums, and being a 'goth'.
Hello! How has the tour gone so far?
Crilly: Pretty good, no deaths so far.
Were you fans of 48 Hours before this tour?
Crilly: Yeah, that's how we ended up touring with them. Somebody Tweeted about a group of hard-working bands so I followed them and checked them out on Spotify and straight-away I thought 'Yes! This is totally my thing'  So me and Gary started talking and by the end of the day we had a tour! I think we're gonna move in together and take it a step further by the end of the month.
Would you say you are both similar in sound?
Both: No.
Crilly: They are more riff driven we are very much chord driven. We both have choruses though, and that's the main thing
How would you describe your sound in a few sentences?
Crilly: Goth punk explosion
Adam: You mean goth pump explosion.
Crilly: It was a slip of the tongue…I didn't mean it.
Other than here in Newcastle, where else are you excited to play?
Crilly: Newcastle's always great. We haven't been to London in a while, so that's exciting. We've been here a load of times and it's always fun. I've had some good fry-ups in Newcastle.
Adam: I've never been out in Newcastle for a night out before. Everyone's friendly.
Crilly:I just remember going out after the William Control show and getting drunk. Don't remember much else. (pause) We always love playing in Manchester too, so that was fun. It's a short tour, we usually go big and then go home. We are actually finished on Wednesday (April 1st) in London.  Short and sweet!
Adam: We usually do 14 shows in 14 days.
Crilly: Actually I got this FVK tattoo in the back of a van in Newcastle (points to FVK logo tattoo) We were with this girl who was an artist and pulled the van up to a hotel with good floodlights and away she went.
You are playing the first ever XFest, are you excited?
Adam: I'm really looking forward to playing with The Dirty Youth, who we met on last year's Takedown festival. Yeah we looking forward to seeing them and of course 48 Hours.
Crilly: . There's loads of bands on there where I know their names but never seen them before, so now I can't just say I've heard of Press To Meco, I've seen them."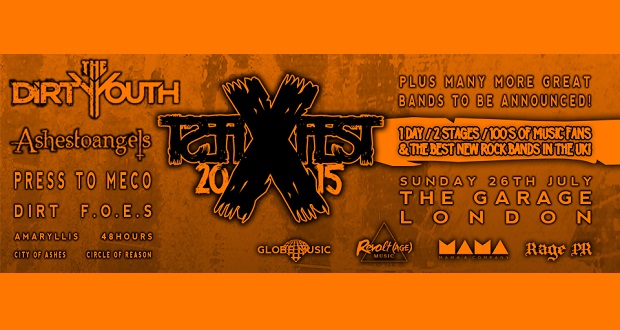 You are also playing the famous Whitby Goth Weekend, not too far from here, how do you feel about being included in this festival?
Crilly: Definitely, we have played there before and it's really good fun. Plus we get to play with The Birthday Massacre, that's very cool.
Adam: I think The Red Paintings are going to bring their human canvases on stage.
Crilly: He's seen them before. Also Abney Park, really excited to see them live. Then on Sunday we get to see Will [William Control, former Aiden frontman and solo artist] play with The Damned. It's funny he was actually supposed to be headlining, but he was like 'Nope! I will not go above The Damned'
Would you say all these bands like The Damned and Birthday Massacre have been big influences on Ashestoangels?
Crilly: All the darkness that has come before. And all the darkness that will ever be! It's funny how bright the world is when everyone's dressed in black.
Adam: We're like the Bret 'Hitman' Hart of wearing the colour black.
So I guess you are big Wrestling fans as well? Won't you miss Wrestlemania tonight?
Crilly: He is (points to Adam)
Adam: I'm gonna try and stream it on the tour bus. One of the guys from 48 Hours might have good coverage.
Going back to the Goth Weekend: is it good to have a festival for subcultures like goth, or punk?
Crilly: It's quite under represented. (pause) Whitby Goth Festival (sic) has been going for 21 years and we're the new breed. Some of the fans are resistant to change but some of them see us as new blood. (Adam starts laughing) Haha! Blood! We did it a couple of years ago when they deliberately brought in some younger bands and it was wild.  They are trying mix the old and the new a bit. We have thrown together a set which is synth heavy.  Which will trick 'em. (he laughs) So they will hear the album and they will be like 'oh, what's he doing! This isn't Sisters Of Mercy!'
Adam: By then it's too late! You might stage dive again.
Crilly: Yeah I might be the only person to do that at Whitby Goth Weekend. I'll have to maintain my title.
Would you say those festivals are exclusive to goths or should everyone go goth for at least one weekend? 
Crilly: Oh no, not at all. You get a lot of tourists there. Some of the clothes people wear are exquisite, the thing about goth is – as weird as they look … or as weird as we look, under that umberella… they are very accepting and you tend to not get bullied by the alternative looking people. That would be a bit weird.
Are similar festivals, such as Download or Bloodstock, good places to discover new bands?
Adam: Yeah, it's usually full of bands that fill the same sort of mould, you're bound to discover something you have never seen before.
Crilly: Also if you go to actually see bands at festivals, instead of getting wasted and sit in your tent – for the price of the ticket, if you see 20 or so bands, suddenly your ticket seems real cheap.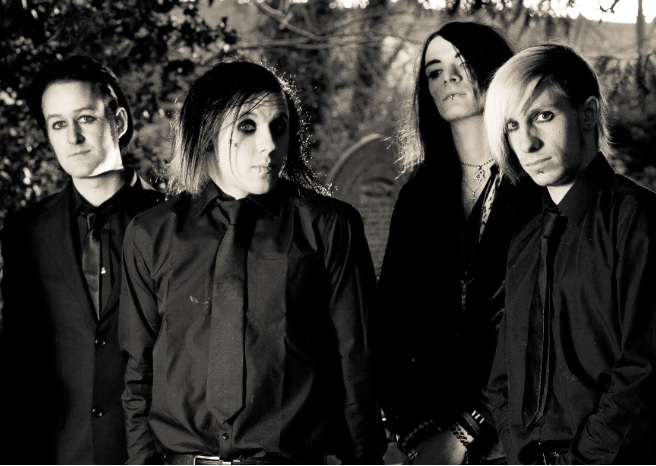 Do you think it would be a good thing if bands like yourself or Fearless Vampire killers crossed over to more mainstream festivals, like Glastonbury?
Crilly: We would love to, I grew up going to Reading Festival, it's a bit more indie now but we'll play anywhere for a good time, and festivals are a special kind of experience.  It's 25 to 45 minutes of work and the rest of the time is hanging out.
Are you going to be doing else with FVK soon?
Crilly: We usually get together at least once a year. They seem to be doing great with other tours at the moment. I don't know if we can offer anything at the minute that Black Veil Brides can't (they both laugh).
Bands like yourself, FVK and many others are still unsigned but are getting a lot of success, would you rather do it this way or would raather be on a big label?
Crilly: We are 'DIY' because nobody is going to just give you something, you have to go out and get it.  If a label did come up to us and said they like what we do,  that's great, if not it's not going to slow us down. Nothing slows us down.
What does the future hold for Ashestoangels?
Crilly: another tour, hitting the road with William Control, we're going to put out a live album and a DVD,  to fill the gap. It's just finished mixing and it sounds great. So that's out while I start writing the next album. And hopefully bring out a new album at the end of the year. Nothing slows us down.
Ashestoangels will play Whitby Goth Weekend on the 23rd of April in Whitby, North Yorkshire. They also play XFest on July 26th at the Garage, London