Track-By-Track Review
Intro
Starts with a simple but urgent message as the sirens wail and deep seated drum beats thump disturbingly.
The American Dream Died
Quite a balanced track but still manages to punch well above its colossal weight and frantically surges into a battlefield of hard core menace and from within it, possesses a vocally garbled anthem of sorts.
Police Violence
Exploring a more panic-struck type of vocal not to mention a fast, but very short tempo that has jarring and stabbing tendencies about it.
Only in America
Fast and furious it spills over the edge of sarcasm and hints that all is not well in America! It is infused with a brutal pace and antagonistic riffing that is highly pleasurable on the ears.
Test of Time
Is a lot heavier and forthright than the previous tracks and embarks on a tantalising journey. This holds a spiteful character and smoulders with energy and extreme passion.
We walk the line
Another anthemic track that pours out a chugging riff with a sneaky bassline that persistently engages and is an insatiable onslaught to the senses.
Never walk alone
Takes a turn for diversity's sake offering a chant like vocal that screams passion and intensity and in equal amounts of pure driven musical energy. It is a very addictive track that would definitely appeal to the hordes.
Enough is enough
Incoherent vocals and a squall of noise – probably the worst track on the album so far.
I can't relate
An exciting brawl of fiery and rigorous riffs that staggeringly ignite into a cess pit of hate. Again a short composition, but better than the previous one!
Old New York
A sampled voice begins and then the music fires up with some wonderful harmonies that offer a 'ripe for the picking' quality.
Social Justice
Back to the heavy surge of metal. This track pumps a fuel injected riffs along with biting beats, although the vocals seem to take on a life of their own spewing forth some incoherent nonsense in a rather garbled tone – but the music is indeed raw and energetic!
Reasonable Doubt
Another fight to see how fast they can play and believe me when I say "Yes it is very fast!" Another anthem that will bring you out in a hot sweat!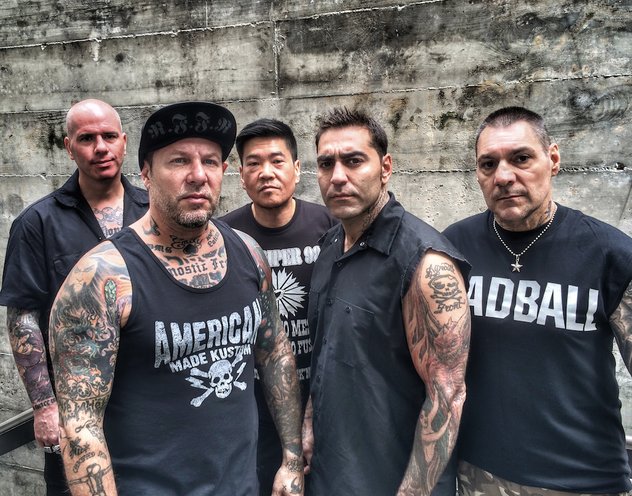 No War Fuck You
To the extreme of mesmerizingly fast – it was over before I could think about what to write, but the title is good!
Attack
A tempting track of infectious breath and charismatic vocals. It taunts and teases in all the right places.
A Wise Man
A more deliberate pace is taken on this track with squealing guitar and hard edged drumming. Cursed with a deep emotive force that houses engaging qualities.
Just like Yesterday
Rough, ready and ruthless! A good track to finish on as it holds a superb chugging rhythm and embraces the Agnostic Front trademark of anthemic and equally moreish!
Read further review of Agnostic Front in issue 2 of RAMzine:
If you would like to view this issue on a mobile or device, please click here.