While the current climate has us all locked away from who and what we love doing the most, one thing remains sure, good music continues to be alive and well, coming at us from every direction. The downsides to this are that we and bands alike are unable to celebrate the releases in their greatest way, at lives shows. We're now just weeks away from seeing Bad Touch release their fourth album 'Kiss the Sky' and what would have been celebrated with a tour on the road with the great Piston, while we may have to wait to enjoy this on the rescheduled dates in September… if they are able to go ahead, one thing we couldn't wait for is catching up with vocalist Stevie Westwood on all things Bad Touch! Here's what we got to chat about…
We're on the cusp of your fourth release Kiss the Sky, what can fans expect to hear from this?
We've always been and will always be Bad Touch. We play feel-good rock n roll for the soul. Our never ending mission to give you the night you'll never forget; a break away from the monotony and tyranny of life, and to leave anybody who is awesome enough to come to a gig smiling from ear to ear. That's our mantra. This album is 110% just that, this is a dancing round your bedroom, annoying your neighbours album; that we hope people will love any bit as much as we do.
This album has been the hardest one to write so far, for all the right reasons. We've put so much into this as individuals and collectively as a unit, and we're super proud with the end result. It's fun, it's loud, it's in-your-face, it's everything that Bad Touch have always been, plus so much more.
When it came to writing material, what became the inspiration for it? How has the writing for a new album changed from the early days? How do you guys go about writing material and constructing songs? How do the lyrical themes come about?
Not much has changed since the early days, we still write and rehearse in the same space we have since day one. We just write about emotions and situations we all feel and have experienced, in a hope that someone else feels the same way and can connect to our music. Our attitude towards writing remains true as well, we're a melting pot of influences and ideas from every member, not bound by role. Quite often George (drums) will have a vocal line or guitar riff, just as often as I'll have an idea for a drum beat… it keeps things fresh.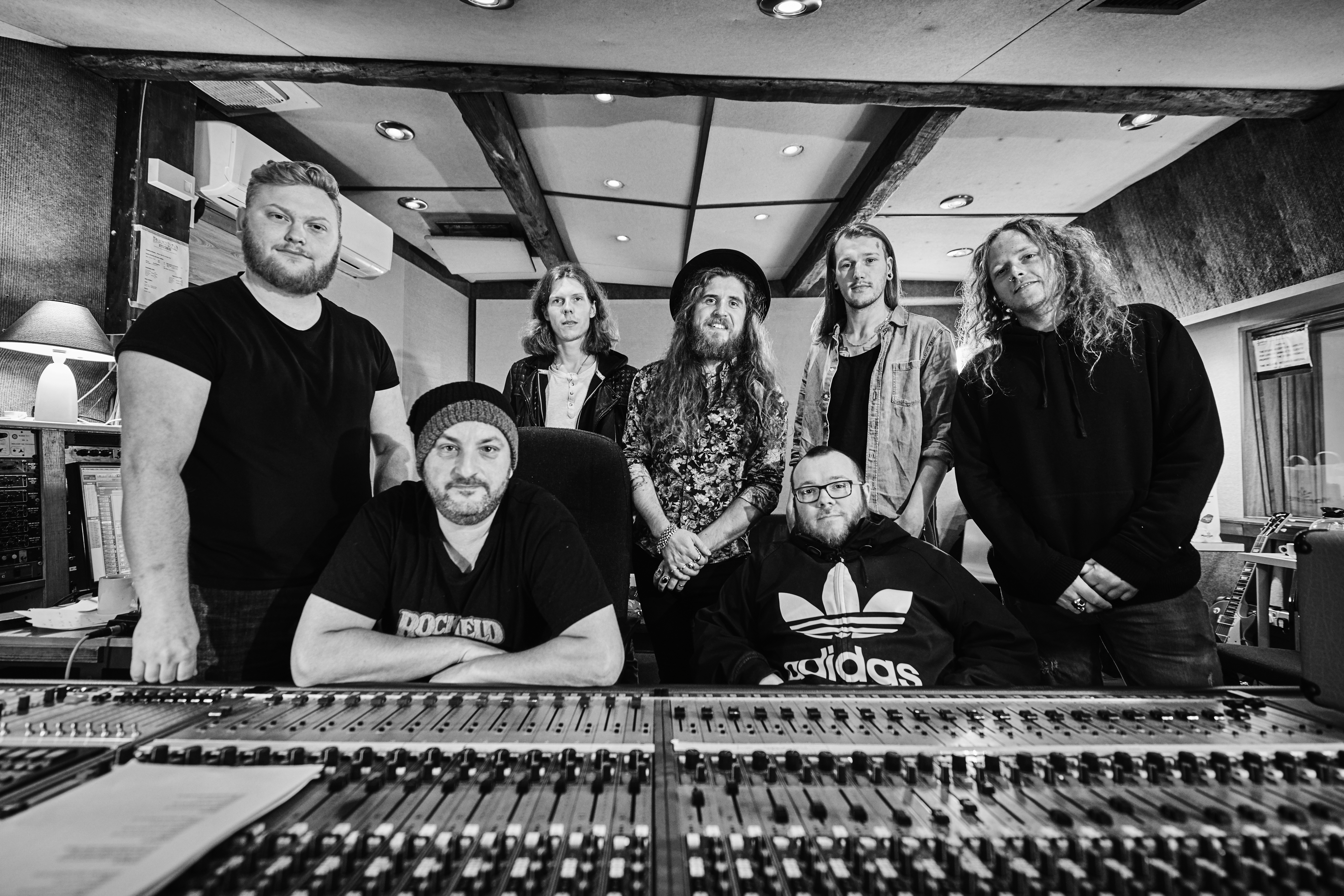 You released Strut, I Get High and Too Much of a Good Thing as singles in the lead up to the release so fans can get a little taste of Kiss the Sky, how did you go about choosing those songs for singles?
Choosing the singles has been one of the easier parts of the run up to 'Kiss The Sky'. Simply because of the fact that we're super proud of every single track. To that end, we listened to our team, our label, our PR company, as well as our friends and families with regards to what songs to put out, just to get a feel for what would go down well with the general public. The singles are just a taster, we can't wait for you all to enjoy the main course!
What were your plans for the release before all of the Covid issues, and how are you planning to celebrate it, if at all, now?
Obviously this situation we're all in has, for lack of a better phrase, "Really cocked it all up!" But we stand strong and optimistic. The album is still to be released 19th June come hell or high water. Yes, it would have been nice to have gone on our headline tour March/April, but it wasn't to be. So yeah it screwed us over, but it's done that to everyone. We could sit and seethe, but we're just looking to the future, we've got a great album (in our humble opinion), we've got a fully rescheduled tour (badtouchrocks.co.uk for details) and the future is bright. We're just going to sit back, hone our craft, look after ourselves and our loved ones, and come out the other side fighting and more electric than ever!
When we last spoke, you had just played an acoustic set at the VIP bar or Ramblin Man Fair, we may have joked about when you'll be playing the main stage, and as of the 2020 line up for the festival, you're listed to finally play that stage on the opening day (If it goes ahead). It's great to see you get that recognition, what is the mindset of the band when it comes to playing the smaller stages to the bigger ones?
Cheers for the kind words. The only thing that really changes is the worry of whether or not your lead will reach from the amp to the pedal board! We treat any crowd, be it five or five thousand, the same way. If you've taken money out of your wallet and time out of your day to buy a ticket and stand in front of us, whether it's a headline show, support slot, or a festival, you're part of the Bad Touch Family. Obviously, the big shows are fewer and further between, so the nerves might be amped up a bit, but our ethos stays the same. We're there to give you a feel-good rock show that we hope you'll take away and cherish.
Ramblin' Man Fair is one of our favourite UK festivals, and the fact that they've trusted us with a coveted slot on the main stage is truly awesome, and we thank them for the amazing opportunity. Personally, I doubt it will go ahead this year, in the wake of this awful time, but we stay strong and know that, should the festival be rescheduled, the RMF team are doing all they can to make sure that Ramblin' Man endures, and, just like us, comes back fighting.
You were all set for a tour with Piston and a host of festival shows, obviously things being up in the air has left most people unsure on what is happening and what isn't, how has it hit you guys and how do you cope with the postponements and cancellations? How do you take it as a band when it comes to rescheduling tours?
At this point I'm done being angry, upset and disappointed. Initially, I was beyond reconciliation, we all were! We'd put so much into the prep for our March/April tour and it fell apart a week before the first gig. But then, after some time in isolation, I came to realise, that we're by far and away not the only people at a loss, and that some people had lost far more than us. Luckily, we have an awesome team behind us, who made sure the rescheduling was done in a blink of an eye, so that everyone, band and fans alike, knew where they stood. We hope you all can make the rescheduled dates when they come around this time, but if your date falls on your great-aunt's birthday or whatever, don't sweat it, there'll always be another show!
On that subject, festivals being put off for a year makes for an easy start when it comes into planning into 2021, Cambridge Rock Festival for example being all the way off in June 2021 (although in Peterborough, not Cambridge…), does this make life easier when it comes to prepping for them? What will you be doing in the time it has now freed up for 2020?
It never gets easier, you can't let up even for a second, there's so much talent nowadays, and everything is so accessible and expendable that you risk being swept under a torrent if you take your eye of the ball. You've got to stay positive; this negative has given us time to hone our craft and focus as a unit, to make sure that once this weird time is over, that Bad Touch comes out the other side is bigger, better and badder than ever!
While going through this isolation, Stevie has been actively working on "The Isolation Tapes", how are the rest of the band coping through this? Have you guys any found any strengths or weaknesses between with each other to bring you closer together?
The boys are great as far as I can tell. We're still chatting and itching to get playing again. I think this time has given us and a lot of people a sort of "master reset,"in that it has become abundantly clear that we all still crave this, and all still want to put ourselves through everything it is being in a band. Even being in a crowded backstage room with one chair and one beer between the five of us; it's what we live for! And I feel like we're gonna bounce back and hit hard when this is all over, our purpose revitalised and reinvigorated.
This isolation period has really proved how important new music is keeping people going, it's also been a great time to discover new bands. Who if any, have Bad Touch been listening to? What has kept you guys going? What new releases have you enjoyed and who would you recommend to check out?
There's so much talent out there, it's both inspiring and daunting in completely equal measure. I can't speak for everyone but I've been enjoying all our usual guys, Rival Sons, Blackberry Smoke, Led Zeppelin, Black Stone Cherry, The Temperance Movement, Black Crowes. All of which are huge influences to Bad Touch. Plus some lesser known ones, Seeks showed me a band the other day called "Maker" who are just so cut from the school of the Crowes, it's awesome. Wet Willie, Sister Sparrow, Cry of Love, Robert Jon & The Wreck, plus so many more… and yes, I did just go and check my recent Spotify searches. Ha!
Lastly, we've had a good listen and love the new record and will be getting our review out real soon, where can people go to support the band and get Kiss the Sky when it's released and older material?
So yeah, if you're interested in us, and digging our sound, firstly thank you, it really does mean the world. We are badtouchrocks.co.uk, @badtouchrocks on Facebook and Instagram, and for all news related to 'Kiss The Sky' (including how to pre-order wink wink), as well as other merch, it's badtouchkissthesky.com, and we'll see you all on the road very soon! Stay groovy…
Thanks for your time, and we hope to see you back on the road soon and share a beer again!
No worries my friends, stay well and can't wait to see you at the shows, I'll see you at the bar… drinks are on you though because I left my wallet in my other trousers!