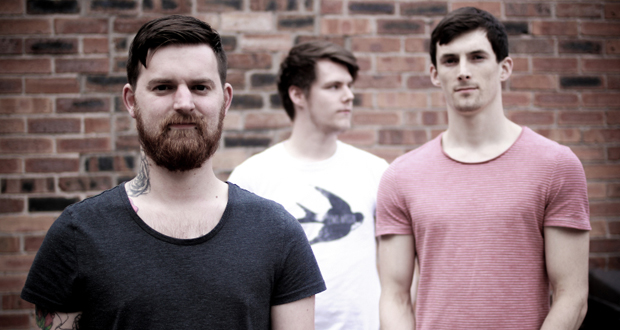 I, The Lion Hit The Road In Support of New EP 'Run' Throughout February & March
"A band with the potential to light up the British rock scene like a Reuben or Biffy Clyro", you don't hear that too often. This quote from RingMaster sits alongside a host of peer and review accolades held by 'I, The Lion', from Kerrang!, Scene Better Days, and many more.
'I, The Lion's new twelve date UK tour kicks off at the Railway in Bolton with support from punk rock ladies 'Hearts Under Fire'. Latest single Icarus recently debuted on Kerrang!, drumming up even more love and ticket sales for the boys on an already busy tour.
We caught up with the post punk trio's guitarist, Elliot, a few days before they set off…
 You guys are renowned for being hard workers. Your first single was released and downloaded over 1000 times just a month after you got together, how do you do it?
A ridiculous amount of work! That was when me and Chris were at uni so we were promoting all day, playing shows at night and going out around our area flyering after that. It gets pretty tough but the hard work is totally work.
You've toured extensively up and down the UK, where do you find the biggest I, The Lion crowd?
Hometown shows are always awesome, but we have some pretty awesome fans all over the country in places we wouldn't expect. Like there's a little village in Somerset called Midsomer Norton which is always awesome, and then places like Winsford way up north. It's a real mixture but with the tour coming up were pretty keen to expand and get even more fans all over the country.
On the 28th January 'Icarus' was debuted by Kerrang! How has that gone down so far?
Pretty amazingly! Lots of new people were visiting our pages and getting involved, as well as pre ordering the EP which is all ace. Though getting involved with Kerrang has been an aim for a while so it's a great achievement.
'Run' is due out in February, tell us a bit about what to expect…
It's pretty much a collection of the tracks we feel showcase where we are at the moment, and give a hint to where things are heading. As a guitarist I'm always challenging myself to play something just out of reach, and it's always the same with the others too. Pushing our vocals harder, playing more complex rhythms, but always keeping things down to earth so it doesn't loose it's feel.
Run gives a good hint to this with tracks like Icarus. Throughout it changes time signatures and plays with different rhythmic patterns but we wanted it to now lose the overall groove. We're now looking at our LP which we've started recording already, but are very ambitious with its direction.
Personally I want someone to be able to listen to our record and just enjoy, but at the same time be challenged by the details under the surface. I think Run is a first stepping stone towards that.
See our 4 Star review of 'Run' here.
What tour plans and festivals are you planning in 2015?
So we're heading on the road at the end of the month for almost 3 weeks which we can't wait for. Feels like we've been counting this down for an eternity! Then we'll be heading back out again in June as well as securing any festival slot we can. We're all big fans of festivals, whatever the size or venue, there's always an ace vibe to them.
You spend a lot of time on the road, is that where you feel most at home?
Totally, you'd have thought spending weeks with the same guys would make you sick of them, but we get along better than ever. So when we're on the road they're making it home, and on top of that, playing shows is exactly where we all want to be.

Which UK venues and festivals would you love to play that you haven't yet?
Ever since seeing Muse play Wembley it's always been a crazy, totally out of reach ambition to play there somehow. But every year the level we aim for gets higher, so this year we're aiming for at least 5 festivals and 3 headline tours. But I've always wanted to play arenas, I think our sound would work really well for it.
What would be your dream support slot?
I would love to support 'A' if they ever did a comeback. They're the reason I got into guitar in the first place so a chance to get on the road with them would be awesome. Or maybe we support Three Trapped Tigers and have a big cats tour.
Do you have any influences or soft spots for music we might not expect?
My taste is pretty eclectic. I've always been into classical, especially Schubert which most people wouldn't expect I suppose. But my taste is pretty vast. Skrillex, Deep Purple, Lewis Watson, the strange list goes on. Nath and Chris are fairly similar too, but they probably aren't boring like me listening to the classical stuff!
Across your career (or as a fan), which festivals stand out the most? And why?
I've always had a soft spot for Reading and Download, but probably because my main memories are of underage drinking and watching all my favourite bands in one field.
More recently the king of all festivals has to be 2000 Trees. It's just the best vibe and some of the hardest working bands in one place. I've discovered so many of my new favourite bands there and will keep going every year to keep finding them.
If you could give festival goers one tip this year, what would it be?
Go to 2000 Trees Festival! It's the best £70 you'll ever spend. But when you're there, buy a box of wine/cider, drink it all, open the box and there's a bag that you can inflate and use as a pillow. Saves you carrying one in and more room for beer!
If there was one thing that you would recommend people don't do at festivals, what would it be?
Forget a tent. Sounds unbelievably simple, but I know way too many people who've gambled and ended up crashing in others' or wandering around all night. Don't get me wrong, had some of the best times aimlessly going around festivals at night, but not having a tent is just ridiculous.
Iron Maiden's manager, Rod Smallwood, has recently appealed to fans and musicians to campaign against the secondary sales of gig tickets- 'touting'. Is this something you support?
I get why they do it and why it benefits some people going to a last minute show, but it's not exactly honorable. Gigs are set at a price for a reason, and selling them at a higher price just because you got their first isn't my idea of fair.
How do you think the decline of touting could affect the music industry and fans?
As far as I can make out it's going have little or no effect, other than the fact that when you're going to a show you'll not be hassled by "buy or sell" man. Until a system is in place where tickets can't be resold at an extortionate price then they'll still be around, but 'til then we can keep catching touts and their famous catch phase at most shows.
You can catch I, The Lion across the UK on the following dates, and buy Run from their BandCamp page. You can also follow them on Facebook, Twitter, and their website.