We meet THE SKYS in the sweet shop at the HAFN Y MOR camp on the last day of the HRH PROG FEST 2015.
We have to negotiate around storm-troopers, various alien entities and some silvery space-girls wearing glittering capes. It's a busy morning at the SCI-FI weekender and the geeks are out in force. But down at the Mash and Barrel the 2015 PROG FEST is also in full-swing.
THE SKYS have come all the way to North Wales from Lithuania — and they have already played a blinding set — they headlined the PROG stage on Thursday night, performing straight after Knifeworld. They also played a rare 'unplugged' set in the 'Owners Bar' on Friday afternoon. The band were told that this should be a three minute 'acoustic' set so we were keen to know how a band like THE SKYS (with their ten minute album tracks) chooses short and straightforward songs (without electrical amplification) for a show like this.
Jonas (vocals and lead guitar) explains:
"We chose 'Is This The Way' then the second song was 'When The Western Wind Blows' then 'What If' and then the audience asked for a fourth one… so we managed to do 'Calling Out Your Name'. [all taken from Colours of the Desert album.] We don't normally do acoustic numbers, though, so although we thought a little bit about doing those songs in advance, it was not easy. 'Calling Out' was as unexpected for us as it was for you — the audience."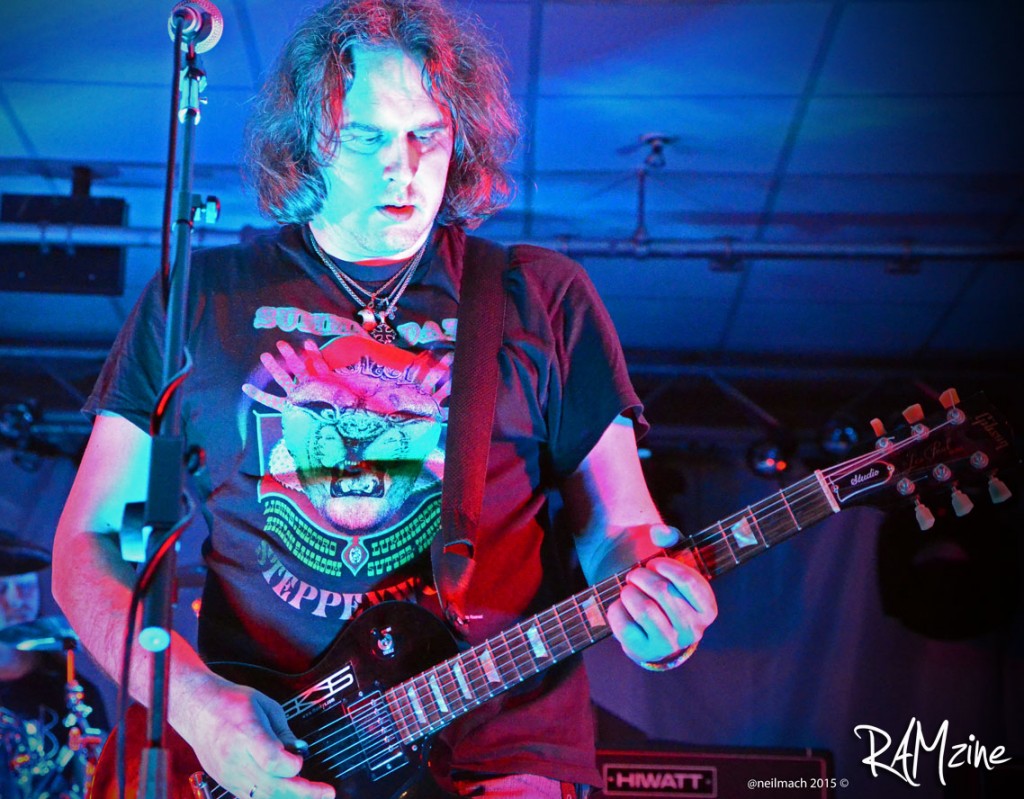 Do they create sounds specially so that they can be played live or do they have to prune and re-arrange existing songs for a live show?
"No, we simply don't have any more songs… [grins] So we play everything we have. [Laughter from all the band members.] But no, seriously, we perform our songs in full. We found that we had time here at the HRH PROG stage to play what we wanted. In fact, we played a little over our time limit."
"But one thing we have learned this weekend is that 'Time is Relative…"
We all look around as daleks, various incarnations of Doctor Who and two separate Stephen Hawking's trundle past us. Here, near the Sci-Fi stage the prog fans are the 'ordinary' ones!
We had calculated that it takes about five years for a SKYS album to be produced. The band was first established in 1995. They played their first festival during 1996 at the Prienai Festival of Young Bands. They then released their first album 'Civilized' in 1997. Since then they have released just three more discs. 'Colours of the Desert' was released in March 2011.
The band members gaze at each other with vacant looks on their faces when we explain this.
"Well, let me think…." Says Jonas (vocals and lead guitar.) Busily trying to calculate.
"We have been been going for twenty years…"
"Well, we have released four albums… actually it's three albums and an EP. That was starting in 1997. And we are gonna record a new one this year. We are working on that right now. We have done all the writing for it. And we are just starting recording sessions… So yes, maybe it takes five years… maybe even more."
The 'Colours of the Desert' LP was recorded at Liscombe Park Studios (London, UK) famous for Uriah Heep and Asia recordings. So we wanted to know if THE SKYS will be recording their new project in London also.
Božena (vocals and keyboards) filled us in:
"Yes, we actually spoke to Steve yesterday …. [Steve Rispin is the man behind the 'Asia' sound] — and we arranged some dates with him."
"We tried this before, and it worked for us… Just from a practical point-of-view we have all the instruments there and Steve can come and record the keyboards for us. And it all fits well with us, because we have a European tour — which we are ending in England — so we will spend the last couple of days doing the final recordings."
"We start recording in May… it should be completed by the end of June."
We wanted to know if the band members still thought of England as the 'Home' of prog-rock (it is probably agreed by all that the UK is the birthplace of progressive rock… but is it still the home?) The band were clear and unequivocal in their response.
"Yes…. Definitely… More than ever it is, actually. England could even be described as the Home of Music…"
"Maybe, the second country we would name is Poland — for progressive rock."
"Prog Rock is getting more technical. And it's more demanding for musicians. But it's still alive and it's still evolving…"
"For us, the best prog music came out of England in the 1970's. [We could guess that from their style] But the future? It's really hard to say because everything is changing so much. Some bands are playing a technical version, whilst other bands are playing things a little differently. So we are seeing both sides now."
We told Božena that she reminded us so-much of Grace Slick in Jefferson Starship.
"White Rabbit…" She murmurs. "But thank you for the comparison."
"The main concern about the future of progressive rock, though…" interrupts Jonas "Is the same concern that all music has to face…"
"As long as soul and spirit stays in music, it's fine. But if it is just a technical matter… simply dropping a bunch of notes in a random order … then music has no sense. Nor any future. But as long as soul and spirit stays in it — then prog rock has a future, for sure."
We also remarked that we thought humour was important as well. After the first SKYS song — played on the main stage on Thursday night — Jonas shouted out to the crowd: "Do you want one more?"
This then became a recurrent theme over the weekend (and culminated with the band having to play an extra song in their unplugged set.) The Prog audience were constantly shouting out to the band "Do you want one more?" each time that they saw them.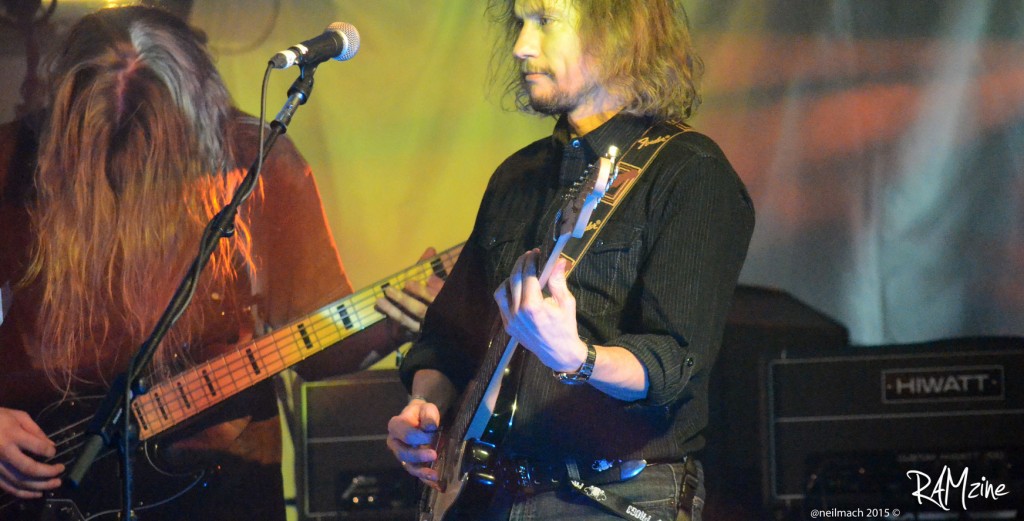 So what is the new album called?
"Yes, it's, er, Twenty Years After…" The band erupted into laughter at this suggestion. There was that infectious sense of humour again! When the ripples of laughter died down we asked if the HRH PROG Festival experience had been good for the band.
"Oh yes, yeah sure. It's been a hectic five days, that's for sure. But it's been worth it…"
And how long will the drive home take?
"Three days!"
Well, thank you THE SKYS for making the journey to North Wales. And thanks for bringing your classic-sounding prog-rock with you. Your appearance at this festival has been inspirational and energising.
The Skys were talking to Neil Mach for RAMzine