As a guy, I can speak for most when it comes to the emotions that women put us through, from lust to regret, love to hate and all of the feelings that come with it (and that's only Friday night!)…. We Are Harlot's debut album is just that. So with that done, time to move to the next review……
LIKE HELL IT IS!
30th March is a day to remember, it will be the first day of the rest of your lives as We Are Harlot are impregnating your ears via Roadrunner Records with their self-titled album 'We Are Harlot'.
The transcontinental band that consists of Danny Worsnop (Vocals, England), Jeff George (Guitar, USA), Bruno Agra (Drums, Brazil) and Brain Weaver (Bass, USA) are collectively bringing the right amount of promiscuous to blow your socks off! And as the name suggests, give you the best night EVER, until the next time!
Danny Worsnop's latest venture since leaving Asking Alexandria has already started to take the crown for Rock n Roll king! Moving away from the musical styles that is Asking Alexandria, Danny brings his very unique vocals over to a lighter style of music and absolutely nails it, opening up the dictionary and redefining Rock n Roll. We take nothing away from We Are Harlot as the riffs and solos are hard hitting, face melting and blood pumping, with music that takes inspiration from 80s, 90s, 00s – pop, punk, rock, metal and blues, they radiate style and glamour whilst leaving you feeling nostalgic, contempt and gushing for more.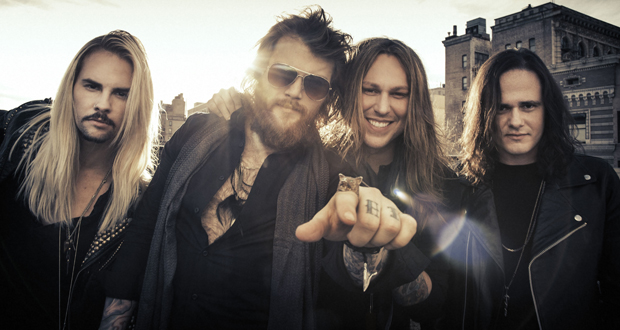 'Dancing On Nails' is the opening song on the album and screams "We Are Harlot and we've come to put our flag in music" with a fast paced riff and some powerful vocals from the man himself (Danny) it sets you up for the foreseeable future of the band. Even the World Wrestling Entertainment (WWE) have taken note as to who will be sitting on the throne for many years to come by choosing to use 'Denial' as their new theme song to their widely popular Monday Night Raw program. 'Someday' takes the cake for standing out the most on the album with a very emotional and atmospheric buzz surrounding the track from start to end as it takes you, on what seems to be, a personal ride. 'Dirty Little Thing' and 'The One' are the rock anthems that should never be skipped, best played to keep the party going, everyone will be jumping and fist pumping until the sun comes up! Closing the album is 'I Tried' and gives closure but leaves you wanting more, your only option, play the album again.
We Are Harlot are set up for 2015 with summer festivals all over the place including their first UK live appearance at Donington Park's Download Festival in June. To miss that would be blasphemy! The album is available to pre-order now over at Amazon and iTunes (smarturl.it/weareharlot) and www.weareharlot.com.
Our final thought is; Buy this album, buy it now, twice and give it to your neighbor. Also, the video for 'The One' is the one.