It doesn't seem like yesterday we discovered Trivium's breakthrough album 'Ascendancy', a decade later the Orlando metal band headlined the UK's biggest heavy metal festival: Bloodstock Open Air 2015 . We caught up with the band's guitar maestro, Corey Beaulieu, to talk about: arty videos, the Dio influence and the upcoming new album.
How are you enjoying Bloodstock Open Air so far?
Corey: Yeah, it's been awesome, the first time I've been here –so I'm really excited. It's a really cool festival so I'm happy to be here.
Your new album 'Silence In The Snow' comes out later this year, you just put out the first video (the title track) – what was the thought process behind the video?
We just wanted to do something weird. We thought the best kind of videos we had were doing something different, especially the 'In Waves' stuff we did. The last album was had your typical metal performance videos – we thought 'this has been done before', so we worked with a friend of ours who worked with us on the art for 'In Waves'. The whole idea was to do something off the wall and not really common in metal, and art visually. We have shot four videos that are all completely different. It's really cool stuff. We have another video coming out in a couple of weeks that are completely different to that one, it's really cool and captivating stuff. Matt can get in to more of the art style.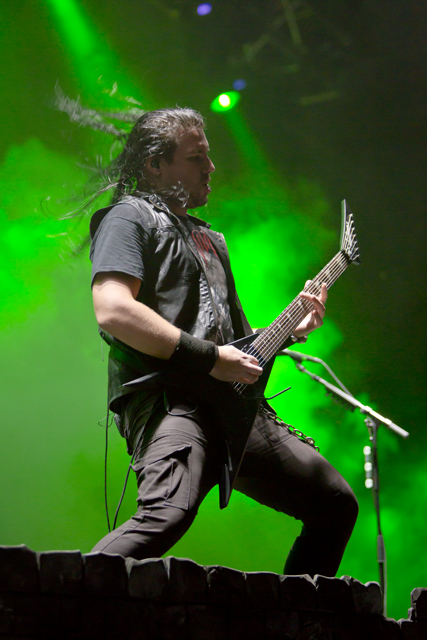 I believe there's an interesting story behind the title, 'Silence In The Snow', do you remember how it came about?
The song itself has been around for about seven years. We wrote it between '07 and '08, we were working on it for the 'Shogun' album but we cut it because it didn't really fit. It stuck around with us around the time we were touring with Heaven & Hell [later name for Dio-fronted Sabbath line-up] so it really all stemmed from watching Dio with Heaven & Hell play as a band.  Then listening to it about a year before we wrote the new album, we thought the time was right to bring that song back. I guess that song was the starting point of what the record became. We felt the title was perfect for it because it sums up the time we wrote it really well.
Was it daunting to tour with Dio as you are heavily influenced by Rainbow, Sabbath and his solo work? Were you ever star struck?
Can't say I was star-struck, everyone's been pretty cool, normal people. It's just really cool to watch your favourite bands up-close. A lot of our favourite bands we've been on tour with and we might hang out on the tour bus with them two or three times a day. Someone might pop on their iPod and let some music play, as background music.
Back when we were brainstorming this record we were talking about what we wanted to do with it and were listening to a lot of classic records that we all loved. We were analysing them and thinking 'why are these albums so timeless and what makes them so special?' So we were listening to a lot of Dio, Sabbath and Rainbow and realised each song has it's place on the record, each song has it's purpose to make the album a solid 'piece' of this concept or vision. We kind of used it as the template of our record. Also there's a way newer bands produce records we didn't want to do so we were trying to take it back to the old school way of mixing and mastering records. So you turn it up and it still sounds 'big' and it doesn't sound all 'crushed' as shit. So we learnt all that from not blatantly trying to copy riffs or ideas but getting the essence of 'the Gods of metal'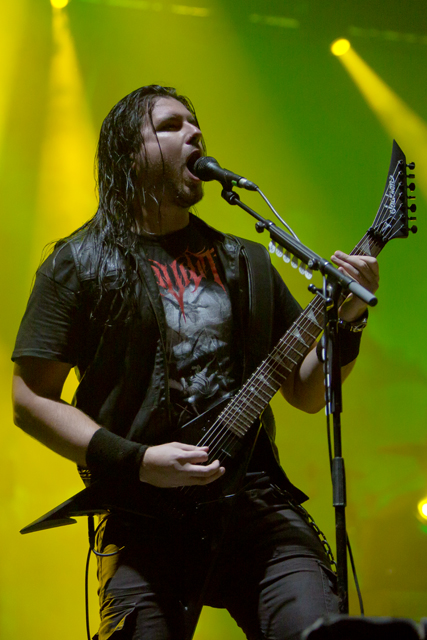 As Friday's Bloodstock headliner how does it feel to be the band younger musicians may look up to, in the same way as you looked up to the classic bands that inspired your music?
since we were the young 'whipper-snappers' playing the 11.00am slot at Download, our goal was always to be the biggest band on the planet. Anyone who has any ambitions will want to be the biggest. We've always looked at these festivals and thought that the chance to headline them would be like a rite of passage for us.
You know, it's definitely not an overnight thing to be able to headline these festivals – looking at all the bands that do headline: you need like a history and a legacy of music to make you worthy to play. It's not like you put out a début record and headline Wacken or something.
You need to be a band that has gained the respect and the experience of playing enough that you can play in front of a big crowd and command it. Make a show out of it. We have been around touring for ten years and this is our seventh record so the majority of bands like Avenged Sevenfold have six records, Volbeat are the same. All these bands are becoming the next wave of festival headliners are right at the doorstep and have the history, In Flames are another example, and you can't just be the guy out of nowhere and be like headlining Download.
If you have the chance will you be checking out any other bands on the Bloodstock 2015 line-up?
We're only here for today, because we have another festival tomorrow, but we're pretty stoked about today. Paolo [Gregoletto – the band's bassist] and I want to check out Nuclear Assault. It's funny because back when we were promoting 'Ascendency' Paolo was wearing a Nuclear Assault t-shirt for the press photos . I asked if he's still got that, I'm not sure if it still fits. From a distance I heard a little bit of Armoured Saint and I definitely want to check out Overkill. Sabaton are before us, I've seen them before and we've played festivals with them before but it's still pretty exciting. It's a cool variety of bands, I've always heard about this festival and it's great to finally headline it, and to headline a show in the UK.
All photos by Mark Lloyd (excluding below).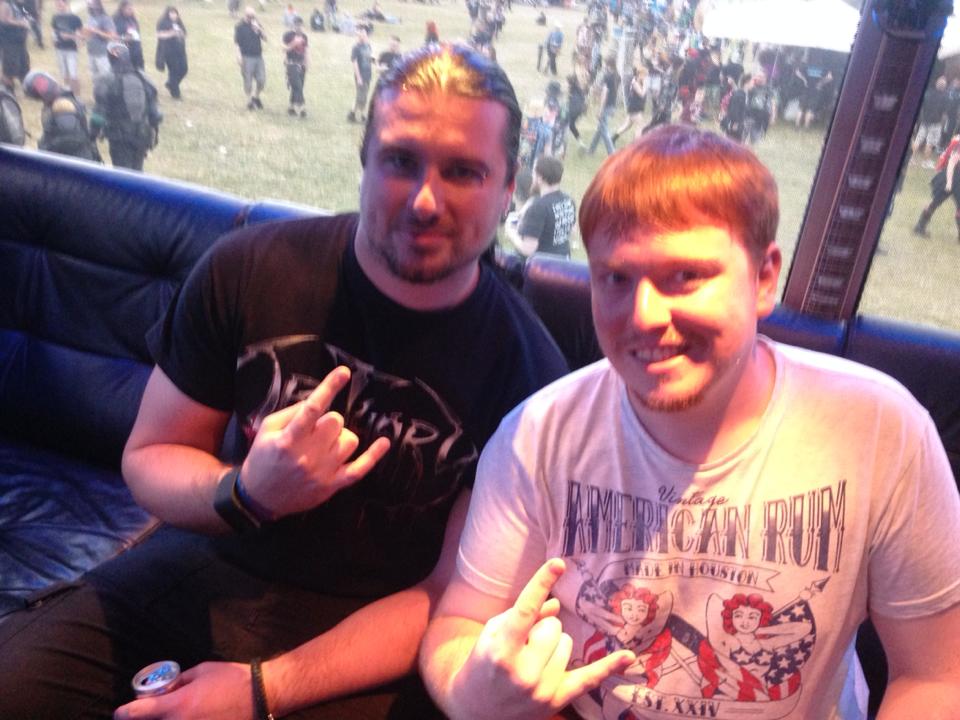 Keeping checking RAMzine.co.uk for more interviews and full coverage of this year's Bloodstock Open Air festival.