You may have heard of up and coming pop-rockers Altered Sky, especially since their cover of Taylor Swift's 'Blank Space'  was posted on YouTube, but you may not know they are about to embark on a completely unique tour : A Scotland only tour.
We caught up with guitarist Rich Passe and drummer/ BG vocalist Amy Blair about the tour as well as their fan-base and influences.
RAMZine: Hello Amy and Rich, tell us about your forthcoming Scotland tour!
Rich: Hi! We canny wait! Basically we are concentrating on Scotland for this tour, visiting Inverness, Perth, Dundeee,  Aberdeen and Edinburgh – which is kind of a homecoming gig for us.
Amy: Yeah, we are from between Glasgow and Edinburgh so it's nice to go back home as well as play places that aren't just Glasgow venues.
Not to get political, but has this got anything to do with Scottish independence?
Rich: No, it was just something different and a way to reach places like Perth or Dundee who don't usually get many gigs like this. Even if Scotland did get the 'yes' vote –  we would still be doing UK tours. England and Scotland are next door to each other so it would have been business as usual. We do plan to play a few venues in England and Wales later in the year but this tour is just a celebration of our Scottish-ness.
Amy: Yeah a lot of these places don't have many gigs coming to their towns, there's probably not many venues to play in. We have played all over before so it's good to see fans in these places.

What do you think it is about the Glasgow music scene that makes it so rich? You just have to look at Biffy Clyro or Twin Atlantic to see this…
Rich: I'm not sure, but it might be to do with the heritage and the big live music scene here, someone told me that sometimes there is up to 100 gigs on in one night, not sure how true that is but there is a lot of venues to justify this so it could happen. From local pubs to the big arenas.
Which locations do you get the biggest responses from?
Rich: There isn't a specific place we seem to get good responses all over but when we play places that aren't exclusively 18+, we try to play these places so our younger fans can enjoy it as much as the 'old' people (laughs).
Amy: We sometimes even see fans with school uniforms on at our show, it sounds crazy but it happens! The 12 and 13 year olds seem to go crazy at our shows and everyone else stands back and enjoy it in their own way. We've played gigs at schools so it's mainly the younger folks.
Rich: It's true, if you remember when you were at school, any band or scene that you were into, you really got into it, bought all the merch and recommended them to your friends. It's probably the same when we play the schools. Usually when we do we don't just play music but we talk to the pupils about working in the music industry.

So when you were at that age, which bands did you listen to that really shaped your sound?
Rich: We have a huge eclectic mix of influences. I personally listened to Green Day and The Offspring growing up, and later got in to heavier metal like Metallica and Maiden, which inspired me to play guitar.
Amy: I listen to all sorts of music but mainly pop-punk, big style. Ana really loves music from anime and video games so it's different for everyone.
Rich: Yeah and our bassist Ross loves prog-rock like Dream Theatre and Rush. Which explains his big 6-string bass guitar.
Amy: It's so good that we all like different things and like the music we make.
You covered Taylor Swift acoustically recently, why this song and will you be covering more?
Rich: It's a great song and it works really well with Ana and Amy's voices, it's the first of many songs we are going to cover. Can't reveal anything but the next one is a huge contrast.
I guess you are sick of being compared to Paramore and other female fronted bands?
Rich: It's a compliment really but there's loads of bands with girls in like We Are The In Crowd and Tonight Alive so it's more common place these days.
Amy: If you remember when Paramore were on the rise everyone compared them to No Doubt, so it's nothing new.
I have to bring this up: What on earth is going on with Blink 182?
Rich: It's the same as last time they went on 'hiatus' shame we might have seen them for the last time but they could come back. I really like the 'Tom is sad' memes.
So how did you get together as a band?
Amy: Me and Ana worked at the same music project and Ana told me she wrote songs so we were going to set up a session for her to record some songs and that's when the other guys came in.
Rich: Yeah me and Ross met through playing cricket, and we liked the same music so we got on board.
So whats next for Altered Sky?
Rich: We have an album which was recorded last year produced by Romesh Dodangoda, who has worked with some big names like Funeral For A Friend and The Blackout, plus we have a lot of festival appearances, tour dates and videos coming up. Watch this space!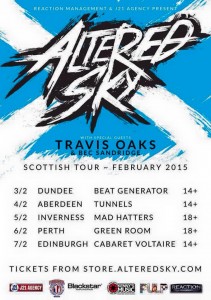 Altered Sky are about to go on their Scotland tour playing the following dates:
3 February 2015 Dundee, Beat Generator 
4 February 2015 Aberdeen, Tunnels
5 February 2015 Inverness, Mad Hatters
6 February 2015 Perth, Green Room
7 February 2015 Edinburgh, Caberet Voltaire
Tickets are on sale now via all the usual outlets.