English heavy metal band Saxon are considered to be one of the front-runners of the New Wave of British Heavy Metal. The band had eight UK Top 40 albums in the 1980's including four UK Top 10 albums and two Top 5 albums. Between 1980 and 1987 Saxon established themselves as one of Europe's biggest metal acts. They are still regularly touring and they released their 20th studio album titled "Sacrifice" in March this year.
Saxon have also recently released a bunch of new, ferocious interpretations of old Saxon classics in a package called: 'Unplugged and Strung Up'. We chatted to Biff Byford – the lead singer of the Saxon – about the 'Unplugged and Strung Up' project and about the band's long history:
We here at RAMzine have been enjoying your 'Unplugged And Strung Up'  album – but we have to admit that we were concerned about the concept. As a fan put it: "Unplugged … Noooooo !"  So why go down the unplugged route at all?
"I think fans who have said that haven't heard it … and maybe don't know the concept behind it"
'Denim & Leather' and 'Crusader' are very powerful songs on this compilation … other songs are less well known … How did you come to choose each song for the album?
"I wanted to try something different to give our fans something special I don't think just doing the usual thing is for us, it's the first time I've heard an album that mixes styles."
Isn't there anything on from 'Unplugged And Strung Up' from 'Sacrifice'?
"That's because 'Sacrifice' is still selling … you have to remember this album was put together over a period of 4 years."
Is the project a thirty fifth anniversary present to yourselves?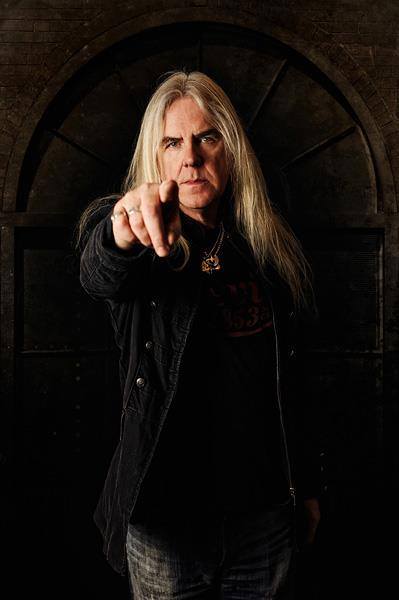 "Our music is always for the fans … but it has to please us first!"
Do you expect to reach a new class of listeners – maybe green-tea sipping Guardianistas – by creating these 'softer' versions of your rock?
"I don't think so. Some fans think the newer versions are heavier than the originals."
Who created and worked on the new arrangements and the mixes on 'Unplugged And Strung Up'?
"The band re-recorded quite a lot of stuff. The original idea came from myself, Thomas Jensen – our manager and Charlie Bauerfeind."

"One of our producers, Andy Sneap mastered the album and mixed some songs."
Saxon were trend-setters back in 1984 with 'Crusader' – combining elements of raw power with bombastic metal – the album was even deemed to be a bit too adventurous for long standing Saxon fans  – do you still feel compelled to surprise (and even alarm) your loyal listeners?
"Crusader was a mixed album, it was maybe liked more in the USA at first but has achieved legendary status over the years. I think it is everyone's job to push the song writing to the max …"
It is said that you influenced both Metallica and Megadeth. But can you remember who first influenced you?  What musical influences do you have now – in 2013?
"I think there are lots of bands that influenced us, too many to name. Some huge others – not known much."
Can you remember what it was like when the band was dropped by EMI( in 1988) after 'Destiny'?  How did you pick yourself up after that experience?
"At first is was brill because we had some problems with our career but it soon became clear that our management and EMI wanted something a bit different."
Was that your lowest point in your long career?
"I think the period after the Destiny album."
Is that why you are such fighters?
"I do not know how to stop, I think we all have the metal bug…"
Do you think you are at the "top of your game" right now ?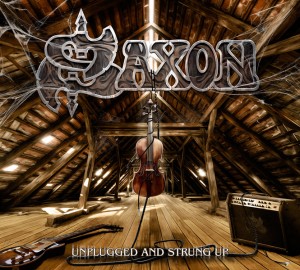 "I think we are at the top of our game as far as albums are concerned and live it does seem that people do want to see us."
How much has The Movie "Heavy Metal Thunder" helped to increase your fan base and helped you expand into new territories?
"The film has been received really well, we wanted it to be as honest as possible. I think it brought back lots of older fans and gave the newer fans a chance to see the history of Saxon."
Will you be filming a "Making Of.." type movie for Unplugged And Strung Up?
"Don't think so!"
How was your tour in North America in September?
"It was the best tour we have done for ages, lots of people and a great atmosphere … when the tour came to town there was a great buzz."
Good luck with your EU dates this winter and your 'Crusader' anniversary celebrations next year.  And many congratulations on the superb album 'Unplugged And Strung Up'.
'Thank you very much! Keep the faith, Biff"
SAXON – "UNPLUGGED AND STRUNG UP" – EPK: