BLACK STAR RIDERS were formed in 2012 by four members of Thin Lizzy – Scott Gorham, Ricky Warwick, Damon Johnson and bassist Marco Mendoza – plus former Megadeth and Alice Cooper drummer Jimmy DeGrasso.
The band's debut album All Hell Breaks Loose" was released in 2013, and attained universal approval with a follow-up album, The Killer Instinct released in February 2015.
The band's third album, Heavy Fire, released this February, has reached #6 in the UK album charts.
The band is fronted by vocalist Ricky Warwick, and now features twin guitarists Scott Gorham & Damon Johnson plus bass guitarist Robbie Crane. Drummer and founding member Jimmy DeGrasso left the band this year, replaced by Breaking Benjamin/Black Label Society drummer Chad Szeliga.
We met with Black Star Riders at this year's Ramblin' Man Fair to discuss new album Heavy Fire amongst other topics…
RAMzine: We wanted to ask about the acoustic sets you've been playing at the VIP gatherings — do you like doing those? Or do you prefer playing full-electric?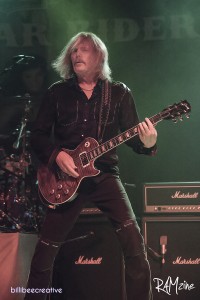 "We love doing those. It's fairly easy for us to do that [Ricky & Damon] because we've gone out and played solo acoustic before. And when the two of us come together, you know, it's fun… we write all the songs on acoustic guitar and we love doing it. And it was a blast today — we're in the UK, it's the life-blood of our real passionate fan-base — I wasn't expecting what it was… I kinda envisaged us being on a stage and all these people in front of us but they were literally on top of us… it was great. And it was all smiles, clapping and singing along. And Ricky nailed it! And we like it because it's a nice change from being in the band and blasting the volume… and we try to bring the same intensity to the acoustic shows and that's the feedback we get from all the fans. They say, "Your acoustic shows are as heavy as your electric shows…"
RAMzine: Does every single note count?
"It does and it doesn't. With acoustic, it's such an interactive thing with the crowd… If you get them involved! And it's not so much about precision. Particularly with Black Star Riders, you have to pay more attention to the arrangements, more attention to the parts… it's more aggressive there's more of a beat on that thing, man. It's more about the energy of the connection."
RAMzine: Tell us about developing as a band up to here and now…
"Probably the first album was the most difficult because of what it was, because we weren't sure how people were gonna react or if it was gonna fly. And thankfully it did. And, you know, we have to go out there and play! And people have to see this band. And that's what we've been doing. And slowly we've been chipping away and so people say, "Hey, these guys have got really good songs and they've got something to say…and they're relevant." More and more people are getting it. And certainly the UK has really taken us to its heart. Very quickly. Although we're now starting to see [recognition] in Germany and Scandinavia and we're doing quite a few shows in the States next year as well. So that's what it's all been about — keep putting stuff out, keep writing quality songs and keep playing where and when we can."
RAMzine: People say your sound is a lot more soulful now, do you agree?
Well we definitely think that Ricky's lyrics connect with people, they can tell immediately he has something to say. Therefore we have something to say. But we tend to think that, top to bottom, Heavy Fire (2017 ) is our strongest album of the three. There are moments on the other two that we put on the top of a list of some of our favourite songs, but to now have three albums out there to go and tour with has really set us apart from other bands around. This summer we played some incredible festivals that we didn't even think we manage to get on — such as Graspop, Hellfest, Sweden Rocks, so it's a real testament to the growth of the band and the progression of the songs and the support of the fans."
RAMzine: Would it be fair to describe 'Testify or Say Goodbye' (single, 2017) as melodic AOR ?
"Er, we wouldn't say it was AOR but it comes from a passion (of Ricky's) — and that's the sound of Northern Soul. Plus the Stax sound, and the whole Motown/Detroit package. There's a lot of melody in that, and like you say, a lot of soul. So our sound is not just hard rock… it has some sexiness and soul and some grooves in there."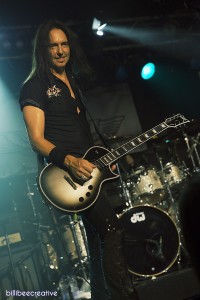 "Because we all love Sly and the Family Stone, we all love Four Tops, we all love Martha Reeves and that's the kinda stuff we get off on. Because there's so much playing in the passion and the soul of those songs… it's so huge. To try and just steal a little bit from that is great, you know… Those sounds were a huge influence on that song. We got the Northern Soul chords in there and it was a match made in heaven. And, the lyric on that song came first, we wrote it at Damon's house when we were hanging out and working on some ideas…"
"And it's about getting up and being who you are, you know? It's about believing in yourself. It's a song about getting it out there. You gotta testify… you gotta get up there and speak the truth. And, perhaps naively, it's a song about the belief there's still some good left in this world. And no-matter what some of these crazy politicians and power-hungry idiots out there say, we believe that the human race has still got enough brains left to save itself. And rise above all the hypocrisy, lies and bullshit that's out there right now. It's a very personal song and the line that begins, "You can't take it with you…" is true. You gotta live for now!"
"We'd say it's Northern Soul done with really loud guitars…"
"And when we played in Thin Lizzy together we thought that the sound was really sexy metal. It wasn't heavy metal it was sexy metal. That is one aspect that Black Star Riders absolutely continue beyond Thin Lizzy. That's who we are! We got the fuckin' Marshall amps, the Les Pauls, the front-man putting it on your face… yeah all that but it's gotta be sexy. Real sexy!"
RAMzine: You're doing a special video for the tour — meet the Black Star Riders…
"Yes, it's for the tour. And we can't take credit for it, it's an idea from a wonderful girl named Lisa. And it's about getting the fans involved because they're the one that make it happen. This lets them do the talking and lets them do the promoting. It's a brilliant idea and it's got a great reaction from the fans."
RAMzine: Congratulations on a fab new album and on a great show here at Ramblin' Man.
Black Star Riders were talking to Neil Mach.