Love them; hate them; flail your body in a sugar rushed category five whirlwind to them; you got to give it to DragonForce – they actually made power metal… well, cool…-ish. Frilly laced shirts and pompous three-disc marathons of operatic guitar wankery does not sit well in the frenzied equation of DragonForce's hyper speed power/fantasy recipe. Bringing a balls to the wall sugar rush of fun that pulled the genre's head from its arse.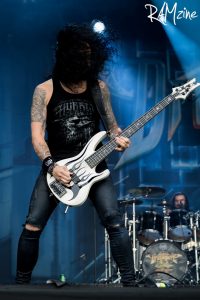 We don't doubt for a second that everyone can remember the first time they listened to the finger blustering anthem Through The Fire And The Flames. Blasting on our Zoons back in 2005, it was on like Donkey Kong. Hilariously bombastic, it served as a relatively new gateway to a lot of would be metalheads, ultimately uniting geek, gaming and metal cultures under one banner.
Seven albums in with their 2017 studio release Reaching Into Infinity arguably being their most developed sound to date, they aren't the one trick pony that many lump them in as. Featuring death growls, a solid sci-fi concept and an 11-minute album closer to make your head spin, have they actually grown-up? Not relinquishing their spot on the Download main stage this year, we got chatting with bassist and central songwriter Frédéric Leclercq on the gambles and challenges that the past year have brought on.
RAMzine: Hey Fred! Cheers for talking with us today. Hope you're enjoying this year's festival. How did your set go earlier?
FL: It went great! But you know, we have to do press this afternoon and then tomorrow we have to go and play Munich, I think.
RAMzine: It's been a year since the Reaching Into Infinity come out, how has it matured in that time?
FL: It's very hard [for me] to see it mature. When we did the tour, obviously we were playing new songs, people were reacting to it and it was great. But then when we stopped touring, I went in with my other band Sinsaenum with Joey Jordison and I went straight into that. So, I don't really have time to reflect on things as much as I want to. Even the new album from Sinsaenum, which is coming out August 10th, I don't even have time to reflect on that because I started work on the new Dragonforce stuff. When we play the new songs with DF on stage they seem just as great as the old ones, so it must mean that those songs are great. I was pretty happy with the latest album. I wrote most of it, so for me it was more of a challenge to see if people were enjoying the new direction or not. It seems like they did so that's great for me.
RAMzine: Looking back what would you change?
FL: Well, I would get rid of some stuff and make my song writing 100% ha, ha. I was doing an interview earlier and I was explaining that there's always a point when you have to say, 'Alright that's it,' either by your choice or someone else saying, 'Stop being so picky, we have a deadline from the label,' but there's always a time where you need to stop because otherwise it's never ending. Just like when Guns 'N' Roses were doing 'Chinese Democracy' for like years and years. There's always a point, there're always mistakes that I would have done better, so there's always room for improvement which is great. There are a few things that may have been better or different, but I am very happy with the way it turned out.
RAMzine: There's a lot of experimentation in there that goes outside what we've come to expect from DF. Did this album feel like a gamble to make?
FL: I guess that's what I wanted. I'm not a big, big fan of power metal to begin with, so I had the opportunity to bring all that in because this is the way I listen to music. I'm not stuck in one genre, so I like to incorporate different styles and I believe if you present people with different stuff it's going to make them listen to a lot more different kinds of music. So, it was a bit of a gamble but ultimately, I have nothing to lose because it's art; it's music. I guess you just want to use these ideas to express yourself. I don't want to sound selfish, I make music for myself first. If I'm happy with something I just hope that people are also going to be happy as well. That's the honest way to do it, not to make music to please other people like, 'Oh let's do power metal just for power metal fans.' No, I'm going to make music the way I see it and hope they like it and it seems they do.
RAMzine: How have these songs been going down live? Especially 'Edge Of The World'. Did you guys play that today?
FL: Ha, ha no, we didn't do that today but we have been playing it on tour though. We do it every night and it's great. At first some people in the band were like, 'Oh maybe it's too long, and boring,' because it's way different from what DF is known for, but it works. The first time we played that song it was like, 'Yes, yes! It's working!' People were clapping at the end and you can see it took them somewhere because it's like 10 minutes long! When we get that reaction, that's when you know if it worked. It always works and people are really into it. But today we only had 40-minutes and every DF song is 7-mintues anyway, so 'EOTW' was a no-go.
RAMzine: Ha, ha, one day we're sure!
FL: Yeah, if we headline we'll definitely play that song.
RAMzine: Do you think it's DF's most mature album?
FL: Well, I mean – technically speaking it has to be. I've been in the band for 13 years now, so I guess we've matured over in that time. Yeah, I suppose it is. Just like you learn from what works with the crowd, how you interact with the other members and what they are capable of, so I guess the longer you go, the more mature it is, so yes, it is.
RAMzine: Working with Jens [Bogren, producer], how does he push DF to where you need to go?
FL: It was interesting to work with Jens because he was basically on my side. We started to be on the same side of the production team, as we call it, on the 'Power Within', but I was against Sam and Herman who have a very defined idea for DF since they're the ones who created it. They have a very specific vision of what things are meant to be. Because I have a different background, I was coming up with new ideas and what not, but they would not necessarily work with their vision. But when we started to work with Jens, we actually found out that we were on the same side and it was like two against two, which was a nice way to balance things out. Jens was also helping me in the sense that we would cut songs shorter and get rid of unnecessary dragging. So, on a personal level I love Jens for what he is because he has a very musical mind and heart. It's very easy for me to work with him because we don't really need to talk much. He's great in terms of sound and it's no wonder that so many people work with Jens Bogren. He's a great guy.
RAMzine: In terms of Download, any predictions on next year's headliners? Think we'll someone new up there?
FL: I mean, it's always the same thing with heavy metal, it's always kind of the same headliners, which I don't blame because that's what works. It would be very challenging and risky to have smaller bands headline. It's sort of, not a vicious circle, but it's very difficult. I don't know – I'm sure next year's going to be another big band like Rammstein, AC/DC or Pearl Jam. I don't know, but it has to be a big band. I'm very bad at predicting this actually ha, ha!
RAMzine: We're cool with that! But finally, what does the rest of 2018 look like for DF?
FL: Right now, we're doing summer festivals. We started working on new material with Sam who came over to my house a few weeks ago. Personally, I'm working with Sinsaenum with the album coming out in August, so I'm going to be on tour in October and November. Then yeah, working on a new DF album that we're setting on releasing next year. It's just a constant. You can never get enough of Frederic Leclercq ha, ha.
Reaching into Infinityis out now via earMUSIC.