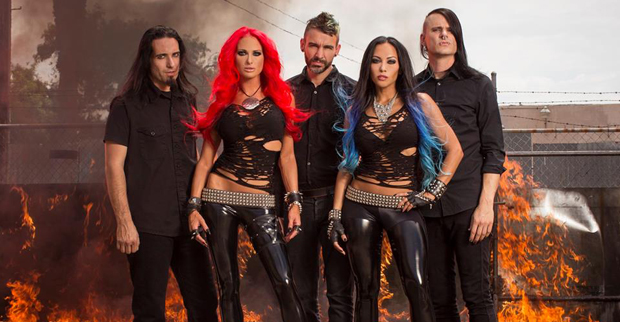 I sat down with Heidi Shepherd and Carla Harvey of Butcher Babies at Reading's Sub 89. It's not often I get to interview women in this industry, so I wondered if we be on the same page. My first impressions were how polite they were.
Prior to the interview we spoke of the tour so far, to which Carla told us they have been treated to huge crowds up North, and were heading back up that way to Birmingham for a sold out show the next night.
Carla also spoke of recently venturing off to a falconry in Chester to hold a Golden Eagle, which they had found really fun. But I wanted to rewind back a few months and talk about the Cradle of Filth tour –
I saw that you played with Cradle of Filth over in the US, what was Dani Filth like?
Carla: Oh he is so funny.
Heidi: He is such a character, he was so cool and he was so nice to us. He watched our set almost every night, and it's very rare that a headlining act, or a headlining legend like that will come hang out and go party with everyone else. He was just so excited about going out and doing things, and going to the bar, getting to know the people that he was on tour with. The whole band were just so cool, we had a really good time.
Carla: It was really funny, when we would be playing our show, I would look over and it was pitch black on the side stage area, but you would see his white make-up, and you would just see a little floating head in the dark, and it would make me laugh every time. It was like Pazuzu coming out of the darkness in the back.
Heidi: He has such a great sense of humor and a great personality.
That's good to hear, as sometime I think of him as quite a scary person to meet in real life.
Heidi: Yeah, but he is just like everyone of us, and he says the funniest things on stage. He would come in and say funny things to us too. We had a magician come and perform the first day of tour, so we brought him on our bus.
Dani was just hilarious with him. That tour was a lot of fun, hopefully someday we will be able to do that again, maybe over here.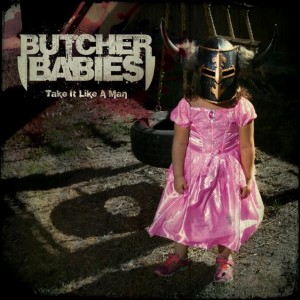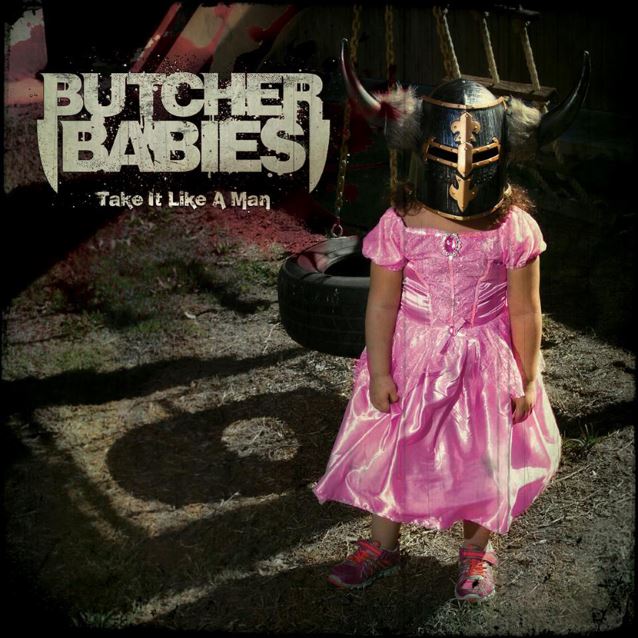 How did you find the reception to the release of your album Take It Like A Man?
Carla: It was great, the fans loved it. I think overall that's the thing for us, if our fans love it then that's a success, no matter what critics say. But critics liked it too, and there was mostly positive feedback.
I heard that the record label didn't like the title at first?
Heidi: No, you know that was actually misconstrued by the press. They asked us what it meant, and were talking about how gung-ho we were on that tittle, like the second it was brought up, we were like "Yep! That's it, it has to be, it makes the most sense". To us it's very personal, it encompasses the entire album. The label and managements job is to say "Okay, make sure that you brainstorm as much as you can encase you can think of anything better", and that's all that was.
Carla: Our manager sent us over a track by Cher called 'Take It Like A Man', kinda making fun of us at first, but he just wanted to make sure that that was the tittle that we absolutely had to have, that we were in love with, and we were.
Heidi: They were fully supportive behind it.
What does that phrase mean to you "Take It Like A Man"?
Heidi: Well, there are so many times in our lives as young girls or guys, where you have to essentially learn to take it like a man, its not really gender based it's more of the term where you just have to fight. You fight for yourself, you fight for what you believe in, you fight for your life. To us you can hear that on the album many times, situations where we learned essentially how to Take it Like A Man. Carla always like to say "Pull your boots up by the straps, and march forward". There are still times in our lives where we have to do that.
It also comes from a song 'Dead Man Walking', on the album which is a very personal, very emotional song for both of us. The lyrics say "Where were you when I learned to take it like a man and where were you when I learned to stand", to us its a stand out lyric on the album.
I really appreciate that. I was watching a few interviews with you on YouTube, and reading bits on the internet, and one of the main things that stuck out to me is that you are a very honest band. You are really honest with the messages that you put out, and you are not one of these bands that say one thing and does another.
Carla: Yeah, we are not like that as people, so we wouldn't want to be in a band that was like that. The one thing that we said when we started this band was that Metalheads can sense authenticity, and if you are being real they will love you for it. Throughout the years when we have been writing our music, we have always retained that realness about us. We are not going to sell an image that we don't believe in, we are going to be who we are. We fought our whole lives to be who we are, so when it comes to our music we are going to be completely transparent and honest.
[divider]
Metalheads can sense authenticity, and if you are being real they will love you for it!
[divider]
What is the main message that you try and get across to fans?
Heidi: I think it's that in itself, it's being open and honest and comfortable with who you are. There's so many times in our lives where people tell you no, "You are not supposed like this, you are not supposed to do this". That happened to us in every field that we have ever worked in, "You are female you are not supposed to do this, so look this way, you are supposed to be this way" – for us it's so important for kids and for people in general to open up their eyes and realise you can do anything you wanna do, regardless of what people tell you.
People still think "Nah these girls, they don't look like Metalheads" and it's like that doesn't mean shit, it really doesn't and to us that's the main message. It doesn't matter what you look like or where you came from, what your parents do for a living… you can love whatever you want to love. To us that equality is so huge.
A lot of people find acceptance within rock and metal, but there is also a lot of backlash for kids at school and that sort of thing. There can be a lot of discrimination against people that like alternative things.
Heidi: There is and a lot of people feel ashamed to like what they want to like secretly or openly. One thing that happened to us is that people tried so hard to pigeon hole us into a specific thing, "You look like this, you are going to be a country singer, you are going to be a pop band" it's like no, we love what we love . I don't care what I look like, that was something that I feel was easier to overcome when we came together.
So, do you think that sexism still exists in the music industry?
Carla: Of course it does! I think sexism exists in everything unfortunately. I think it is a bit better there are a lot more women getting into metal, and I think that as long as we are persistent and we show everyone that we can rock out just as hard as the boys then 10 years from now people won't classify bands as female fronted metal, or female fronted rock and roll.
Heidi: It should be just a metal band that happens to have girls in it regardless. But who knows, it has definitely lit a fire under our asses to go out a prove that girls rock just as hard.
It's nice to see more women in metal over the last few years. I interview hundreds of bands each year and I hardly ever get to interview women, but certainly more so in the last few years!
One thing that I do hate though is when the press compare one female fronted band to another purely because they have women in.
Carla: They think that we all sound the same, "You guys sound just like Otep, or just like Kittie, or just like this" and actually we sound nothing like those bands, we sound nothing like In This Moment. It's a huge disservice to all the women in this industry that have a unique sound. It's just silly to say we all sound alike!
I think it's quite lazy as well.
Heidi: It's very lazy to classify us as all the same. In our label (Century Media) it seems to be the hub for girls in metal but we are all so different. People try and compare us to Arch Enemy and it's like we are nothing like Arch Enemy! We love them, but we are nothing like them. For us that is a constant battle, people are like "this rock band it better then this metal band" and people don't understand that those are two complete separate things regardless of the gender.
I absolutely agree!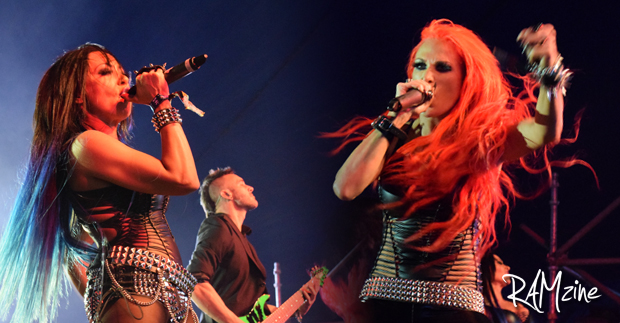 What's the plan for Butcher Babies after the UK tour?
Carla: After this tour we head home to do some really big festivals in the states. Rock On The Range is the biggest stand out festival, and a festival called Northern Invasion. We have some dates with Lacuna Coil along the way, and some headliners.
Then we get the summer off to write our album, and we are really excited about that. We have some ideas already for the kind of direction we want to head in.
I think we are just really amped to go home and write some new tunes.
Do you find much time to write on the road?
Heidi: Yeah, we are always writing. I think that if you stop that creative process you are doing yourself a disservice. But, for us I think we are natural writers, if you feel an emotion you put it into words. That to us is kind of what keeps us going. We have been writing our whole lives.
The boys they come up with ideas all the time, like "Hey let me play this for you, whats this idea" so it's constant.
Lastly, will you be back for any UK Festivals at all?
Not this summer unfortunately, hopefully we will be back next summer, but we loved playing Download, we have played it twice!
Carla: I think a lot of people got their first glimpse of us in the UK a Download festival. A lot of our shows here have been quite busy, and I think that's due to playing Download.
Thank you very much for talking to us, and see you next year hopefully!