Finnish glam-metallers Reckless Love started out on their wild ways as Reckless Life back in 2001 – playing Guns N' Roses covers, before gaining success by writing and playing their own songs. They won the Kuopio Band Competition in 2004 – leading to a Scandinavian tour in 2005. Two years later, frontman Olli Herman moved temporarily to Crashdïet, the Swedish hair metal band. He then returned to front Reckless Love in 2009. In April of the same year, the band signed a contract with Universal Music.
The new single from Reckless Love, 'Night On Fire' is now available for purchase and download. It's taken from their latest album, titled 'Spirit', which is available as of September 2, 2013. RAMzine spoke with Reckless Love singer Olli Herman about the new single, working on the new album and about performing alongside Kiss.
Where does the album title 'Spirit' come from?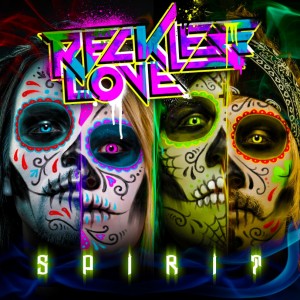 "We settled on choosing 'Spirit' as the title of the album, because we felt that this album really captures the spirit of Reckless Love – there is so much spirit that we managed to get on tape. We can hear that – and we really hope that our fans can feel the spirit of the sound."
Tell us about your song-writing process.
"When we write our songs – simplicity is the key for us. Pepe [Pepe Salohalme – guitars] does most of the music (he writes with Ilkka Wirtanen the producer.)"

"The way they do it is that they basically write it with one acoustic guitar. If it works with an acoustic guitar and a singer – then it's gonna work with a full band. And it's gonna work when it's played live as well. That's the starting point. After that [we] think of production, and we think of the live audience…"
So does your music almost start life as folk music?
"Yes. We joke about our songs… we say that they would work just as well sitting around the camp fire."

"Hitmaker Desmond Child [writer of seventy Top 40 singles, including 'Living On A Prayer') once said – about the rules of song-writing – that you have to make the song grow from start to finish. You have to take the melody on a journey … through all the high points and low points. If you can do that with an acoustic guitar, then you can translate [the song] into a full band version, electrified."

"Simplicity has always been the key for Reckless Love. And we do our stuff simply for the joy of banging our heads. Of being on stage and rocking out. And I'm the guy who's job it is to pour more gasoline onto the flames of each song…"

"Ilkka [Wirtanen] is the same age as we are -and he is a guitarist . He realized, very early on, that he is not a performer. But he loves writing music. And Reckless Love is like a favourite child for him. He rarely gets to do rock 'n' roll or heavy metal. Basically he works on classical stuff, dance and folk music. So, Reckless Love gives him a chance to work on the kinda stuff that he loves. He also grew up listening to W.A.S.P, Accept, and Judas Priest – that kinda thing."
What are the musical influences for the band?
"The New Wave of British Heavy Metal has been a major influence on me. Iron Maiden – and Bruce Dickinson especially- have been a major influence. He's the greatest of all time – when it comes to metal singers – he's got tremendous power in his vocal muscles. He's the master of belting. He's the master of the techniques that heavy metal singers use."

"Probably the biggest influence on me – on us – from the NWOBHM is Def Leppard. Pyromania (1983) and Hysteria (1987) are the two albums that mean a lot to us. The approach of Def Leppard is very closely related to what we do. But [it is fair to say] we are a much more straight-forward band than them. And I think that's the influence of Kiss."

"And, of course, all the bands from the mid-1980s glam metal scene in Los Angeles influenced us too. But none more so than Van Halen. They were the biggest influence for Reckless Love, ever. If I had to name the three biggest influences it would have to be Van Halen, Kiss and Def Leppard."

"But a lot of other bands – British bands – have influenced us a lot. Bands like Queen – are one of the biggest influences that we have. We are passionate about all types of Classic Rock and Heavy Metal. But, for some strange reason, we just have to keep coming back to the 'Hair Metal' part of it. And back to the L.A. scene. For us, it seems to capture some sort naive enthusiasm for life. It's all about party. It's all about having a good time. That's what rock 'n' roll is all about. You didn't see Elvis gazing at his shoes and whining all the time. No, he was partying. His songs were either love songs or about the party. Rock 'n' roll is about having fun."
Tell us about your new single 'Night On Fire'.
" 'Night On Fire' is the opening track and the first single from the album. It's a summer song. It's a weird mixture of Shakira meets Kiss. Kind of: "Whenever, Wherever" meets "Who Wants to Be Lonely". The little devil that lives inside Reckless Love – that lives inside every one of us – wants to fuck with people's minds. Once we had the riff and the "Whoa-Woa" part, we were thinking of the chorus and the melody and the rhythm for the song. And we fiddled around with the rhythm and we found that 'Shakira' element in that kind of classic hair-metal riff. And we thought: "Why not? Let's put some Shakira in it…. " And you know that kinda also reminded us of Kiss's "Who Wants to Be Lonely" – Yeah! Great reference – so we said, Yeah! Let's put that in there and really fuck with people's mind."

"And it is all wrapped in Reckless Love wrapping paper. And – voilà! It's a Reckless Love song. Yes it's really close to Shakira's song but – in the end- it's our song. It's a weird mixture. But it works really well."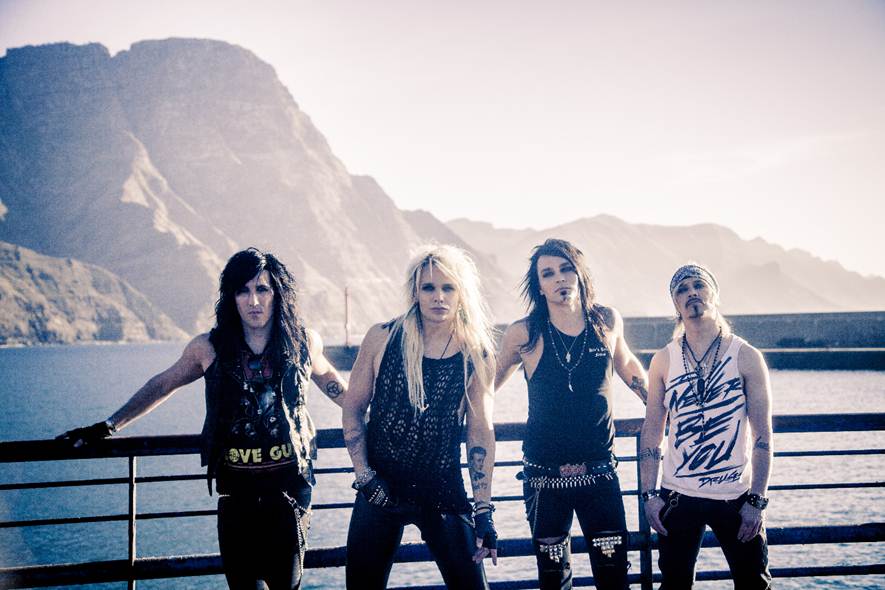 "But the song lyrics on 'Night On Fire' rely very heavily on Finnish tradition. We have got this thing in our country, during midsummer, where everyone in Finland lights a big bonfire. And this gave me the idea for the punch-line. So, what's the ultimate Finnish take on Summer? That the sun doesn't ever go down. You can even get a tan at midnight. So what do you do? You set up your bonfire. You party. You have the time of your life. Every body's drinking. The whole country is drunk. It is one big party. Our song has a very simple way of (evoking) a midsummer's evening."
Tell us about the future single 'So Happy I Could Die'.
"It's another depiction of praise for rock 'n' roll, and a night out. We think that we are here to provide the perfect sound-track for your perfect party. Everyone knows that sometimes life is hard, and that the world can be a really shitty place to live in. And everyone needs some time off from that reality. Everybody needs to have that miniature holiday. We are out to save the world one city at a time. We are offering the people a party – or at least the perfect soundtrack for one."

"For us – when we see that from the stage – [people partying like there's no tomorrow] – it becomes a surreal feeling. The ambition for us is to entertain. We do not see our music as art. We see it as entertainment. And when we see people enjoying themselves like that, they are really having the time of their lives,  it makes me feel so happy that I could die. This is basically the feeling that I have for one or two seconds on stage. Leave the guns at home though, please! I do not want to die on stage… it's not really about that… it's about a spur of the moment kinda thing. And [the sentiment] that really goes well with Hair Metal."

"And we really wanted to do a 'Hair Metal' album with an explanation mark. So 'Night On Fire' is the natural choice for the first single. It's a really radio friendly, super-charged, pop-influenced hair-metal song. And for this next thing, 'So Happy I Could Die' – we didn't think of radio at all. This is sheer energy. Sheer passion for 'Hair Metal'. It's got a killer riff. It's got killer screams. It's got Seventies influenced hard-rock bursts. And it's got a big Eighties Hair Metal chorus… and even a long guitar solo. It's got all that stuff we really love to do. The song title is just a perfect line and it's the perfect single to accompany our album."

"We just shot the video for it – two days ago – and my neck is still sore from all the head-banging we did for it!"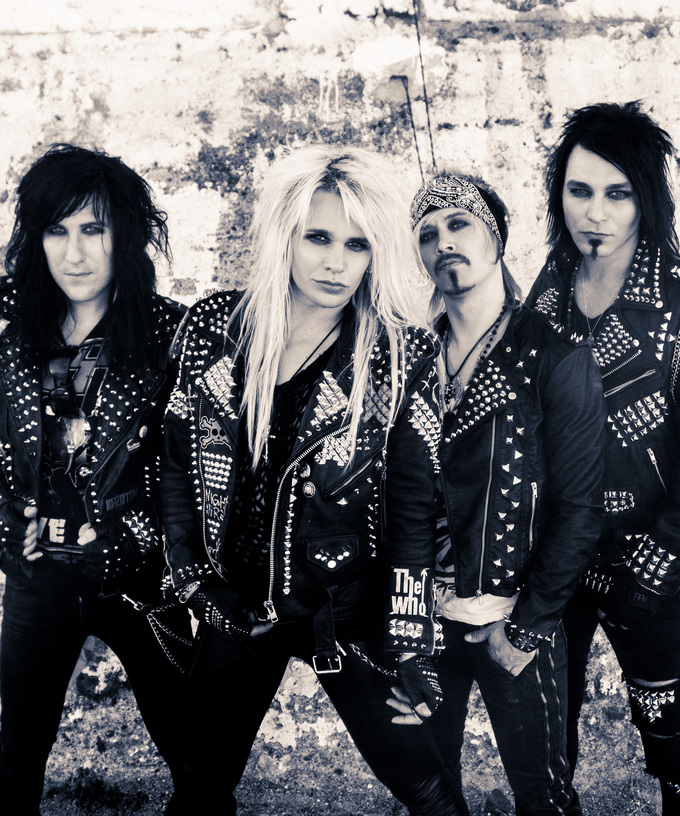 Reckless Love represenst the lighter side of the Finnish rock. Your sound is quite a departure from what we are accustomed to i.e. The darker side of Finnish rock music – Gothic Rock, black metal, melodic death metal, etc.
"Yes. In Finland, the winter is long and dark. And it's cold as hell. But there is another side to it. There is the short – and very, very intense – summer. And then people are out for fun. You get the feeling that people are saying, 'This is the short summer – so let's make the most of it'. The whole spirit of Reckless Love is just like that. We wanna see life that way. For us, life – like the summer – is too short. So we aim to make the most of it. The Reckless Love attitude to life is that – although the world can be a shitty place – that's just a choice that you make. You can always overcome difficulties. That's an attitude. It's a Reckless Love attitude. And it goes with Spirit. And it's a rock 'n' roll attitude too. So [we say] don't whine about how miserable you are. Be a die-hard and don't give up so easily. Give the hard times the 'middle finger.' Go out and party. Just don't give up."
You mentioned you consider yourselves entertainers..
"Yes, even our song titles have great value – as entertainment. We think that humor is also important – certainly – but it does not necessarily mean that our music is a joke. On the contrary. We take ourselves really seriously. And we take our music really seriously too. We wanna develop ourselves as musicians and develop as entertainers. But jokes are a natural part of it. Life is full of humour. Full of laughter. That's how I see our music – and that's how I see the best rock 'n' roll songs ever written… that's the best part of rock 'n' roll."
So you will be touring in the UK soon?
"The album is out in September and we are coming back to Britain in October to tour. It's gonna be a short and intense tour. I think about 8 dates. We love it here, the reception is always so good for us in the UK. British fans are more 'fans of the music'. We sing in English. So people can relate to the lyrics very well. And British fans (it's something to do with football, somehow) are always ready to sing along. They chant. We call it the sing-along crowd. I love that. I just adore that. It gives me shivers. I get goose-bumps every time that people do that. They sing our songs word-for-word – and that never happens in Finland. In Finland the shows normally start very late – and by then the audiences are [often] very drunk. Although they know who we are … it's not really until the fourth song on the set list that they get into us! It's almost like they are measuring [us.] It's almost like they are judging us and thinking 'Are you still good?' "

"British fans are having the time of their lives from the second we step onto the stage. And the whole experience – on stage in the UK – is more intense. More vivid."

"We are really gonna work our asses off when we come back to play. And we really want to be able to come back to do the UK festivals too."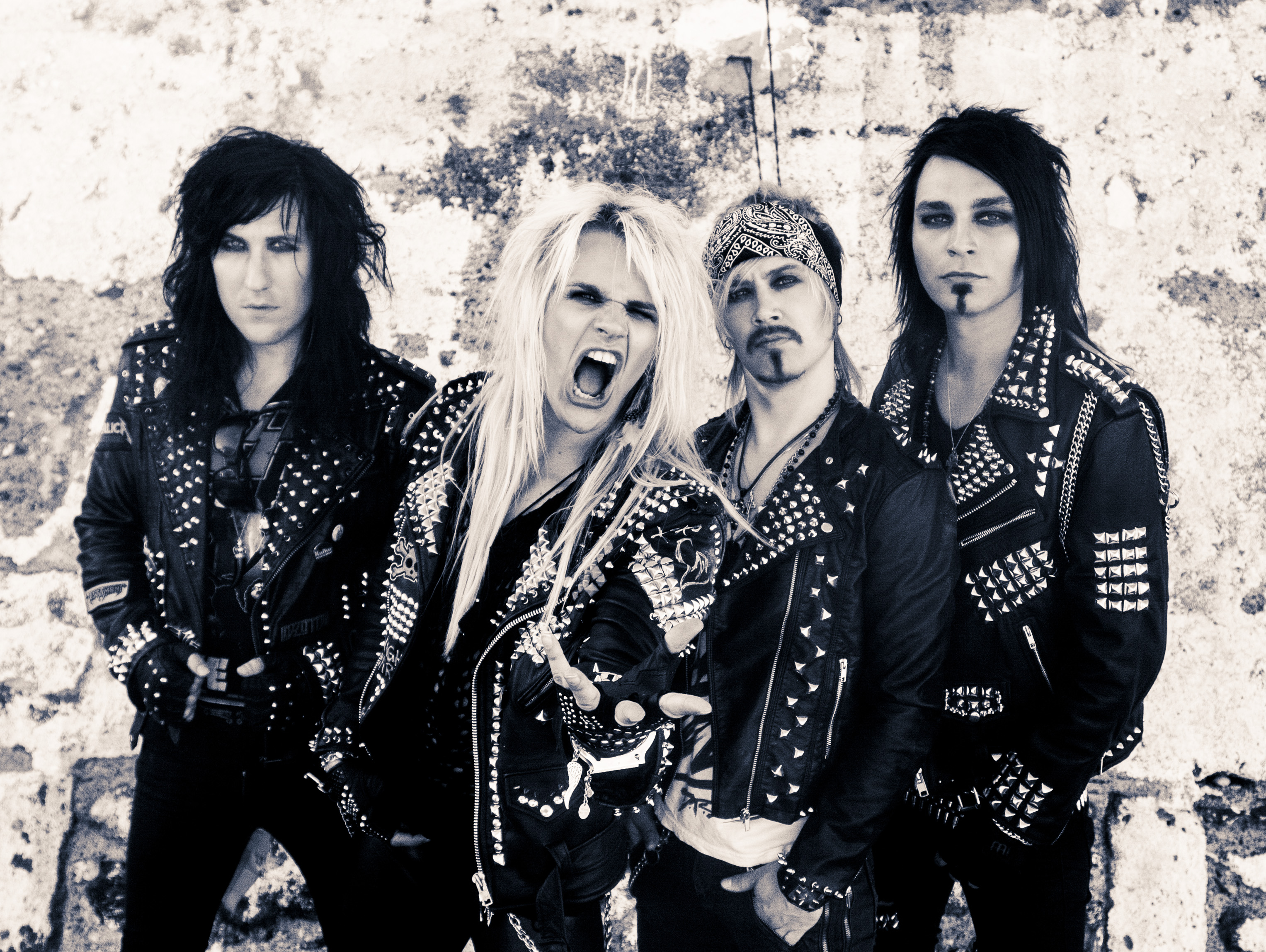 Tell us about performing with Kiss..
"Although it's been six months since we've been on tour properly, we supported Kiss at the beginning of June. It was one of those childhood dreams. What a treat it was. Sold out Helsinki arena. All of the Finnish rock 'n' roll fans were there."

"Some of the Kiss fans (at least in Finland) have been a bit like like … they don't know whether to like us or to hate us. In their minds we are kinda like stealing something from Kiss – imitating them."

"But, I think, that once they saw us on stage, the reception for us – and the perception of us – changed. And it changed for the better. It was a huge success. And I am a huge Kiss fan myself. And when we saw those guys build their show; Do their own sound checks … they don't rely on technicians … they are actually doing all the hard work themselves. Gene is what? Sixty Four? And he still does all the stunts himself. He does all this -really dangerous – stuff. There's pyrotechnics in there. He's got so much stuff to remember. And there's so many elements that he needs to be aware of when he's on stage. And yet he never loses the connection with the audience. Watching him work made me remember why he is such a big star."

"When I saw Gene on stage, I saw that he loves heavy metal as well. You could see that in his eyes. He was having the time of his life. And that's all that really matters."
Catch Reckless Love on their UK tour this October 2013!
1st – Manchester, Academy 3
2nd – Newcastle, O2 Academy 2
3rd – Glasgow, Cathouse
4th – Leeds, Cockpit
5th – Nottingham, Rescue Rooms
6th – Wolverhampton, Slade Rooms
8th – Norwich, Waterfront Studio
9th – Bristol, The Fleece
10th – London, O2 Academy, Islington