RAMzine caught up with Tom Wright bassiest of Jettblack following their release of Black Gold. Black Gold is a 13-track collection that includes covers of three hard rock anthems (originally recorded by Motorhead, Heart and AC/DC), and unreleased material.
RAMzine: Black Gold, the new unreleased material collection is out no via Spinefarm Records. What was the thinking behind releasing a collection of studio rarities and covers?
"It was really just to get all the material that previously wasn't available physically and a few covers we've done, out to people who wanted them. We had a lot of fans on the last few tours complaining that some stuff was only available as a digital download and some not available at all. We value our fans very highly and it got to a point where there was a clear demand for it so this felt like the right time, whilst we focused on writing album three."
You've got legends on the CD, Damon Johnson and Ian Paice. What were they like to work with?
"Ian Paice is one of the nicest guys you could ever meet. We did our last record in his studio at his house. He would casually pop his head in to the studio every day and see how it was going. Matt used his drum kit which he played on the Perfect Strangers album and video. One day we just had to ask him to lay something down and he did so happily. We also drank a fair few cups of tea with him in his garden and he was more than happy to spill the beans on the good ol' days!! Unfortunately we didn't get a chance to meet Damon, it was all done through the power of the internet as he is such a busy man."
The Motorhead cover is a different choice than most bands would pick. Why did you go for that one?
"Well we did it for a magazine cover mount CD that was part of a Motorhead anniversary piece, and we knew that other bands would probably go for the obvious ones. So, we did the opposite and chose a little less known track. I love the pace and the energy on the original so we obviously tried to emulate that and put our own twist on it. The thing with covering songs by the legends is that whatever you do, the die hard fans are going to have something to say, so we just had fun and kept the essence of the track but put our own JB twist on it."
We're all dying to know: How's the writing for album 3 coming along?
"Up until recently it was pretty slow but in the past few weeks the flood gates have opened and it is coming along very nicely. I can't wait for people to hear it. It is going to be a bit different. We're challenging ourselves and we are very excited."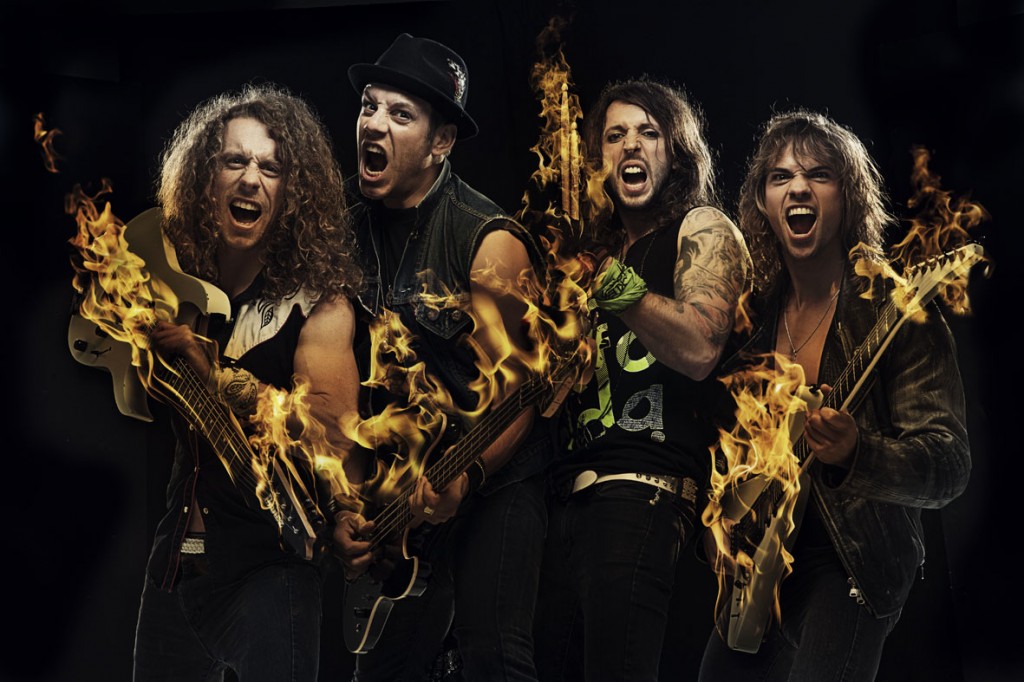 Now Will's back from War of The Worlds, can we expect the new material to come quite quickly?
"Yah he can't use that as an excuse now. It is full steam ahead we are as desperate to get it out as people are to hear it, but there is still a lot of work to do."
Do you feel Will's experience with War of the Worlds has brought an extra dimension, and maybe even some new influences to the band?
"Will has always been a fan of the big powerful soundtracks and to some extent musicals. I think it made him an even better singer and gave him a bit more confidence, especially after playing the O2 arena. Jeff Wayne complimented him every single night after the show about his voice, which can't be a bad thing!"
You've got festival dates coming up – excited?
"We get excited at every show we get to play, so we are very excited to be headlining a few of the smaller festivals in the country we really can't wait as we can play our full set, instead of a 25 minute opening set as some of the bigger festivals."
Is there pressure on the new material on the future third album to surpass the success of Raining Rock?
"No I don't think there is at all. We know we can do it. With a little shift in direction it opens things up once again. It's important to keep moving forward and developing everything from the song writing to the live performance. We really can't and hope this takes the band to another level. We get a lot of people just pigeon holing us, or calling us an 80's throw back band. It's time people really listened to what we are crafting and appreciating the music rather than focusing on comparisons."
Finally, what's your message to your loyal fanbase out there?
"Thanks for all the support throughout the years, as this is what drives the band.  Check out the upcoming shows and the new Black Gold record and we will see you all very soon!!"
You can buy 'Black Gold' now for just £7.99 on iTunes!