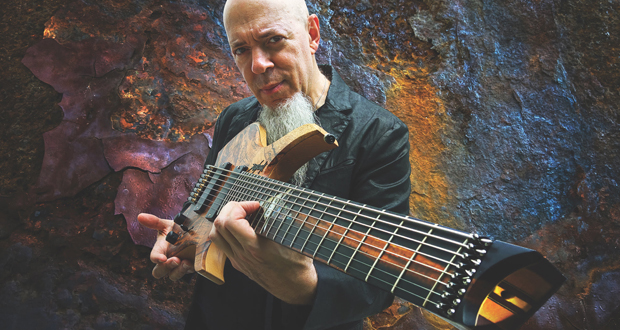 If you're a fan of Prog-metal the name Jordan Rudess will be familiar to you as the keyboard player with rock titans Dream Theatre and also as one of the two main composers of their music. But although he's made his name and stellar reputation inside this band, his skill and musical palette extends far beyond this. His latest solo album, Wired for Madness, is testimony to the extraordinary range and breadth of his musical desires. For despite being a musician playing in one of the most successful and influential rock bands over the past twenty years, he takes in many different styles and draws influences from everywhere, and this is reflected in the music on this album. As Rudess says, "it all starts with a curious mind".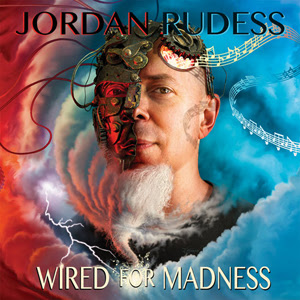 This isn't a concept album per se, though the title track does have a theme running it, concerning someone who aspires to become partially computerised and robotic, but who eventually becomes disconnected from normal reality and drifts fitfully between madness and spiritual reality.
Wired for Madness simply stated is a very good album, containing an intensely complex mix of styles, which becomes clear on the opening two tracks, 'Wired for Madness pts 1 and 2′, and they're both performed with the class and panache Rudess' work down the years has led listeners to expect from him. These first two tracks run for slightly over thirty-four minutes and they take the listener through a wide vista of sonic textures and aural soundscapes, with some amazing leaps of imagination along the way. These are the kind of songs only a virtuoso musician would consider attempting to record.
The rest of the album is more song based and the tracks are much shorter. 'Drop Twist' and 'Perpetual Shine' are instrumentals in the vein of the title tracks, with the former sounding like a homage to Frank Zappa. But perhaps the biggest surprise on the album is discovering Jordan Rudess actually has a good singing voice, as he demonstrates on 'Off the Ground', possibly the best track on the album. On 'Just for Today' he sounds eerily like Roger Waters on the Floyd's earlier albums. There's even what's been described as a 'dirty blues' on the album, 'Just Can't Win', though the swirling synthesiser and the epic guitar break from Joe Bonamassa, one of a cohort of stellar names helping out on the album, negates against calling this a blues.
Wired for Madness flows with all the musical skill, drama and melodicism which is the insignia of a Juilliard school of music trained keyboard man, and his already stellar rep can only be further enhanced by what he's done here.
Wired for Madness is out April 19 via Music Theories Recordings / Mascot Label Group.