John Garcia needs little to no introduction. From being one of the founder members responsible for pioneering the desert rock/stoner rock scene. The number of bands that he has fronted is hard to fathom, each as good as the next, be it Kyuss, Slo Burn, Unida, Vista Chino, etc. or even his solo material and thanks to this, he has earned adoring fans worldwide.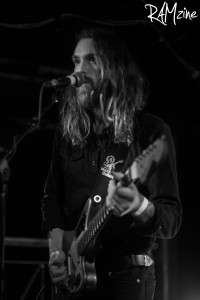 December 3rd would bring something special, those lucky enough to have got themselves a ticket and showed up at The Underworld in Camden were to be treated with a collection of an intimate insight into John Garcia's career, as he stops off for one UK show during a collection of European dates on not just a John Garcia acoustic show, but An evening with…
To get myself into the mood, I stop by the local Brewdog bar to get myself a few quiet drinks to get me in the right frame of mind, having treated myself to some of my favourite imported beers I head over to the venue no quite knowing what to expect. Walking in though, it feels a lot more relaxed than I could ever expect. People are sitting around comfortably on the floors, quiet conversations are happening all across the small venue, and as you move closer to the stage, its adorning furniture resemble more of a living room than a live gig. Two comfortably looking chairs sit each side slightly facing in toward each other, while a sofa and a table sit in between with small lamps, beers and other typical things lying around.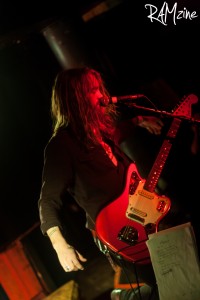 As the room slowly starts to swell with bodies arriving, the only support act takes to the stage. As simple as you can get, a sole man with a guitar under the name of Bellhound Choir begins and instantly I feel like I've been missing out on something in my life. A warm, slightly deep, soulful voice with a clean and honest guitar tone. The performance is mesmerizing, and I really regret not being aware of such a talent before hand to know some of his material. Playing with his heart on his sleeve, if you were so numb to not feel how much emotion is put into his playing or singing, you can see it all on his face. As if his talents there were not enough, he was polite and happily engaging with the crowd who lapped up his great sense of humour, and he made a point out to thank those that had bought some merch before even hearing him play, especially the one person that purchased a vinyl. I only wish I had enough money with me to support such an act myself.
[huge_it_gallery id="29″]
Towards the end of the set and after connecting with almost everyone in the venue, a few words were shared, and during this time he was in search of his guitar slide which for the life of him he couldn't find. Straight to the rescue the crowd come though, with shot glasses in hand, and although plastic, they did the job just fine and made for a beautiful piece. I could easily stand and listen to Bellhound Choir all evening (and ever since I often have thanks to YouTube and Sound cloud, do yourself a favour and check him out!), but time travels on and it is soon time for Garcia.
After a small interlude, the place has filled out nicely, such a great relaxed atmosphere and a lot of people that would not rather be anywhere else, the only thing that could probably improve this for everyone, is an open fire on a warm beach with clear skies at night.
With everyone all huddled into the small venue, I find it extremely difficult to move around to get myself in any good position to get many shots of John, among the furniture adorning the stage, here is also music stands which hamper my vision, so I try and politely retreat through the crowd to get myself into a better position which seemed to be the right decision. People are still filling in, and after a few songs, John has no issues in telling the crowd how nervous he is, and how different this feels to the past two gigs on the tour in the Netherlands.
Starting out with a Kyuss track, and one I was really hoping to hear on the night 'Phototropic', and then going into Hermano's 'Kentucky', John and the insanely talented guitarist 'Ehren Groban' are straight into a fluid and relaxed position. Sharing stories of the past, have a laugh and doing a real successful job of making this feel like a living room rather than a gig.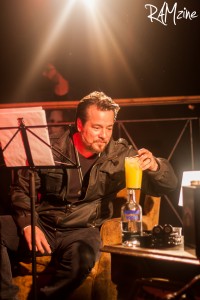 The sign of a real musician for me is being able to take whatever song you've written, regardless of how heavy, slow, fast or whatever, and turn it into an acoustic piece. John went into how the whole An Evening with came about, saying how great an idea it was, and then once he had sat down and started practising it all with Ehren, how terrible an idea it was! Having no bass, distortion or drums etc to hide behind so to speak, stripping everything down really brings the nerves out and the spotlight right down on you, to their credit though, they nailed the set. Even with an issue with Ehrens loop pedal giving up at the worst time while mid solo later on and a bit of nasty fret buzz, the atmosphere is so comfortable that they, and the crowd just laugh it all off.
Around half way through the set, and after a few tracks from the solo John Garcia era with great renditions of 'Her Bullets' Energy' and '5000 Miles' among others, John leaves the stage temporarily while Ehren plays a flamenco style instrumental. Here is where his musicianship shined through. As a guitarist I was very much in awe of this, to the point that I had Garcia stood next to me watching him play and I was almost completely oblivious to his presence.
[huge_it_gallery id="30″]
As the stories continue and songs carry on, we a treated to a few more of the better known Kyuss hits with 'Gardenia', ' Green Machine', 'Space Cadet', and by the end it was a struggle to be able to hear John singing over the crowd.
As soon as the set is over, both are up and embracing the crowd in handshakes and thanks, they certainly made something special of the night, and for me, it was easily one of the best gigs I have ever been to. If only they had recording the gig for a later release for me to be able to hear it over and over, and bring what was such a memorable night to the ears of those that couldn't make it.