Purple lights flood an empty stage, and the dust caught hovering in the air evokes the unearthly appearance of what it might be like to wake up one morning on somewhere like Jupiter. Lord know Holst's 'Joybringer' theme is much needed this year, but I'm content to hear Gary Hoey's 'Dust & Bones' play over the PA, battling to be overheard above this chattering audience careering from bar to seats; intent on getting their money's worth and catch support act Colin James.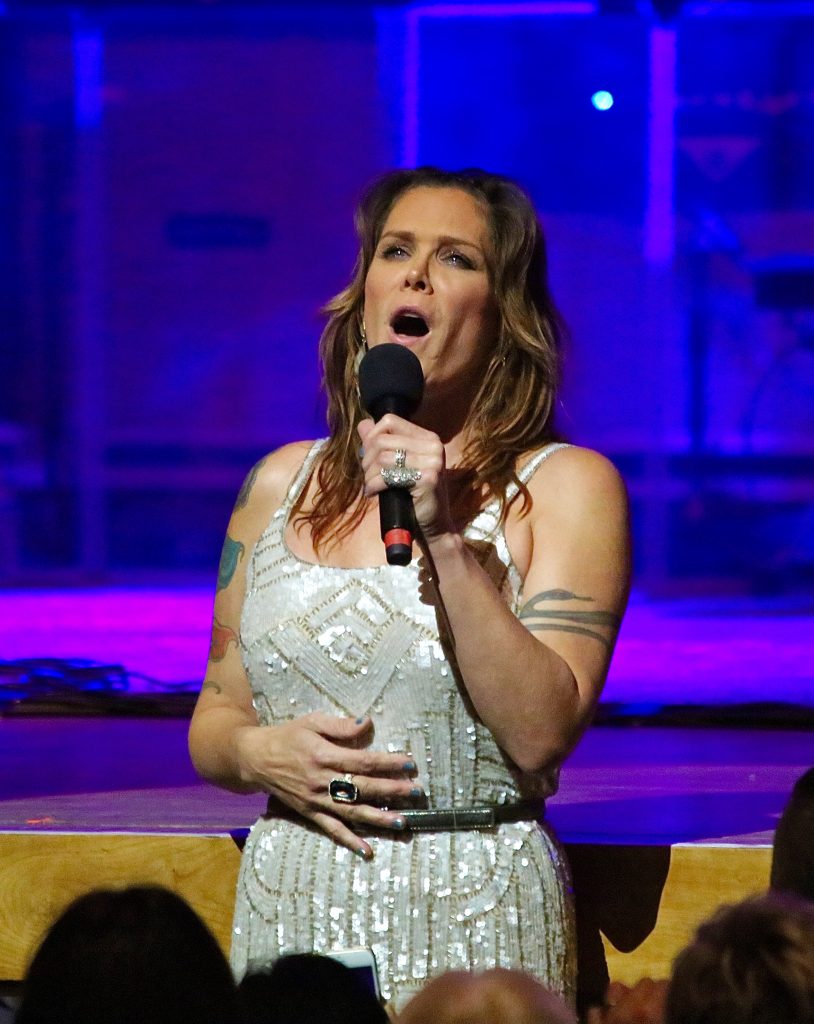 The Canadian singer/guitarist walks onto dimmed lights, partnered by the bushier haired "Chris from Vancouver" and begin to play some country blues with flourished speedy runs. The mood will change from Muddy Waters to John Lee Hooker onto rockier tempos, feature numerous guitar changes; the electric slides being the most effective, and some friendly in between song banter. James reveals he's now on his 18th solo release, but he's not toured the UK since supporting Robert Plant back in 1990. From where I'm sitting I'd have sworn Mr James wasn't out of his 20s, and his smooth pitched voice affords him a mainstream sensibility that goes down well with the evening's crowd. Among the seven numbers they play there's a joyous cover of Van Morrison's 'Into the Mystic' and they finish harmonising vocals on the slide blues rock of 'Going Away'.
Stage lights change ominously to the war god Mars' crimson red, but white lights flicker above a piano offering a small respite and then all is dimmed. A drum picks out a beat, lights flash back on, and a shiny-suited three piece check into a groove. But the symphony hall's seated audience are turning their heads; the voice they begin to hear is coming from offstage but not from the wings…
Recognition is not immediate, but one by one the crowd sees Beth Hart walk out from the rear stall's entrance doors microphone in hand. Amid mass applause she walks towards her band, shaking hands, turning back to look and wave up at the circles, kissing an old man, hugging another, all while singing the Billy Holliday classic 'Don't Explain'. The Health & Safety police are looking the other way as she stands on a chair resting towards the stage and we get to see her own shiny silver mini-dress, her legs sashaying across the stage, while her voice is given full measure growling like a wildcat over the raunchy 50s' nightclub sound as guitarist Jon Nichols takes a solo. We're treated to more of the same on a nice rangy solo that tips its hat to the rock funk of Zep's 'The Ocean' as they inject blues rock into Bill Wither's 'For My Friend' and Hart makes out like Tina Turner in her prime.
Tempos hot, they switch the mood, she sitting down with an acoustic along with Nichols for two country blues numbers, with much banter in between. A raconteur, seemingly genuinely thrilled to be playing the first date on a sold out major tour while reminiscing how only five years back she played a UK gig in front of only 35 people. Beth Hart has had highs and lows in career, and tonight she shares many of those stories, tonight also being a very special natural high.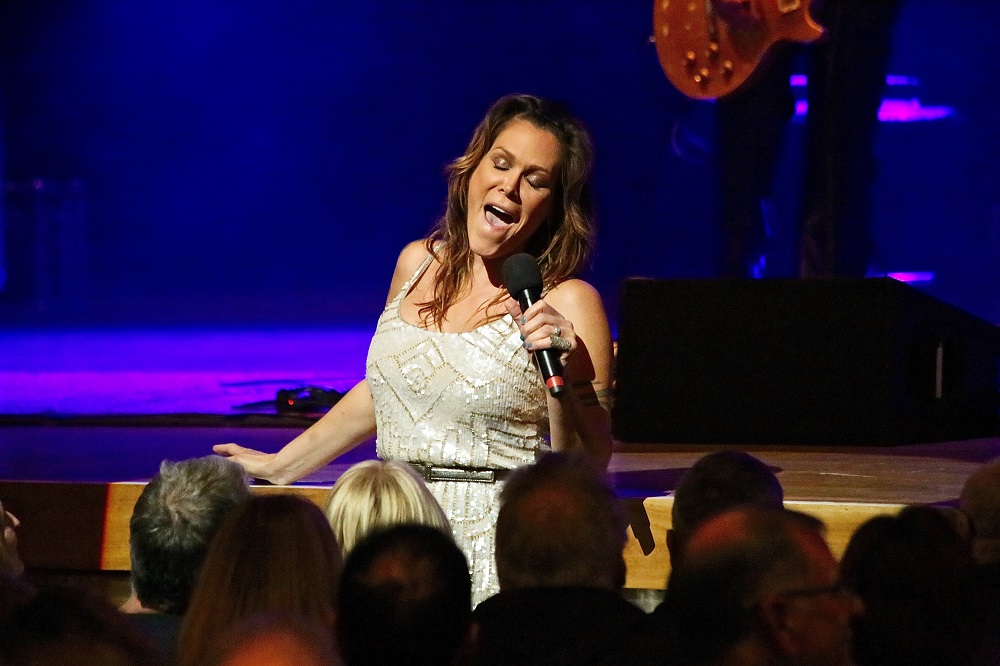 After singing 'Better than Home' she'll move to the piano, and sings her heart out on 'Saint Teresa'. Then she goes one better. 'Tell Her You Belong To Me' starts as a slow blues, her kneeling one side of the stage singing a lullaby like some wounded little girl, then a key change and the guitar hits in powerfully the rhythm section following and she's suddenly centre stage behind a microphone stand, her now free hands motioning as her raised impassioned voice hollers out loud. It's a piece of stage presentation to be sure, but the emotion in her voice feels genuine. This is no simple broken heart love song you see, but a tale about being Daddy's girl and him leaving home to run off with his secretary.
By the time we pick our jaws up off the floor she's back at the piano for 'Baddest Blues' and for 'Love Is A Lie' she's back purring like a ravenous Eartha Kitt with some whoops and hollers that echo Joplin. 'Jazz Man'  is Ray Charles playing 'Lady & The Tramp' on a Eurotrain to jazzville, the band – featuring Bob Marinelli on bass and Bill Ransom on drums alongside Nichols' guitar – melt into one while Hart's voice oozes out over in raw womanly sex. 'Coca Cola' brings with it a sweet melody, its lyrics an intimate revelation of love in its purest forms. And it tastes good.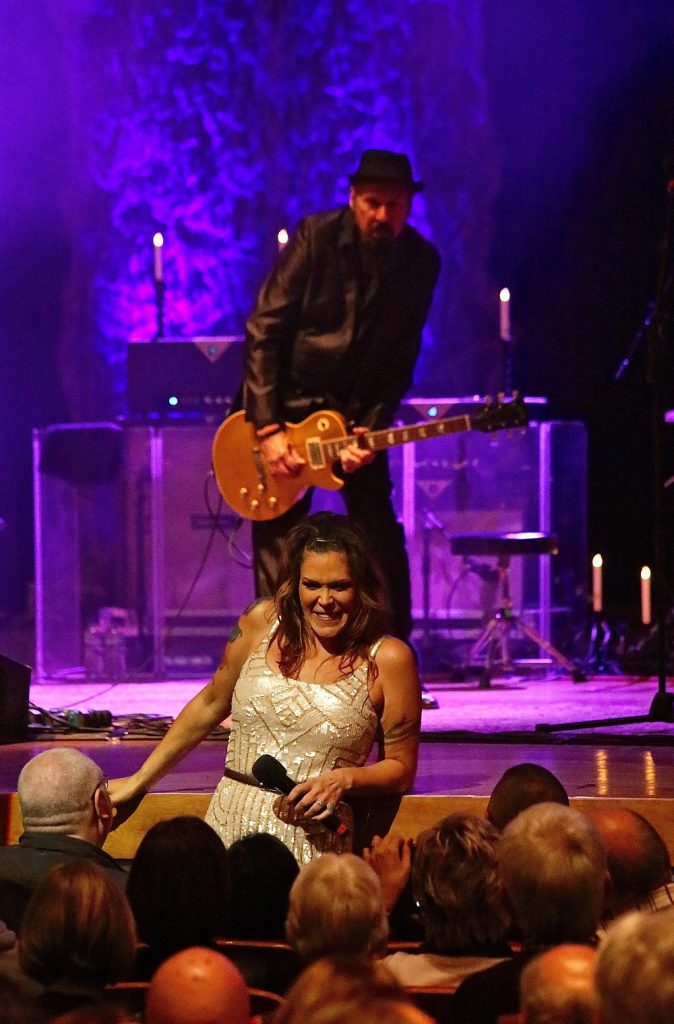 Next minute she's up pacing the length of the stage again, the audience likewise on their feet singing back at her as the band takes things up a notch as they belt out 'Waterfall'  with the rhythmic stride of the Stones given a stadium rock shot in the arm by The Cult or Guns 'n' Roses. Again Hart is out in the audience, getting hugged, having her picture took and singing her big heart out. Fact is, like her surname, she is all heart – To one side of the coin we can compare her vocal capabilities to Anne Wilson whose band wear that name but it's that Hart wears her emotions metaphorically on her sleeve – Freely talking about her emotional problems, depression, bipolar disorder, and past drink and drug dependencies between songs, and their inferences apparent in her lyrics. Initially I'm wary of such free speech; that American need to confess then profess wisdom grates against my natural British reserve, but I see behind any showbiz sheen and it's genuine, and beyond her voice too into the songs she sings – This may well be a reason so many women are here among the crowd, she speaks directly to them, and for them in ways they maybe cannot yet express. It is humbling.
'Might As Well Smile' follows, and shorn of the Better Than Home album's horn section it too moves likes The Rolling Stones. Not to be confused with a similarly named track of that band's 'Sister Heroine'  is dedicated to her late sister, after which the band exit to leave her solo at the piano. For 'Take It Easy On Me' her voice is powerful, the chords changes engaging and there is a standing ovation from the crowd on its conclusion. Family ties continue with 'Mama This One's For You' and most intimately a song "for Scotty", the man who's helped pull her through the fire and on the conclusion of 'My California' her husband creeps up behind and hugs her, and with that she leaves the stage.
Returning with the band in tow, they lock into the R 'n' B crunch of 'Nutbush City Limits', it lacks Ike Turner's dirty fuzz riff and a guitar can't get that 70s mini-Moog synth solo sound but Hart is in exuberant mood shimmying about the stage, arching her vocals more in a Joplin vein than the more cabaret theatrics of Tina Turner. The crowd are not distracted by such matters however and are up on their feet singing and dancing along. They follow on through with a big fat sound for the aptly named 'Fat Man' from this year's Fire On The Floor album. Its sassy lyrics cook down on some honky tonking Stones style chords once more but with a side order of counter melody too. The album's title track follows and Hart is seated at the piano as they waltz home to this torch song blues; her voice intermittently mimicking a jazz horn's slur until Nichol's guitar solo puts the song safely to bed.
Alone on stage for one final song, and one last story: 'No Place Like Home' is about finding a safe place where the raging rock queen, blues momma and jazz belle – we've seen equal  glimpses of tonight – can find moments of peace and solitude.  The haunting piano lullaby trickles by gently, her voice the softest it has been all night, and possibly never more intense.
The band return, bow collectively with her before bidding us goodbye. The stage becomes silent, removed of its hyper-active energy, attitude, and driven emotion. Tonight its boards were trod by a Carole King for the tattooed lady generation… And where Janis Joplin and Amy Winehouse tripped and never got back up, Beth Hart has not only learned to walk tall but dance her ass off.