So many bands on the touring circuit are taking lessons learnt from rock icons like AC/DC and Led Zeppelin and putting a 21st Century spin on it. The Treatment are a great example of this.  With new vocalist Mitchell Emms and guitarist Tao Grey in tow – the Cambridge rockers are on the road to show us how to have a good time.
For such a small venue, this is quite big gig. Four bands – two of which have been on tour with Motley Crue, KISS and WASP. First up are melodic punk-rockers LoGOz who are reminiscent of Buzzcocks via early Green Day. Very entertaining, and some great tracks but a little out of place at this gig. Next on the bill are Newcastle classic rockers Saints Of Arcadia. This might be a sparse Academy 2 support slot but these guys play it like it's Wembley Arena. All the technical ability of Rush, the showmanship of KISS and heaviness of Deep Purple – these guys are well-schooled in the art of hard-rock. As well as their own original material – Saints Of Arcadia stun the audience with their rendition of 'Immigrant Song'. So far, so good.
On to the advertised 'special guests' – the much respected Amorettes. The Scottish trio draw a much bigger crowd with tracks from their upcoming , fan-funded album 'White Hot Heat' as well as a few from their previous smash 'Game On'. You can tell from great tracks like 'Take Cover' and 'Give 'Em Hell' these ladies are called 'The female AC/DC'. There's an unstoppable energy that only certain bands demonstrate live, The Amorettes certainly have this. Judging by the amount of Amorettes tee's, looks like the room might feel a little emptier soon. Which is a shame when such talent like The Treatment is involved, but it may be a sign that The Amorettes should be on their own headline tour.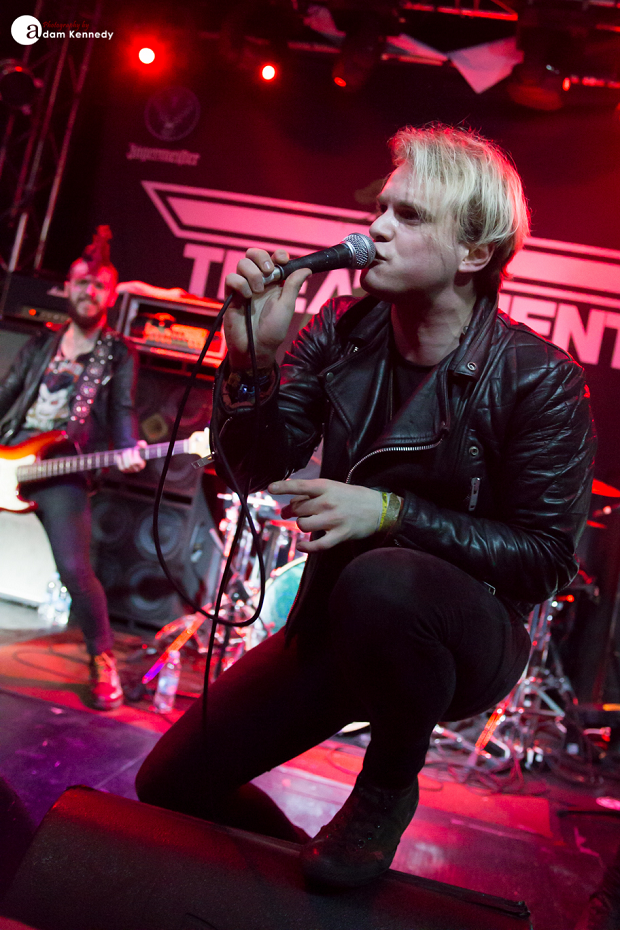 At this stage The Treatment need to hit the ground running, so they open with their signature track 'Let It Begin' which is like a freight train at a 1000mph. This feels like a great set already. You can see why front-man Mitchell Emms was picked up by the band, after he appeared on The Voice UK. His…ahem… voice is the greatest instrument you will hear tonight, and it is fine-tuned. Not to say the rest of the band, including new guitarist Tao Grey, aren't as talented – because they most definitely are.  This is a well oiled machine doing what it does best.
Sadly, the machine fails temporarily – there's  problem with Mitchell's mic, but they shake it off in rock n roll fashion and carry on with their set after a 10 minute delay.  Surprisingly, the band treat us to updated versions of their early work, in their previous line-up. Tracks like 'The Doctor' and 'I Bleed Rock N Roll' – which sound like totally new songs thanks The Treatment's recent makeover. Speaking of which, they manage, they pick up where they left with new single 'Backseat Heartbeat' which is a treat track to show off everything great about this band.
The band re-emerge for an extended version of 'Get The Party On' bringing the whole crowd to the front barrier. Everyone present knows they have had a great time and will be coming back for more at some point. It's a shame this band aren't as well known as they should be – but that's for the hands of fate to decide.
All photos by Adam Kennedy