Tonight Tigertailz fans got out the leather, the hairspray and the glitter together with the excitement to watch them performing at The Underworld after quite a long absence from the London rock scene. Everyone is ready to go back all the way to the 80's hair metal days, at least for one night of pure entertainment. Once, back in the early 90's, Tigertailz were seen as a bunch of wild and dangerous peroxided glam-rockers, an incredible live act at the edge of their style with a careless sleazy attitude. Soon after the success of their most well-known album Bezerk (1990), the band was at its career peak and became very popular in the music business. Twenty six years later – Tigertailz remain a real cult band who that went through a hell of a lot during their time, such as the many line up changes and even some dramatic moments with the death of Pepsi Tate.
Tigertailz' latest album, Blast is their first full release in 10 years and the first to feature Rob Wylde on vocal duties. Lead track from the album is 'Pipped It, Popped It'. This new line up seems to be the winning one with Wylde, Matthew Blackout, Berty Burton and Jay Pepper recording an awesome new album and giving a great live performance that leave us all proud to be still supporting this crazy bunch.
They aren't trying to re-invent themselves, they just do what they have always been great at doing and with the best results. Tonight the boys blew up the stage from beginning to end, they gave us what we all wanted and expected. We arrived a few hours earlier to meet the band backstage for an interview. Jay was extremely kind and opened up to us and everyone else was also friendly and welcoming. The guys are obviously excited for their performance and when the house lights go down Matt Blakout is the first to take his place behind the drums. Then the rest of the band comes on stage and open with 'Just For One Night' which makes their fans go crazy, you can tell they are all happy to see them after such a long time. After an ok but not brilliant turnout for the two support bands, Tigertailz fill up the place.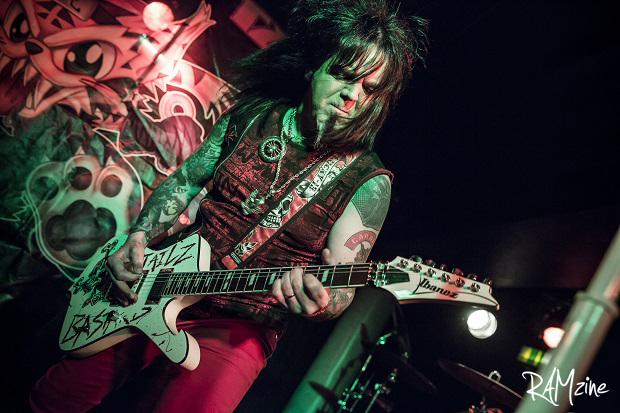 Before that,we get to watch Brit-rock dandies – The Last Great Dreamers. These guys are continuing their resurgence this spring, with the announcement of a new single, April UK tour as guests of Tigertailz, and the launch of a PledgeMusic campaign, which will fund their first new album since the 90s. Coming from touring with the Runaways' Cherie Currie and the release of their first fresh material in the shape of 'Dope School', these guys come on stage with the right attitude and a passion that comes out every single note they play. Before they embarked in this tour, Slyder said:"Obviously we are very excited to be out on tour again, and I think the Tigertailz audiences will be very different from the Cherie tour last November, which is great. Ultimately they are a rock band, but they have pop sensibilities and catchy choruses, they love putting on a show and the whole glam, dressing up thing, as we do, so it should be a good fit. We're less metal and more rock 'n' roll but if their fans like good pop songs with a bit of camp swagger then they should enjoy us!".
We definitely think that their rock 'n roll energy and talent blended very well with Tigertailz. They play great songs from the past years and new ones too, they definitely have a strong back catalogue and aside from their talent they know how to give a great time to their public.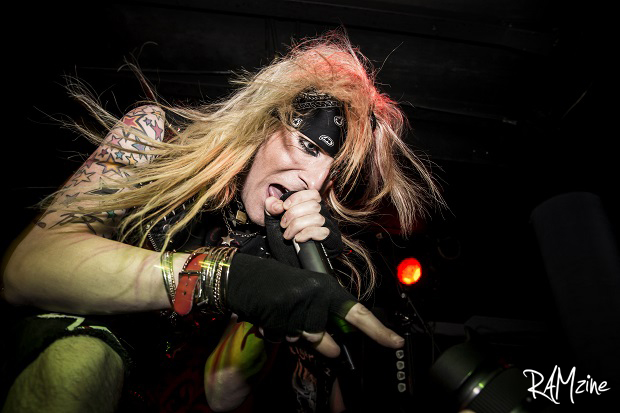 Tigertailz are next. Their image has nothing revolutionary and they definitely stopped looking dangerous but the music still makes everyone dance and have fun and sing along to every single note. It's clear that they can still teach a thing or two to a lot of sleaze metal bands. There is no much talk in between songs, Rob mainly thank everyone for being there and constantly try to get everyone involved. After all their music would never work live without the right atmosphere. They play 'Sick Sex', 'Star Attraction' mixed with new tracks like 'All The Girls in The World' and it's crazy how everyone gets into the groove and already knows all the new lyrics.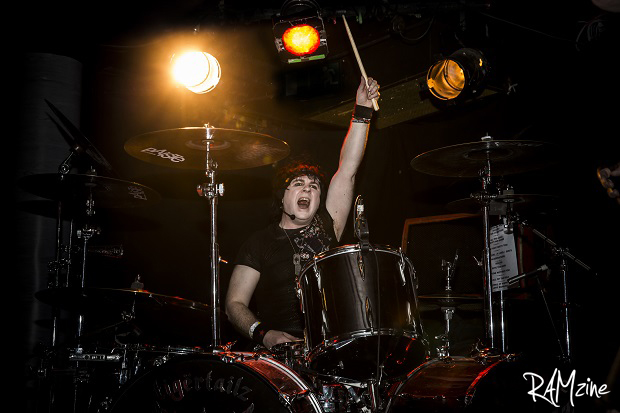 One had a right to wonder if Tigertailz could still keep the Noise Level Critical, but judging by their fans' reaction I would say they definitely do. The heavy tracks 'I can fight dirty too', 'Bloodsuckers' and 'Bite the Hand' make everyone rise their voice and level of energy. Before playing their main ballad 'Heaven', Jay does a little speech thanking everyone and showing how grateful he is for his fans' support over the years. He has a constant smile in his face and plays with the same passion he started with in 1987. They conclude the gig with the new 'Pipped it, Popped it' and the bombastic glam anthem 'Love Bomb Baby' which gave Tigertailz an album that became a worldwide hit and still makes every single person in the room going crazy excited, dancing and jumping around. With bigger hair and more make-up than KISS, Tigertailz never fails to bring out all that is great about glam: the fun, the amazing music and the brilliant entertainment.