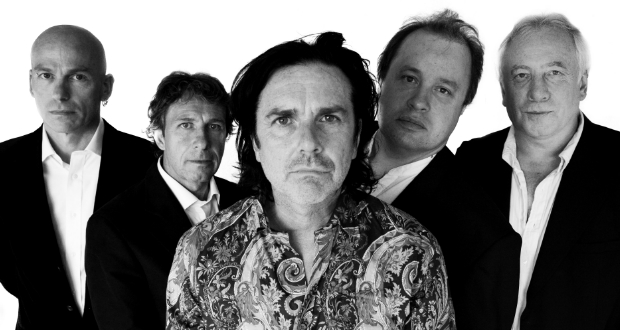 Marillion are now almost certainly the Grateful Dead of the prog world, in that they play lots of people around the world, but largely the same people. Asked by Steve Hoggarth how many in the packed Palladium audience were at the band's recent Albert Hall gig, the majority responded in the affirmative. Given there was also a sizeable number who'd travelled across from Holland for this show, plus also many fans wearing Marillion weekend T-shirts, you're left with no doubt this band have claimed their rightful place amongst the prog rock elite.
The show begins ten minutes earlier than billed with a short film of old black and white clips of Sunday night at the London Palladium, including a picture of an impossibly young looking Bruce Forsyth, under the legend of Marillion gives you Tuesday night at the London Palladium after which the band immediately appears onstage and goes straight into 'Slainte 'Mhath', which they follow with 'Uninvited Guest', and it's clear we're in for a great night. Steve Hoggarth is a very charismatic frontman and he soon has the crowd chomping at the bit for more of his patter. He says about playing the Palladium "…it's like having a gig at home, though we only have the one balcony".
One of the things which endears Marillion fans to the band is that they give everything every time they play. In Marillion world the fan comes first, thus the success of the Marillion fan weekends, and every show is almost like a family gathering rather than a gig. When Steve Hoggarth talks to the Palladium audience from the stage, he's not just talking to an audience, he's having a chat with a couple of thousands of his closest friends, such is the link between band and fan.
With no new album to promote, Marillion gives us a trawl through some of their best-known songs. We're treated to 'Afraid of Sunlight', 'Beyond You', a gorgeous version of 'Leavers', 'Heart of Lothian' and 'Real Tears for Sale', amongst several others, and for encores Hoggarth says they're "just gonna play some random shit" and they play the lengthy 'Strange Engine', before winding up with the evergreen 'Garden Party'. Wot, no Grendel? Call yourselves a prog band?
This gig was the sound of a band very much at the top of their game and going from strength to strength. On this form it's small wonder they swept the board at the recent Prog Magazine Awards evening, winning band of the year, and they're not finished yet.