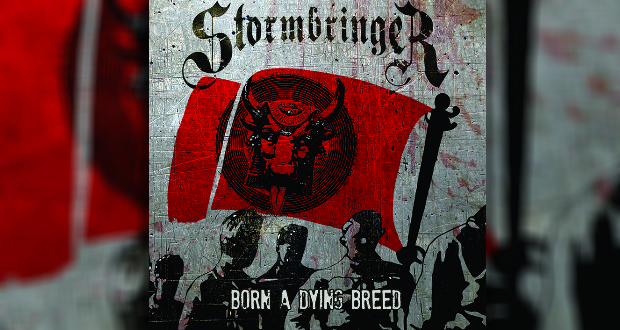 Stormbringer are a band from Northants who've been making waves at gigs for a few years and building a name for themselves in the process. Their 2013 debut album, MMX111, was a mix of classic rock and heavy metal with a contemporary edge, which brought the band to the attention of fans. Since then, they've played at prestigious gigs such as Download and Bloodstock and continued to live by the words of their mission statement "… To rock as hard as we can, whenever we can, and have a good time doing it". As mission statements go, that's as good as anybody's!
This new album, Born a Dying Breed, gives us several tracks of monster rock and metal, and they're chunky riffs galore with a head-shaking, fist in the air punching and foot-stomping groove at the base of it all. This sees the band upping the ante and raising their game, and it's with this album that some rock critics believe will see Stormbringer move up a few places in the rock hierarchy. Opening track 'Don't Trust Me' is a fast and furious number and kicks proceedings off in frenetic style with a fine thrash metal intro and proceeds to rock up a storm. 'Bleed For' begins with some ferocious almost Cliff Burton-esque driving bass riffs, and they help power the song along.
There are several occasions on this album where the pace relents somewhat, tracks like 'Smother' and 'Consequence' are prime examples. They're well played but they lack the killer punch of the album openers. Stormbringer are a band who're at their best when they really rock-out and go for it, which is exemplified on tracks like 'Stick to Your Guns', which is a balls- to-the-wall flat out rocker with a driving riff and a pounding beat and, if every track was played this way, this would be a beast of an album. It's also easy to imagine several of the songs here going down a storm onstage. Tracks such as 'Pay Your Respects' and 'Dying Breed' have the feel of the basis of a great gig.
'Born a Dying Breed' overall is a good second album. They're plenty of good rock songs here and, whilst the album doesn't give you anything you don't already know, nonetheless it's an album you'll certainly enjoy and have fun listening to. The bands next step is to build on this album and make that killer third album, the one which'll propel the band right up to the top. The potential is certainly there based on the evidence here.