It's a dull and slightly chilly evening; only two bands on tonight Oh Rococo & Deadlines, but the price is the same, £5.50; is this partly to blame for the decrease in audiences at local live music venues or are we still pointing fingers at money hungry promoters and the interweb…?
Sadly, there are even less people than last weekend… and again it seems that one band has some followers and even some family whereas the other band has only a couple of girlfriends. It is for this reason alone that we, Men on a Mission, are working to get the local scene revitalized. Initial thoughts are along the lines of getting a signed headliner to play at a larger local venue whilst those on our list, once finished, will support on the night. We want to stay away from a 'Battle of the bands' type of event and make it more about giving the bands the exposure they deserve.
The night's line-up looked promising and was as follows;
Oh Rococo: a self-proclaimed alternative rock band from the South of England; they are a three piece act that have been on the go since the beginning of 2015 under the Oh Rococo name, but have played together under a different name in the past couple of years. Their music "fuses catchy melodic lines and loud sharp guitars with solid sounding bass and hard hitting drums to create a sound that is fresh, energetic and unique" – Facebook
Deadlines: another three piece act; the Cellar Bar is their home ground as these three are from Bracknell (big up yourselves). They cite such influences as Sleeping With Sirens, Memphis May Fire, The Used and Bullet For My Valentine and describe themselves as post-hardcore. – Facebook
So with such info taken from each bands Facebook page, we are looking forward to the possibility of a new name on the list tonight!
Oh Rococo:
At first we thought the sound levels was going to play a part in destroying what the band brought to the table, but after a few tweaks early on it fitted the music style well. Oh Rococo does punk; my first and final thought is; Blink 182 tribute band that writes their own material. Now, this isn't to take anything away from the band as what they do, they do very well, they just don't bring anything new. Aside from one song malfunction that seemed to lead to a brain fart-restart, their song structure was solid and the sound was great but for me the vocals came across too Americanised. They had fantastic energy, composition and really enjoyed themselves on stage. I would definitely recommend you give these guys a listen if you are into Blink 182 style punk!
Deadlines: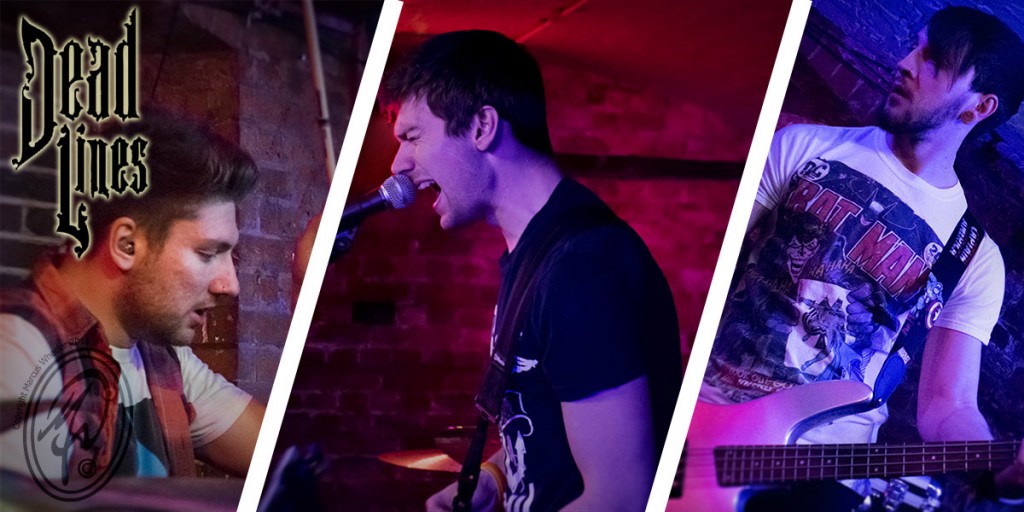 The band describe themselves as Post-Hardcore, so already, I am expecting to feel a warm dribble from my ear as the grin on my face expands and the hairs on my skin are stood to attention (Team RAM definition of eargasm). As the band start the backing track that sounds like an intro to an EP I am excited and then POP! My ears exploded…
The Djent style palm muting with clean vox left me asking if there was screaming missing but within a few seconds of the next killer riff I totally forgot about my train of thought and began wiping my neck every 5 seconds as I was continually blown away. The vocals kept reminding me of Glassjaw but mixed with just the right amount of hardcore licks and rock power chords to produce something extremely satisfying. Dealines have rock star composition, high energy and mind blowing synths made heavy as fuck by the guitars.; this band is Ross Robinson's wet dream!
Next on our list are Deadlines; could they be the next big thing? Go on over to Facebook and have a look at these bands and hopefully team RAM will see you about in local venues so you can give us your opinions on who you did, and didn't like!
Adam Hemmings – Marcus Wheeler  \m/