Any spare time I get throughout festival season, you can find me in a field in a tent – that's my happy place. Each year I face the same dilemma, I dream of a beach holiday in the sun; I know I should travel more, but I just can't draw myself away from the festivals. Music is what I live for, and with so many bands out there in this era, there is so much to see and discover.
This year I found the perfect festival located in the beautiful country of Slovenia: MetalDays. The festival showcases bands across 5 days of music on 2 stages… and there is a beach! This isn't your typical English beach, this is an exquisite beach by a lake. The festival site is surrounded by great mountains, and two lakes that flow into one; the surroundings are truly stunning.
It all began on the Sunday, we were on a flight from London Stansted, heading to Trieste, Italy before making our way to the festival in Slovenia. There is the option of flying to Ljubljana airport in Slovenia, however we were recommended to fly this way as it's slightly faster. From the airport we got an airport transfer to the festival. If you have never visited Italy or Slovenia before I would highly recommend staying a few days before or after the festival to see the slights, many festival goers do this, as there are lots of beautiful places and countries near by that are easy to travel to.
[huge_it_gallery id="4″]
You have a few options for accommodation whilst at the festival. I would recommended camping to get the full festival experience. If you don't want to lug a tent along, there's a  great company called Mein-Zelt-Steht-Schon, from whom you can rent a variety of tents; the great thing about this is they set it up for you and, if you are traveling from the UK, you don't need to worry about bringing a tent with you on the flight over.
Monday morning came and, since we had arrived in the dark, we did not relise until we pulled down that tent zipper in the morning, that we were surrounded by mountains. Wherever you camp, you are surrounded by natural beauty, and this really adds to your festival experience. The campsite is beautiful, certainly unlike anything in the UK.
Over the course of the weekend, I must admit I spent a lot of time at the beach but manged to drag myself away from the so called 'paradise over hell' to watch some of the bands on offer at the festival. The first few days of music showcased some of our more veteran bands.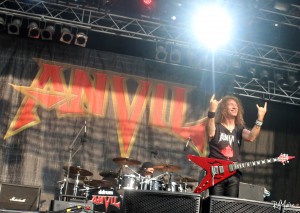 We arrived at the main stage for Canadian band, Anvil. There is something about Canadian bands that always brings a very energetic performance, and a level of showmanship you don't see across the board. Earlier that day I had asked Steve 'Lips' Kudlow if he truly loved being in a touring band now. After the documentary Anvil! The Story of Anvil in '07, where the band documented themselves trying to make it and having to work day jobs that they didn't like, I was interested to know how it felt on the flip side, now that they are a paid touring band, this being their career. Lips told me, "I really dread going home, it's boring". It's great to hear that the dream is still alive.
At one point the crowd were chanting "Anvil, Anvil, Anvil", and Lips replied, "Slovenia, Slovenia, Slovenia, we love you!". Anvil are a band you most certainly need to see live, if not for their music, for their comedic value. Lips played the guitar with his actual lips, before proceeding to play the guitar with a vibrator! This actually sounded pretty good on a guitar; I always remember Kirk Hammett from Metallica doing this in the 'Some Kind of Monster' DVD. During our chat earlier that day, Lips told me "We are thinking of bringing out a range of vibrators, ones that flash on top, the idea being that everyone can wave them at us in the dark" – that would truly be a sight, and I honestly hope this happens! The band emulate the Sex, Drugs, Rock & Roll era – and that I really appreciate in a metal band.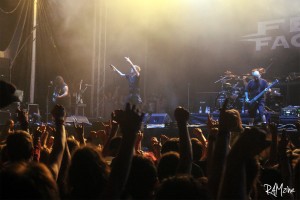 Fear Factory played a blinding set! The crowd were a rowdy bunch before things even kicked off, chanting "One more song!" at the mic-check guy. Fear Factory stood powerful and strong and delivered us full power metal – heads nodded, crowd surfers sailed. As the circle pit got well underway, they treated us to two new tracks from their forthcoming album Genexsis – this album is going to be a killer! Earlier that day we caught up with vocalist Bruton who told us "Genexsis is a combination of two words put together, genesis and nexus, genesis meaning creation, and nexus meaning the next step". Genexsis will be out August 7th worldwide via Nuclear Blast Entertainment.
Saxon treated us to another great set. They kept mentioning how old they were, but they sure don't show it in performance. "We are going to play a song that was out about 35 years ago, most of you were not even born then…. but it's all about the Heavy Metal right!?" says Biff Byford as they play 'Heavy Metal Thunder'. The crowd sang this chorus, and you could hear the echo bouncing across the mountains. Saxon played '20000 Feet', Biff says "Don't be scared of moshing, we f*cking invented it". It's so great to see a huge crowd let loose, without that middle dividing section that you see at UK festivals now – it certainly makes for an easier circle pit.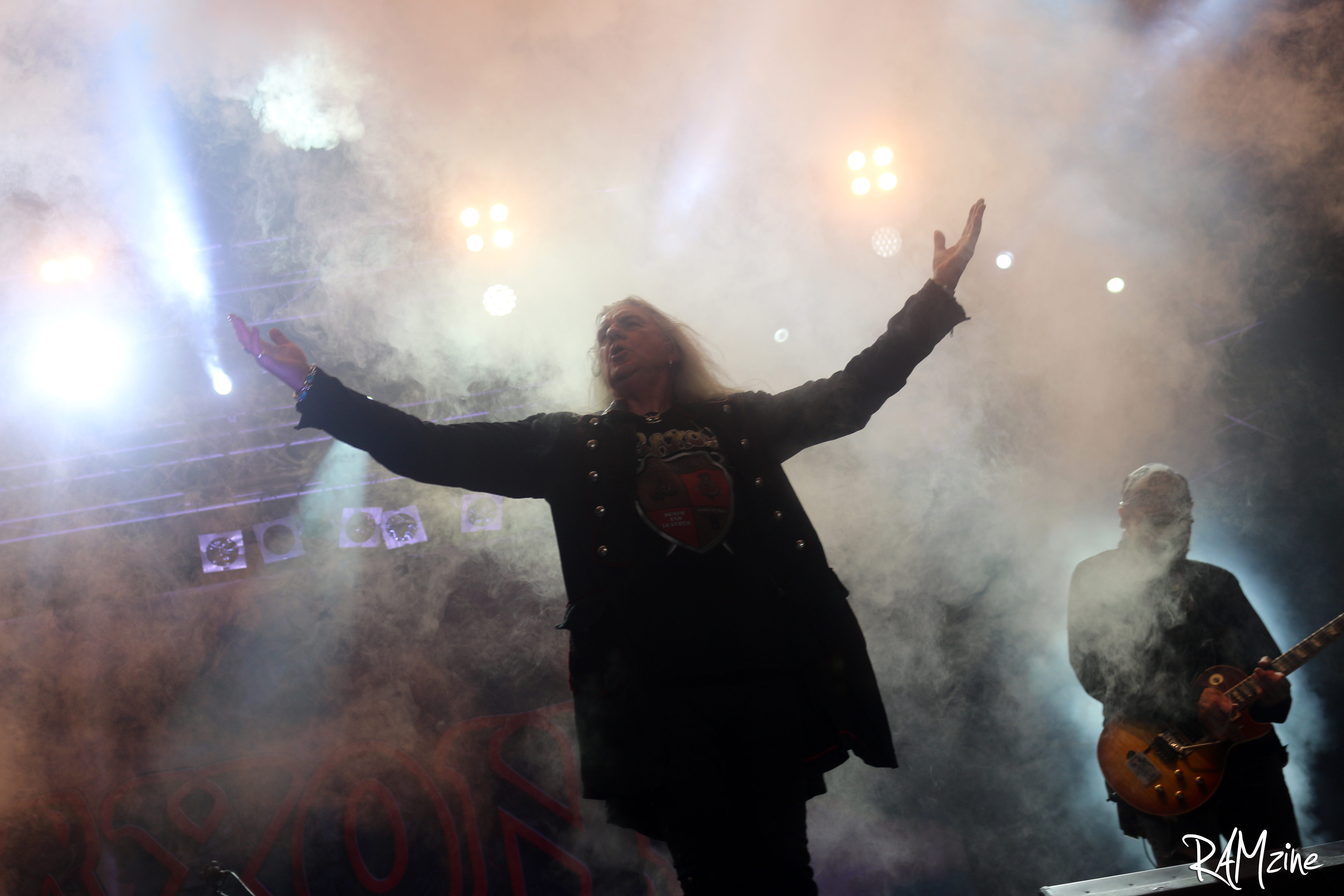 During their set many people crowd surfed, there was a beastly security guard taking these people by the hand and running them back into the crowd – and it was clearly a really fun game and you could certainly tell he was having fun with it, which in turn made the fans have an excellent time. One of the first things I noticed about this festival, is how laid back it is. The UK seems quite strict in comparison. It'd been a while since I had seen 100's of crowd surfers, a circle pit, and a wall of death all in the same day – however at MetalDays all of these things are a regular occurrence.
Tuesday commenced and after a trip to the beach and dip in the lake to relive last nights hangover, we got to the main stage just in time for Avatar. I was surprised to hear that a lot of people hadn't heard of them, so I found myself selling them to a lot of people as a band they simply must go and see. Avatar have been around for quite a few years now, and it was when Johannes discover his theme of circus ringleader that the band really evolved into who they are now. This side of them follows suit in their live performance, always having been an energetic band, now have something to play up to. Having a character can make it so much easier to perform a great show – and visually they look awesome on stage.
One thing that did cross my mind in the 35 degree heat was how hot they must have been being that energetic in their big boots, jeans, and long hair. In fact, earlier that day the lead singer of Blues Pills almost fainted onstage from the heat and had to be rushed off to first aid – that's how hot it was.
Wow, just wow! Black Label Society took MetalDays to a whole new level. We all know Zakk Wylde and Co. are good, but they just blew me away. Marshal amps stacked up high, Zakk's signature guitar, and a stage presence that made everyone take note. Zakk showed his musical range as he stopped to play the piano, and beautifully so, as a flag was revealed to tribute our fallen brother Dime. As a huge Pantera fan, I really respect this – it made their set that much more special. Black Label Society are said to have a new album on the way this year! You will be able to catch them in the UK towards the end of this year at Hard Rock Hell in November.
The tributes continued as Hatebreed played their respects to Jeff Hennman of Slayer. Hatebreed played a set that I cannot fault, the quality of music all weekend had been 100%, and everyone was having such a fun time.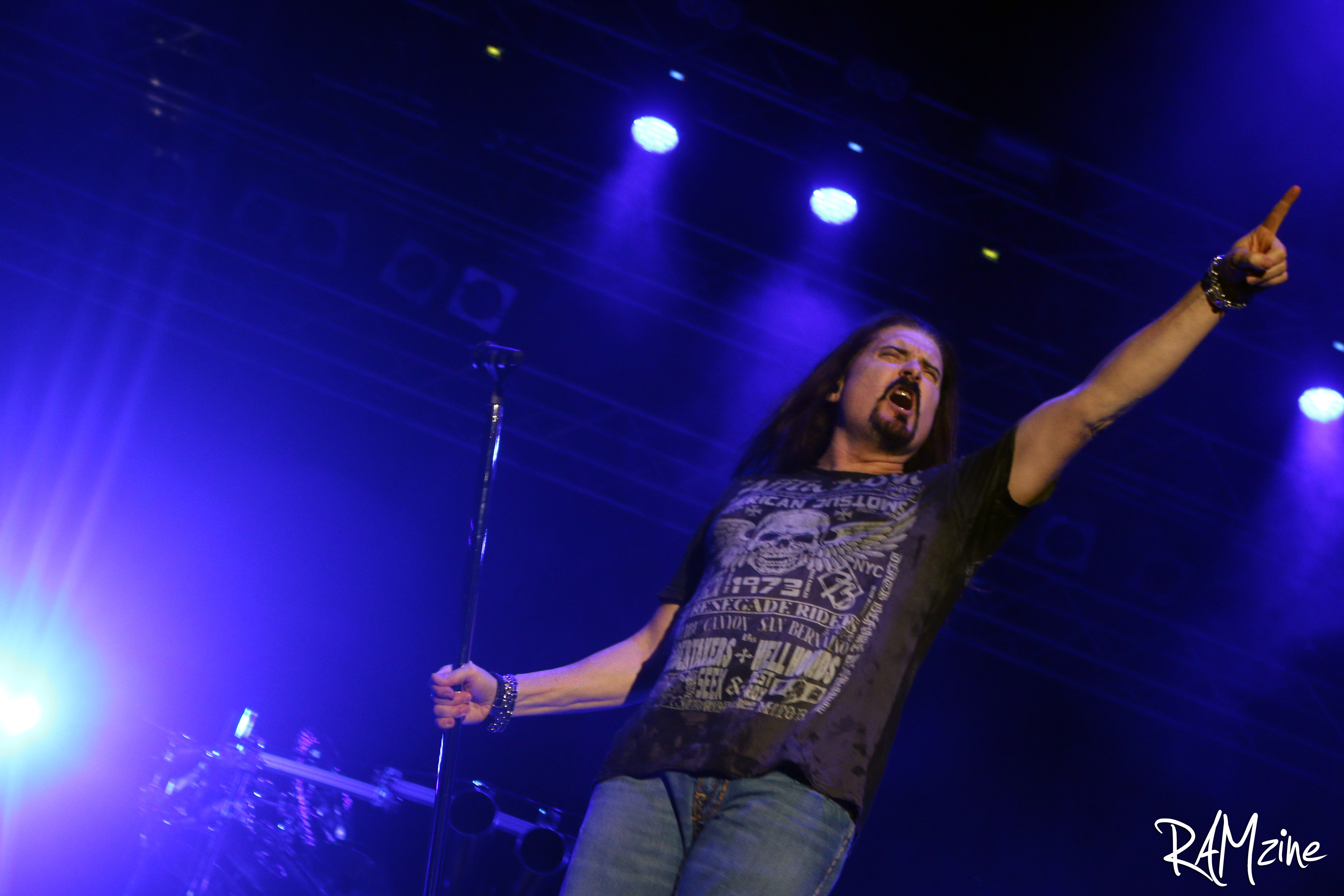 It was an absolute treat to see Dream Theater, as the last time I saw them was at Wembely Arena. As if we were walking through time, Dream Theater went through their years of albums, playing one track from each. New fans in the crowd were amazed at the production, and quality. Whist I could see long term fans singing along. There were a few fans upset that drummer Mike Portnoy has left, however its safe to say that Mike Mangini did a great job!
Before we knew it, it was Wednesday and we were watching Sepultura, they really got the crowd to pay attention with their full brutal presence. Line-up changes aside, for over twenty-five years, the band have been delivering a savage mix of metal, hardcore, thrash, punk and tribal that could hardly be played more intensely.
The night was headlined with a flawless performance from Accept. The crowd in the masses by this point. I'm not sure why, but we haven't really heard of this band over in the UK. If you like your classic metal, you must check them out! I always appreciate a band that can play an outstanding guitar solo, and to see Wolf Hoffmann and Peter Baltes have a riff-off was something of a spectacle. The crowd applaud them with a thunderous cheer of appreciation.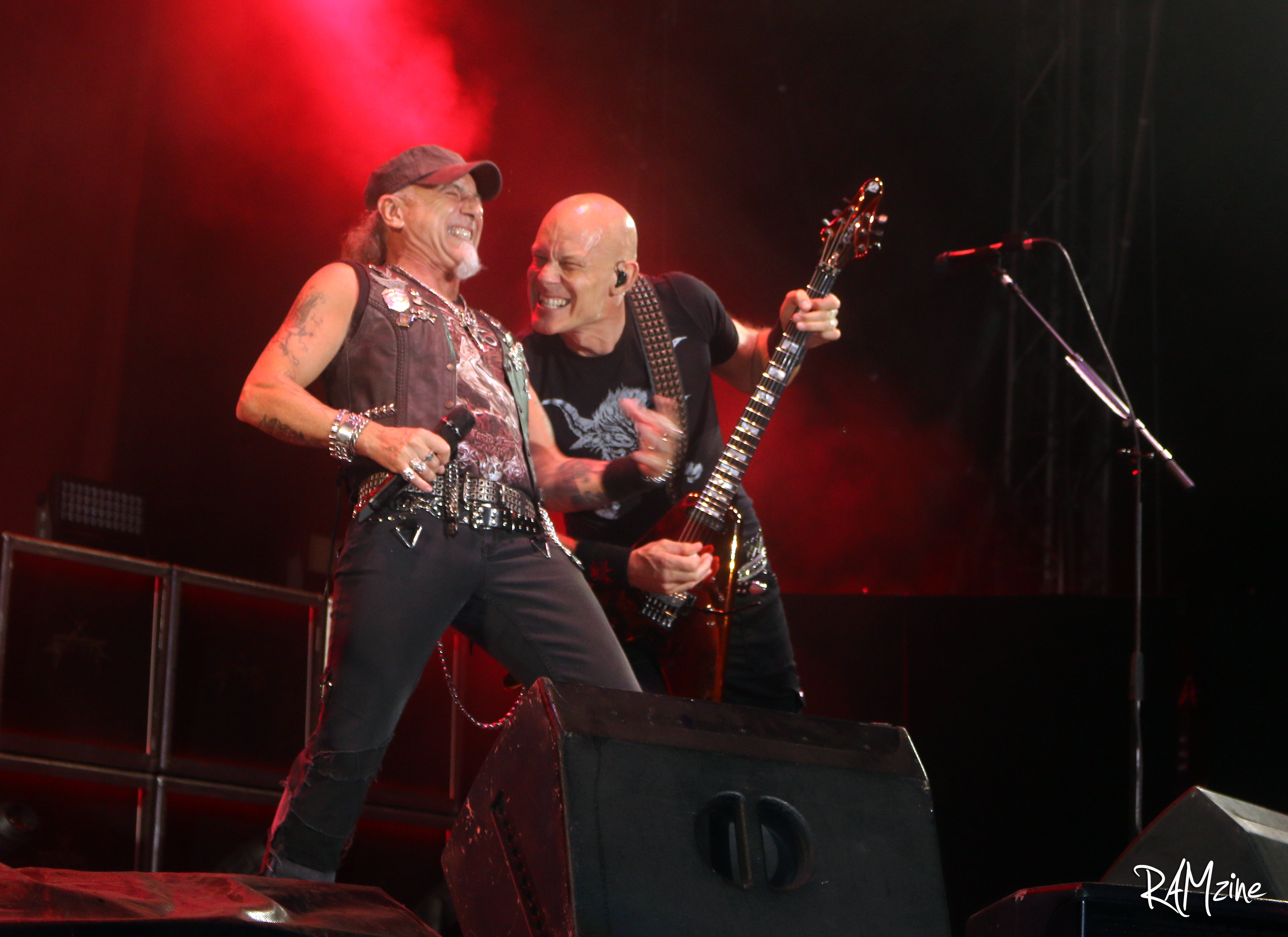 Accept, of course, do an encore and come back to play 'Metal Heart', 'Give Em The Axe' and 'Balls To The Wall'. All exceptional songs, the powerful gang vocals give a full 'ready for battle' metal effect.
I saw a casual film crew in the middle of the crowd near the front of the stage. There was plenty of space to move around nicely at this festival. UK gigs and festivals always get jam packed with everyone trying to get to that front barrier. In Europe, it's more relaxed; you can stroll to the front barrier if you like, but you have space to breath which is nice. People love to crowd surf here, every single band has had a sea of surfers.
I have a new found love for Carcass; I was very impressed by their musicianship. Although not the most connected with the crowd this week, they did play magnificently. They played timely and with dedication. Lead singer Bill Steer (who really reminds me of Lemmy), did make an effort to address the crowd, but the crowd anarchy we had seen so far, just wasn't there for Carcass, perhaps because it was nearing 2am.
On Thursday, I stumbled across Deadlock from Germany playing on the main stage.  There was a notably smaller crowd this day – everyone was at the beach as it was too hot today: 35 degrees! This aside, they really give it their all; John Gahlert sang with female vocalist Sabine Scherer, the two voices complimented each other well. The only thing I will say is the girl sounded very squeaky when addressing the MetalDays crowd, but she was brilliant, so energetic. I hope we see them over in the UK soon, they play a radiant blend of melodic metal.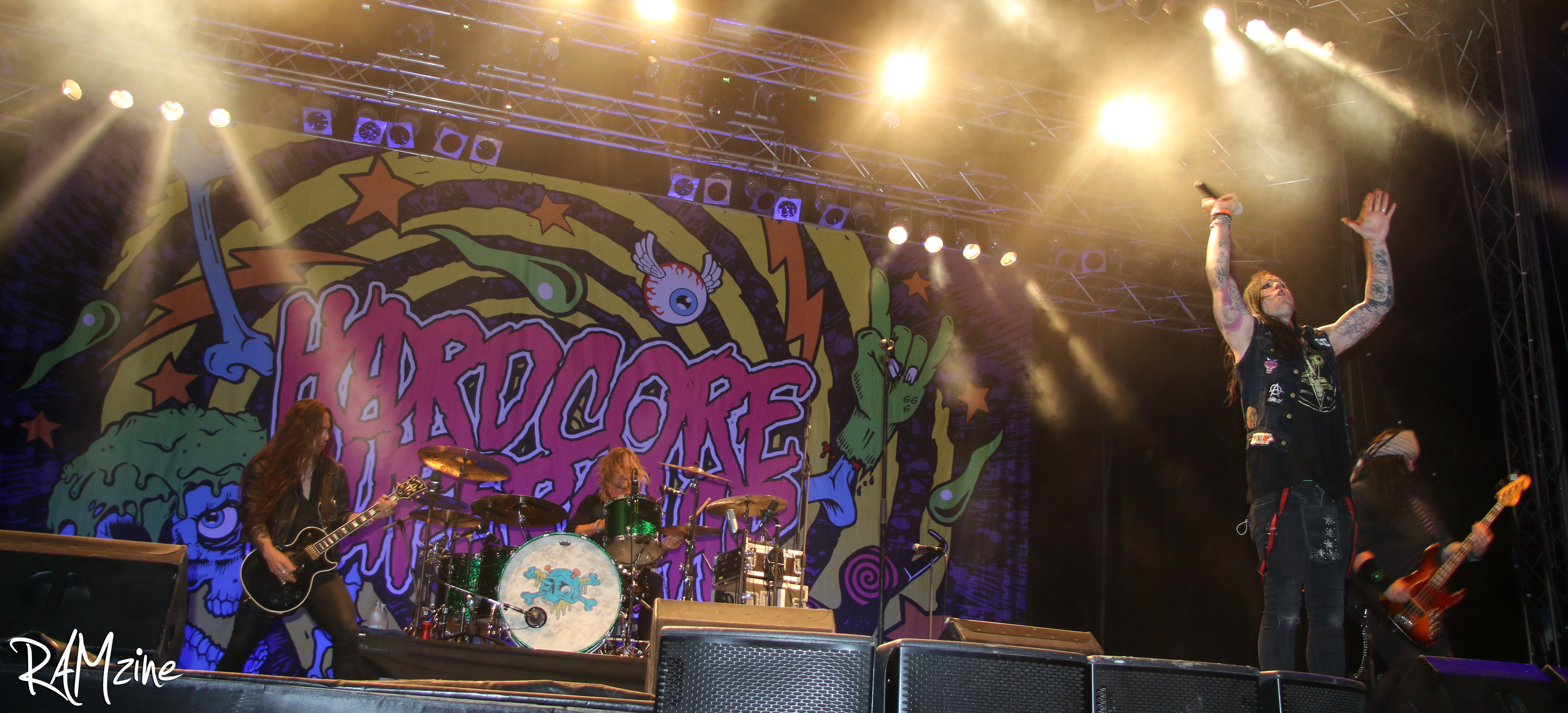 Hardcore Superstar brought some flavor to MetalDays, playing a set that showcased more of a party vibe than any other band I had seen all weekend. You can really rock out with this band, as they promote feelings of debauchery and angst. The band have just released new album HCSS, which Jocke Berg told us was a collection of old unreleased material. He told us that whilst some fans didn't like it, as it felt like a step back, he assures everyone they will be back on track with up-to-date Hardcore Superstar on the next record.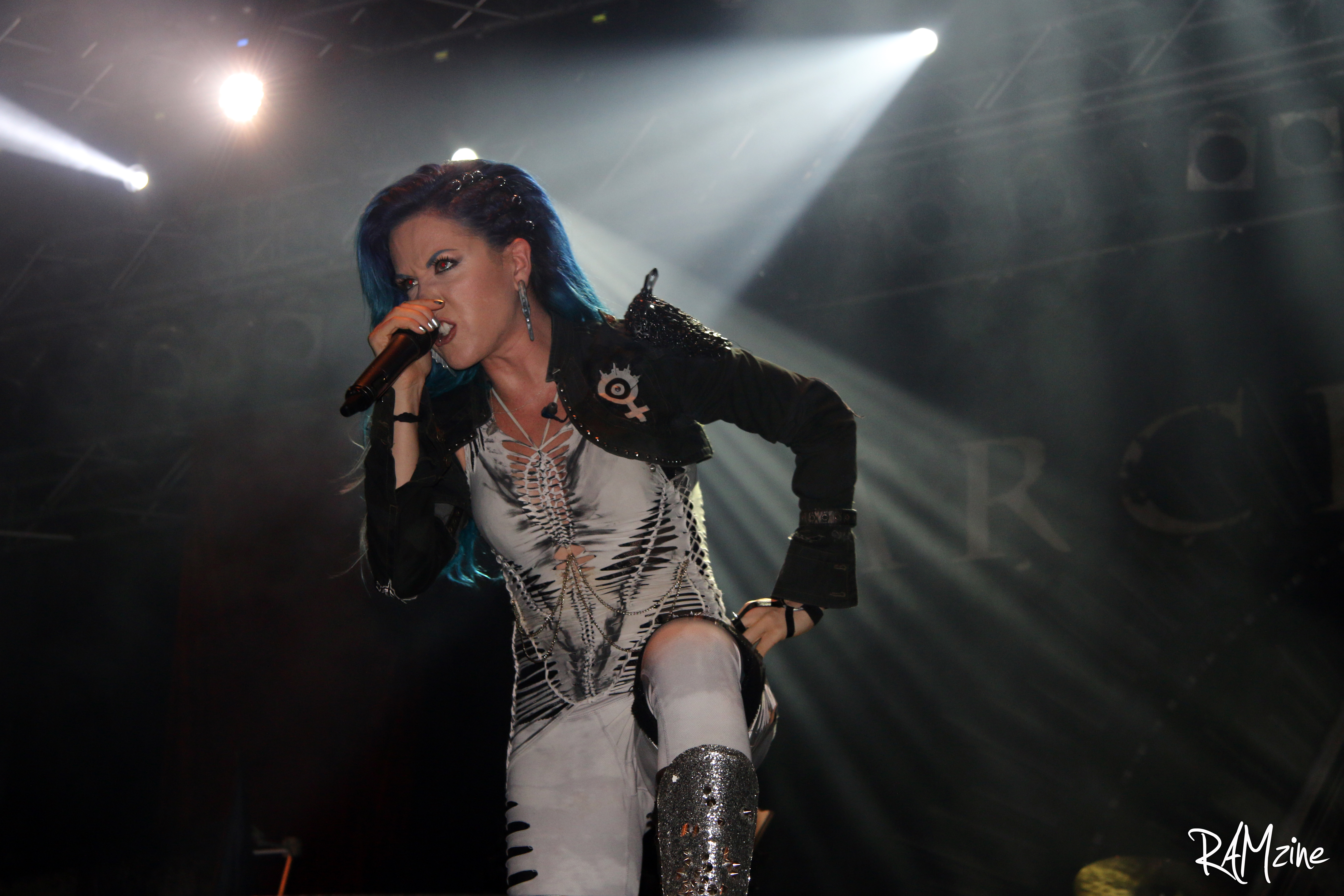 Arch Enemy drew in one of the largest, most mental crowds of the whole festival. Watching from the VIP platform, we had a great view of the anarchy that took place below. Rows of crowd surfers, a huge circle pit, and every single person rocking the f*ck out. It was great to see metal so alive! They played a good mix of songs to the tastes of new and old fans, finishing on 'Enter the Machine'.
Have you ever boogied to Rotting Christ? I have! Feeling pretty pumped from the awesome atmosphere of the festival, and a few Jagermisters later, I discovered just how easy it is to carry out the cheesiest of dance moves to black dark metal. I had a great time, and nothing beats that atmosphere of absolute slaughter at a gig. This ungodly band have been around since the 80s, and have always promoted a creeping malevolence often feared by people because of their unnerving darkness.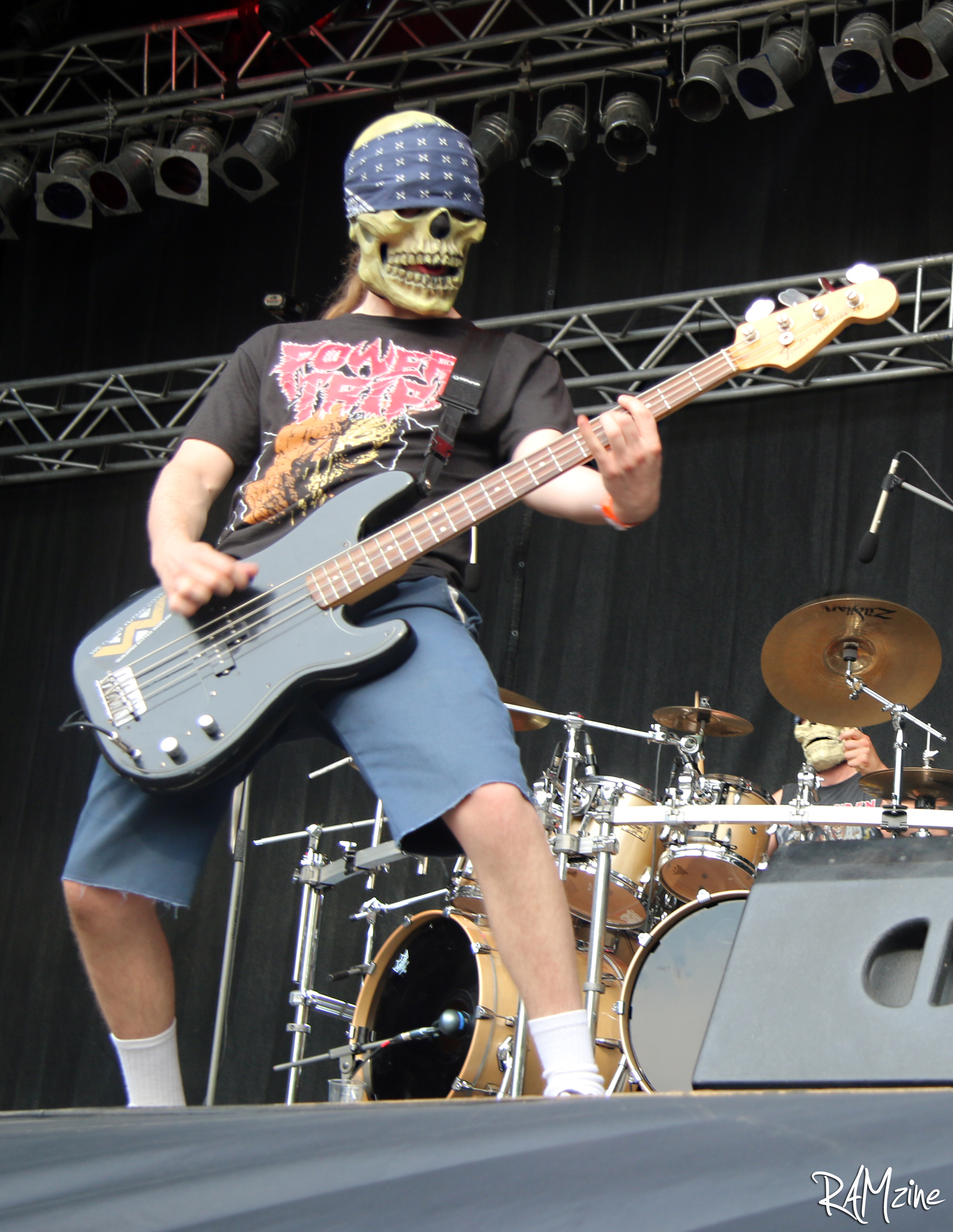 And the last day of music arrived, it was Friday already. Dr Living Dead apolgised as their flight company f*cked up – they didn't have any merch, backdrop, or stuff with them. They did however have their masks – good job! as that makes them who they are. They draw in a crowd from an empty arena. It was great that they still gave the show everything, despite their setbacks. "After tonight you guys are all a part of team death" says Dr. Ape, as a mosh pit broke out.
Carnifex got a circle pit going straight away. They came on stage and pretty much annihilated those that did not sound so heavy before them. The best way to describe them is 'they rip the soul from your heart and turn you into a white walker'. They got that speed head banging down to a tee; as  vocalist Scott Ian Lewis says "I want to see you guys bury your heads with us". All you could see from the crowd is masses of hair flowing around, as metalheads showed their respects by performing windmills.
Suicide Silence seemed to bring a younger crowd, and there is always a more modern hardcore vibe about them that sets them apart from other death metal bands. Metalheads in the crowd had their arms side by side, punching the air, and doing a skanking movement, a move I have often seen in the crowd of a hardcore and/or punk band. They bring the heavy – like a deep sonic wave, the bass erupted over the festival. Eddie Hermida instructed the crowd to "go fucking crazy" and they did just that. I saw a guy wearing his green tent as a dress, heading straight into the pit.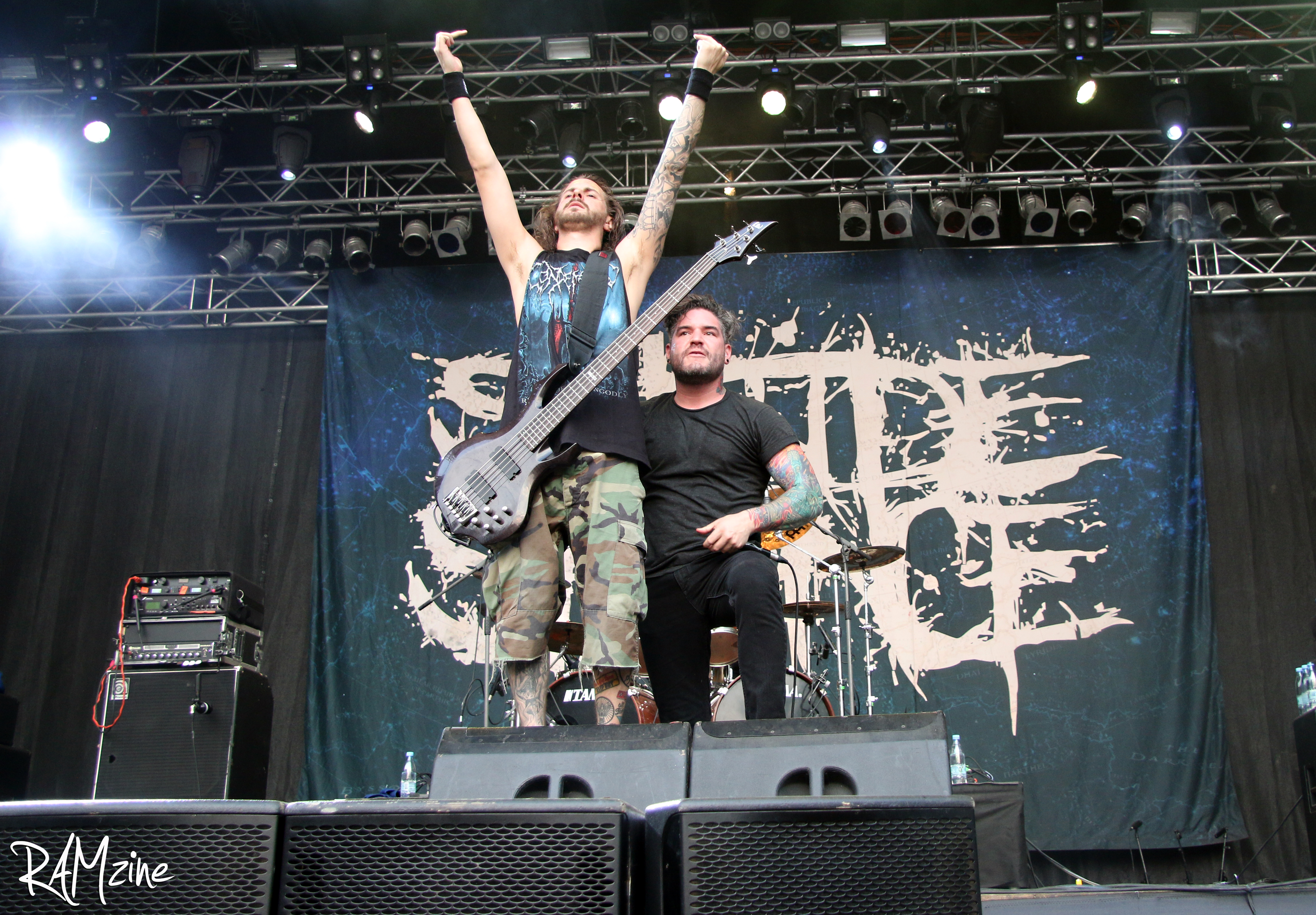 Eddie Hermida decided to smoke a large bong on stage, and then joked "I'm just gonna go to sleep now". If that was at a UK festival I'm pretty certain he would get arrested; I loved the laid back vibes of a different country. Suicide Silence are very good at getting the crowd involved and making everyone feel part of the team, talking to the people on the hill, and at the back making sure everyone was involved.
"We are used to getting a  lot of hate from a lot of people that like metal" says Eddie, then shows appreciation for the fans in front of him saying "but we are a part of this scene because of you guys". The crowd honor the band by chanting "Wall of death, Wall of death…". Eddie replies "Stop chanting about it, and start being about it", as a huge circle pit, including the guy wearing his tent erupted.
It's rare that a band can pull off scary, but Behemoth appearing on stage with their stern looks of disgust really sent shivers down my spine. It's not always that a band can pull off such mystique. As I watched them, I believed that they are truly from the depths of hell, and I wanted them to lure me over to the dark side. A show planned down to every last detail, the lighting, fire, and smoke effects coming together perfectly. This was one of the best stage shows I have seen for a long time.
[huge_it_gallery id="3″]
Check back soon for our MetalDays Tips and Trick, for traveling from the UK.
Photos by Aaron Cope and Victoria Purcell.