Topping album of the year polls for almost two decades and seemingly reinventing their sound with every subsequent album, Atlanta Prog Metal legends, Mastodon return to Manchester with an entirely sold out show along with Chicago based post-metal outfit, Russian Circles, and Mastodon's ever familiar support band, Red Fang.
Russian Circles started the show and it feels like their set will be somewhat polarising, one side will admire the commitment to building an atmosphere and opting to remain entirely silent and distant from the audience and others may feel like the band is simply going through the motions, whichever side you may lean towards it can't be denied that their set was hypnotic. The constant droning and lack of light creates an ambience that needs to be seen to be believed, Russian Circles are definitely an acquired taste but their set is a sight to behold.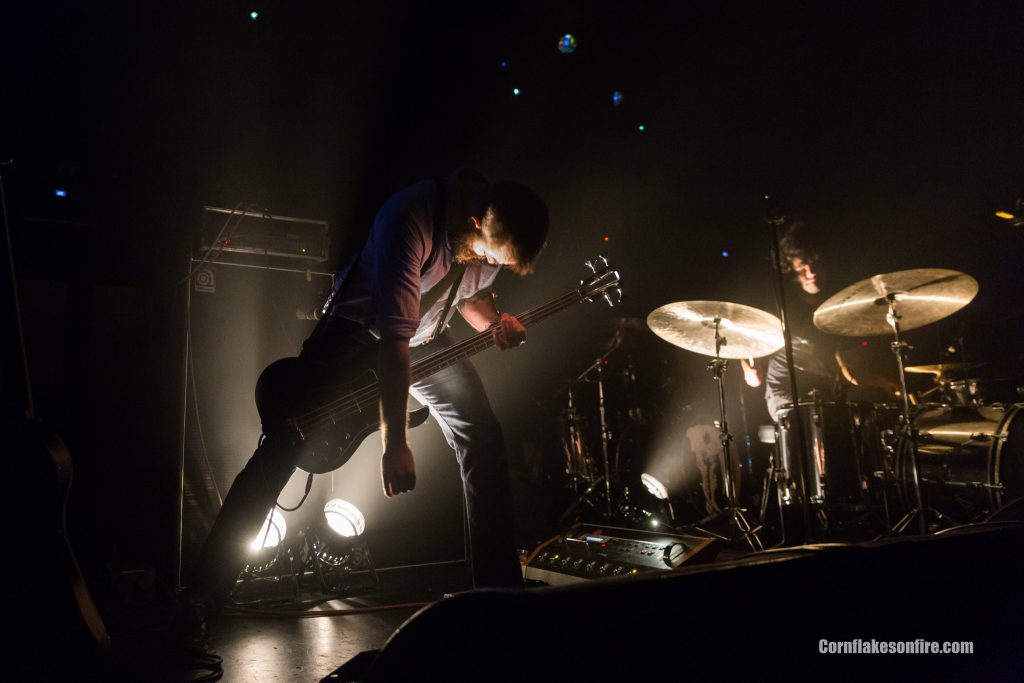 Red Fang have toured with Mastodon many times over the years and it makes sense why, they have a similar brand of sludge inspired hard rock that Mastodon hold in high regard. Red Fang aren't the most lyrically or technically gifted band around or even on the bill but they were certainly entertaining and made for a fun change of pace between the other bands on the bill. To put it bluntly, they are a less progressive version of Mastodon and with the amount of times the two bands have played together it makes sense that Red Fang would eventually retain some of their tricks.
Mastodon began their set with grandeur, starting with 'The Last Baron' a 13 minute long epic from what many believe to be their crowning achievement, 'Crack The Skye'. It's hard to point to a song in the band's back catalogue and say "this is what Mastodon sounds like" but 'The Last Baron' is certainly a good starting point with its abrasive instrumentation, whiplash inducing tonal shifts and phenomenal storytelling and world building. The band can only be admired for their music prowess and songwriting skill and the band know this, focusing less on theatrics and interaction with the audience and letting the songs speak for themselves, which is probably why the large screens remained blank for the first song.
'Sultan's Curse' and a number of other songs from the new album were punctuated by gorgeous visuals displayed on tall screens which help keep the set engaging to fans that prefer the band to speak to the audience from time to time. With that said, these visuals are breathtaking and manage to accentuate the surreal tone of some of these songs without overpowering them or becoming the focal point of the set, everything seems to work in tandem to great effect.
Many will call this a nitpick but I feel one of the bigger upsets of the show was the fact that the intro to 'Bladecatcher' was played using distortion as opposed to the album version which was clean which made the abrupt change to the heavy distortion feel less intense than it does on the album. However, that doesn't take away from the fact that the song is still completely anarchic in the best way possible, at times it sounds like a heavier Dream Theater song in that it shows off the band's chemistry in a similar way, albeit with less of an emphasis on technicality.
The set had no shortage of songs to show off the talents of drummer Brann Dailor, most notably was 'Colony of Birchmen', a song full of incredible fills, punishing double bass drumming and a harsh twin vocal attack from Brent Hinds and Troy Sanders before culminating in a climactic guitar solo before trailing off into silence as the band seem to look over the carnage they have caused.
The band took a break from intricate, progressive metal anthems for a while to play songs from the new album, most of which were fine until they started playing 'Show Yourself' which is easily the most straight forward pop rock influenced song of the set and it feels just as jarring and out of place in this set as it does on the album. The band are known for changing their sound often but 'Show Yourself' feels too simplistic and out of character, it's a decent enough song but easily the weakest part of the set.
Towards the end of the set the drop A guitars were brought out and while the absence of 'March of the Fire Ants' was certainly noticed it was still good to hear some representation of the 'Remission' album in the form of 'Mother Puncher', a phenomenally heavy sludge filled assault which led into easily the best song from the new album with 'Steambreather' which works as a radio friendly single and a hostile climactic ending to their set which would have been a fine way to end but they ended the show with a classic heavy metal song that will easily stand the test of time, 'Blood and Thunder'.

Not only does this song do a fantastic job of telling a story through instrumentation, once the harmonised guitar interlude starts you immediately feel the conflict between Ahab and The White Whale. Even without the context of the album it still makes perfects sense and can be argued that it acts as a microcosm for Leviathan.
A Mastodon setlist is almost impossible to put together and have everyone be satisfied since almost every album they have released has been considered a landmark in heavy metal which makes the fact that this tour focused so heavily on Emperor of Sand so disappointing. Not to say that the songs they played were underwhelming or bad, far from it, it just would have been nice to have heard more from Leviathan or Blood Mountain but that is down to personal preference.