The Ramblin Man Facebook page may have its fair share of moaners and complainers, and it always will, but no one can complain that this year they brought probably their most diverse line up ever, there was something for just about everyone, and they even found it in them to book amazing weather for the most part!
The Friday kicks off the weekend, and this is where the weather set the tone, wet and miserable and for most that was just the cherry on the top as it seems everyone was struggling with travel issues. But none the less, this didn't deter the bands on stage. Kicking off their debut festival in the UK, let alone opening the stage were Aussie rockers The Lazys, and although we couldn't see them for the lines awaiting wristbands, we could at least hear them, and stellar is the only word to describe. We caught up with them after and they were all in high spirits, nerves didn't get the better of them and they will not be going away anytime soon. Taking the time to hang around in the crowd and catch the bands after they played and say hi to anyone and everyone that spoke to them, they were the real mood setters for the weekend! Kriss Barras had the challenge of carrying that spirit on, but that was never in doubt. The tough looking musician is just that, tough. A former, successful MMA cage fighter, turn blues rock/country musician with amazing talent. He seems to be able to do it all and has adoring fans far and wide. Closing up his set, he channels the Hendrix and Zakk Wylde in him with some guitar solo theatrics mid solo, the rise and rise is going strong, the hype is very real, and he fits the line up perfectly. FM were to follow up, and despite their hiatus of 12 years, their performances through recent years has left people hungry for more. They return with a few festival dates for the summer, kicking off with our very own Ramblin Man, and though the line up has changed as the time has gone by, their classic sound is as welcome as ever, this year will be 35 years on from when they formed, and still, they are playing like they are in that age again.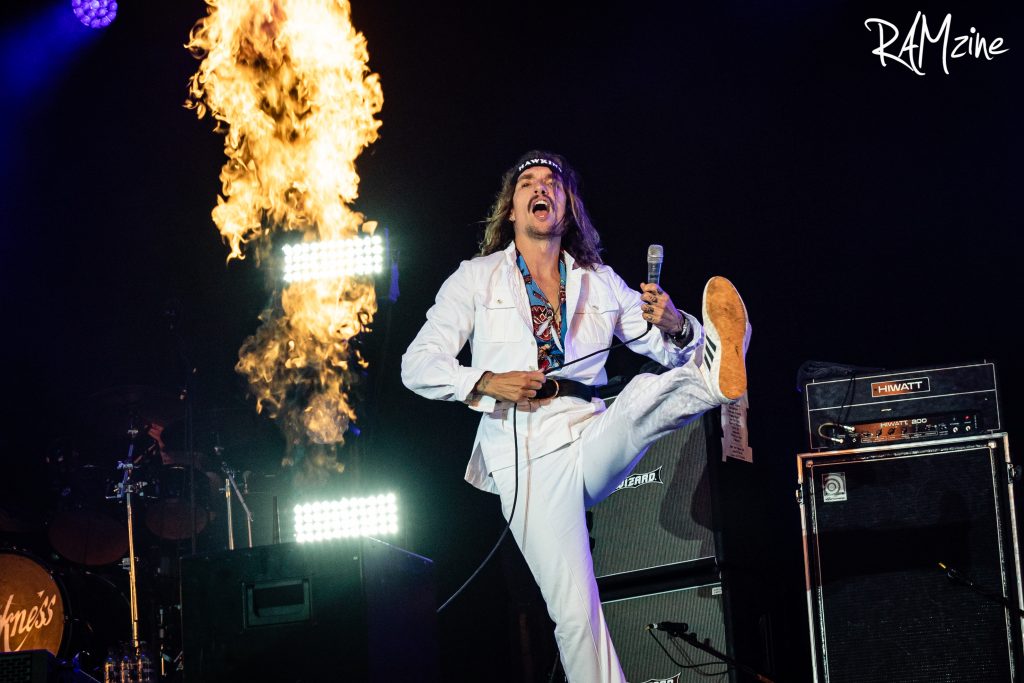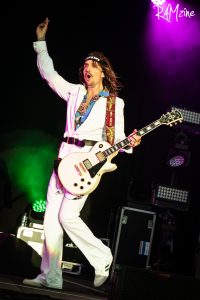 Picking up the party spirit and lead by a man that is a household name and has more talent and musicianship that even the most well practiced, The Wildhearts need little to no introduction and got the place rocking superbly, and regardless if you are one of the few that don't like them, they'll have you singing along to a song or two and enjoying yourselves! A great sight to see on the main stage as the warm up to the opening nights headliners, The Darkness, like the Wildhearts, they themselves made it to household name status regardless of musical tastes of people when they debuted Permission to Land. Falsetto voices at the ready, the crowd joins in rapturously with the hits. A few tracks seem a little out of place depending on where you stood in the crowd as I found out, but their use of pyro and the enigmatic frontman Justins humour and rockstar attitude make up for anything. At points having almost the entire festival grabbing their bellies from laughter, the highlight would come with the teacher-like attitude he took on with the crowd before playing "The Most famous song in the world!" To be fair you can't really fault them, just the mention of that and everyone knows what tune we are talking about and instantly, it's stuck in our heads! Absolutely fantastic way to start a festival night off! The timing couldn't be better either, as it is only a few hours after their set we suffer the most monumental storm! While some rush to their hotels, others run the gamble with camping, this is the time we find if our tents have survived the years of abuse or if we got value for money! Thankfully my 8 year old somehow survived despite an early hour panic after feeling a few couple of drops, but all was well. Sadly those around weren't so lucky! Most notably the poor guy who believed he ordered a military tent…. maybe he missed the year on year news of military budget cuts! It wasn't all doom and gloom though, with that out the way, it seemed that RMF managed to stretch their budget just enough to book two days of decent weather!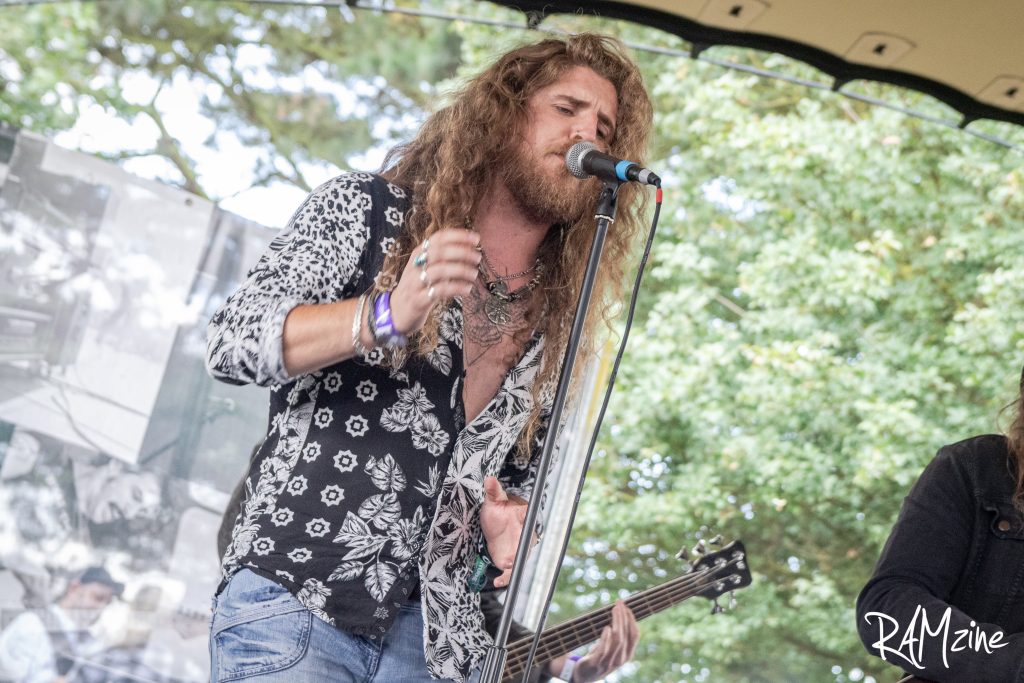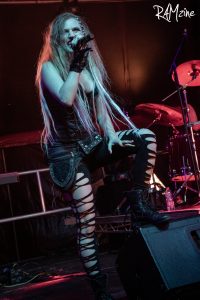 With all the heat and sun to dry ourselves off from any dampness from the nights monsoon, we find ourselves bright eyed and bushy tailed to get in for the early door openers in the VIP bar, Bad Touch. A far cry from their 2017 performance on The Rising Stage, their stripped back acoustic set would be a much calmer way to get the day going and ease hangovers, and despite vocalist Stevie's concern of people, they did come and the set was spot on, something that stuck in the mind of any that witnessed it all weekend. Also holding their own would be Stardust opening up The Prog Stage. A busy stage for an opening band as they bring a small choir to the flank which really pushes the sound into a new dynamic, for plenty they were probably unknown, but having to pass the stage from the main entrance, they attracted plenty that stayed and scuppered their days plans instantly, not a bad start and a great find for many we are sure.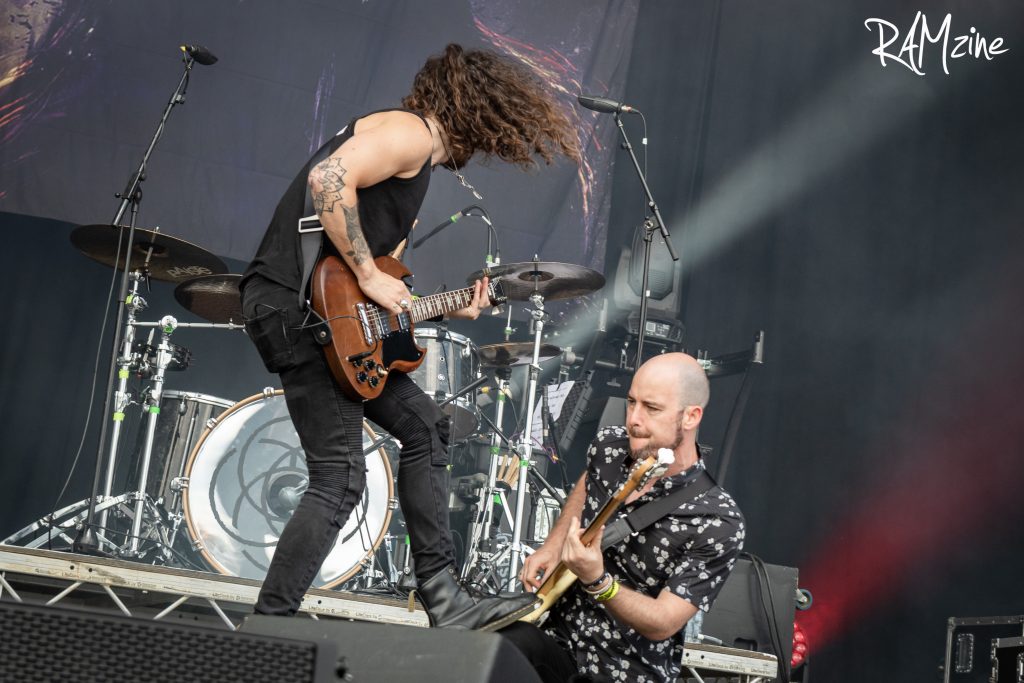 As plans go, it's difficult to stick with one at a festival and that usually begins with navigating the clashes, for plenty though, it's as easy as picking a stage and sticking with it, most obviously the main stage which was opened with Raveneye. The rocking three piece were a fine option to go with and get the mood set for a fantastic day ahead, least of all for those with the VIP access that would be treated to a second helping of Raveneye acoustically later. After catching a fair amount of the Milton Keynes outfit, we have ourselves a walk to get an eye on what other festivities we can find around the arena, plenty making the option to pick themselves a pint or two up at one of the many bars and have a gander at all the fantastic variety of food options about. On our ramble, we come across the rising stage on the back of a trailer, and possibly the busiest it was all weekend due to the local lads Collateral. Their stage show is something to behold and their brand of rock matches it we were lucky enough to catch up with them for a chat not long after, ones to look out for if you missed it for sure!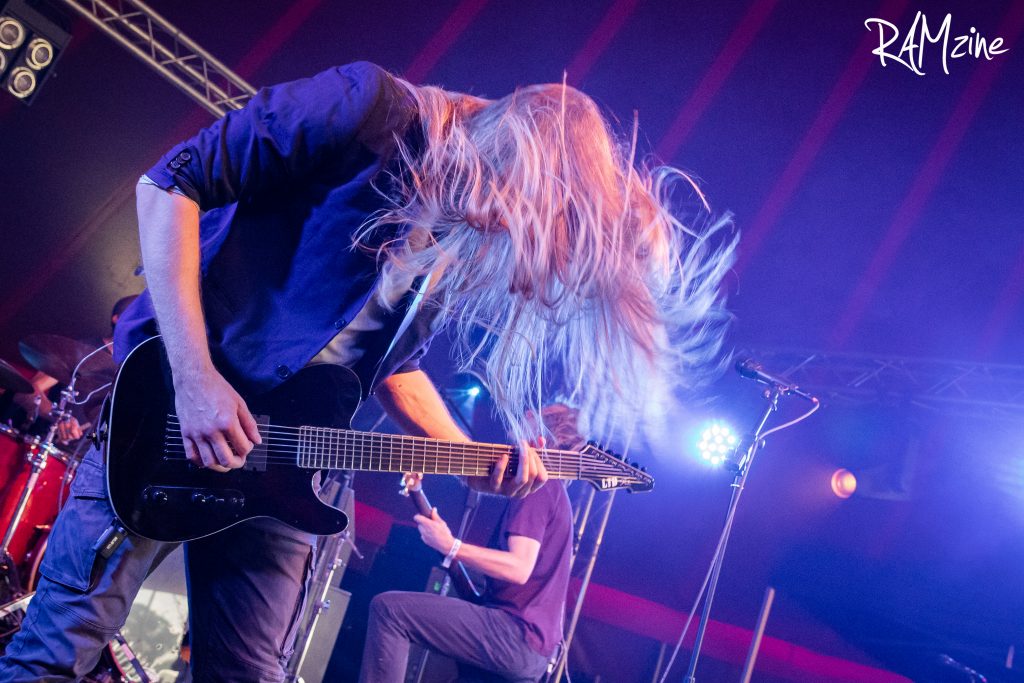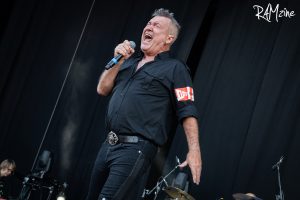 While the masses went for Ugly Kid Joe, (and its easy to see why!) we opted for Vola on the prog stage, having caught them last year at Bloodstock, we couldn't miss the opportunity to see the Danes/Swedes again, and it seems like there were plenty of others that had that thought too! A fantastic, heavy prog rock/metal sound had garnered plenty of deserved attention from the crowd and the smiles on the bands face said it all. Cellar Door Moon Crow were one to peak our interest too, a simple two piece of twin brothers, tackling a sound of classic rock and old school hip-hop, yet somehow it works. Variety is the spice of life and they've definitely got variety! Jimmy Barnes is a name that stands the tests of time, and so does his voice, Scottish made via Australia, his solo career began in '83 and not just one or two, but his first six albums debuted in at number 1 in the Aussie charts, no mean feat! While time takes its toll on most, its clear to our ears how much he can still belt it out, and celebrating his 17th solo album release this year, there's still plenty in the tank.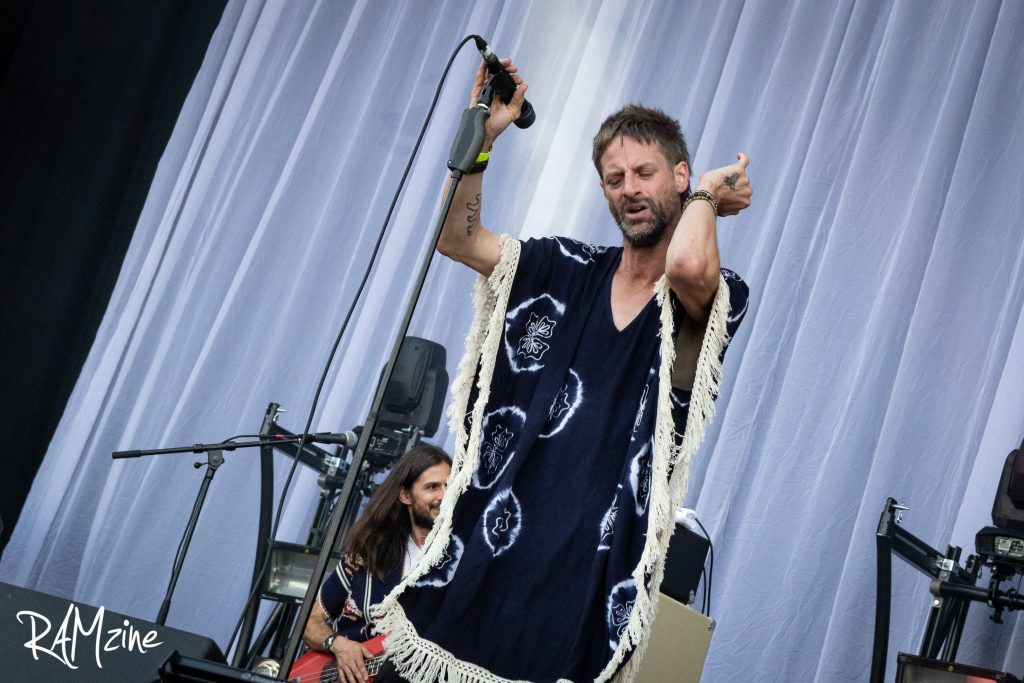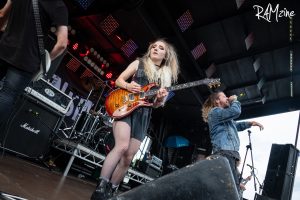 Ryders Creed were next for us to catch after giving ourselves time to refuel, the jerk chicken stall being an absolute favourite food vendor to discover during our time there, and boy did the band not disappoint! High energy rock and roll, you'd think with their live effort that they might believe they're playing Wembley stadium rather than some small trailer! Absolutely fantastic. Especially taking into consideration their beginnings were only in 2017. Jesse Dayton is the strong Texan sounding voice coming from the Outlaw Country stage, and while we have a little stroll over to give them a quick listen, personally we are soon deterred by the mention of religion, while they are clearly talented at what they do and religion might be strong strongly integrated in country music down in the South, it just isn't for me, and taking into account that I am sporting a death metal band shirt and cap, we soon make haste to get out of there. The Temperance Movement need no introduction and have plenty of fans awaiting, but also are Polish outfit Riverside on the prog stage, and without a doubt have done a fantastic job of keeping the spirit alive and continuing after the huge loss of guitarist Piotr in 2016.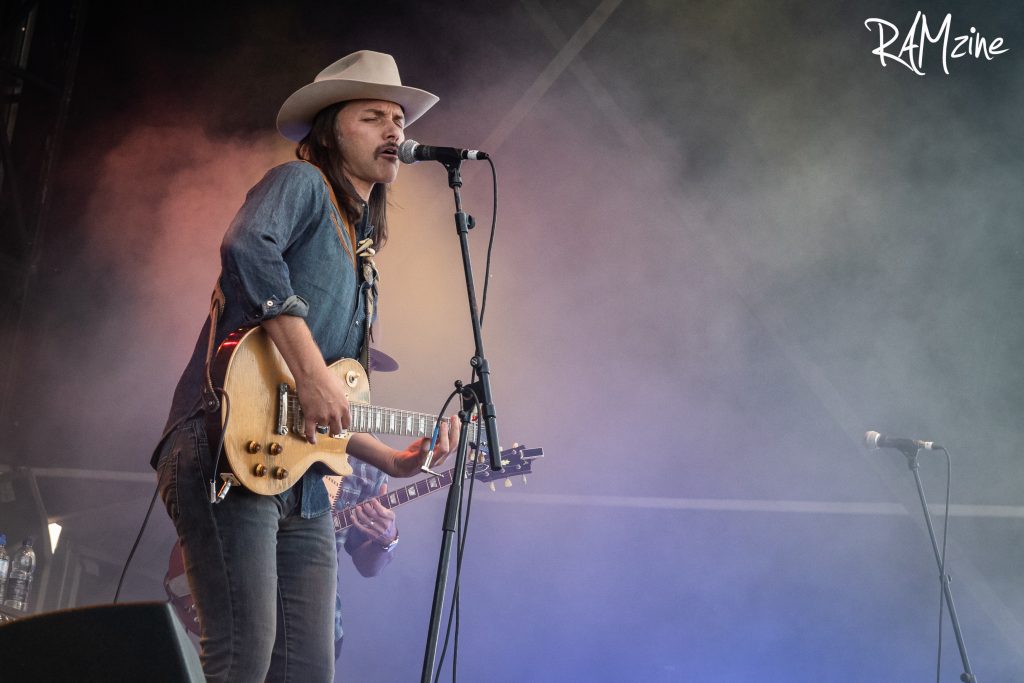 One of the bigger surprises of the weekend would be The Allman Betts Band, while it should come as no surprise just how much they can remind us of their fathers musical talents and sound, it's their fantastic rendition of Prince's 'Purple Rain' that became one of the major talking points for fans; a fantastic song that seems on the cusp of being overplayed by local pub bands across the country, to here it played on the big stage by a band such as this was something that will be etched in our memories until our last days. Having just released their debut album too, we have high hopes of seeing them return soon! The sets stretch and the line up thins out with the majority of people finally having their plans come back together, for the prog stage headliner we have Anathema, and the main stage Cheap Trick, who seem to have been around for an eternity but not been told yet as they bring a high energy, fast paced set to the masses. While some guitarists throw guitar picks out towards the end of a set or every now and then, Rick Nielsen is relentless with it, at points throwing massive handfuls of them! This entertained both the crowd and photographers as some turn into vultures to grab as many from the floor and then hand them out to anyone along the front few rows that somehow missed out.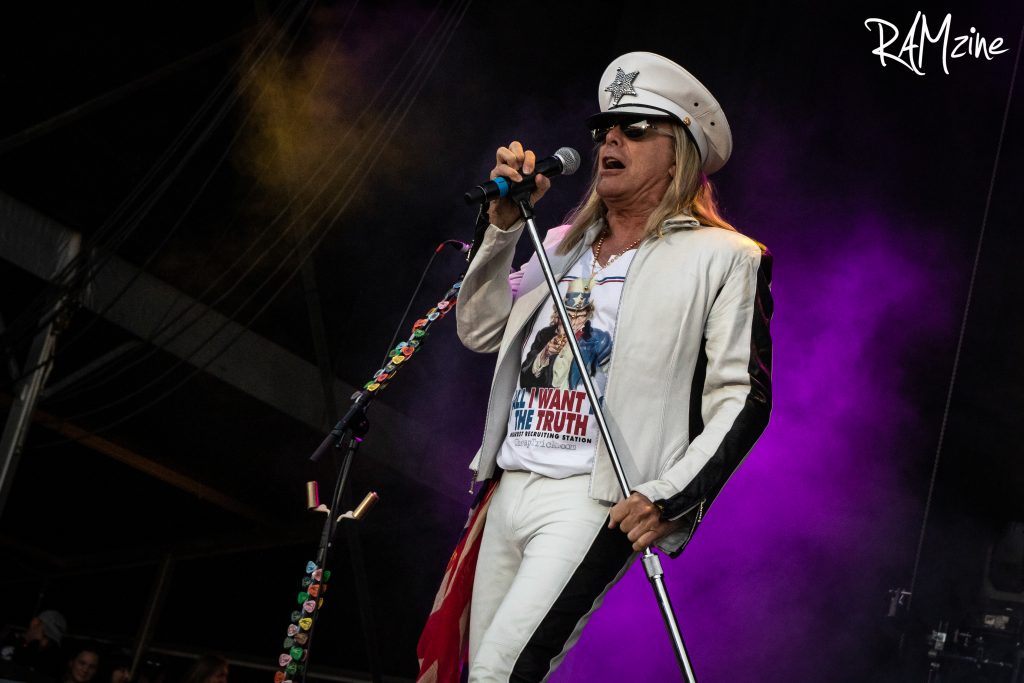 While their high energy rock could be too much for some, the option of Kenny Wayne Shepherd Band was closing The Outlaw Stage, and he brought a monumental two hour set with him! With such a huge wealth of music in the back catalogue, even with the two hours to play, it seems like it was a struggle to choose what to play, but you'd really need to be picky to find something to complain about (unless you are not a guitar fan!) 'Blue on Black' being one of the many favourites to hear which is currently doing the rounds and introducing fans of the heavier music as Five Finger Death Punch recently re-recorded it for release, but with Kenny himself, country singer Brantley Gilbert and guitar legend Brian May all having guest parts. Having a song go to number one in America back then, and decades later have the same song do it again is something special.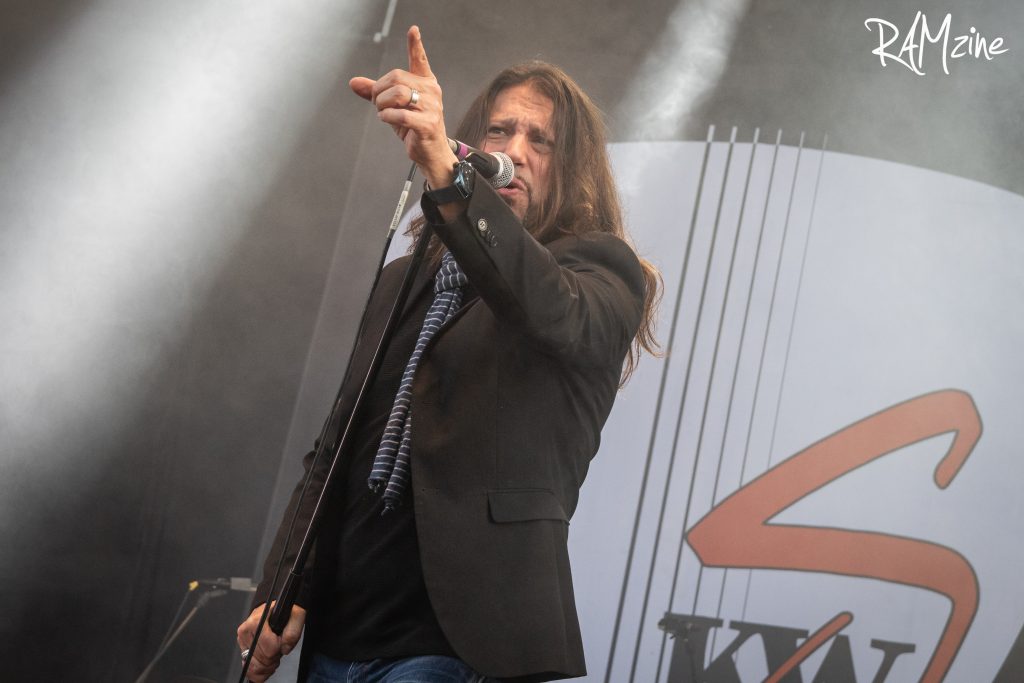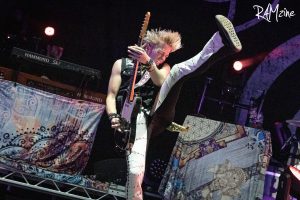 While the legend carries on The Blues Stage, a different set of legends in the making are closing the night out on the main stage. Black Stone Cherry are back for their second time in the headline spot and they know how to make an impression. Kicking off with shots of smoke blasting from the stage, their southern rock feel oozes through everyone making it no surprise as to why they've grown to the size they have. Their current tour see them running the cycle of last years Family Tree, featuring pretty heavily along side Between the Devil & The Deep Blue Sea and Folklore and Superstition. Their debut self-titled gets a good play too while Kentucky and Magic Mountain only get the one track. It plays like a best of set-list, with plenty of features being singles through their time. 'Cheaper to Drink Alone' gets a little mix-up with a 'Purple Haze' interlude thrown in before John Fred gets to smash away on the skins with during a great solo. The energy and variety from every album being different from the previous flows real nicely. Clearly having a great time, they naturally finish in the intimate way they do with every set, with a one song encore of 'Peace is Free', truly special.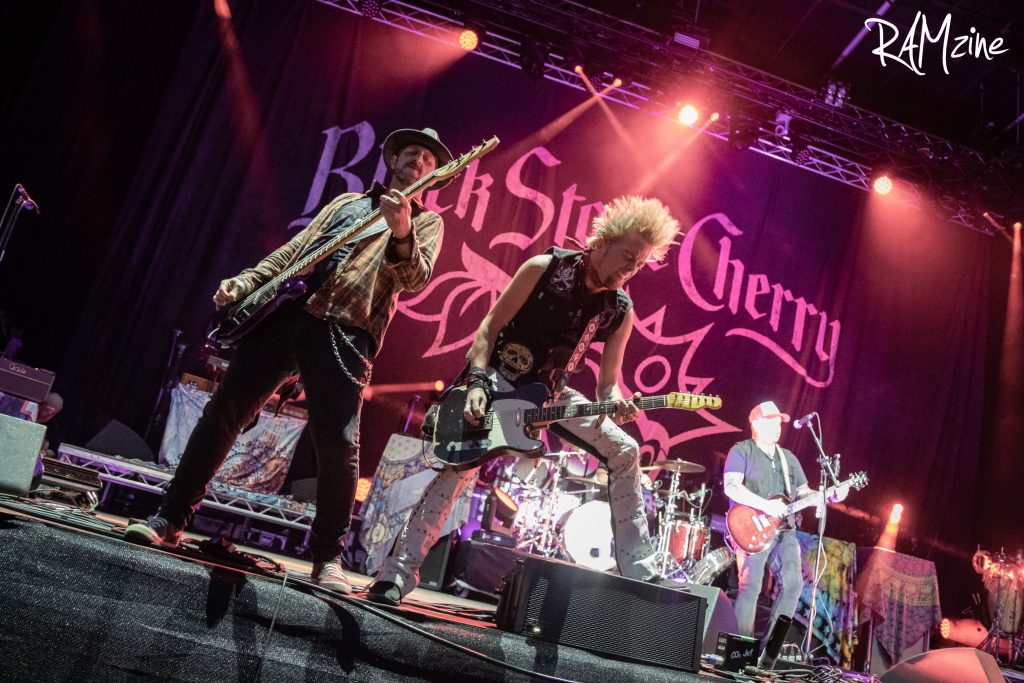 Sunday brings a day of ultimate sacrifice! If you thought Saturday had its issues with clashes, then Sunday is a whole new ball game, almost all stages clashing together for the most part. Our first port of call was a catch up with Crobot before all the action started, and soon after a run down to the Grooverider Stage to catch our favourites Blind River, it should come as no surprise that we would be there for them, we've been lucky enough to champion and sing their praises from the start, and as always, they impressed! With only 30-minutes to play, there wasn't much time for Harry to have many words with the crowd, but their performance was more than enough to make up for that. From then on, every band over the blues and Grooverider Stage would clash. Picking up a slot opening the main stage would be Austin Gold, unknown for most the people around, I've had the pleasure to see them through the years growing as a pub band, as one of the few hometown heroes so to speak in what would otherwise be an over-saturated covers band city. The four piece made the main stage feel like they belong. To see the crowd go from the small groups waiting from the start, to the absolute droves that were watching and enjoying it by the end of their set, they've proven themselves to be the melodic rockers with a classic touch they are classed as by many and finally getting the recognition they deserve, a great high to celebrate the release of their latest EP/mini-album, Austin Gold.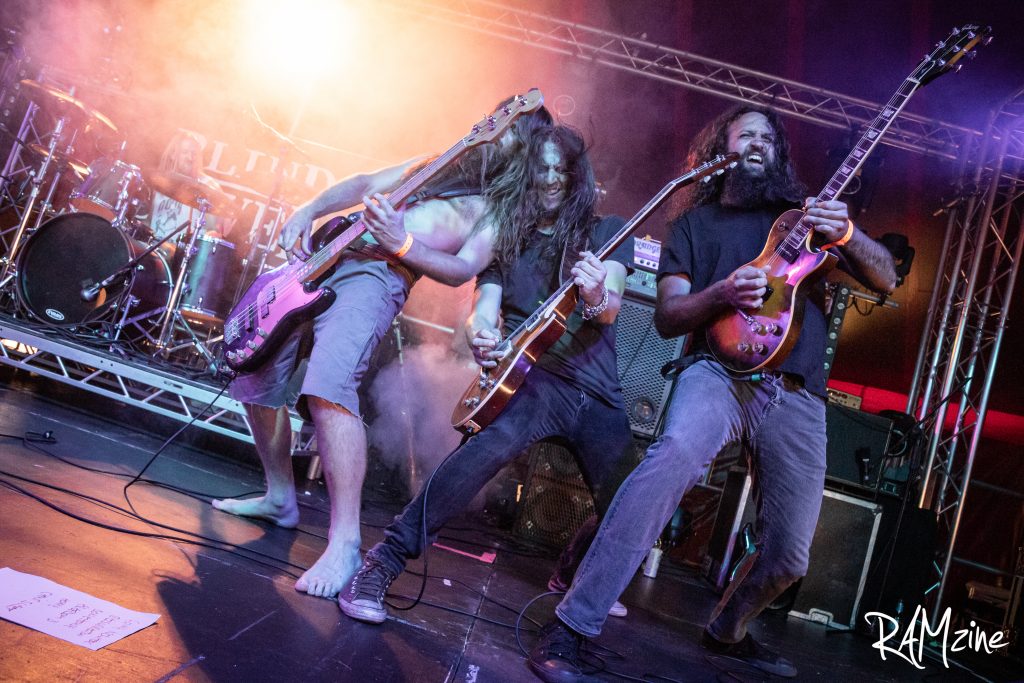 Elles Bailey was the perfect follow on the blues stage, her smoky, soulful voice was something to instantly fall in love with on the first note, she performs with heart and has a band behind her that are of the highest caliber. Clearly enjoying her time, not even the issue of a lose mic cable falling out time after time could stop the show. If that wasn't your thing, variety was something the festival was drowning in with King Creature rocking up the Grooverider Stage, and rockers Piston taking on the Rising Stage, something for absolutely everyone. Living Colour need no introduction, and they've still got that flame of raw talent burning brightly, we make a point to catch desert rock legends in the making Steak, it's been so long since we've caught them but they still have that magic. Kip clearly enjoying his time with his smile constantly break through the smoke, with a nod to those that found them since their last release (and one of our 2018 albums of the year!) No God to Save, "Here's one you might know!" and smashing out 'Living like a Rat'. People turning up to the tent soon left with a beard and pint, regardless of their sobriety and gender after their discovery of the Londoners.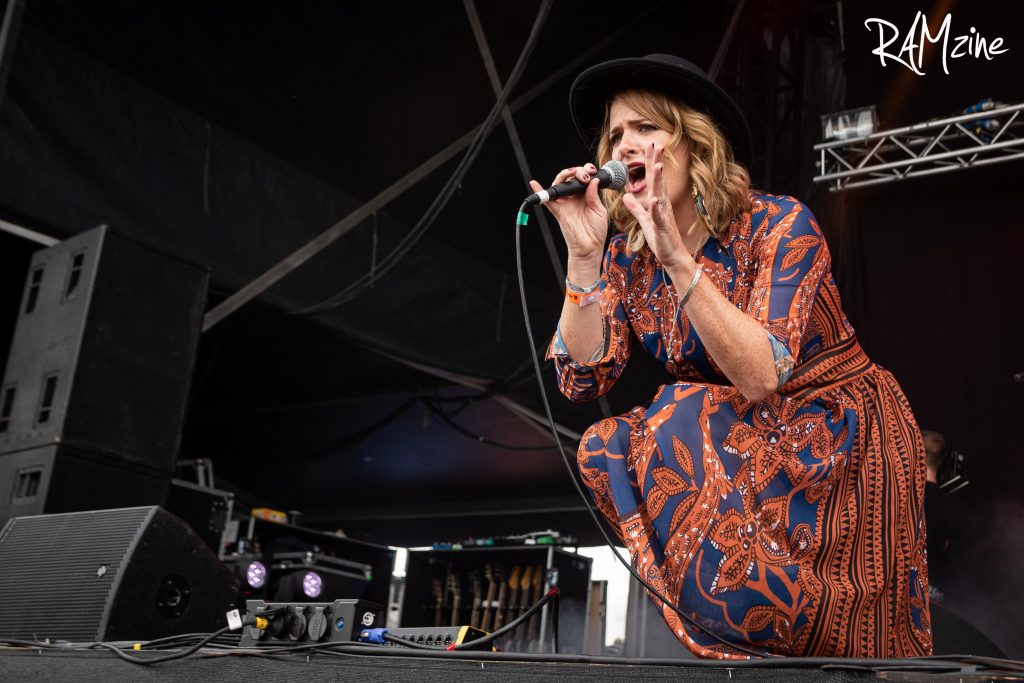 While Gin Annie UK had the rare pleasure of getting a set without any clashes other than the acoustic VIP performance of King Creature, it was a great time to refuel on beer, food and catch up with friends to work out plans of action with possibly the most difficult clash of the day, the main stage had the extremely talented Inglorious, destined for stardom, the blues stage had their very own legend, guitar virtuoso Richie Kotzen and the groove rider stage, Crobot. Taking a gamble and expecting the majority to go to the two bigger stages, we opted to add our heads to the stage for Crobot, several years have passed since last witnessing their amazing stage show while supporting Airbourne, they were back in the run up of their next release, Motherbrain. A change up in the rhythm section since their Airbourne days, the spirit of the band is still as we remember it. Pulling out quite easily one of the best performances of the weekend! Their funk-rock was a perfect warm up to the Chris Robinson Brotherhood, formed during the hiatus of Black Crowes, their psychedelic blues-rock/folk is bolstered out with almost enough releases to equal one per year since their formation in 2011, their laid back sound is perfect for sunsets and beach days, but the clear blue skies and rolling hills of Maidstone were as good a place as any for their time on stage.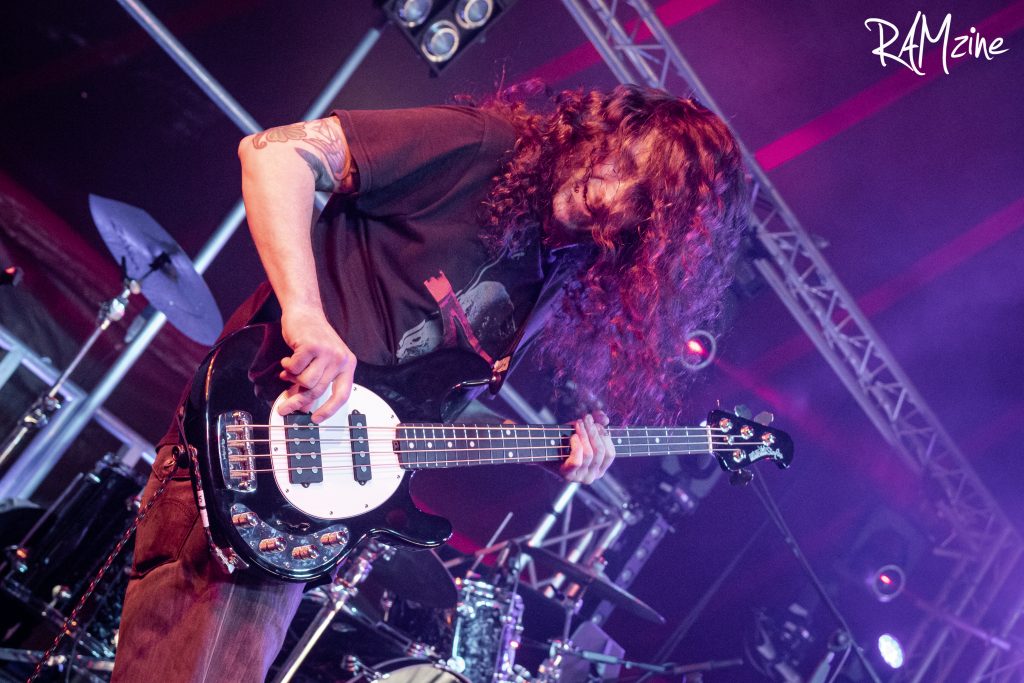 The Obsessed bolster up the heavy end, legends in their own right, and despite an issue with the lighting rig being dealt with and a ladder sitting right in the photo pit blocking the view, they continued bringing the finest slab of Maryland doom and performed amazingly. The Fallen State were bringing the Rising Stage to a close, and with guitarist Dan Oke busy growing a lung as the lovely fill-in Sophie Burrell (formerly Saints of Sin) mentioned after a quick chat by the press area, the stakes were high. Naturally, they and Sophie played without any concern and nailed it like the true professionals they are. They definitely got themselves some new fans and are looking to return to the stage again with Dan come their headline tour mid-October.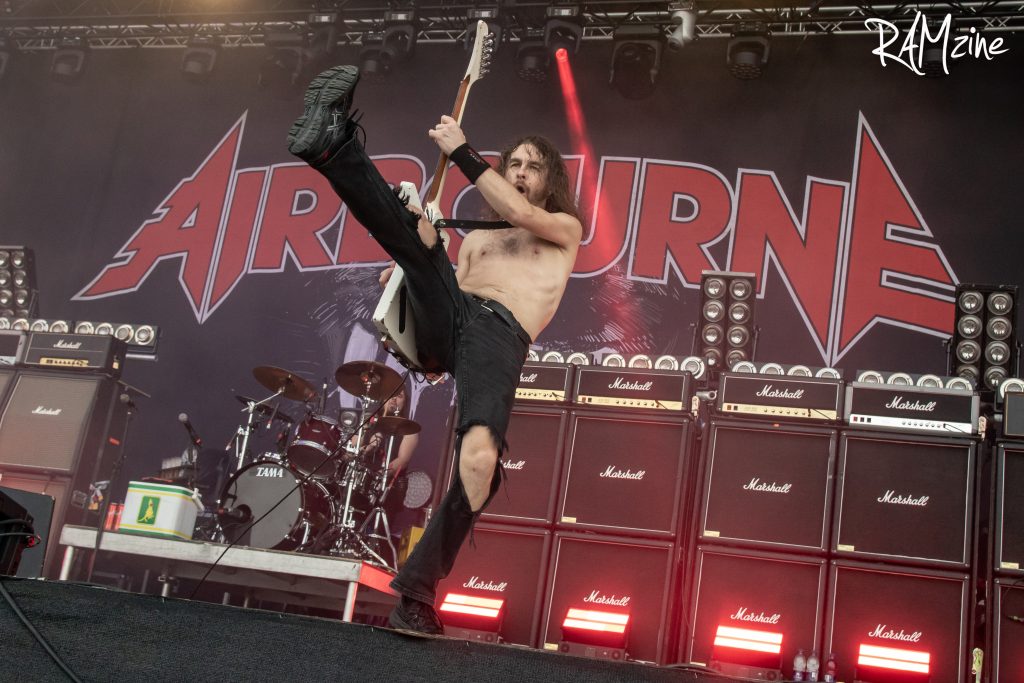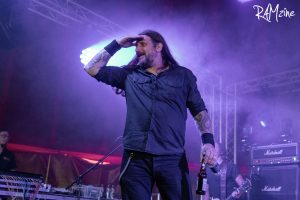 Airbourne return and turn the energy up to 11 like they always do. Guitar issues from the very beginning were doing nothing to dampen the high spirits, and just like that they are swapped and firing on all cylinders. You know what to expect with the Aussie outfit, and they put it all out there on the stage. A tough old game was to be played though as accidental headliner due to Monster Magnet being unable to make the tour due to surgery, and have Orange Goblin clashing with them. Ben and the boys bring the goods though, and with the added bonus of a little longer on their set, they manage to find the energy to nail out a 17-song set. Ben has always been one to entertain and involve the crowd, and he shares his thanks for the masses that pack out the tent for choosing to spend their time in the tent rather than with Airbourne. But nothing made the day more for the fans than when he jumps down to share drinks and high five everyone he can, being the sheer man mountain he is, it isn't long until someone is injured, and with one high five comes one fans dislocated shoulder! The London heroes of the underground are loud, proud and tight as ever, from the heavy hits to the mellow, the band absolutely owned their headline show.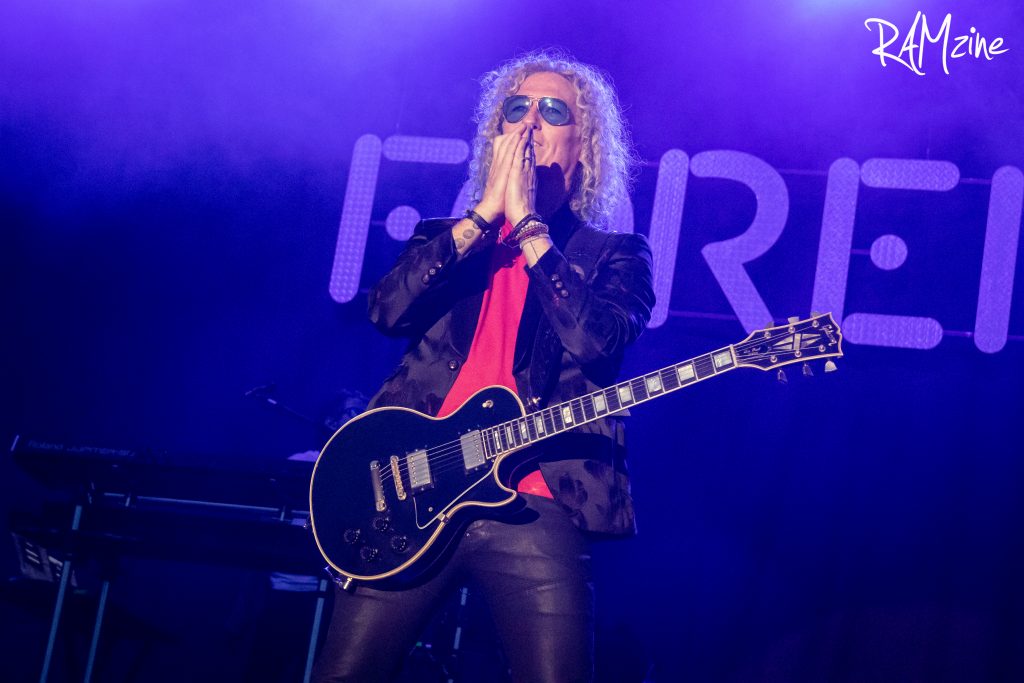 A much calmer experience was to be had at the opposite end of the site with the ever infatuating Beth Hart, no matter the size of the stage or crowd, she creates this intimate, hypnotizing vibe with her voice, something that can stop anyone in their tracks, but as tempting as it is, we cannot forget our appointment with main stage headliners Foreigner. Beginning in 1976, it is fair to say you are not going to be able to hear everything tonight, there is only so much time they can play for, but we are sure to hear some favourites and hits! With a line up mostly consisting of members that joined this side of the millennium, their task is to continue and uphold that spirit of the band and really do them justice. Regardless of opinion going in, everyone that watched was easily blown away by them doing just that. The showmanship, craftsmanship, and all out connection with the crowd is second to none! The joining on stage of original founding member and songwriting hall-of-famer, Mick Jones, after a period of introducing the band really puts the cherry on the cake.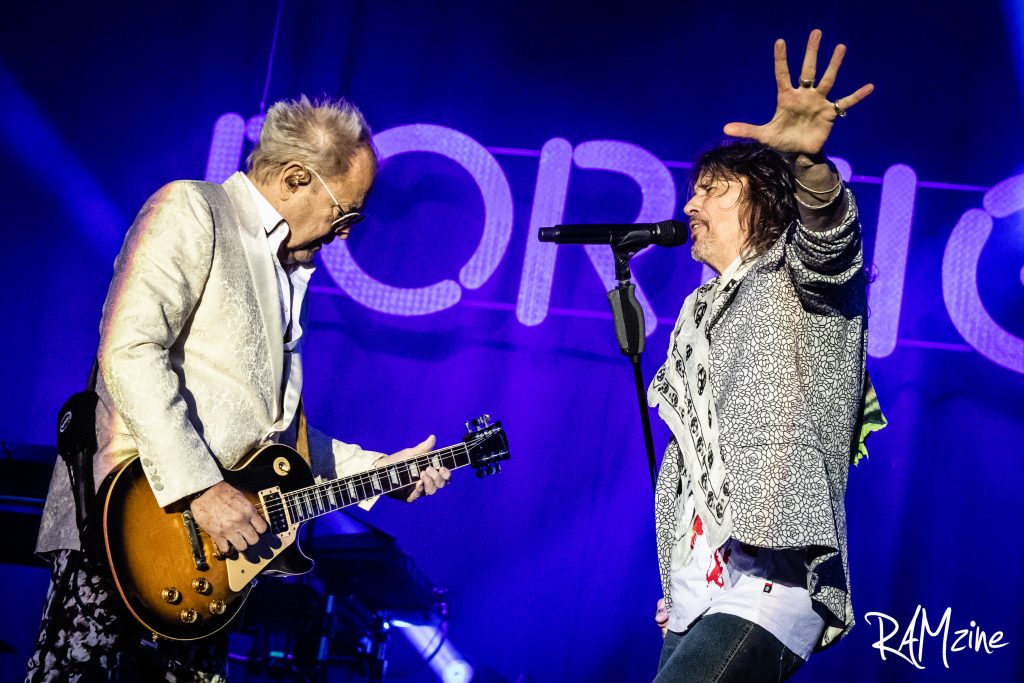 The playing for the crowd and performing of songs are top line, and the showcase of a drum and keyboard solo add flair, but with those and the long introductions, it does feel like much more material could have been fit in instead, none the less they've earned the right and bring the weekend to a fantastic close! While the weekend might be over as quickly as it began, memories are made that will last a lifetime, and with that people are already rushing to book up their hotels, tickets and time off for next year! With something for everyone, literally everyone, you'd be hard-pressed to not find anything valid enough to stop you going, naysayers and haters missed out, we had the time of our lives!