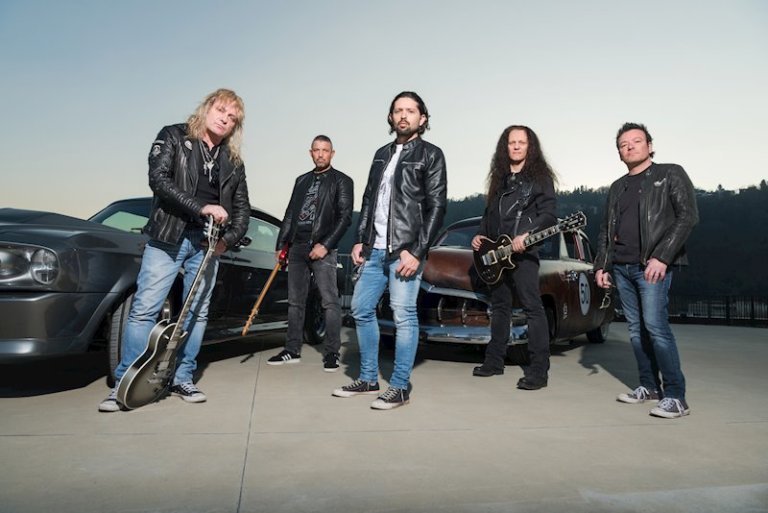 Leo Leoni, founding guitarist and songwriter for Switzerland's best selling rock band Gotthard is due to release his second studio album under his self-monikered name with CoreLeoni II due on 27th September through AFM Records.
Coreleoni came together following Gotthard's 25th anniversary celebrations. "When we play shows, we nowadays have to leave out a lot of the old songs as there are so many new ones that have to find their place in the setlist" The guitarist reflected. "But especially a lot of the old songs really mean a lot to me and will always be a big part of me. That's why I decided to record them again and bring them back into the current times, sound-wise."
To that end, Leoni gathered a group of close friends and long-term colleagues to go out on tour last year playing big, timeless classic rock and for pure music nostalgia, with an added a modern sound.
Fellow Gotthard founding member drummer Hena Habegger and former band member guitarist Jgor Gianola (who's also played with U.D.O. and Jorn Lande) came on board, as did bass player Mila Merker (Soulline) with the vocalist role taken by former Lords Of The Black singer Ronnie Romero who's made quite a name for himself by appearing as part of Ritchie Blackmore's reformed Rainbow in recent years.
CoreLeoni's tour went down well, and now follow the release of The Greatest Hits Part 1 with some added variety.  Tracklisting for CoreLeoni II is : 'Waltz No. 2' (a Dmitri Shostakovich cover), 'Standing In The Light', 'Love For Money',  'Open Fire', 'Angel', 'She Goes Down', 'No Tomorrow', 'I'm Your Travellin' Man', 'Make My Day' and 'Mountain Mama' (all Gotthard covers), 'Queen Of Hearts', 'Don't Get Me Wrong' and 'Il Padrino' (a Nino Rota cover).
Ahead of the album's release CoreLeoni has a new single out in the shape of 'Queen Of Hearts' and you can watch the video for it right here at RAMzine.
Gotthard themselves are only recording selected dates this year while beginning the recording of a new album. Every studio album after their debut reached number 1 in the national Swiss charts, and all received several platinum awards. The band also holds a rare diamond award for selling more than 1 million records in Switzerland.