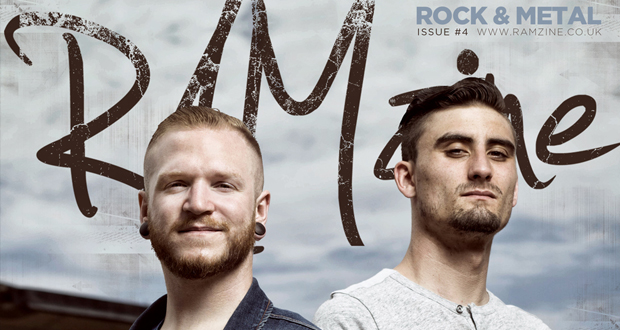 Issue 4 of RAMzine is out now featuring a mightily 5-page review of Download Festival 2015! We started our festival weekend watching All That Remains, and of course finished with KISS! In amongst these two greats, we talk through 38 bands.
Head to www.youtube.com/TheRamzine to see all 20 of our backstage interviews, including Black Veil Brides, Black Star Riders, The Dead Daises, & All That Remains.
This issue sees us catch up with We Came As Romans, just as they are about to release their brand new self-titled album via Spinefarm Records. Vocalists Dave Stephens tells us about the new single saying; "Regenerate is a call for action, a cry to make people stop fighting". Dave also tells us his opinions on bands releasing music quicker in this every changing industry, and what he thinks of the decline to CD sales.
After hearing all the excitement of Vans Warped over in the USA, we just had to take a look at Vans Warped Tour UK! The festival that takes place this November, co-headlined by Asking Alexandria, and Black Veil Brides is set to be one of the best UK dates yet!
There is a New Grave band in town, and they are Dead XIII! Made up of Kurt, Symon, Ste, Paul and Spike – The Dead XIII (pronounced 'The Dead Thirteen') are a horror-metal act from Manchester. They are touring right now with Ashestoangels and Farewell.
Towards the end of the zine you will find our reviews pages, featuring a range of signed and un-signed artists. There is some really incredible new music there, and we do like to cover a range of genres, so perhaps find something new!
Read the issue in full for Free here:
[divider]

[divider]
Help our little team grow, buy a limited edition print copy for just £3 including delivery to any UK address. Click Here. Free goodies will be included for the first 10 people that order!