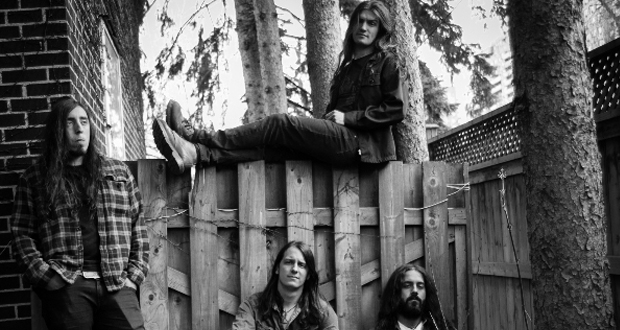 After kicking off 2015 with two successful North American tours as part of the XG Guitar package with Vinnie Moore, Uli Jon Roth and Craig Goldy and opening the recent Girlschool/Crucified Barbara tour, Toronto  based rockers Old James have decided that it's time to step up and record their debut full length album.
And this is where they are reaching out to the public. The band has launched an Indiegogo campaign to help finance the recording of their Speak Volumes album, offering several perks for contributions, ranging from download cards for the band's current self titled EP to t-shirt / EP bundles, drum and guitar lessons via Skype and personal songs written for contributors amongst other items. The band is aiming to raise $10,000 for the recording and production of the album, a music video, studio expenses, artwork costs and more costs associated with the making of Speak Volumes.
Drummer Chris Stephenson said, "For having only been a band for the past two years, it's incredible to look back already and see all that we've accomplished with two major North American tours, a management deal and now the opportunity to record an album in L.A. . This has all been possible with help from fans, friends and family.  There's lots in the books for the release of Speak Volumes and couldn't be more excited!"
Within the past year Old James have made huge strides, securing endorsement deals with the likes of Dean Guitars, Mapex Drums and Remo Heads as well as landing a management deal with Morriello Music.  The band released their  debut EP, featuring the single 'Kill Off the Rose' earlier this year through Native Alien Records.