Reading now is not the Reading of the past. It's no secret that rock fans have voiced their disapproval outload throughout the course of the last decade over the festival's gradual integration into mainstream territory. In 2018, the feeling that rock and heavier acts are being swept to one side is understandable, though to be honest the situation isn't as a bad as it may seem. Rock is still a fundamental pillar to Reading and the proof is in the acts they manage to book. Relevant, pioneering bands make up the majority of rock that's being showcased at the festival, this year included. Arguably more so than Download. So, what went down? Has Reading really sold its soul? Is rock dead in the eyes of the masses? Well, here's our review of Reading Festival 2018…
Friday
Thunderpussy aren't the subtlest of bands if you couldn't have already guessed, but god damn are they fabulous right off the bat. Mixing soul with 70s glam with a touch of glitzy riot grrrl, it's nothing new but what a display of rock n roll that got hips shaking and heads bopping with an infectious groove that you simply couldn't deny yourself. This was short-lived, however, as we trudge over to the main stage for the second band on our watch list today.
If ever there was argument that rock in the mainstream is dead, look no further than Waterparks. Drawing in a crowd that we assume have yet to undertake their GCSE's, it's as if someone dressed up three lemon sherbets and put them on the stage to dance around to their own backing track.
By this point, we were on the verge of tears anyway after what we'd just witnessed, but soon The Xcerts put things right down The Pit, displaying true sincerity in one of the most empathetic displays of emotion throughout the whole weekend.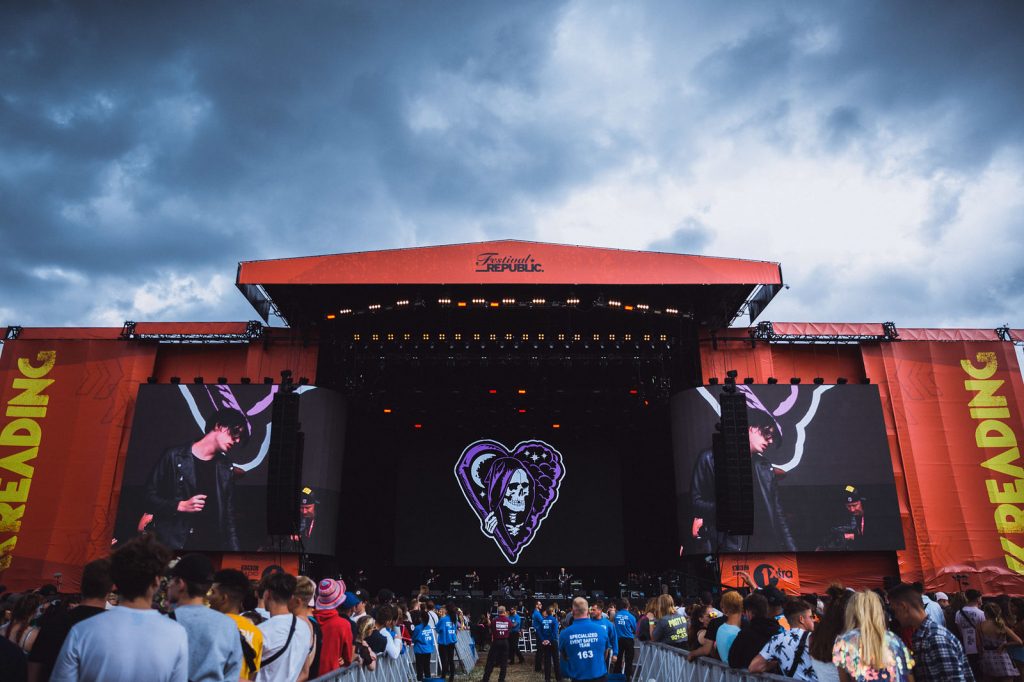 Though many in the crowd are anticipating Post Malone, this does not deter Creeper who come bounding onto the main stage to the mosh igniting 'Susanne'. Despite the limited backdrop that most of the acts are also subjected to for whatever reason, this resulted in a more focused performance that hit a home run as the Southampton sextet stood determined to make Reading theirs.
The level of importance to set of The Fever 333 cannot be understated. By far the most impactful performance from any artist we've seen in recent years. From the moment former letlive. frontman Jason A. Butler takes to the stage in his black boiler suit with matching head bag, all eyes are fixated on him and cannot be torn away. Then, fucking, BOOM!! An outpour of energy erupts on stage and does not let up for the entire set that flooding the stage with sweat and adrenaline. Mesmerizing, invocative, violent; you will hear this name a lot over the coming year. Big things are coming.
Pulling together what we just witnessed, we're brought back down to earth with I The Mighty, who manage to hold their own and manage to put up a decent alter-indie set that managed to calm the waters of The Pit for a while. Trophy Eyes keep this trend up but are somewhat forgettable with very little excitement or enthusiasm to be playing where they are. Disappointing.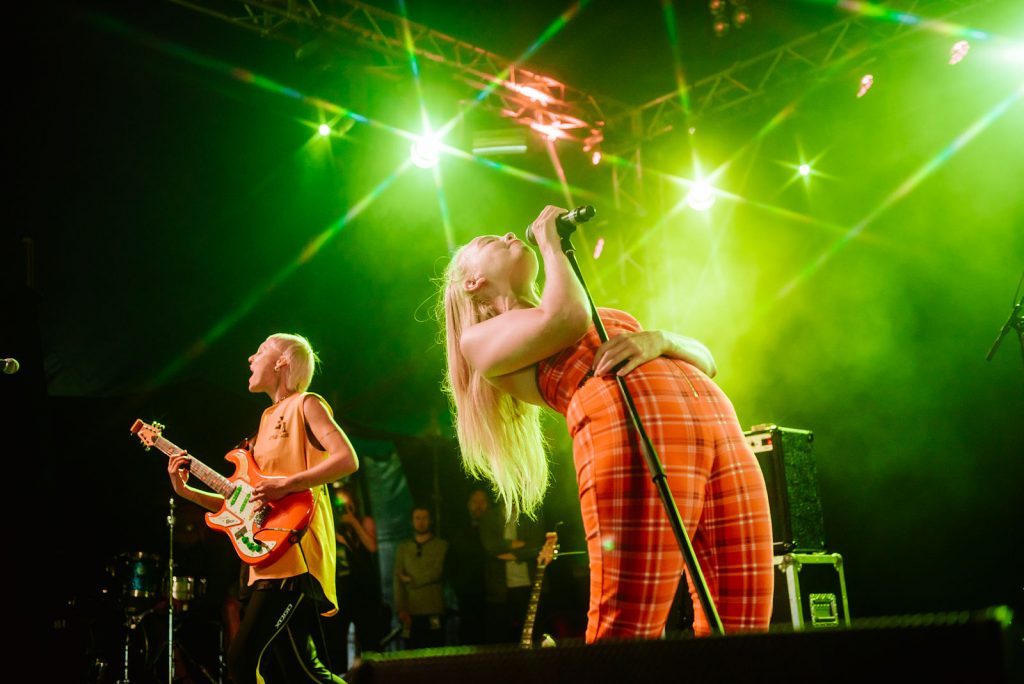 Meanwhile, on the Festival Republic Stage, Dream Wife seem to have picked up where Thunderpussy left off. Put side by side, you'd be mistaken that these two were the same band. A little more experimental in their sound though lacking imagination in the presentation department as if they'd roly-polied through a thrift store.
The biggest surprise of the day comes in the form of Royal Republic. The walking definition of the word fun, these Swedes with their golden sequined jackets, shirt and tie combo choreographed their way into our hearts. Take the tone and energy of The Hives, the blues riffage of Clutch and add a dash of Roy Orbison for flavour, and buddy you got yourself the greatest wedding band of all time! Throw in a totally unexpected and pitch-perfect cover of Metallica's 'Battery' and it goes to show that not all heroes wear capes.
Over at the BBC Music Introducing stage, Fizzy Blood bring some catchy tunage… and a spot of rain. No matter, more and more onlookers are drawn in by their big pop-rock vibes that have more hooks than an expedition with Captain Birdseye. Smart, fun and interesting that would not be ruined by a splash of drizzle.
On the subject of rain, back at The Pit, we're not entirely convinced it's La Dispute's performance which is packing out the tent or the now torrential monsoon outside, which we're sure the experimental post-hardcore outfit didn't mind. Met with something new and ever so slightly challenging, the five-piece did their sound justice tonight.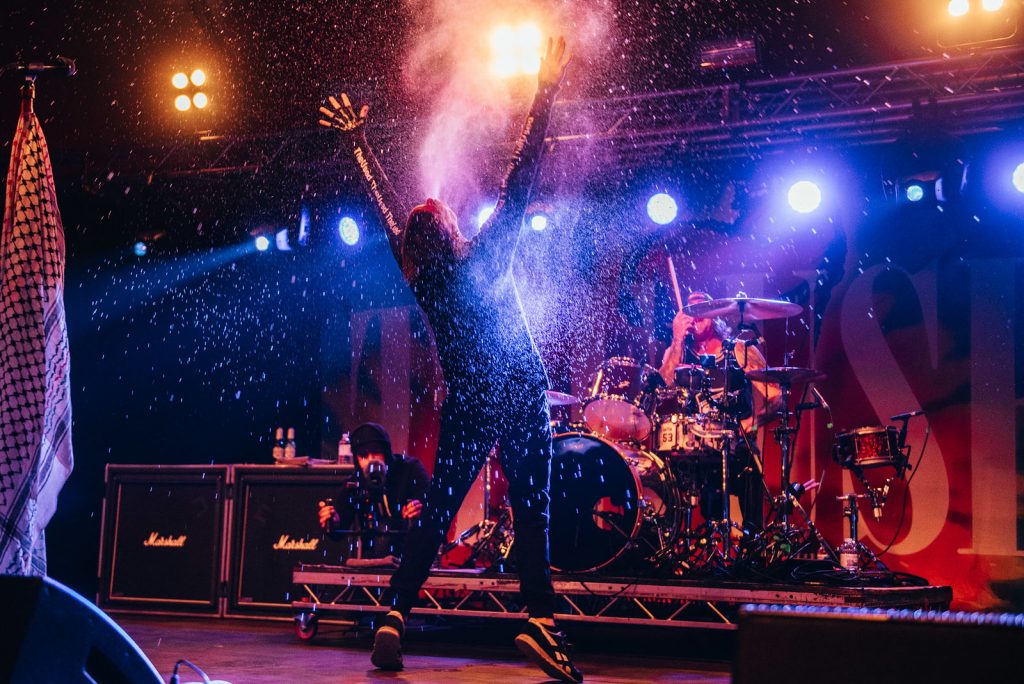 Ending any day on the punchy emo punk of The Used was well rewarded, despite the 45-minute delay of their arrival. Still, their energy is on point and ticked all the boxes as pits erupted and voices rang out over Bert McCracken's enduring vocals that's resonated with fans for the good part of two decades.
Saturday
Doesn't matter where you put them or in front of what crowd they play to, Skindred will always manage to find a way to get the party started. Rampaging through a crash course of their back catalogue ('Newport helicopter' and all), there's nothing but a good time to be had from the South Walian reggae metallers here.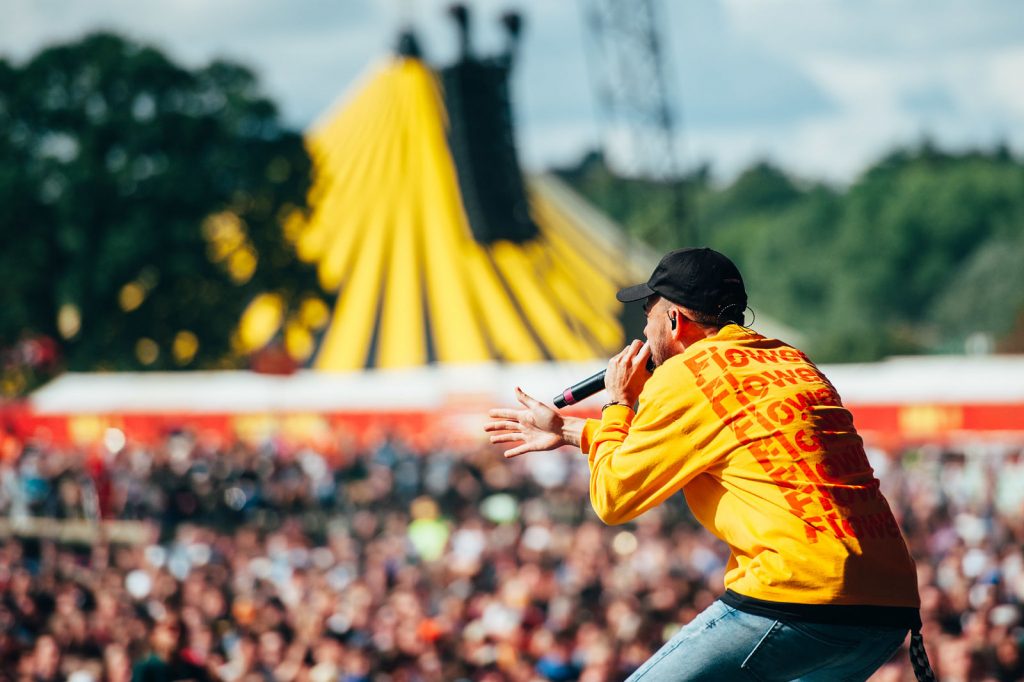 Certainly, one of the most 'must see' slots of the day, Linkin Park's Mike Shinoda is met by the most vocalised crowds of the festival so far. Appreciating the sentimentality and sensitivity of his performance, having been just over a year since Chester Bennington's passing, seeing Shinoda up on stage, alone, hits home hard. Uncomfortable and yet so important to witness, a tear jerked audience shouts its lungs out to the late singer's parts of 'In The End'. Undeniably emotional that brought a lot of people together that showed the world in the flesh just how much Bennington meant to his fans, all the while Shinoda holding his own and staying strong throughout.
The mood is then shifted down a much happier route down nostalgia lane as Sum 41 take to the main stage, horns and middle fingers raised all-round. Busting out bangers like 'The Hell Song', 'In Too Deep' as well as a rather unexpected cover of Queen's immortal 'We Will Rock You', the fun doesn't stop for a breathe here. To top it off, Shinoda makes one final appearance, accompanying the Sum's frontman Deryck Whibley in a cover of Linkin Park's 'Faint', or at least half of it anyways.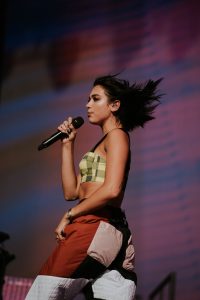 To give pop sensation Dua Lipa her dues, the singer at least has a bass player and dancefloor filling groves for days, unlike one previously mentioned trio… ahem, anyways; her swagger is on point however her choreography is a tad bit stale but she gets the job done. What more can you ask for, really? Meanwhile, The Pit welcomes Blood Youth to the stage who inject some hardcore ferocity into a rock-starved audience. It's a welcoming sight that adds a spark to the festivities even if it is a little short lived.
Next up are Brighton's Black Peaks who have taken the imagination of the rock underground by force. Only weeks before their hugely anticipated sophomore record [All That Divides] comes our way and the anticipation couldn't be higher. With the eruption of 'Can't Sleep', the tent lives up to its name as bodies begin to slam as if they're covered in ants. The dynamics Black Peaks have mastered on stage is a testament to how much the UK needs this band. One of the bands everyone needs in their lives right now with another flawless performance in the bag.
Panic! At The Disco have gone from ambassadors of the emo phenomenon at the turn of the millennium to becoming another cog in the machine. Plastic, safe and soulless, it's safe to say that without Brendon Urie, Panic! don't have much of a leg to stand on. Don't get us wrong, Urie is on point and so are the band from a technical standpoint that's uncanny to their studio recordings, which is also their biggest weakness. Flat and predictable, a far cry from their quirkier origins.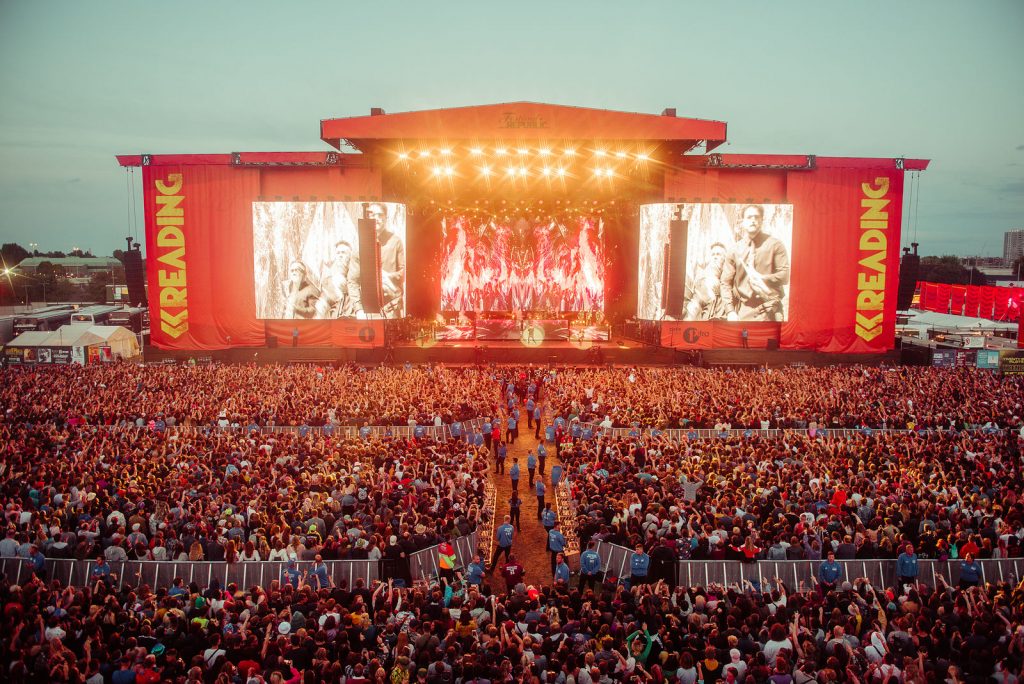 As our adrenaline stockpile reaches dangerously low levels, Pendulum soon sort that out over at the BBC Radio One tent. Rammed inside and out, after a 6-year long hiatus, the Australian drum and bass five-piece decimate anything with an eardrum tonight. Not a single human being could physically hold themselves back as we step back into the worlds of 'Propane Nightmares', 'Tarantula' and the classic 'Hold Your Colour'. Uniting all tribes, Pendulum are an anomaly that we welcome back with open arms.
Beartooth are on form and what they can achieve with half a tent most headliners can't with tens of thousands. Their anthemic hardcore pulsates and ravages what little audience they have at this point, which does nothing to deter them.
Rounding things off are Papa Roach who bring this nostalgia train home. With the tent now finally full, Jacoby Shaddix is at his energetic best even for such a late set. With a setlist that's chock full of belters that leaves the best until last with 'Last Resor't/'…To Be Loved', in all their glory. Papa Roach sign off this Saturday on a high.
Sunday
Being one of the most primeval musical forces in the UK, Sleep Token are as mysterious and sinister as their reputation makes them out to be. Hooded, cloaked and masked, little is truly known about this five-piece except they worship a deity named 'Sleep' and that they're merely vessels of its bidding. Beautifully haunting vocals that take the tent by surprise that at times was almost unsettling. Their cover of Outkast's 'Hey-Ya' rears its head that only adds to the confusion which we cannot tear ourselves away from. One hell of a show that we won't be forgetting in a hurry.
The more than underwhelming attendance of Billy Talent is staggeringly mind-blowing. Either due to the weather or hangovers, at 2:15pm the main stage is a ghost town. Playing to less than a thousand people, the Canadians simply do not give one tiny mouse's bollock of a fuck. Brimming with charisma, vocalist Benjamin Kowalewicz worked with what he was given as the band remained tight throughout.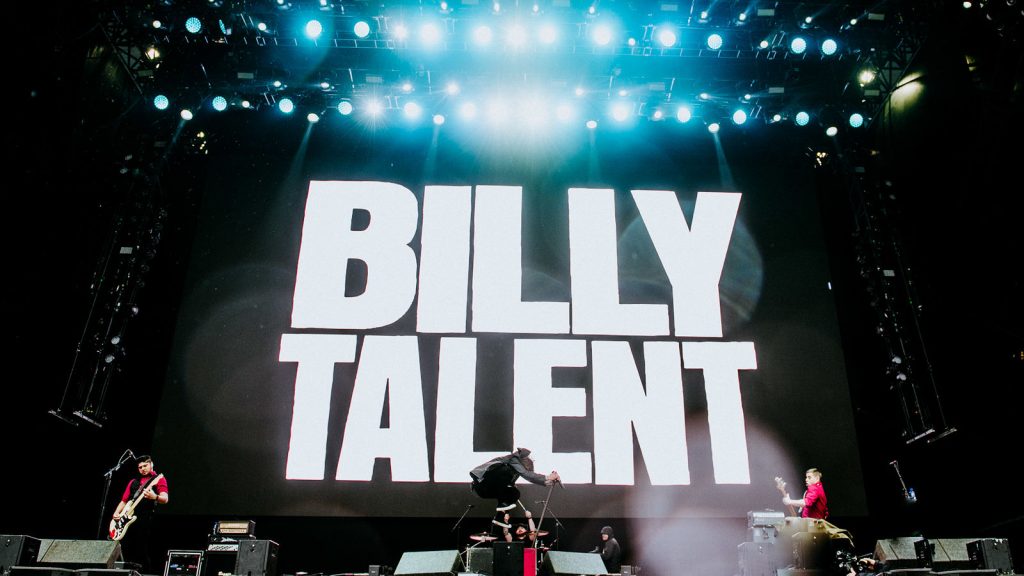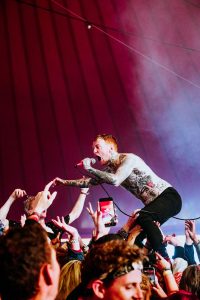 Today's antics would properly begin with a surprise visit from Frank Carter & The Rattlesnakes down at The Pit. What would we do without this man, god only knows. You'll be hard pressed to find someone who's as more widely respected in the rock scene that Carter. His undying devotion to putting every ounce of blood, sweat and tears into his job is the standard that all bands should look up to. Tent wide circle pits, crowd surfing and a brief cameo from Carter's mum, you could not have experienced anything more insane than the carnage on display. If there ever was a reason to come to Reading this year, this would have been it.
Trap metal figurehead Scarlxrd does not have the same effect over at the BBC Radio 1Xtra tent. The hybrid of metal and rap is nothing new and when done right is unforgettable. We do not see anything of the sort here. An obnoxious reflection of metal culture from a man who simply doesn't know what he's doing.
Back at The Pit (which by this time has become our second home) Normandie's brand of post-hardcore stands its ground and makes a decent impression. Melodic with a satisfying punch, they tick all the right boxes that hold our attention ready for Milk Teeth who delight us with their spritely punk rock and choruses that manage to stick in our heads all afternoon.
Despite Black Foxxes vocalist/ guitarist Mark Holley being under the weather, the Exeter three-piece manage to succeed without a hitch. Where Holley gets his energy from, fuck if we know, but what we'd give to see him on a good day. There's an underdog vibe that LOWLIVES seem to be giving off. Certainly, trying to prove themselves on a stage that's already seen its fair share of bedlam. Storming out of the gate all guns blazing in a torrent of head bopping riffs that's got our fists pumping in the air. A little thin in the crowd department that lacked the atmosphere they deserved, which is a tad unfortunate. More for us as we see it.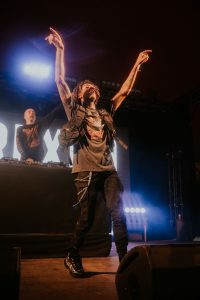 Scarlxrd returns for a second set over at The Pit to not much success. Given the different set of crowds present at each respected tent, perhaps there would be a step up in his performance? Well… no, is the short answer. It's the same copy and pasted lacklustre that sounds like a child throwing a tantrum in a supermarket.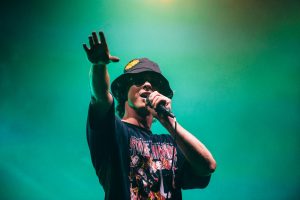 We're willing to forgive Don Broco for their endorsement of the now criminally back in fashion bucket hats (may they all burn!), we just can't say now to a killer, funky bass line courtesy of bassist Tom Doyle. Their neo-80s rock/pop vibe is infectious that doesn't leave a cheeky smile on our face despite the apocalyptic weather closing in around us.
Politically charged and ready to fuck this shit right up, Stray From The Path are the closest we will ever get to Rage Against The Machine in this decade. Letting their intentions known just who they are and what this band stands for, fists are raised as 'Goodnight Alt-Right' sets the tent alight.
Whether it be the sign of the times, The Bronx open up to a scattered crowd of a few hundred or less. One of the most underrated bands of our time did not disappoint even if they seemed a little static for their usual standards anyways. Their raw volatile brand of punk rock hits all the right notes but loses some of its edges as the set draws on. Still, they manage to pull it off without any major hitches that was nonetheless rewarding and ended our day and festival on a relatively high note.