FEAR the emotion induced by threats which cause a change in brain and organ function and ultimately a change in the way we behave – and now F.E.A.R' is the new album from Papa Roach! Which also goes by another name 'Face Everything and Rise', the tittle track of this album.
Yes people they are back! After the continued success of 2012′s 'The Connection' the band continue to reach their fans, whilst implementing modern progression.
I have seen a lot of talk on the internet about the bands appearance, a lot of people seem to approve of their less emo attire. Personally, I think the more eyeliner the better! But whats more important here is, is this a good album?
It absolutely is, bands are always going to progress and change. A lot of bands now are coming out sounding a bit more produced, and a lot of bands have also progressed to include a modern infusion of electronic. It's down to personal preference if you like this modern progression or not. Therefore this album won't be for everyone. But you can't deny this is great music, and let's face it if it was truly rubbish, they wouldn't have received over 1 million views on their video for 'Face Everything and Rise'. Lest we forget, Papa Roach are a Grammy Award-nominated, multi-platinum rock band.
This powerful track kicks off the album –
We are thrilled to hear Maria Brink from In This Moment on track 'Gravity', her voice really suites the emotion of the song. It would be amazing to see this performed live, in all it's glory. Another guest appearance is by rapper and hip-hop player Royce da 5'9, on 'Warriors' – adding another developed area to the sound of the album.
Talking of developments on the cultural genre pin board, I envisage that post-harcore fans are going to like this album – it's got plenty of post! Jacoby Shaddix's vocals are right on point, and the overall sound of the album is very well produced. If your not a post-fan, no problem, there is still plently on this album of you.
There is a lot of emotion in this music. I am one for a passionate album, so I am loving this! I know that this is music that will really inspire people, help people through sh*t, be with them through the good or bad. If you think that sounds lame, you haven't found music that you can really connect with yet – I know for a fact that millions of people across the globe are going to connect with this music, on a level that everyone should feel at some point in their lives.
Bassist Tobin talks about track 'Falling Apart' saying "It's about trying to find something to hold on to that can keep you strong, propel you forward, and be that light in your life. There's a lot of evil shit that can take over, but you don't have to fall prey to it." says Tobin.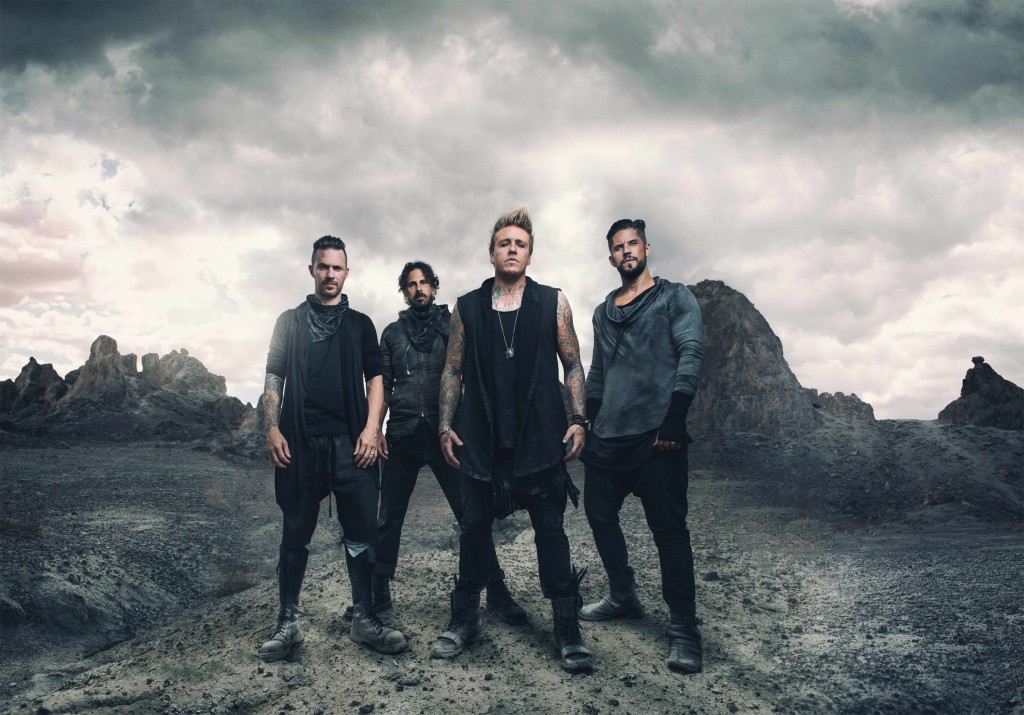 Papa Roach have been on the road for nearly two years promoting 'The Connection', Jacoby tells us about the start of this next chapter:
"Usually when we begin working, we'll have a bunch of demos, and I'll have a bag of lyrics ready to go…We didn't have those things this time. When we were touring 'The Connection', I was really focused on keeping my life together. Every time I would go on the road, I'd start clean and come home a mess. I let the road tear me apart. This time, I focused on keeping my relationships strong, my sober self healthy, and my spiritual life healthy. I didn't have time to write, to be honest."

"We walked into the studio with nothing," adds Jerry. "It was frightening since it was so different, but it was also liberating."

"We wanted to do things a little bit differently," explains Tobin. "We chose to work with somebody we'd never worked with before, go to a place we'd never lived previously, not worry, write songs from scratch, and have fun."
Papa Roach had re-located to Las Vegas, to work with father-and-son super-producers Kevin and Kane Churko [Five Finger Death Punch, Ozzy Osbourne, In This Moment]. For the first time since 'The Paramour Sessions' in 2006, the guys lived under the same roof, and they also began recording with a clean slate.
"INFEST is straight fire one-hundred percent," declares Jacoby. "That's when I realized the purpose of my life playing music. Infest was the opening statement. It's the intro of who we were to become. It was just the top of the iceberg. That record is just as brutally honest and real as anything I've written to this day."
Ultimately though, 'F.E.A.R.' signifies a new dawn for Papa Roach. Jacoby leaves off, "I hope people walk away believing they can do anything."
F.E.A.R (Face Everything And Rise) will be released via Eleven Seven Music on January 26th 2014 on CD, Vinyl and Digital.
Tracklist:
• Face Everything And Rise
2. Skeletons
3. Broken As Me
4. Falling Apart
5. Love Me Til It Hurts
6. Never Have To Say Goodbye
7. Gravity
8. War Over Me
9. Devil
10. Warriors
11. Hope For The Hopeless
 12. Fear Hate Love