'World On Fire' is the third solo album from British-American rock legend SLASH. This 17-track album is set to indeed follow in the footsteps of previously released critically acclaimed 'Apocalyptic Love'. The album is released via Slash's label Dik Hayd International, and then distributed through Roadrunner Records
This will be the second release that this line-up has produced an album together with: Slash (Saul Hudson) the main man on Guitar, The Conspirators who consist of Brent Fitz (drums) and Todd Kerns (bass), and the formidable Myles Kennedy on lead vocals.
To start, title track 'World on Fire' which was previously released in June. Opens with a catchy and skilled riff. Myles's monumental voice parading this track. An excellent opener to the album, showcasing some good old classic Slash guitar solo's.
Throughout first listen one thing is clear – this is a classic Slash and Myles Kennedy album, but with a few surprises as to be expected. 'Shadow Life' one of the standout tracks for me – starts very slow, then bursts into pure rock, it makes you want to passionately sing along "The Shadow Life will only break your heart". Myles told Classic Rock that this song "Illustrates how complex life can become when you're trying to lie to yourself and lie to your family". This track makes me very excited at the prospects of a live show (Tour Dates below). That majestic guitar solo ripping through your heart.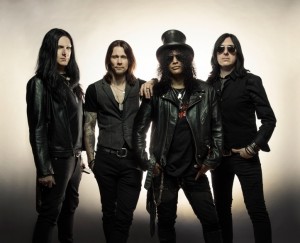 'Wicked Stone' comes in with a fist-punching melody. The use of harmony amazes me in this track, the way Myles's vocals range is something rather exceptional. Throughout the album there is a mix of passionate vocals and classic hard rock guitar and drums, making this a very uplifting listen.
'30 Years to Life' the party track, starting with what will certainly have fans singing in gang vocals "So the story goes, this is a tale that must be told, for what could be your destiny, your never know". Myles is very slick with the way he can make his vocals curl around parts of the track. This album is extremely polished, and well thought through. But then, why wouldn't it be? If anyone can get an album right, it is the Kings of rock and roll!
It's nice to have a mix of upbeat and slower tracks, the album takes you on an emotional journey. The slower tracks such as 'Shadow in the Dark' and 'Bent to Fly' pick up in places throughout their duration. 'Battleground' being one of the slowest, starts with a beautiful melody, and vocals from Myles. An ardent sing-along bridge dominates the track as a whole. Perhaps slightly cheesy when they start the sing-along "La la la la la la la Lar la".
Another standout track on the album is 'Dirty Girl'. This track has a grinding grove throughout, giving that feel of sleazy metal. Myles sings "She gonna go all night, yeah she does like it when you take it real slow, all night, my dirty girl, she make me feel alright". I can only assume he is talking from personal experience, perks of being a Rockstar!
Finishing the album with 'The Unholy', which starts eerie with sounds of children in a playground. "Evil shadows they are falling" sings Myles. Whispering lyrics about lying, then Myles bursts into verse. An emotional track, an mournful impetuous end to the album. But at the same time full of rock and roll energy.
The artwork was extremely intriguing, as iv never seen something like this on a Slash record. The artwork was designed by American contemporary artist Ron English. It looks like a mash up of childhood figures in some sort of colorful gunk. I love that they got the top hat in there! (Click on image to enlarge).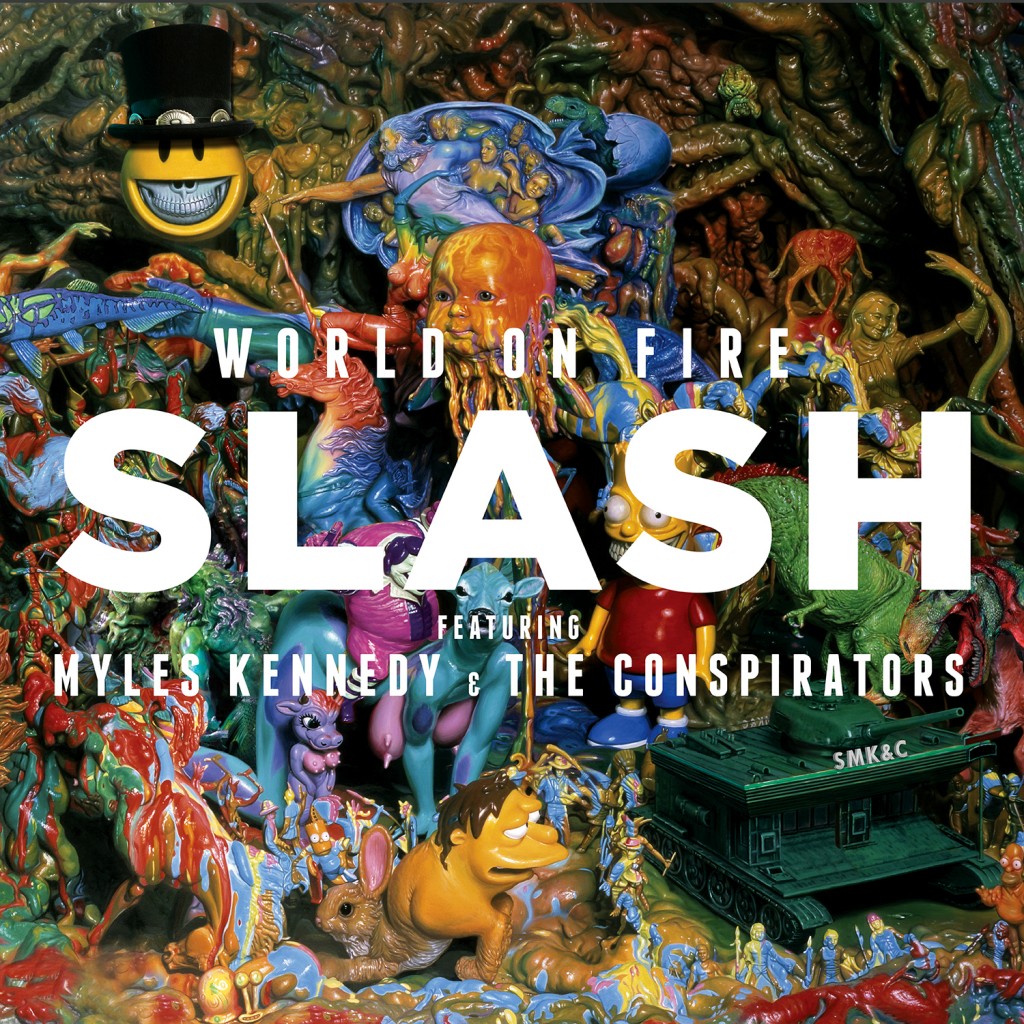 What I like about Slash is that he has never been in the corporate side of the music industry, he isn't in the same game as everyone else. To me, he has his own game, which he is truly the master of, because of this he stays true to his sound and passion for music. He recently told Classic Rock Magazine "I'm loving being the underdog and just doing rock'n'roll for rock'n'roll's sake".
There isn't much else that can be said about Slash that hasn't already been said, but here it goes! – Slash is the pinnacle of Rock and Roll, he is the very image we think of when Rock and Roll is discussed. His top hat providing the spirit of this image. Slash, Myles Kennedy, and The Conspirators, create a unit that embraces the spirit, along with them all being exceptionally talented – This is without a doubt the Rock and Roll album of the year!
10/10
'World on Fire' the new album from Slash featuring Myles Kennedy and The Conspirators is out October 13th 2014.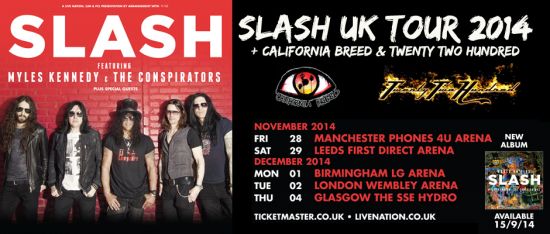 The album is also to be released as a fan pack on 15th September 2014, which you can pre-order now in association with Classic Rock at: www.myfavouritemagazines.co.uk/slash
Slash has just been on tour with Areosmith in the USA, but it heading our way this November / December.
UK Tour Dates
Fri 28th Nov Manchester, Phones 4U Arena – UK Sat 29th Nov Leeds, Leeds Arena – UK Mon 1st Dec Birmingham, LG Arena – UK Tue 2nd Dec London, Wembley Arena – UK Thu 4th Dec Glasgow, Hydro Arena – UK
There are VIP packages available for every date, which can include early entry and a range of gifts. Ticket information here: http://smarturl.it/slash.tour
Album Tracklisting
1. World On Fire 2. Shadow Life 3. Automatic Overdrive 4. Wicked Stone 5. 30 Years To Life 6. Bent To Fly 7. Stone Blind 8. Too Far Gone 9. Beneath The Savage Sun 10. Withered Delilah 11. Battleground 12. Dirty Girl 13. Iris Of The Storm 14. Avalon 15. The Dissident 16. Safari Inn 17. The Unholy