The first three albums by Tyrannosaurus Rex, that characterized the music of original duo of Marc Bolan and Steve Peregrin Took, have been released as deluxe editions for the first time by Polydor / Universal Music Catalogue. These newly re-mastered versions generously update any previously released material.
Long before Marc was a Jackie magazine teenage heartthrob and a fully-fledged Metal Guru – he was a guitarist in a little known Surrey based proto-punk band named John's Children. He was only a member for a few months in 1967.
Although he was only in the band for a short time, Bolan made a memorable contribution. Their most famous single 'Desdemona' was written by him (notoriously – it was banned by the BBC because the lyrics were considered too racy). Bolan looked the part too. In the promo-pics of John's Children of the period, Marc is often seen holding his 6-string Gibson and wearing a clean-cut suit. He also sports a moddishly smooth hair cut. When standing besides founding member John Hewlett (the bassist who looked every inch Weller) you would be forgiven for thinking that you are looking at one of the very first shots of  The Jam.
By October '67 and the release of John's Children disc 'Go Go Girl' (also written by Bolan) – things were transforming across the nation. Time was up for John's Children (they were thrown off of a tour with The Who) and Bolan had, by this time, left the band anyway (he had had quarrelled with Napier-Bell once too often over production) … and bands like The Action and The Small Faces …  who had, till that point, always proudly behaved as proper mod/R&B bands should behave – well – they were becoming flowery and hippy.
Maybe, it was due to the 'Revolver Effect' – when the mustachioed Beatles brought into being the very first era of psychedelic rock. Artists around the world were just coming to terms with that. And, as they were, in 1967 the Beatles delivered their devastating psychedelic buzz-bomb with Sgt. Pepper's Lonely Hearts Club Band. Whatever the reason, from that year onwards, everything was starting to become very lysergic.
Soon the old school Mods died out (or they completely changed their act like 'The Move' did) and so, while Pink Floyd and their 'Piper at the Gates of Dawn' was steadily climbing the charts, Marc Bolan (who was notoriously 'away with the fairies' most of the time, anyway) took time-out to write himself to write a bunch of fragrant (and often pointless) mythically whimsical busking songs and and some flimflam folk ditties. These meandering poems and neo-romantic hymns would form the material for the first two albums of his new project – Tyrannosaurus Rex.
Bolan hired bongo-man Steve Peregrin Took (through an advert in the papers)  – Took was taken on to deliver the rhythms for this new flower-power act. Took's production (and especially the use of unexpected instruments like kazoos, pixiphones and gongs) – helped Bolan's band appeal to the newly emerging hippy audiences. Took was a good friend and supporter of the era's most controversial acid man and hippy experimenter Syd Barrett – he become a source of inspiration, joy and also a distraction for him. Together, they took many strange musical & mystical journeys. In all likelihood, this cross-pollination helped both Tyrannosaurus Rex and Pink Floyd.
A typical Tyrannosaurus Rex concert in those days would involve watching the duo play their popular imaginatively folky psychedelia – while sitting cross-legged on a flowery bean-bag. You might find yourself passing around a joint (the aroma disguised by abundant patchouli ) – and you would try to make sure that your beads did not get caught in your neighbour's cow-bells.
In keeping with his early rock and roll interests, Bolan soon began to bring his guitar along to these happy-clappy peaceful gigs. Soon, a few lines of acidicly sour guitar began to infiltrate their way into the softness of those bongo bong-numbers.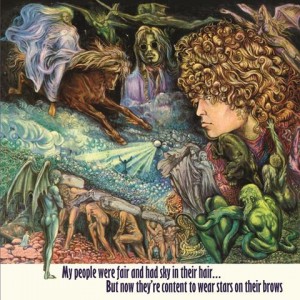 But on the first Tyrannosaurus Rex 'My People Were Fair…' (July 1968 ) things had not progressed to that state. 'Child Star' has the wallowing bongos and the faltering vocals that seem to bob like tiny craft on choppy seas. This song has a promising chorus. And a sitar-sounding Eastern guitar twang together with (of course) a gong … these 'effects'  helped create a wonderfully magical brew. Other tracks like 'Afghan Woman' would anticipate the beautiful art-work that was yet to come on 'Electric Warrior'. And there was some simple rock here too – tracks like 'Mustang Ford' reminded the listener that here was a musician who had (literally) grown up with Helen Shapiro.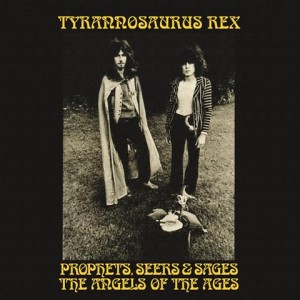 In October of 1968 the duo released their 'Prophets, Seers & Sages…' album. It was highly polished but covered much the same mythological ideas as before. There were charming little folk-songs like "Stacey Grove" and the fast zhou-zhou-zhou and ta-whit-ta-whoo rhythms of 'Salamanda Palaganda'.
It wasn't till the fourth outing 'A Beard of Stars' and the incredible magical opera of 'Lofty Skies' that we would get properly stunned by electric guitar.  (Although 'King Of The Rumbling Spires' provided a brief encounter on 'Unicorn'.) That remarkable cry-baby squelch runs right through this piece – and we were also rewarded for our patience by that trade-mark silvery guitar break.  It was as fast and quick as magnesium. Yet stunningly sweet and hopelessly meditative too!
The fourth album also included 'Elemental Child' which can reasonably be defined as the first truly T.Rex number. It's electric all the way through. With a shine of gold and a largely boisterous Bolan-riff (after the two-minute mark) – this was the kind of riffage that would run through most of Bolan's "greatest hits" and we grew to identify as the patent "Bolan Boogie" sound.
By 'Beard of Stars' Took had departed and Mickey Finn was taken on as Marc's new drummer – mainly because he looked superb and he was able to accurately replicate Steve's drumming.
Following the success of the Tony Visconti produced single 'Ride a White Swan' [in July 1970]  the band was re-packaged and name-shortened to T.Rex. The 'T. Rex' studio album was released. This was still kinda dotty – it  was still infected with that quaint hippy goofiness –  full of fanciful imagination … but songs like 'One Inch Rock' were stuffed with authentic rock 'n' roll ambition and this album possessed the fiery energy that was soon to be recognizable as the Bolan shimmer.
The first  T.Rex album even included (with a bang-of-the-gong) his pre-John's Children composition 'The Wizard' – with that bruising bass-beat and electrical, zapping twangs that were held high-above the normal busking sounds.
Ultimately, Bolan had proven to be a versatile artist –  chameleonic and thoroughly unconventional. He had distanced himself from the mod scene at precisely the right moment. He had accepted the challenge of psychedelic folk as a friend. He had then ingeniously re-imagined the whole genre. Eventually he was going to create what we now recognize as an entirely new one:  Glam Rock.  These freshly re-released albums are the first steps on that inspiring musical journey.

The first three Tyrannosaurus Rex albums, first released during 1968/69 are released as deluxe editions for the first time by Polydor/Universal Music Catalogue on January 26th 2015. In addition, 2-LP versions are released the same day, each containing some of the bonus tracks from the CD editions. There are also single disc versions replicating the original albums.
Universal are also offering three 7" limited singles, drawn from each of the albums, exclusive in the UK through Universal's new vinyl store, The Sound Of Vinyl. http://po.st/ZwMy6B