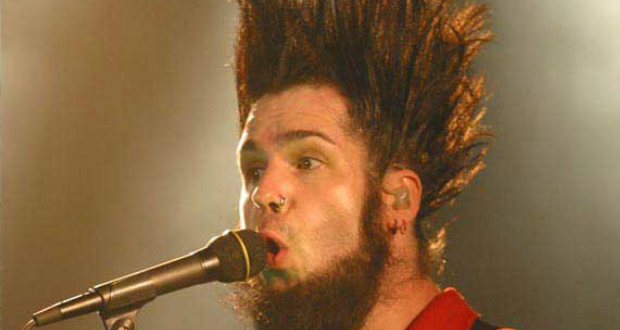 On November the 1st, it was announced that front-man of Static-X, Wayne Richard Wells – better known as Wayne Static, passed away due to a drug overdose at the age of 48.
Fans and fellow musicians such as Corey Taylor, Motorhead and Aaron Lewis of Staid shared their condolences online. Slipknot vocalist Corey Taylor tweeted: "I am absolutely devastated to hear about Wayne Static's death. A good man and a good friend. My thoughts are with his family and friends". Static-X were a big part of the Nu-metal scene in the late 90s and early 00s, some would even consider Static-X as the quintessential Nu-metal act. Wayne himself was famous for his fuzzy guitar riffs, head-tilting vocals and of course his electric-shock hairstyle.
As well as performing with Static-X between 1994 and 2013, Wayne also released a solo album and collaborated with the likes of Run DMC, Skinny Puppy, Soil and was even rumoured to be part of the original Murderdolls line-up.
Most recently Wayne was due to headline a tour with Drowning Pools and Powerman 5000. This included dates in the UK over January and February 2015. Here is breif selection of Static's finest work throughout his illustrious career.
Honorable Mention: It's Goin' Down -The X-Ecutioners fet. Mike Shinoda and Mr Hahn
As you can see in the video, Wayne features heavily with his trademark flying V guitr, and electric bonce in shot alongside his fellow Nu-metalers from Linkin Park. The thing is – he doesn't even play on the track! Clearly  Static's presence had to be known on a track which celebrates everything about the Nu-metal scene in 2002: turntables, catchy riffs, rapping and crazy hair-do's! This was a big hit at the time and still sounds great.
5. Assassins of Youth- Wayne Static
This is the only single that was taken from Wayne's solo album, released in 2011, called 'Pighammer'. Pretty weird title right? Wait until you hear the inspiration behind it: "It's about a mad plastic surgeon, with a pig fetish, that likes to convert hot chicks into pigs," Static revealed to Blabbemouth.net It is the total opposite of what a plastic surgeon would do"…..I have no words.
'Assassins of Youth' had its own video (above) which features Wayne with many skantily clad women in a motel, whisky bottle in hand.Directed by Matt 'The Lord Zane', who is more famous for producing 'adult entertainment. If that wasn't strange enough this is probably the only metal song with it's own dance moves. This really encapsulates Wells' imagination and personality as a performer. It's a real shame we didn't hear more of his solo material before his passing.
4.  Cold – Static-X
Taken from the 2001 album 'Machine' this captures everything Static-X were about. From the haunting opening riff to Wayne's hair-raising vocal, and the vamp-tastic video, this is a great introduction to the greatly under-appreciated nu-metal outfit.
'Cold' is one of Static-X's most well known songs, an alternative version – known as 'Not Meant For Me' – was even used on the soundtrack to cult movie'Queen Of The Damned' (hence the vampires). Keeping the horror theme, the song was inspired by Richard Matheson's novel I Am Legend (later made in to a film). The video for 'Cold' (above) was directed by Linkin Park's Joe Hahn and Nathan Cox, who has also worked on videos for System Of a Down, Black Veil Brides and Disturbed, to name a few.
3. Noise Revolution – DMC ft. Wayne Static
Run DMC are no stranger to the world of hard rock, everyone knows their version of 'Walk This Way' with Aerosmith  but this track, released early 2014 is bit of a hidden gem. 'Noise Revolution' is one half of the rap duo, DMC's commentary on the current state of American politics. Where does Wayne come in? Take a look at the video (above), he is all over track – he even gets more airtime than DMC himself. The signature growl via Wayne's mouth and amplifier make this sound like Static-X more than it does a Run DMC track.
Wayne told Blabbermouth.net: "The opportunity to work with a legend like DMC was a great honor and an experience like no other. We performed onstage together in Austin a while back and I hope we have more opportunities to perform together again."
2. Black and White- Static-X
Again taken from the 2001 album Machine, this track puts all of the band's on display. We get the trademark fuzzy riffs and distorted vocals plus samples of spaceships and echoes of their industrial heroes such as Fear Factory and Ministry.Although the LA band were often filed under 'Nu-metal' some saw Static-X as an industrial band. To others they were their own category, 'Static Metal'.
Like a lot of tracks on this list, the video (above)  really stands out. Directed by Len Wiseman, best known for the Underworld films, the clip features the band fading in digitally a la The Matrix and even appearing as Terminator-style robots at certain points.  The singe was released on DVD (remember when that was a thing?) and featured other videos from the band's recent back-catalogue.
1. The Only – Static-X
This is arguably STatic-X's most recognisable track – not only because it is an awesome example of what they can do as band but it was featured on not just one, but two popular video games: multi-platform racer Need For Speed: Undergound and the PC version of the action game True Crime: Street Of LA.
The Only taken from their 2003 album Shadow Zone, which was seen as a slight change in direction for the band. Cleaner vocals,  less screaming and a more melodic sound was introduced. This brought in new fans for Wayne and the boys. This single even got to number 22 on the US mainstream rock charts. Which was an achievement for a nu-metal song in 2003, when the genre was dying out.
This track for many was not only the essential Static-X track but the track that really demonstrated Wayne Static's talents with a guitar, behind the mic and as a brilliant rock song writer. Wayne Richard Wells will be a big miss to the world or rock and metal. Not only as a talented performer but as a great human being. Everyone at RAMzine would like to send condolences to Wells' family and friends in this hard time.
RIP Wayne 'Static' Richard Wells