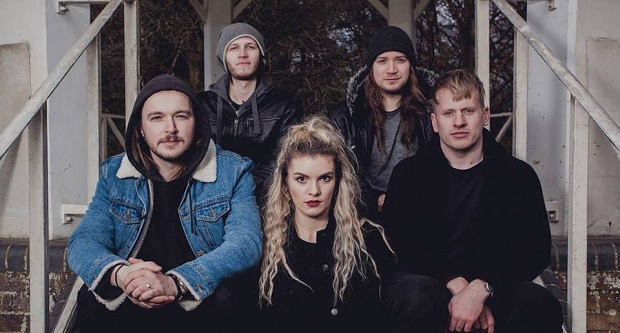 North West-based tech/prog/melodic metal crew Sertraline is the definition of a band on the rise in 2020. Having played festivals like Bloodstock and Tech-Fest UK, they have cemented their place on the UK live metal scene and were set to play more before the global pandemic. With their new EP, Clouded Minds & Silver Lines, coming out this week, can Sertraline keep up the momentum? We caught up with vocalist Lizzie Parry to chat about the new release, mental health, females in the metal genre, the pandemic, and a bit of musical theatre.
What have you been up to during lockdown?
Lizzie: I'm lucky enough to be able to work full time from home, so I've been working most days. I am taking a few days off and enjoying the nice weather. I've been watching stuff and learning Spanish from an app, hopefully, it subsides soon.
Do you feel this is a good time for artists because people are consuming more entertainment from home?
Lizzie: Initially we weren't sure because we weren't able to gig to support the EP, if we were we could potentially reach a lot of new people. We saw some bigger bands were going to postpone stuff and people are going to be finding new music because they have more time to. So we are sticking to the original plan and drag out the release until things have calmed down a bit. When we gig the new material, it will make it feel new again because you will be hearing it in a different light.
How is your new EP (Clouded Minds and Silver Lines) different from what you have released before?
Lizzie: I feel we have grown massively as musicians. It's been 3 years since our last EP, we've had so much time to learn more and get better with our instruments. You can hear more of the tech-metal and prog-metal influences in this EP. We worked with someone who was very into those subgenres so he had a really clear idea of what we were trying to achieve. It's more representative of what you would hear if you saw us live.
So, with all these influences how would you describe your music to someone who hasn't heard Sertraline before?
Lizzie: We've been saying progressive/tech/melodic metal. It is heavy and melodic. I hope someone comes up with a word to describe it, rather than that way.
With the title of the EP (Clouded Minds and Silver Lines) and the name of the band being Sertraline, do you feel this is a good way of bringing up mental health in rock/metal?
Lizzie: Definitely. I think the awareness of mental health in metal, and in general, has got better recently. People are more open to talk about it but there's still a long way to go. People expressing themselves through music is a massive help to others. Music is always relatable to someone. We wanted the EP to be quite positive, rather than quite miserable. We want it to be uplifting for people and that's the message we want to give throughout all five tracks. That's what the Silver Lines part is: no matter how bad a situation is, see the positive side and get yourself out of it.
So is the EP a taster for your next album, or another EP?
Lizzie: The next project is going to be an album. Now we are quite comfortable in where we are going, and the writing style, we know where we are going. This is the first EP we have written with the current line-up, the last releases were written without a drummer. Si has been in the band for nearly 3 years, so it's been good to write it as a unit. So an album will be next.
With festivals being canceled, do you feel it will have a knock-on effect for bands like yourselves?
Lizzie: I think next year there will be fewer slots, unfortunately, because a lot of festivals are just rolling on to next year. It's a slimmer chance of getting a chance of getting on these festivals because it's going to be similar to last. We were due to play UK Tech-Fest and Radar Festival so hopefully we can play them next time still. They are pretty big ones so we're quite pleased with that. Just gigs in general, everything's going to be rescheduled. It just means less availability later for everyone. We just need to do what we can. We'll play our back garden if we have to!
Do you still think women are under-represented in rock/metal festival line-ups?
Lizzie: I feel like I'm more aware of it, so I've seen more recently. I feel like I should check out these bands as well. I feel there are a few more bands with female members, it's a slow increase, but it's definitely improving.
Similarly, do you see the metal industry taking over other festivals slowly?
Lizzie: Metal festivals are more open to different genres, Bloodstock has dipped into a lot of prog stuff lately, for example, Devin Townsend headlining. I don't really look at 'mainstream' festivals. I think Glastonbury has a metal stage, which is awesome. It opens up the number of people who will come.
Outside of the band, you have your own projects, for example, you have been in musical theatre – does this create any ideas for Sertraline?
Lizzie: Yes, I think being in theatre before being in a metal band definitely helps with things like confidence. A lot of people struggle with the performance aspect of literally in their career, due to nerves and knowing what to do on stage. When I first started performing with Sertraline it was an adjustment for me, performing in a theatre company is totally different from headbanging in a metal band. In terms of confidence, it was a massive help. It gives you the openness to try new things that don't usually work with metal. It helps in a lot of ways.
Your merch is crowd-funded, is that the way forward for bands?
Lizzie: It's something we've never done before and we weren't sure how it was going to work. We started it before lockdown and people are more strapped for cash so we don't know how it will work out. It actually worked out really well and we got so much support. It's something to look into for any sized band. It just saves you a bit of stress because everything is so expensive in a band, and you want quality. It works out because the band get the money directly and you get quality merch. Kickstarter is really easy to use.
As a band, what do you have planned next?
Lizzie: Promoting this EP as much as possible, making sure as many people as possible hear it. We are going to film a full video for 'Isolation'. We were halfway through filming a video, so we want to finish that. There are always ideas floating around, so we will continue writing as well as promoting. Hopefully, get back to gigging at some point. Hopefully at some point (laughs).
Do you have a lot of creative control over the videos?
Lizzie: We are pretty rubbish when it comes to video ideas. It's usually a band performance video. Unless we have an obvious clear vision we're a bit it's not something we think about. We usually work with Matty from Clearway Media and he is really creative and has a lot of great ideas. It's a group discussion but he is really helpful when it comes to that side of things. So it's better to work with someone.
What's the ultimate goal with Sertraline?
Lizzie: We just want to tour as much as possible. We've been so deprived that I think that is going to be the focus when we go back to 'normal'. As mentioned before, there might be fewer slots available, we will do our best though. We do what to write an album at some point in the next few years.
The EP Clouded Minds & Silver Lines is out May 15th which you can order here. You can check out what we thought of the EP in the latest issue of RAMzine, which you can order or read here.